German Chocolate Cookies are sure to be a hit in your house. The cookie is topped with a homemade Coconut-Pecan Frosting that is amazing!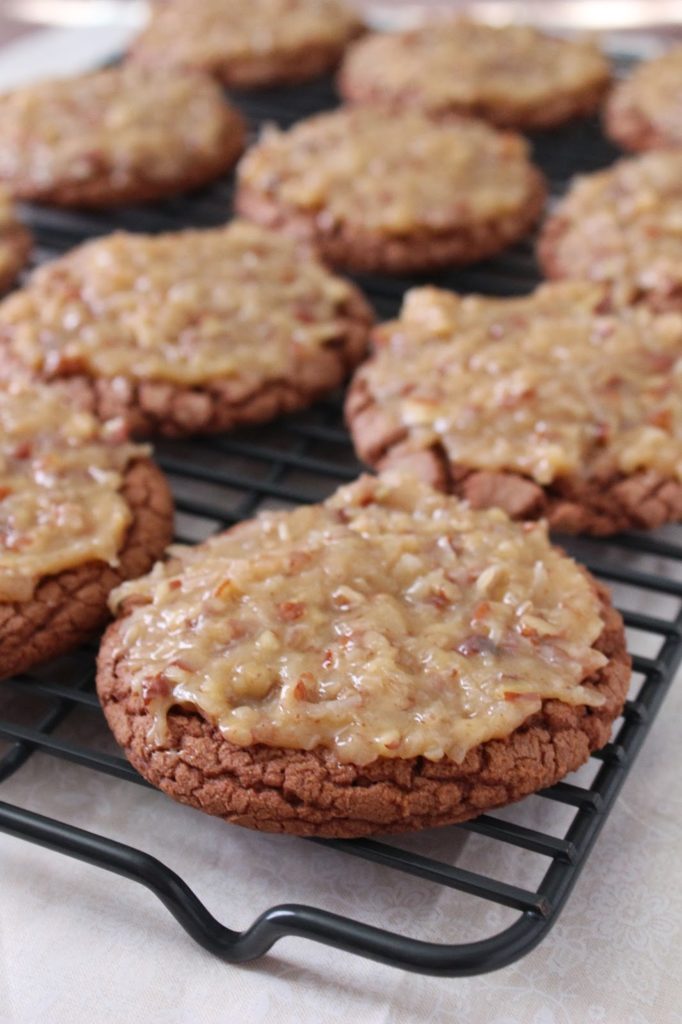 I don't really like coconut, but I have bags of it in my apartment. Why? because both Mr. L&C and my Dad love the stuff. I prefer it fried on top of shrimp. That's really the only way I eat it. Once in a blue moon I get a craving for German Chocolate Cake. Not so much for the cake part, but for the rich, gooey Coconut-Pecan Frosting.
I didn't feel like making a whole cake, and with a 2 month old my baking time in the kitchen has greatly diminished. This recipe is fast and easy that anyone can do it – especially during nap-time! The cookies have a great texture, because I used a box mix cake. If you happen to be one of those people who will inevitably judge me for using cake mix, then stop reading now.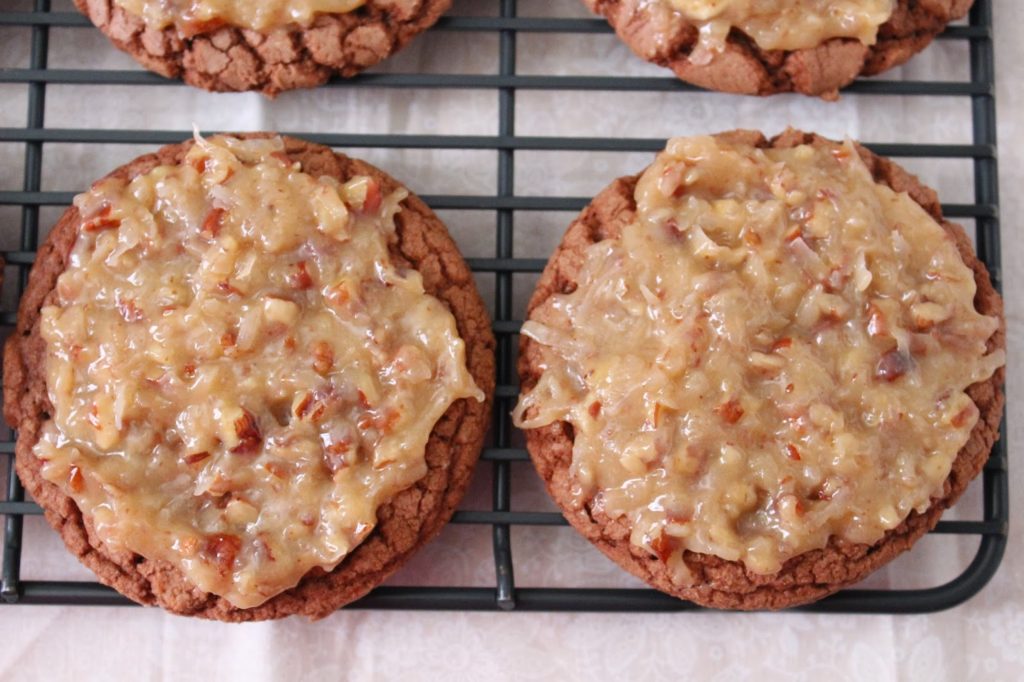 I love box mixes. They make life a little easier. I only use Duncan Hines and honestly think it's the best one out there. As a pastry chef, who made tons of scratch items at work, sometimes you just want a box mix at home. I know many professionals who use box mixes at home, even an executive pastry chef of a high end hotel. It's consistent and delicious, and you can do so much with a mix, like make these cookies.
German Chocolate Cookies
Frosting adapted from a culinary school recipe
makes approx. 18 large cookies
German Chocolate Cookie Ingredients:
– 1 box German Chocolate Cake Mix
– 2 large eggs, room temperature
– 1/4 cup vegetable oil
German Chocolate Cookie Directions:
1. heat oven to 350F.
2. Combine all ingredients in a medium-sized mixing bowl. Using a medium cookie scoop, place on a baking mat lined cookie sheet, flatten slightly and bake for 10-14 minutes. Cookies will spread so do not put more than 12 per baking sheet. These make rather large cookies, so you can use a smaller scoop and bake for slightly less time.
3. Allow to cool on a wire rack before frosting.
Coconut-Pecan Frosting Ingredients:
– 240 grams Evaporated Milk
– 240 grams Granulated Sugar
– 60 grams Egg Yolks (about 4 large yolks)
– 113 grams Unsalted Butter (one stick)
– 5 milliliters Vanilla Extract (one teaspoon)
– 125 grams Coconut, flaked
– 125 grams Pecans, Chopped
Coconut-Pecan Frosting Directions:
1. Combine Milk, Sugar, Egg Yolks and Butter in saucepan on medium heat
2. Cook until it thickens, stirring/whisking constantly, about 10 minutes or until it reaches 210F.
3. Strain through a sieve into the bowl of your stand mixer, to make sure there are no scrambled egg pieces in the frosting.
4. Once in stand mixer, add Vanilla Extract, Coconut and Pecans
5. Beat until cool and spreadable. Best when used immediately, or you can store in the refrigerator for up to three days. Enjoy!
Until next time,
LOVE & CONFECTIONS!
Disclaimer: I was neither compensated nor asked to write about products mentioned. All opinions are my own.