I am so grateful that Angie is here to share a recipe with you all. Things have been crazy here at Love & Confections and I am definitely trying to get used to the lack of sleep and our fussy episodes. I love reading Angie's blog – Big Bear's Wife and am so glad I got to meet her this past year at the Food Blog Forum here in Orlando. You can also find Angie on Facebook, Pinterest and Instagram.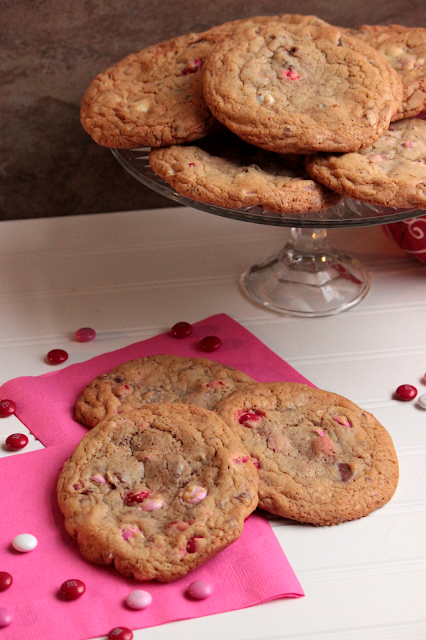 Hello!! I'm so glad to be a guest here on Love & Confections and excited to share these Monster Chocolate Chunk M&M cookies with you! I also want to shout out a huge "Congratulations" to Terri and her husband on the arrival of their sweet baby girl! Grace is so adorable and I've loved seeing her photos on Facebook!
Since Terri is taking time to be with her baby girl and family a few of her blogging friends have stepped in to guest post on her blog and I'm so happy that she asked me to stop by!
Today I'm sharing these Monster Chocolate Chunk M&M Cookies that my niece and I made for the first time back during the holidays! My niece's name is Savannah Grace and I thought "that is just perfect! Cookie inspired by my Savannah Grace for Baby Grace!"
Hope you enjoy these as much as we do! They're huge, soft and packed full of chocolate chunks and M&Ms!


Ingredients
2 sticks unsalted butter, softened
1/2 cup sugar
2 cups brown sugar
3 eggs
3 teaspoons vanilla extract
3 cup all-purpose flour
1 1/2 teaspoon baking soda
1/2 teaspoon salt
3 Hershey Bars, roughly chopped
2 cups M&Ms
Directions:
Pre-heat oven to 350F.
Cream the softened butter in the bowl of a stand mixer. Add in the white sugar and brown sugar. Mix Well.
Add the eggs one at a time. Make sure each egg is incorporated before adding the next.
Add the vanilla. Mix well.
In a large bowl, whisk together the flour, baking soda, and salt.
With the mixer on low, slowly add the flour mixture to the batter. Mix until just combined.
Mix in the chocolate chunks and mix. Add in the M&Ms. Mix well.
Using a medium scoop, scoop 2 large scoops of dough for each cookie onto a sheet pan. I was able to bake 4 huge cookies at a time.
Bake at 350 F for 15 minutes. Remove and let cool.
Yields: 16 HUGE cookies or about 32 regular cookies
Thank you for having me Terri and Thank you for reading along Love & Confections friends!

~Angie Barrett