Halloween Green Monster Milkshakes are a faBOOlous drink that will be a hit with both kids and adults. Make them creepy or cute with candy eyeballs, gummy worms, eyeball lollipops, candy corn, and a fun sprinkle mix.
I loved making these cute and spooky Halloween Green Monster Milkshakes! With a few simple ingredients, you can make any milkshake unique. Themed milkshakes are always fun, and since Halloween is one of my favorite holidays, I teamed up with
Florida Milk
to share an easy recipe that is perfect for your costume parties or after trick-or-treating.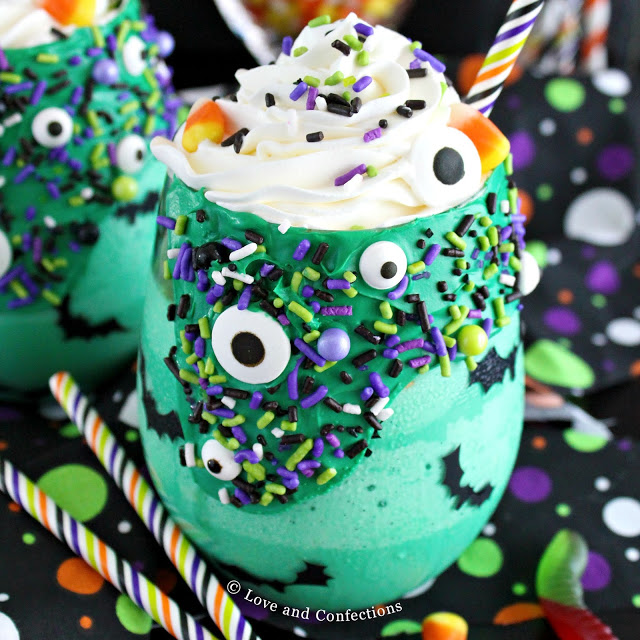 Over-the-top milkshakes are so popular right now and amazing to look at. I created a
Rainbow Rice Krispies Treats Milkshake
with homemade marshmallow ice cream a few years ago and had so much fun making it.
A trick I use to get all the fun decorations to stick is to use store-bought frosting. I colored mine green to match the milkshake and the sprinkles. You can totally customize it, which is the beauty of these monster milkshakes.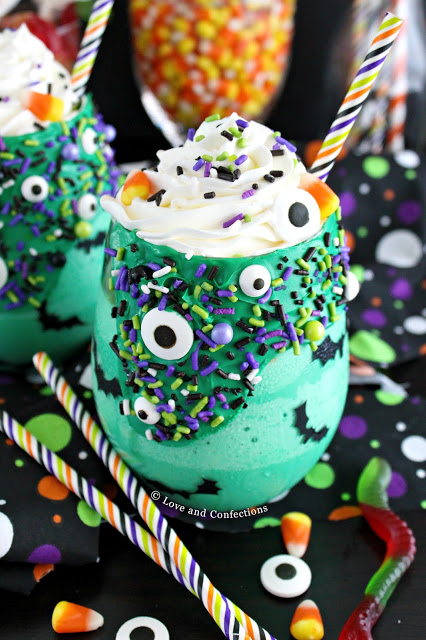 I used gel food color – because that is what I had available at home – but you can use regular green food color too. Be aware that a little goes a long way. You don't want to add too much and turn your mouth green.
The sprinkles and Halloween candy are my favorite part of the milkshake –
aside from the straws, because I have a thing for cute straws and sprinkles and hoard them whenever I can
. I chose a green, black and purple sprinkle mix, because it matched my glasses, the milkshake and the cute straws. You can go as creepy or cute as you'd like with these milkshakes.
You can either used freshly whipped cream or whipped topping for the milkshakes. Don't forget extra sprinkles on the top too!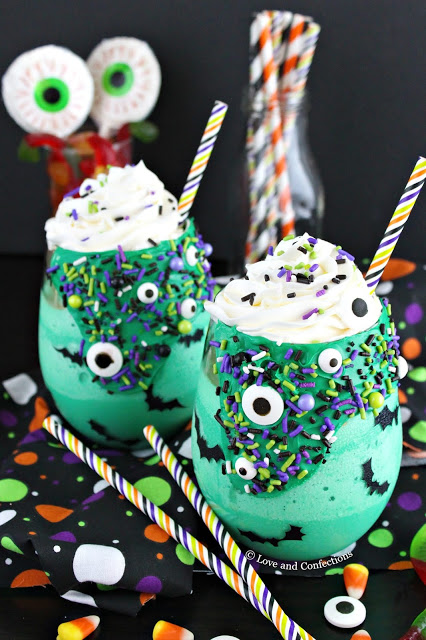 Here are a few items used in today's recipe: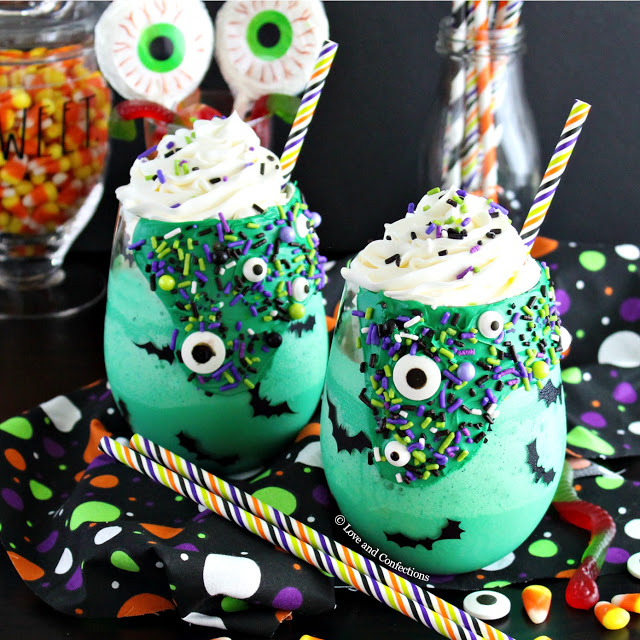 Halloween Green Monster Milkshake
By Love and Confections
Ingredients
1/4 cup white store-bought frosting
Green gel food color
Halloween sprinkles and candy eyes
1 cup milk
3 cups vanilla bean ice cream
Instructions
Mix frosting and a few drops of green food color until desired color. Using an offset spatula, spread frosting around the rim of two glasses. Add sprinkles and candy eyes. Refrigerate 5-10 minutes.
In high-powered blender, combine milk, ice cream and a few drops of green food color. Blend until combined. Pour into glasses, top with freshly whipped cream and more sprinkles.
Until next time,
LOVE & CONFECTIONS!