Depending on what day it is, I may be a morning person. I mean, if necessary, I will wake up and be ready to go. Other times, I don't want to wake up until it's afternoon. Waking up late is a problem when you love breakfast as much as I do. I guess that it the beauty of Brunch – you can have it anytime of the day.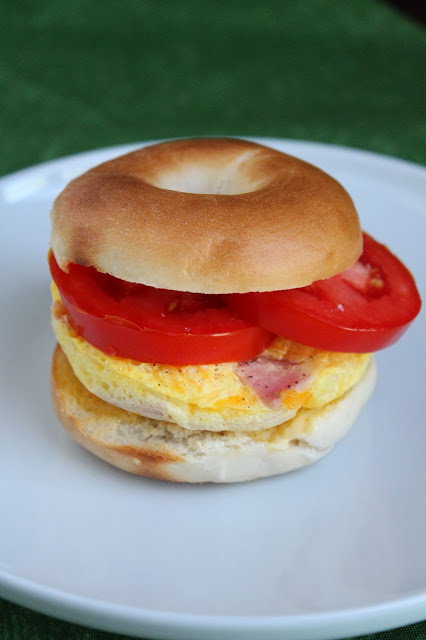 Last month, my Dad got transferred here for his job and moved in with us. Mr. L&C, Dad and I are mostly adjusted to each other's schedules – I haven't lived with Family for 11 years. Dad wakes up for work earlier than we do, so he eats breakfast first. He asked if I could make these little egg "muffins" like my sister does up at home.
I didn't have any recipe to follow, but I think they turned out pretty darn good. KB uses muffin tins, but I think they turn out a little too tall for sandwiches. Dad bought mini bagels to use for the egg sandwiches and that gave me the brilliant idea to use a doughnut pan!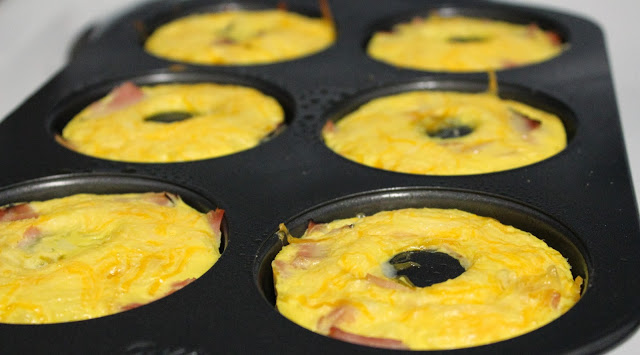 I recently received a doughnut pan from King Arthur Flour to use. I love doughnuts – eating more than making, of course – and was wondering if I could use the pan for something other than just doughnuts (the donuts will be in an upcoming post). I like being able to use pans and utensils for more than just one task. This pan is perfect for not only doughnuts, but also for making these mini egg "doughnuts". It bakes evenly and is a breeze to clean. The non-stick surface would have probably been fine just the way it is, but I used cooking spray just to make sure that the egg would come out perfect.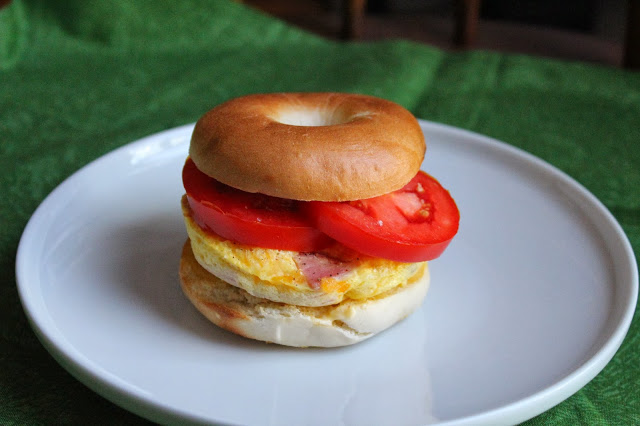 This recipe is easy to adjust for quantity and add your own spin on ingredients. I am going to make my next batch with spinach and swiss, possibly also a tomato and mozzarella version too.
Ham, Egg and Cheese Mini Sandwiches
a Love and Confections original recipe
yield 12 Ham, Egg and Cheese Sandwiches
Ham, Egg and Cheese "Doughnut" Ingredients:
– 8 slices of Ham, I used regular deli slices, but you can use thicker cubed ham if you prefer
– 1 cup shredded Cheddar Cheese
– 1.25 cups Egg Beaters or about 8-10 Eggs
– 1 teaspoon Salt
– 1/2 teaspoon Pepper
– Mini Bagel, toasted and buttered
– Tomato Slices, optional
Ham, Egg and Cheese "Doughnut" Directions:
– Heat oven to 350F. Spray pan with a little bit of non-stick cooking spray, just to make sure they come out perfect. You will have to work in 2 batches because there are only 6 cavities per regular doughnut pan
– Cut the Ham into small pieces/cubes and equally distribute in the doughnut pan cavities.
– Equally distribute and sprinkle Cheddar Cheese on top of the Ham.
– Whisk Egg Beaters – or Eggs, if using – with Salt and Pepper, then pour over Ham and Cheese, leaving a little room at the top, because the eggs will bake and puff up slightly.
– Bake for about 15 minutes, depending on how correct your oven temperature is, or until fully cooked and springs back to the touch.
– Let it cool slightly before removing from doughnut pan. Repeat for second batch.
– Cool completely before storing. I recommend storing in zip-top bags in the refrigerator for up to 4 days or in the freezer for up to 2 weeks.
To assemble Sandwich:
– Toast and Butter mini Bagel. Layer Ham, Egg and Cheese "doughnuts" with Tomato slices and enjoy!
Until next time,
LOVE & CONFECTIONS!
Disclaimer: I received a Doughnut Pan by King Arthur Flour for review purposes. All opinions expressed are my own.