What better way to celebrate a birthday than with family, friends, and this decadent and delicious Hazelnut Cake with Hazelnut Macarons!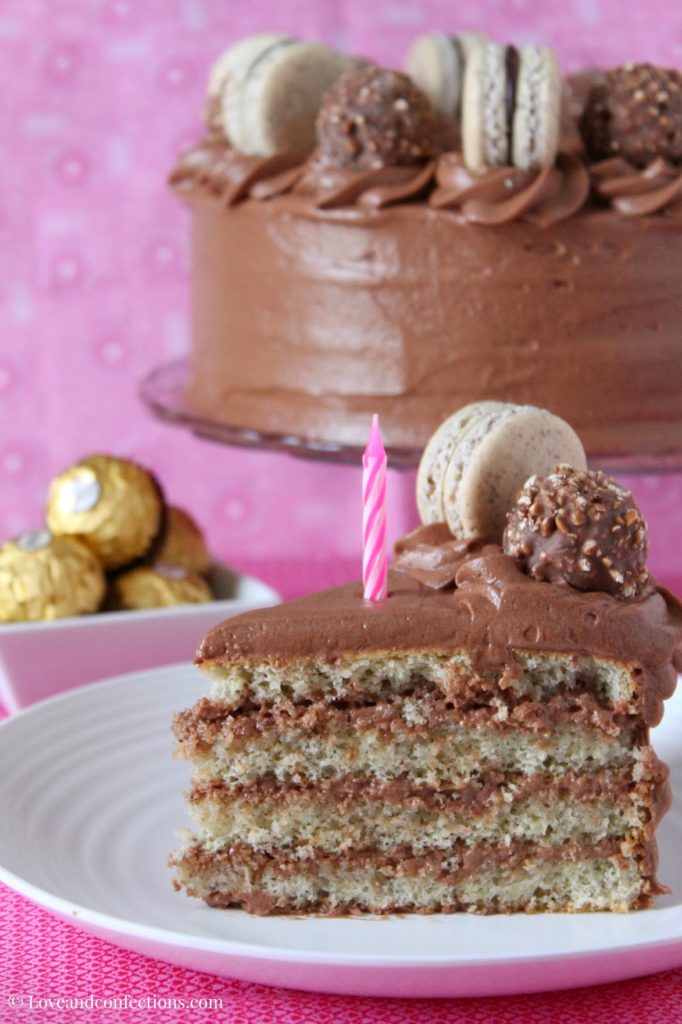 30 is a big deal. I honestly can't believe I am now 30. So much has happened in the last decade – graduated with my bachelors and a culinary degree, got engaged, married and gave birth to our gorgeous baby girl. I am so lucky for everything I have and can't wait to see what the future brings.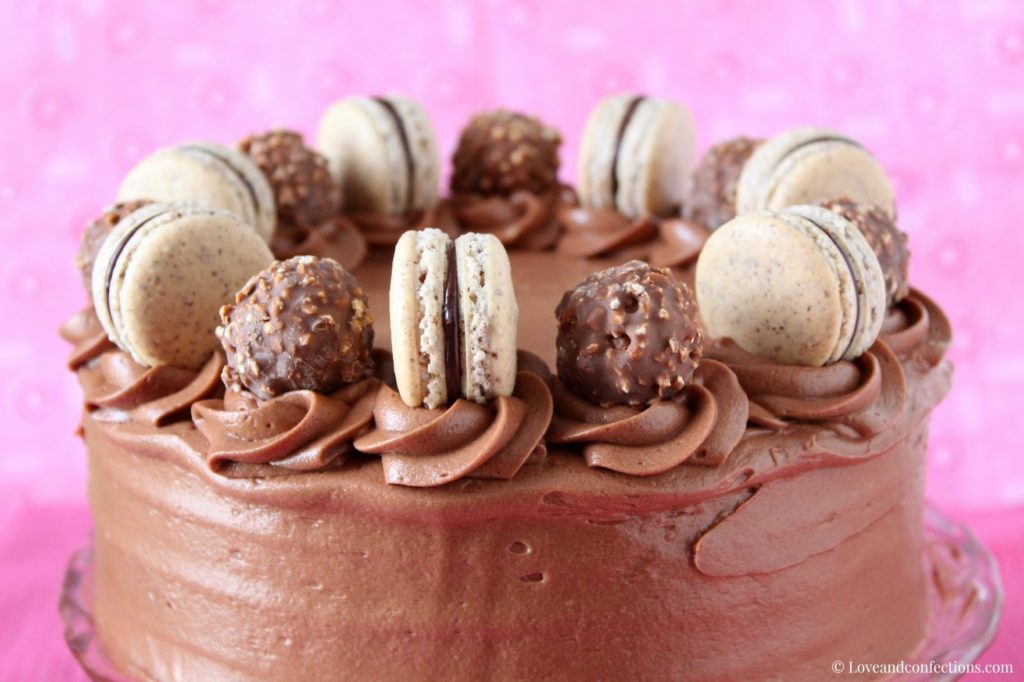 My Mom usually made my birthday cake every year. One of my most memorable birthday cakes was a marble cake with chocolate frosting and my younger sister decorated it with every kind of sprinkle imaginable. Recently, since I don't live in even the same state as my Mom, I haven't had cake for my birthdays. Sometimes it's Dirt Cake (pudding), Doughnuts, or Ice Cream. This year I knew I wanted cake.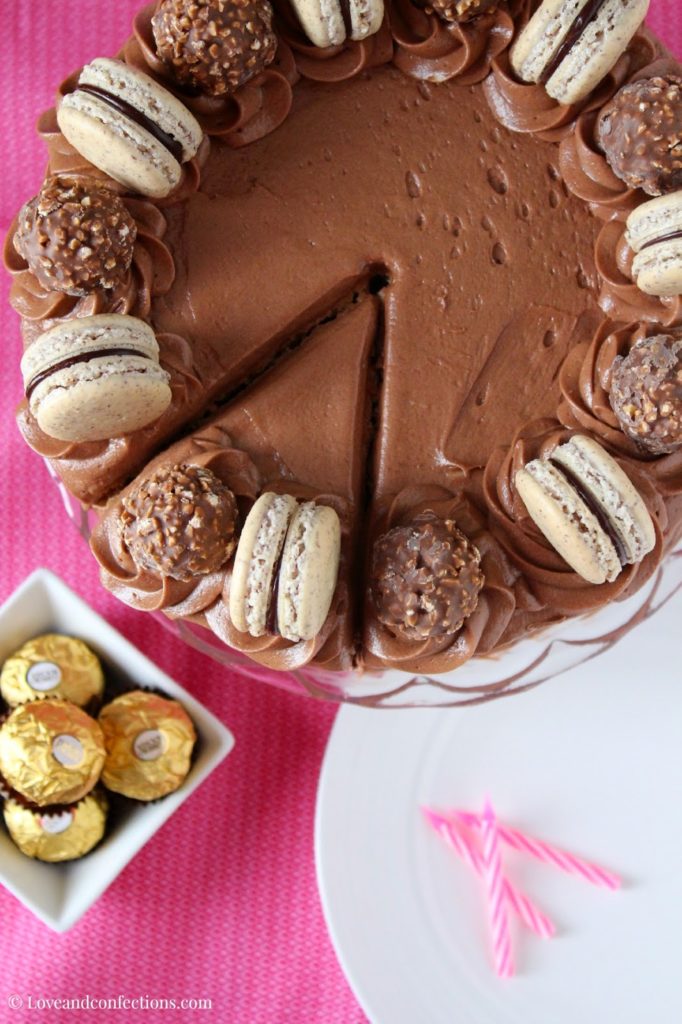 I got the inspiration for this cake from stuffing my face with eating Nutella. Good Lord, you can hand me a spoon and a jar of that stuff and I will be a happy girl. I have loved hazelnut since I can remember. Hazelnut and chocolate are a match made in Heaven, so those were the flavors I wanted for my birthday cake this year. I was also thinking about making something fancy or with a little flair – light bulb – macarons. Those little dainty bites are full of flavor and scream sophistication.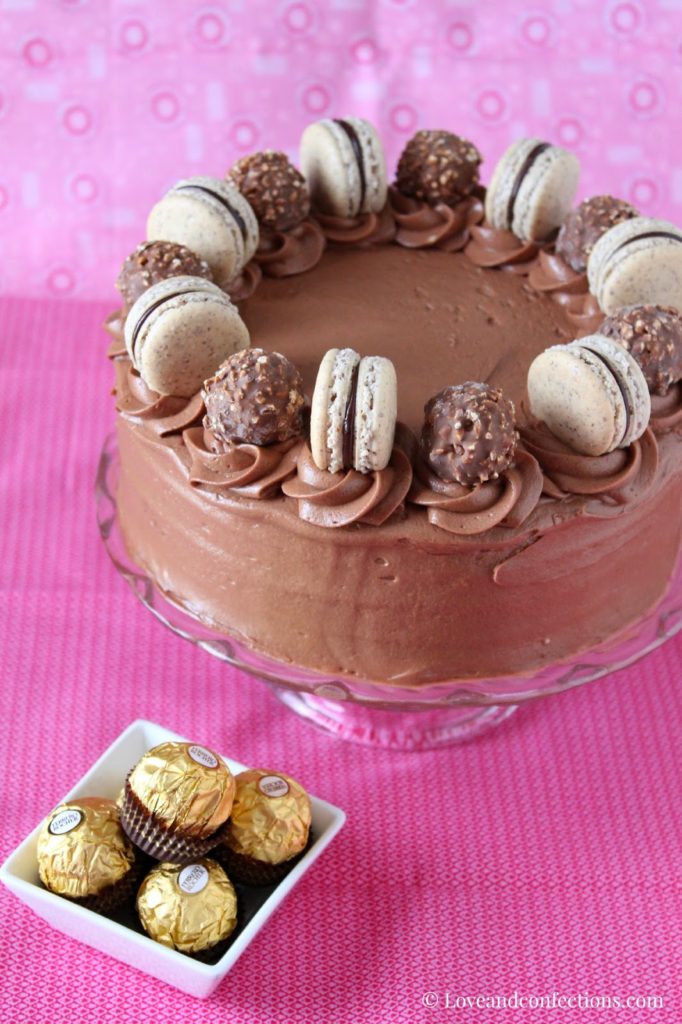 If you don't like hazelnut, sorry, but this recipe is chock full of it. Hazelnut Genoise Cake, Hazelnut Simple Syrup, Hazelnut Chocolate Frosting, Hazelnut Macarons, Hazelnut Ganache and Hazelnut Chocolate Candies… yeah, that's a lot of hazelnut. Trust me, this cake might seem hard, but anyone can make it as long as you can read directions. I made it in a 2 day time span during nap times – which is a feat in and of itself because Baby L&C has been on a 1-a-day nap streak.
Hazelnut Macaron Cake
Cake, Simple Syrup and Ganache are a Love and Confections original recipe
Macarons adapted from Martha Stewart
Hazelnut Chocolate Frosting adapted from Sweetapolita
Click here for printable recipe
Hazelnut Macaron Ingredients:
– 71 grams Hazelnut Flour
– 117 grams Powdered Sugar
– 2 large Egg Whites, room temperature
– 53 grams Granulated Sugar
Hazelnut Macaron Directions:
1. Sift Hazelnut Flour and Powdered Sugar twice. If necessary, grind any solids in a food processor or coffee grinder, leaving a maximum of 2 tablespoons not passable through the sieve. Set aside.
2. In the bowl of a stand mixer, or in a mixing bowl with a hand blender, whisk the Egg Whites and Granulated Sugar by hand until combined. With either the stand mixer whip or the hand blender beaters, whip the egg white mixture, increasing speed every 2 minutes (i.e. speed 2, 4, 6, 8, 10) until it has stiff, glossy peaks when you life the whip out of the bowl.
3. Add in the sifted Hazelnut Flour and Powdered Sugar and fold to combine. You do not want to deflate the egg whites completely, so be careful when folding. It should flow like lava and when lifting the spatula and a drop falls off, should be "re-absorbed" into the mix in roughly 3 seconds. I count my folds and usually do anywhere from 45-65, depending on how the batter is.
4. Line baking sheets with either parchment or silicone mats. Prepare a pastry bag with a medium-sized round tip, and fill with the macaron mixture. Pipe into 1/2 to 3/4 inch rounds, 1/2 in apart, being careful not to leave any tips on the macaron – it should fall back into itself if you folded it enough.
5. Tap the sheet trays on a counter, rotating so every edge gets tapped, to insure that there are no extra air bubbles.
6. Heat the oven to 350°F. Let the batter rest for 20-30 minutes, or until the top is firm to the touch. Bake one tray at a time, for 12-13 minutes. Once cool, remove them from the sheet tray and either fill or store, wrapped in a container and plastic wrap, in the freezer for up to a month.
Hazelnut Ganache Ingredients:
– 250 grams SemiSweet Chocolate Chips
– 100 grams Heavy Cream
– 10 grams Hazelnut Butter (I used Nutella)
– 50 grams Hazelnut Liqueur (I used Frangelico)
Hazelnut Ganache Directions:
1. Place Chocolate Chips in a small to medium bowl. In a small saucepan, heat the Heavy Cream and Nutella until it just starts to bubble around the edge, whisking a few times to make sure the Nutella gets incorporated.
2. Pour the cream mixture over the chocolate chips and let it sit for about a minute so they get warmed and melt. Whisk the mixture, make sure there are no lumps and that all the chips have melted.
3. Add in the Frangelico and whisk together. Let it firm up in the refrigerator for about 20 minutes. Reserve 330 grams for the Frosting.
4. With a piping bag fitted with a small, round tip, pipe a small amount onto half of the macaron halves, and sandwich them together. Let the macarons sit in the refrigerator until ready to use.
Hazelnut Genoise Cake Ingredients:
– 155 grams Cake Flour
– 45 grams Hazelnut Flour
– 350 grams Whole Eggs (about 7 large eggs)
– 240 grams Granulated Sugar
– 5 grams Vanilla Extract
– Chocolate Hazelnut Candy for garnish, optional (I used Ferrero Rocher)
Hazelnut Genoise Cake Directions:
This cake can be made a day in advance and wrapped for freshness.
1. Heat oven to 350°F. Prepare 2-8″ cake pans with baking spray. Sift the Cake Flour and Hazelnut Flour together and set aside.
2. Crack the Eggs into a medium/large metal bowl and create a double boiler on the stove, insuring that the water in the pot does not touch the bottom of the metal bowl. Whisk the Granulated Sugar and Whole Eggs together until frothy, warm, and the sugar has completely dissolved. Using a sieve, strain it into the bowl of your stand mixer.
3. With the whip attachment, whip the eggs until 2-3 times their volume. One trick I learned from culinary school and use is to wrap the bowl opening with aluminum foil to keep the warm air in. Warm eggs whip better.
4. In 3-4 batches, slowly add the flours into the whipped eggs, gently folding and making sure it is mixed thoroughly while not deflating the batter. Make sure the flour does not sink to the bottom. Scrape the bottom if necessary.
5. Evenly distribute the batter into the two cake pans and bake for 20-25 minutes, or until the cake is set and the center springs back to the touch. Cool for about 15 minutes in the pan, then turn out onto a wire rack to cool completely.
Hazelnut Simple Syrup Ingredients:
– 100 grams Water
– 100 grams Sugar
– 75 grams Hazelnut Liqueur (I used Frangelico)
Hazelnut Simple Syrup Directions:
1. In a small saucepan, heat the Water and Sugar until the sugar has dissolved completely. Once off the heat, stir in the Frangelico.
Hazelnut Chocolate Frosting Ingredients:
– 550 grams Powdered Sugar
– 310 grams Unsalted Butter, room temperature
– 275 grams Hazelnut Butter (I used Nutella)
– 175 grams full-fat Sour Cream
– 330 grams Reserved Chocolate Ganache
– 15 grams Vanilla Extract
– pinch of Salt
Hazelnut Chocolate Frosting Directions:
1. Place all ingredients, in the order listed, in the bowl of your stand mixer, fitted with the paddle attachment. Beat until smooth and combined. The frosting will be very soft. Refrigerate for about half an hour until it is spreadable.
Hazelnut Macaron Cake Assembly:
1. Slice the two Hazelnut Genoise cakes each in half with a long serrated bread knife.
2. Place a spoonful of frosting on a cake round, and spread it with an offset spatula, so the cakes do not move around while frosting.
3. With the cut side up on each of the cakes, brush the Hazelnut Simple Syrup on with a pastry brush. Genoise cakes are a bit drier than others so the syrup really helps to moisten it.
4. Place one of the cakes on the cake round, cut side up. With an offset spatula, spread a few dollops of the frosting for the filling. Repeat with two more layers, making sure the cut side is up. For the last layer, place the cut side down, so you have a smooth top to frost. Refrigerate the cake for about 15-20 minutes, as well as the bowl of frosting, so it sets up a bit.
5. With an offset spatula, frost the entire cake with a thin layer of frosting, called a crumb coat, to seal the cake and prevent any crumbs from showing up on in the second layer of frosting. Chill for 30 minutes minimum, up to an hour.
6. Once chilled, apply another layer of frosting evenly around the cake, making sure to keep the top even and level as well.
7. With a piping bag fitted with a star tip, pipe 14 rosettes onto the top of the cake. Alternate the Macarons and Ferrero Rochers. Refrigerate for at least 30 minutes. Keep refrigerated until serving at room temperature.
Until next time,
LOVE & CONFECTIONS!
Join me and my other Food Blog Friends as we celebrate with dishes, drinks and desserts for my virtual Birthday Party!
Disclaimer: I was not compensated to use or mention the brands above. I only use brands that I love. All opinions are my own. There are affiliate links in this post.