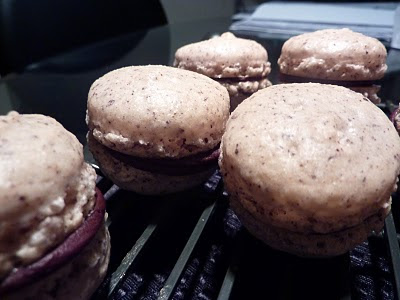 Macaroons are small confections made from egg whites, sugar and ground almonds. It has a crisp exterior and a soft, chewy interior. It can be flavored with other ingredients such as citrus, coffee, chocolate or coconut. Other ground nuts can be substituted for the almonds (which I did in this recipe). In France, macaroons are sandwiched together with a thin layer of ganache or raspberry or apricot jam. Their origin dates back to 14th century Venice and its name is derived from the Venetian word "macarone" which means "fine paste."
The best known macaroons come from Paris. The most famous are Laduree and Pierre Herme and can sell 15,000 a day. Macaroons have remained relatively unknown in the United States and are often confused with coconut macaroons. They have recently become a novel dessert for weddings and a growing addition to specialty pastry and bakery shops. Classic flavors include vanilla, chocolate, coffee, almond pistachio, lemon and raspberry. Newer flavors can include pumpkin, cinnamon, passion fruit, peanut butter and jelly, green tea, truffles, olives, and many more.
I love macaroons! They are DELICIOUS! If you've never had one – try it. They are light and chewy and crispy – you can't have just one.
I decided to use some hazelnut flour I had and use that instead of almond flour. Hazelnuts and chocolate – a great combination. I still need to practice more. I've only made them two or three times in school – mine have some peaks and a little too much volume. Like my mom says, "Good, Better, Best – Never, never rest until your Good gets Better, and your Better gets Best!"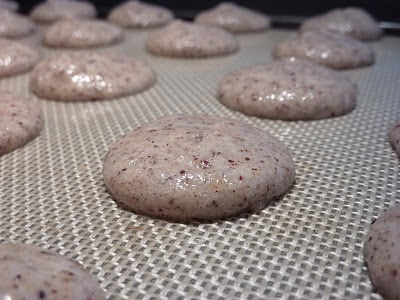 Macaroons after resting 1 hour
Hazelnut Mocha Macaroons
adapted from Tartelette
90 grams Egg Whites
2 tablespoons Sugar
110 grams Hazelnut Flour
200 grams Powdered Sugar
The egg whites need to age at room temperature for at least 24 hours, loosely covered.
Whip the egg whites until they are foamy. Gradually add 2 tablespoons granulated Sugar until you have a glossy meringue. Don't overbeat.
place 110 grams of Hazelnut Flour and 200 grams Powdered Sugar in a large bowl.
Add the whipped egg whites and fold. You don't have to fold too gently, but you don't want to over fold either. If you want to color them, add powdered food color halfway through folding.
When the batter is ready, pour into a large pastry bag with #807 tip (I just used the largest tip I had). It will ooze out the end, so keep the bag folded or crimp the bottom until you are ready to pipe.
Make small piped circles on a baking sheet lined with a silicon mat or parchment paper.
Once the tray is filled, let it sit for an hour to harden the outer shell before baking.
Bake at 300F for 18-20 minutes and then let cool.
Mocha Ganache
from Food Network Kitchens
4 ounces Bittersweet Chocolate, chopped
1/2 cup Heavy Cream
1 tablespoon Instant Espresso Powder
Put Chocolate in a medium heat-proof bowl. In a small saucepan, bring cream, with espresso powder mixed in, to a boil. Pour cream over chocolate and shake bowl gently so cream settles around the chocolate. Set mixture aside until the chocolate is soft, about 5 minutes. Whisk gently until smooth, taking care not to incorporate too many air bubbles. Cool at room temperature until set up.
Until next time,
Love & Confections!