This shop has been compensated by Collective Bias, Inc. and its advertiser. All opinions are mine alone. #PepItUp #CollectiveBias

Wontons have been on my mind for some time. Those lovely little wrappers can be stuffed with so many different fillings and either baked or fried to perfection. While working with Hormel Pepperoni, I knew wontons were at the top of my pepperoni recipe ideas list. Add in a little pesto, mozzarella, spices and cream cheese to create a fabulous snack or appetizer for any occasion.
Some areas of the country are still getting snow, but our temperatures have been in the 80's most days. Spring is here and I am enjoying it before the Summer temperatures set in. Spring is all about new growth and I have decided to grow my own basil! You might be wondering why this is a big deal. Well, I don't have a green thumb – it's more of a black thumb. I can't keep plants alive. I either forget I have them and don't water, or sometimes I water them too much. This Spring I will try, again, to grow something – Basil.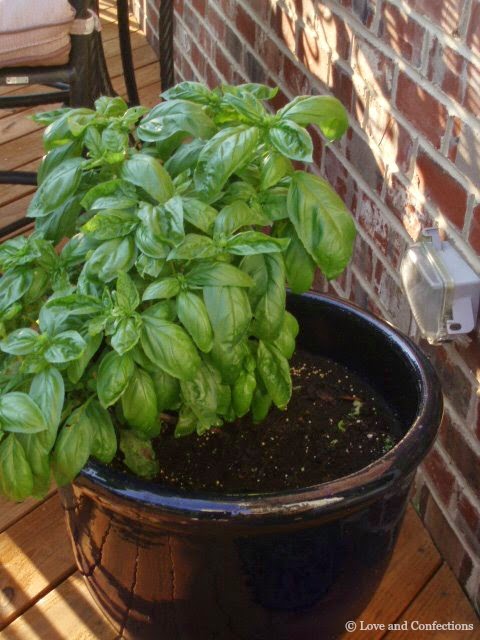 Mom's Basil plant when it was "little"
My Mom has a basil bush that grows huge every year – at least four feet high and very full. It is really impressive. I absolutely love cooking with fresh herbs and basil is one of my favorites. Once, she had so much basil that needed to be used before the weather changed that she had a pesto-making party. Pesto is such a great idea if you need to use up some basil, and it freezes really well, too.
I decided to do something less traditional with my wontons and filled them with a cream cheese-mozzarella-pesto-pepperoni mixture and they are delicious! The wontons got nice and crispy – I love a good crunchy snack – and were the perfect savory bite. They can even be dipped in homemade (or jar) marinara sauce for some extra delicious flavor. These Pepperoni & Pesto Wontons are definitely going to make an appearance at my next party.
I've shared my unique Hormel Pepperoni recipe with you. I'd love to hear how you use pepperoni. Leave a comment sharing your most creative use of pepperoni in your family's favorite recipes. For more great pepperoni recipes, check out Hormel Foods on Facebook and Twitter.
Gather ingredients for wonton bites – prepared filling, wonton wrappers, egg-wash, olive oil & parmesan
Fill wontons, then using egg-wash, seal into little packages and place on prepared baking tray.


Pepperoni & Pesto Baked Wonton Bites
A Love and Confection original recipe, Inspired by Damn Delicious
Click here for a printable recipe
Yield: 35 Wontons
Pepperoni & Pesto Baked Wonton Bites Ingredients:
– 8 ounces Cream Cheese, softened
– 4 ounces finely shredded Mozzarella Cheese
– 3 tablespoons prepared Pesto
– 1/2 teaspoon Garlic Powder
– 1/2 teaspoon Onion Powder
– 1/4 teaspoon Salt
– 1/4 teaspoon Black Pepper
– 2 & 1/2 ounces Hormel Original Mini Pepperoni
– 35 Wonton Wrappers
– 1 large Egg
– 2 teaspoons Olive Oil (optional)
– 1 ounce shredded Parmesan Cheese (optional)
– Marinara Sauce for dipping (optional)
Pepperoni & Pesto Baked Wonton Bites Directions:
1. Heat oven to 375F. Spray 2 sided sheet pans with cooking spray and set aside.
2. Place the Cream Cheese, Mozzarella cheese, Pesto, Garlic powder, Onion Powder, Salt and Black Pepper in a medium bowl and combine with a hand mixer or use your stand mixer.
3. Fold in the Mini Pepperoni with a spatula so you do not break them apart. Prepare a station with the cream cheese mixture, Wonton Wrappers and Egg. Crack the egg into a small bowl and whisk it with a fork to create an egg wash.
4. Spoon 1/2 tablespoon sized portions of the mixture into the center of the Wonton Wrappers. Using your finger, wipe all four edges with the egg wash and bring the points up to the center to create a package. Seal the sides of the wonton wrapper together by squeezing them gently and forming an "X" on top. Place the sealed wontons on the baking trays. Optional: brush the tops with Olive Oil then sprinkle with Parmesan Cheese.
5. Bake one tray at a time, turning halfway if necessary, for 10-12 minutes. Serve warm with Marinara Sauce for dipping. Enjoy!
Until next time,
LOVE & CONFECTIONS!