This shop has been compensated by Collective Bias, Inc. and its advertiser. All opinions are mine alone. The following content is intended for readers who are 21 or older. #Chardonnation #NotableHoliday #CollectiveBias
Create an unforgettable cheese tray that pairs perfectly with Notable Wines Chardonnay – the 1st wine that highlights the flavor profiles on the front of the bottle!
I love entertaining throughout the year and one of my favorite food and drink combinations is wine and cheese. Cheese boards or cheese trays are all the rage these days, and I brought you an easy guide to pair with Notable Wines Chardonnays. Cheese trays are some of the best party appetizers because they include a variety of different flavors and textures and pair well with wine.
The new Notable Wines Chardonnays are the perfect accompaniment for my cheese pairing. The wine aisle can be a very confusing place. Wines often vary by style, region, and taste, but most labels don't describe the flavor of the wine. Notable Wines is the first to elegantly showcase the flavor profiles on the front of the bottle.
The Oaky & Buttery Chardonnay has notes of butter, oak and vanilla. The Fruity & Crisp Chardonnay has notes of citrus, melon and peach. With 2 flavor profiles to choose from, each are delicious, unique, and perfect for a tasting party or gatherings with family and friends. You can use the product locator on the Notable Wines website to find the closest retailer, so all you have to do is follow the notes.
Speaking of notes, I always like to have something sweet for my friends after a fun wine and cheese tasting. Music note decorated sugar cookies match the front of the Notable Wine bottle perfectly, and each guest had something sweet to take away.
Cheeses: For my cheese tray, I chose a 3-year Aged Gouda, Semi-Soft Goat Milk Gouda, Brie and Rum Washed-Rind. The Aged Gouda, which is a burnt orange color, has a rich flavor, subtle sweetness, and crumbly texture similar to Parmesan. It has notes of butterscotch with a hint of saltiness. The Semi-Soft Goat Milk Gouda is made from 100% fresh goat's milk, and has a delicate, citrus tanginess with firm but creamy texture. Brie is a soft cow's milk cheese. The white outside of the cheese is completely edible, or the top can be cut off for serving. It is sometimes served melted or baked and topped with nuts or fruit, either in a round ceramic dish or wrapped in puff pastry. The Rum Washed-Rind is a rich, creamy cow's milk cheese that has nutty, fruity, buttery flavors, and slightly sweet aromatics that become pronounced from being soaked in rum.
Crackers & Bread: I choose the amount of crackers usually based on how many cheeses I have. Crostini or toasted baguette is a crowd favorite. Light crisp wafer crackers and flatbread pieces are good different textures as well. Grissini breadsticks give a nice crunch to the cheese tray. Make sure the flavors of the crackers won't overpower the taste of the wine and cheese.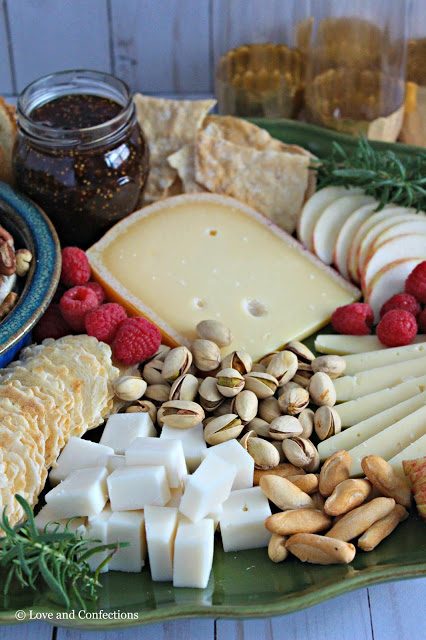 Spreads & Dips: Spreads are always fun for a cheese tray. When presented in jars or bowls, it gives height and color on an otherwise flat surface. Spreads should also take the wine into account. You don't want an overly spicy or acidic spread not compliment the wine you have chosen. I chose a Fig Spread for the board. Figs are a delicious addition and compliment the wine perfectly. Honeycomb is also fun to add to cheese trays. It pairs very well with a variety of cheeses and wine. Make sure you have a knife or spreader available for each dip.
Fruits & Nuts: Fruits and nuts are a great compliment to any cheese tray, and they often give great color too. I chose apples and raspberries for today's tray. The apples are crisp and refreshing and the raspberries are sweet and not too tart. The brie is topped with pecans and walnuts, while pistachios are spread on the platter. Fresh herbs are also a great compliment to cheese trays, either in a recipe or as garnish.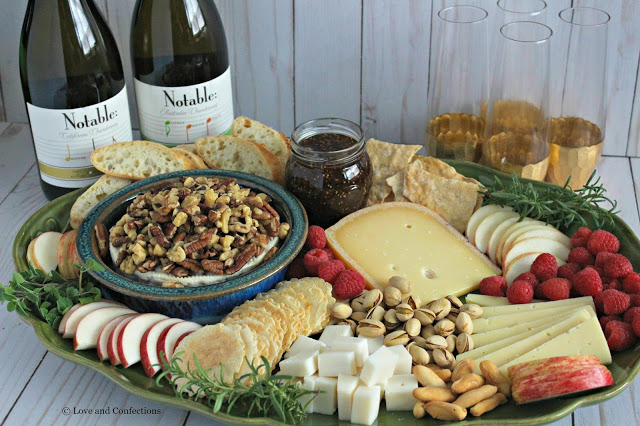 Assembling Your Cheese Tray:
Finding the perfect tray is the first step, and sometimes the hardest. I have quite the collection, between wood cutting boards, platters, and slate. It's really a personal preference, and today I chose a green platter, since most of my cheese was light colored.
When using cheese, it is important to let them come to room temperature before consuming. Refrigeration can often mask flavors, so cheese should be removed from refrigeration 20-45 minutes before serving.
Next, place your cheese where you want them to stay. I like to vary my types of cheeses, while keeping the wine pairing in mind. I also cut the cheese different depending on the texture. Firmer cheeses are best served in wedges or shards – aside from being easier to eat, it also helps get the air circulating around the cheese and broadens the flavor. Semi-soft cheeses can be sliced or cubed, and have a knife or spreader available for soft cheeses.
If you are serving Brie, this cheese gets added last, right before guests arrive, so it can be melty and warm when eating. Make sure you also have a surface that can handle the hot cheese, whether it's on your platter, or resting on a potholder nearby.
Follow up with the crackers, fruit and nuts. Add garnishes last, and enjoy with a sip of Notable Wines! Cheers!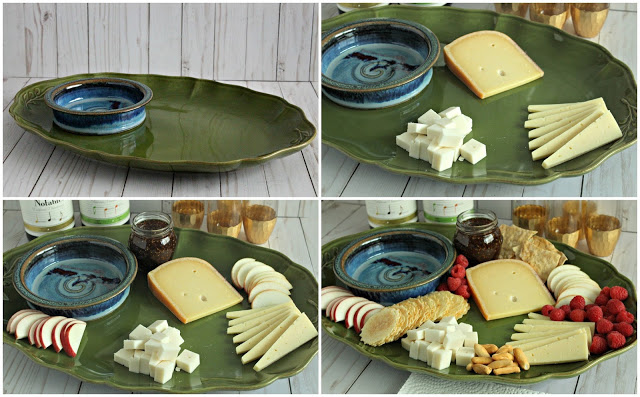 I hope you have enjoyed my tutorial on creating the perfect cheese tray with Notable Wines. The Notable Wines website also has a quiz to help you discover their wine based on your taste preferences. Come back and let me know which wine is for you! For more great recipes and entertaining ideas, follow Notable Wines on Facebook and Instagram.
Until next time,
LOVE & CONFECTIONS!