This shop has been compensated by Collective Bias, Inc. and its advertiser. All opinions are mine alone. #ScrubDishCloth #CollectiveBias
Homemade Caramel Sauce is delicious, but sometimes the clean up can be daunting. Here's an easy recipe and tip to cleaning up a sticky, caramel mess with the new Scotch-Brite® Scrubbing Dish Cloth.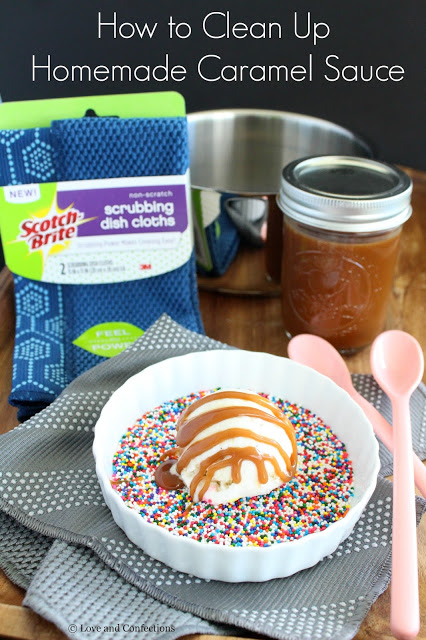 Summer is all about ice cream and frozen treats. I love caramel sauce (and hot fudge) on top of vanilla bean ice cream, but I don't love the cleanup. Once caramel cools, it can become difficult to clean out of the pot.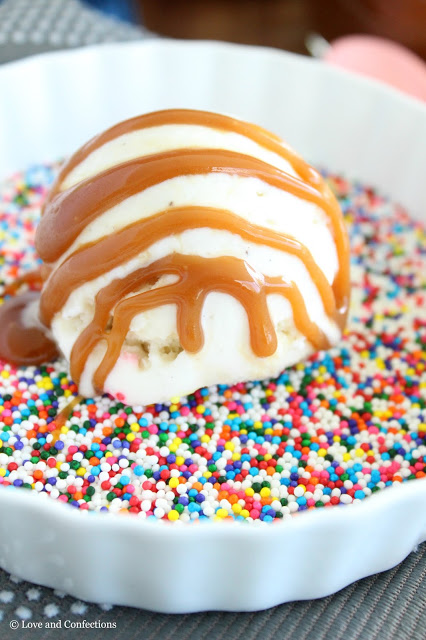 When I make caramel, I always try to clean the pot as soon as I am done using it. In culinary school, I was taught to fill the pot back up with water, bring it to a boil, then clean it out. While that is a good method, it takes more time to clean out the caramel. I tried the Scotch-Brite Scrubbing Dish Cloth, with a high quality fiber dish cloth on one side and Scotch-Brite® scrubbing dots on the other, making it quicker and easier to clean up.
This caramel recipe makes a good amount – almost 2 half-pint canning jars. It can stay refrigerated for up to two weeks. I usually top my homemade vanilla bean ice cream with caramel, but you could also put it on brownies, cupcakes and even waffles for breakfast. The sky is the limit!
The Scotch-Brite Scrubbing Dish Cloth is washable, reusable and sturdy. It gives you a non-scratching scrubbing power as well as the wiping and drying capability of a dish cloth. You can find the new Scotch-Brite® Scrubbing Dish Cloth in your local Target for $4.99. They are available in 2 packs in gray, mint, coral and navy. There are no current Cartwheel offers, but check your Cartwheel app often, because the Scotch-Brite brand frequently has coupons.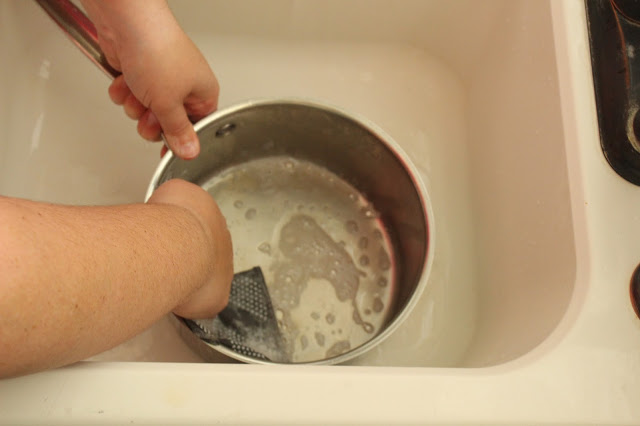 Here is a handy Kitchen Measurement Cheat Sheet that you can keep nearby. When using ingredients, it's good to know the proper measurments, so you don't have to dirty more dishes by re-measuring. But, if you do need to do some extra washing, the Scotch-Brite® Scrubbing Dish Cloth will help.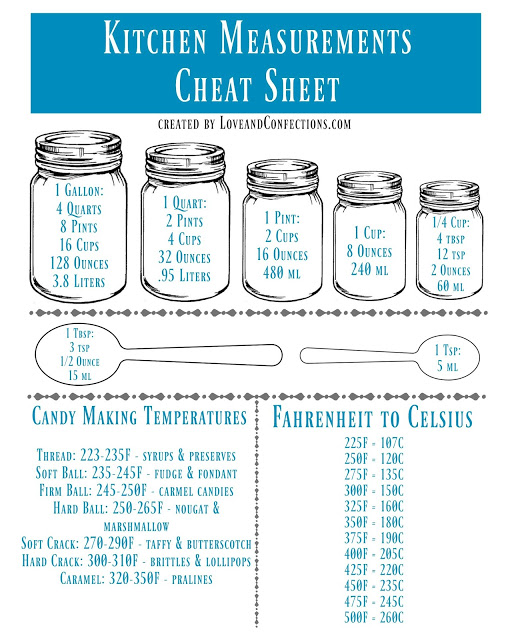 Caramel Sauce
By Love and Confections
Published 07/05/2016
Ingredients
1 cup granulated sugar
1/2 cup butter
1/2 cup heavy cream
1 teaspoon salt, optional
Instructions
Place sugar in a medium saucepan on medium heat, stirring constantly with a heat-resistant spatula. The sugar will eventually clump and start to melt.
Once the sugar melts, it will start to brown and darken to an amber color. Do not let it darken or burn. Stay with the pot and do not leave it on the stove. Switch to using a whisk
Quickly, but carefully, stir in the butter. The mixture will bubble rapidly. Once the butter is melted, slowly drizzle in the heavy cream. The mixture will bubble, rise, and possibly splatter. Boil for 1 minute, then remove from heat.
Pour into glass jars and let stand on the counter until it is room temperature. Store in the refrigerator for up to 2 weeks. Warm before using.
Yield: 2 half-pint jars
Cook time: 10 mins.
Total time: 10 mins.
Tags: Caramel, Caramel Sauce, Topping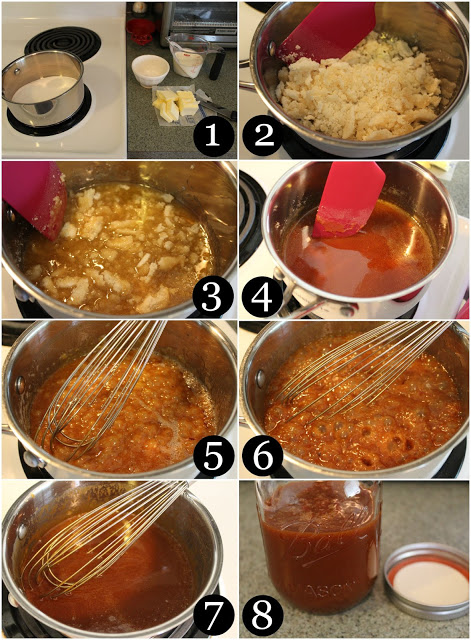 Until next time,
LOVE & CONFECTIONS!