The traditional Hummingbird Cake is full of flavor from tropical fruits and spices, then topped with a delicious cream cheese glaze and pecans.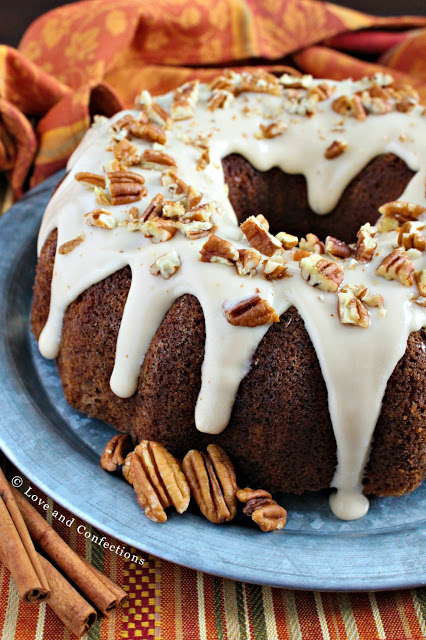 This bundt is amazing and I cannot wait to make it again asap. I have never had a bundt cake as moist and delicious as this Hummingbird Cake recipe. I don't say that too often, but this one is a serious winner. My entire family loved it too, which is usually difficult because everybody likes different flavors. Even #ToddlerLnC loved the "hummbird" cake and kept asking for more.
Bananas and crushed pineapple give it such a great flavor. The original recipe asked for walnuts, but I had pecans on hand and they were perfect with the cake. I also used toasted pecans on top for a garnish too. The pecans gave it a great crunch and contrast to the incredibly moist crumb.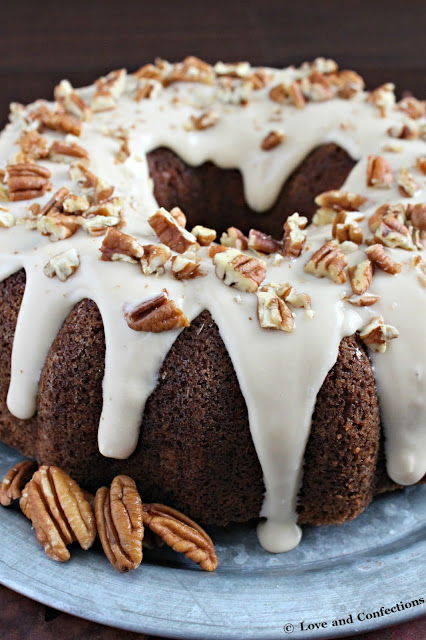 I used cinnamon and freshly grated nutmeg in the cake. I love having fresh nutmeg to use in my Fall baking and almost always have whole nutmegs in my pantry. This is a good nutmeg grater and you can easily find whole nutmeg here or in your local grocery store. I also use fresh nutmeg in my Christmas Nutmeg Logs – one of my most favorite holiday cookies!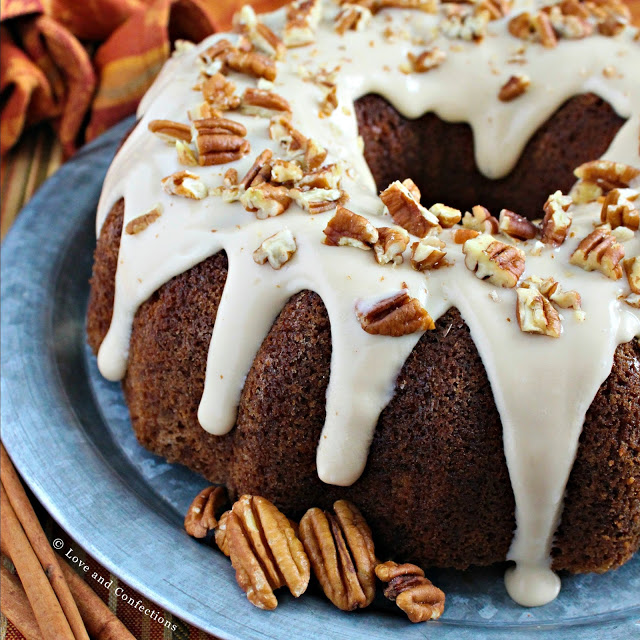 Now, back to this cake. I love the cream cheese glaze on top. I think it is the perfect consistency and amount, but Mr. L&C wanted more of it. You can easily add a little more of each ingredient to get more frosting, but I wouldn't double it, because it already made a good amount. Instead, you can also spread it on, instead of making a pour-able glaze, by not adding as much milk or cream. That way you can cover more of the cake if you prefer.
Here is some fun history about the Hummingbird Cake:
it is thought to have been invented in Jamaica in the 1960s
originally it was called the "Doctor Bird Cake" which was a nickname for a local Jamaican hummingbird
the cake was said to be named after the bird because it was sweet enough to attract hummingbirds, who only eat nectar. Another theory is that the yellow streaks of banana is similar to the bird's plumage
the first printed recipe for Hummingbird Cake was in Southern Living Magazine in February of 1978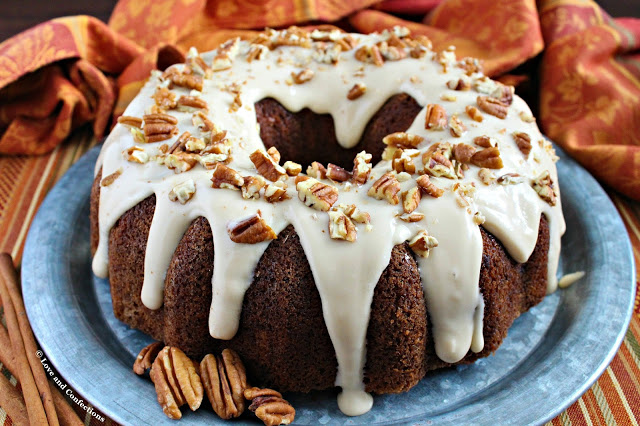 Hummingbird Bundt Cake with Cream Cheese Glaze
By adapted from The View from Great Island
Published 09/21/2017
Ingredients
3 cups all purpose flour
2 cups sugar
1 teaspoon salt
1 teaspoon baking soda
1 teaspoon cinnamon
1/2 teaspoon freshly ground nutmeg
3 large eggs
1 1/2 cups vegetable oil
1 tablespoon vanilla extract
8 ounce can crushed pineapple, with juice
2 bananas
1 cup chopped pecans, plus toasted pecans for garnish
Glaze
4 ounces cream cheese, room temperature
2 tablespoons unsalted butter, room temperature
1 tablespoon vanilla extract
1 1/2 cups confectioner's sugar, sifted
1-2 tablespoons milk or heavy cream
Instructions
Heat oven to 350F. Spray and flour bundt pan and set aside.
Place flour, sugar, salt, baking soda, cinnamon and nutmeg in the bowl of your stand mixer with the paddle attachment. Mix to combine. Whisk the eggs and add in bananas and vanilla and mash together. Add eggs to flour and mix on low to combine. Add in pineapple and pecans and mix on low to combine.
Pour into prepared bundt pan, not filling more than 3/4 full. Bake for 60 minutes, or until the cake is risen and a toothpick inserted into the center comes out clean.
Let cool in pan for 10-15 minutes, then turn out on a rack to cool completely.
Make the glaze by beating together the cream cheese and butter. Add vanilla and powdered sugar and mix together. Add in milk or cream until it reaches your desired consistency. Spread or pour over cake and top with toasted pecans for garnish.
Until next time,
LOVE & CONFECTIONS!
#BundtBakers is a group of Bundt loving bakers who get together once a month to bake Bundts with a common ingredient or theme. We take turns hosting each month and choosing the theme or ingredient.
You can see all our of lovely Bundts by following our Pinterest board. Updated links for all of our past events and more information about #BundtBakers, can be found on our home page.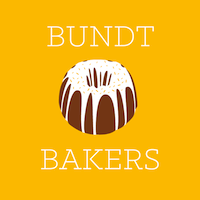 This post contains contain Amazon affiliate links. If you make a purchase after clicking the link, the price will not be higher, but a portion of the sale will go towards the sustainability of this website. Thank you for supporting Love and Confections!