Italian Stuffing is my twist on the classic Thanksgiving side dish. Ground Sirloin is the unexpected star and makes it even more delicious than traditional holiday stuffing.
This recipe is sponsored by the Florida Beef Council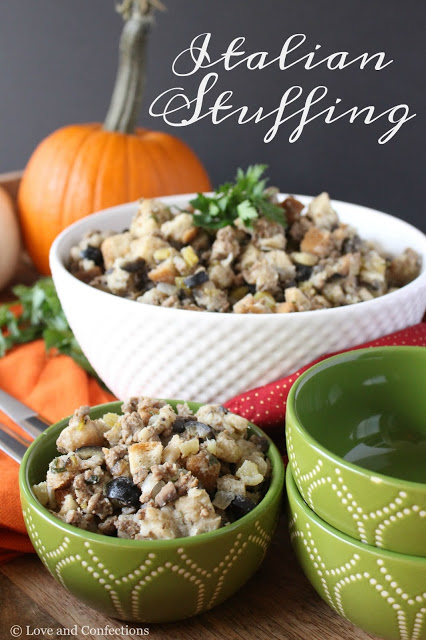 Thanksgiving would not be Thanksgiving without my Grandmother's Italian Stuffing. She made it for us every year, for as long as I can remember. Unfortunately, she is no longer with us, but my mom, aunts, and uncle have carried on the tradition of making her stuffing. Now, my generation is making it too. I love walking into the kitchen on Thanksgiving and knowing that the smell of stuffing reminds us all of her and her love of feeding her family.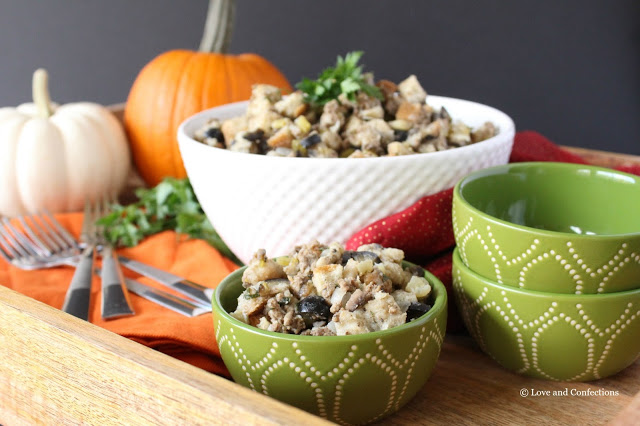 That's really what Thanksgiving is about – giving thanks for family and friends – and she showed her love through food. My grandmother was a great inspiration for my culinary journey and the inception of this very blog. I love feeding people, and often joke that "it's the Italian in me". Honestly, it is very true, I love feeding people, especially Italian food, and always have my home and kitchen open.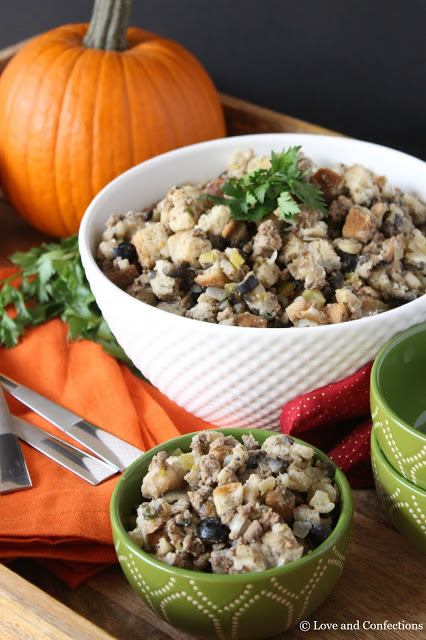 Even though this is a side dish, I actually eat it as a meal. My stuffing has mushrooms, black olives, celery and onions for veggies, and packed with protein from ground beef. You should definitely keep this on your Thanksgiving menu, just in case someone forgets to thaw the turkey, or it gets a bit overcooked – we have all had that happen at least once in our life.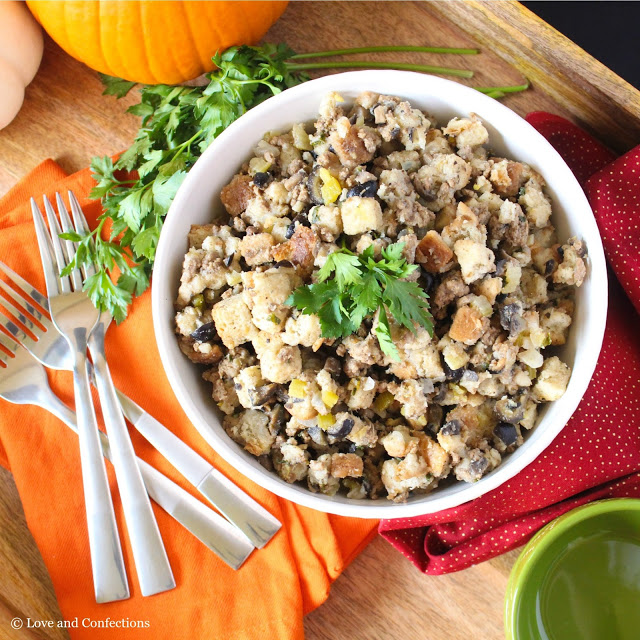 Beef is a staple in our house and I am so lucky to be working with the Florida Beef Council to celebrate our beef inspired Thanksgiving menu. Beef is not only a big part of our holiday traditions, I actually cook with it a lot. My meatballs, bolognese and meatloaf are regularly on our dinner menu. Roasts in the oven or slow cooker are perfect for cooler Winter months, and Summer is all about grilling steaks outside.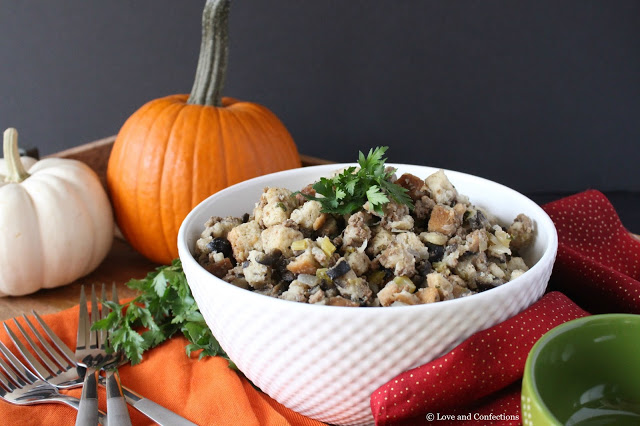 My friends and I are sharing our #Beefsgiving menu with you – with links below – and hope you enjoy a delicious holiday with those you hold dear. For more great beef recipes and inspiration, head on over to the Florida Beef Council and follow on Twitter, Facebook, Instagram and Pinterest.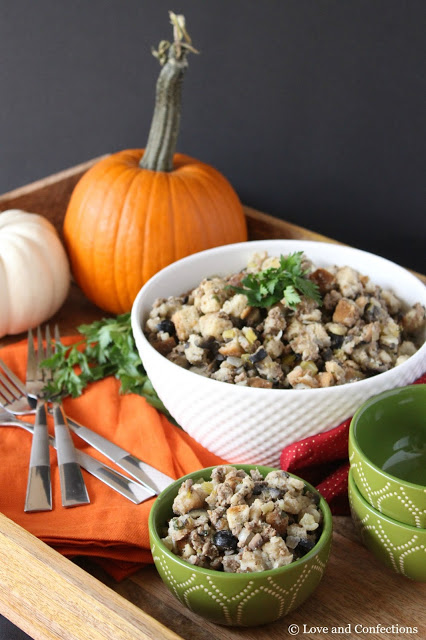 Italian Stuffing
By Love and Confections
Published 11/15/2016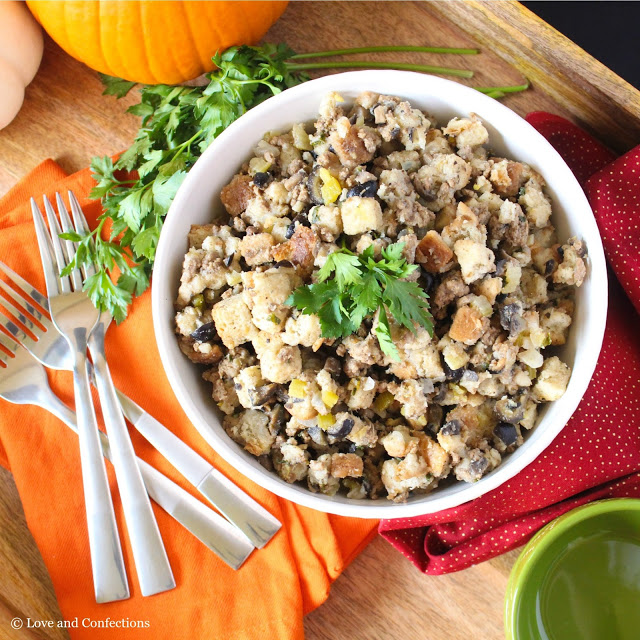 Italian Stuffing is my twist on the classic Thanksgiving side dish. Ground Beef is the unexpected star and makes it even more delicious than traditional holiday stuffing.
Ingredients
1 pound ground sirloin
1/2 cup butter
2 cups finely diced celery
2 cups finely diced onions
2 small cloves minced garlic
1/2 cup white wine
2 chicken bouillon cubes
3 cups water
1 teaspoon black pepper
2 cups finely diced mushrooms
2 cups finely diced black olives
2 tablespoons minced fresh basil
1/4 cup minced parsley
1-12 oz bag of seasoned cubed stuffing
Instructions
In a large pot, brown the sirloin then drain and set aside
Melt butter then add in celery and onions. Cook until the onions are translucent and soft. Add in garlic and cook while stirring, so it doesn't burn. Add sirloin back into the pot
Deglaze with white wine. Add in bouillon cubes, water and black pepper. Stir to combine.
Add mushrooms and black olives. Cook, stirring frequently, until mushrooms are fully cooked.
Add in fresh herbs and cubed stuffing. Stir to combine, then remove from heat with lid on for 5 minutes.
Fluff with fork and serve, or place into oven-safe serving dish and heat in 350F oven to crisp the top. Enjoy!
Yield: 8-10 servings
Prep Time: 00 hrs. 20 mins.
Cook time: 00 hrs. 45 mins.
#Beefsgiving Appetizers
#Beefsgiving Main Dishes
#Beefsgiving Side Dish
Until next time,
LOVE & CONFECTIONS!
I have an ongoing relationship with Florida Beef Council as a recipe developer. Thank you for supporting the brands that make Love and Confections possible. As always, all opinions are my own.