In these last few weeks of Summer, this Lemon Meringue Pie Ice Cream is sure to cool you down and brighten up your day.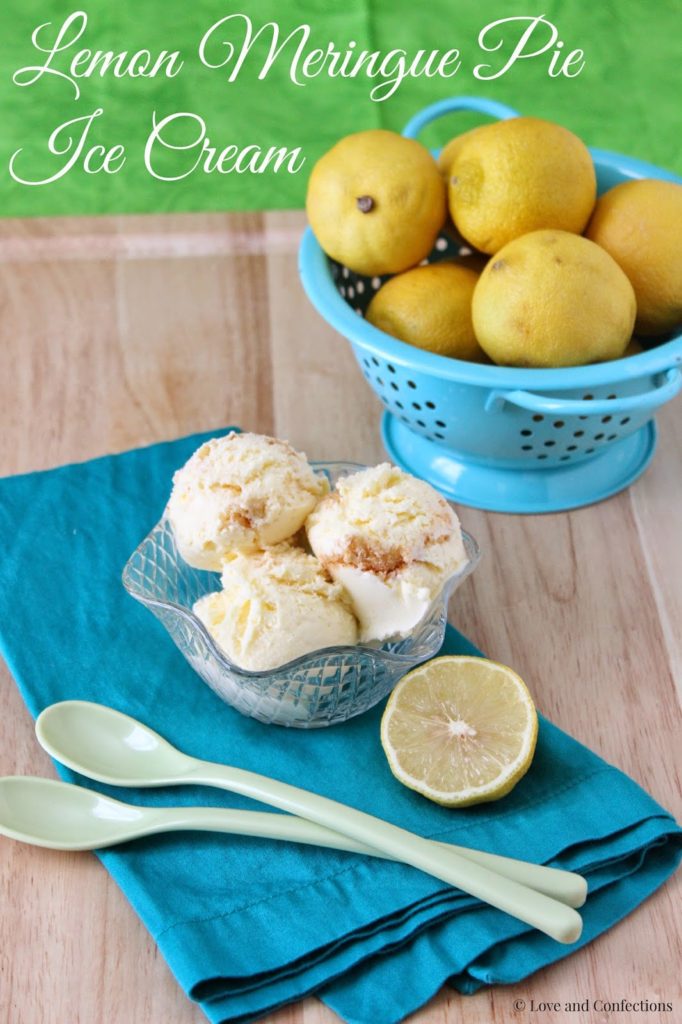 Welcome to Day 5 of Ice Cream Week 2014! This year the event is hosted by Kim of Cravings of a Lunatic and Susan of The Girl in the Little Red Kitchen. We have teamed up with 25 amazing bloggers to share some amazing ice cream recipes with you. I hope you belong to a gym. We'll all need it by the end of the week!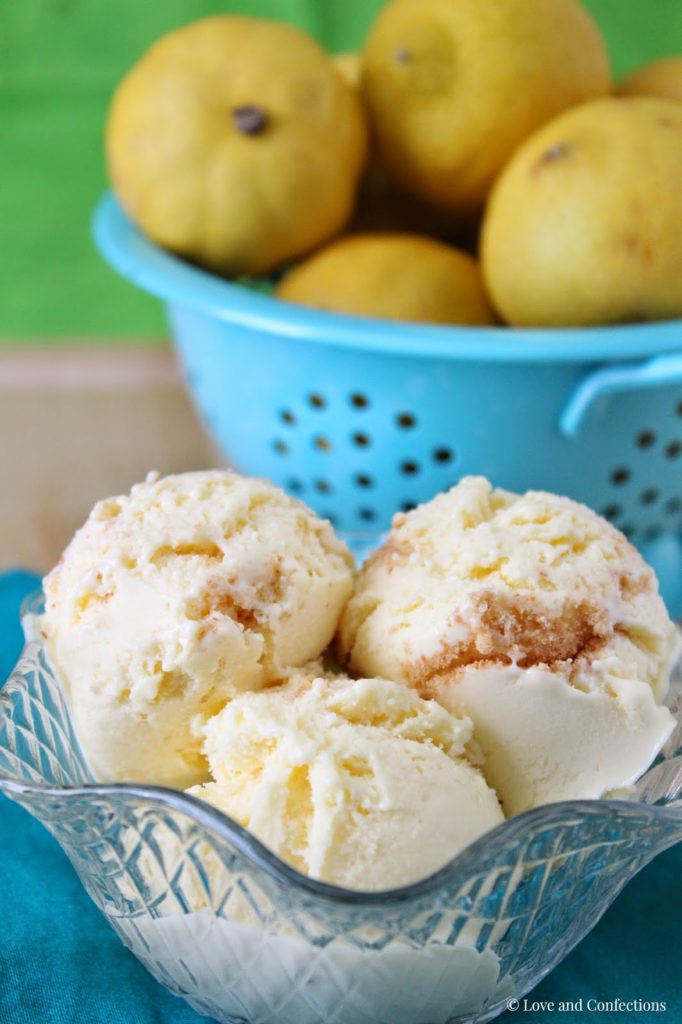 Anytime I make anything lemon I think of my Mom. She loves Lemon Meringue Pie. Everyone in our family has a specific dessert we request for our birthday dinner and lemon meringue was usually my mom's request. My grandmother used to be the one to make it for her before she passed away, and since I live a few states away, I have not been able to celebrate my mom's birthday with her for a few years now, otherwise I would be making the pie for her.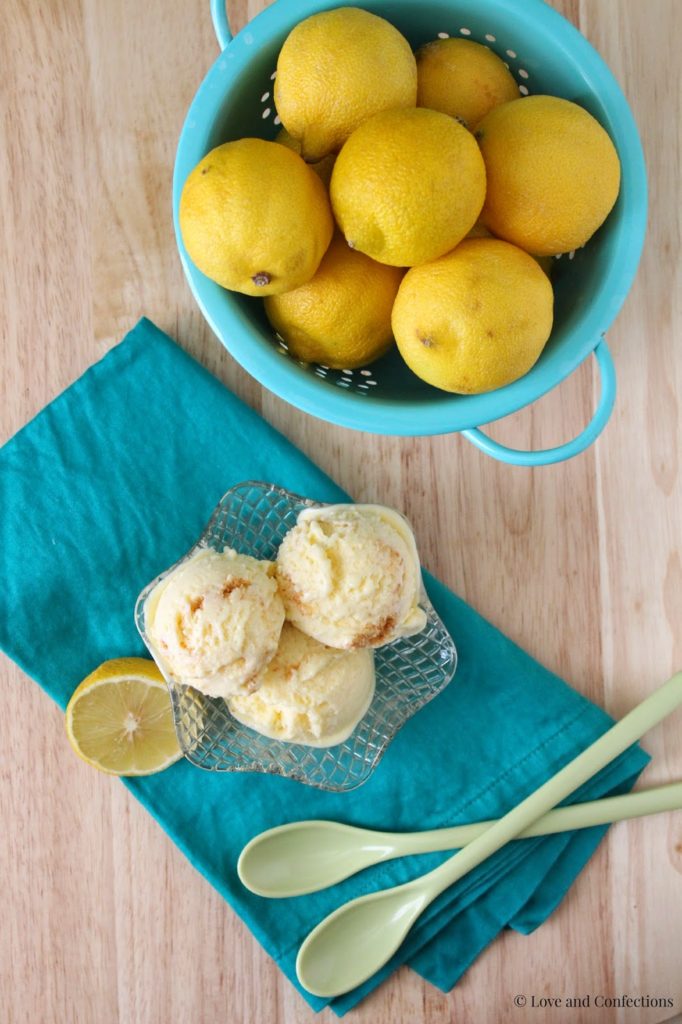 I am a fan of a graham cracker crust as opposed to a pastry dough crust, but that is just a personal preference. I love the tart lemon flavor the curd gives this recipe. In the bakery I used to work in, I made lemon curd often and it is still one of my favorite things to make at home. (Nerd Alert) Custards and curds are so awesome to work with because of how eggs react and change with heat and different ingredients.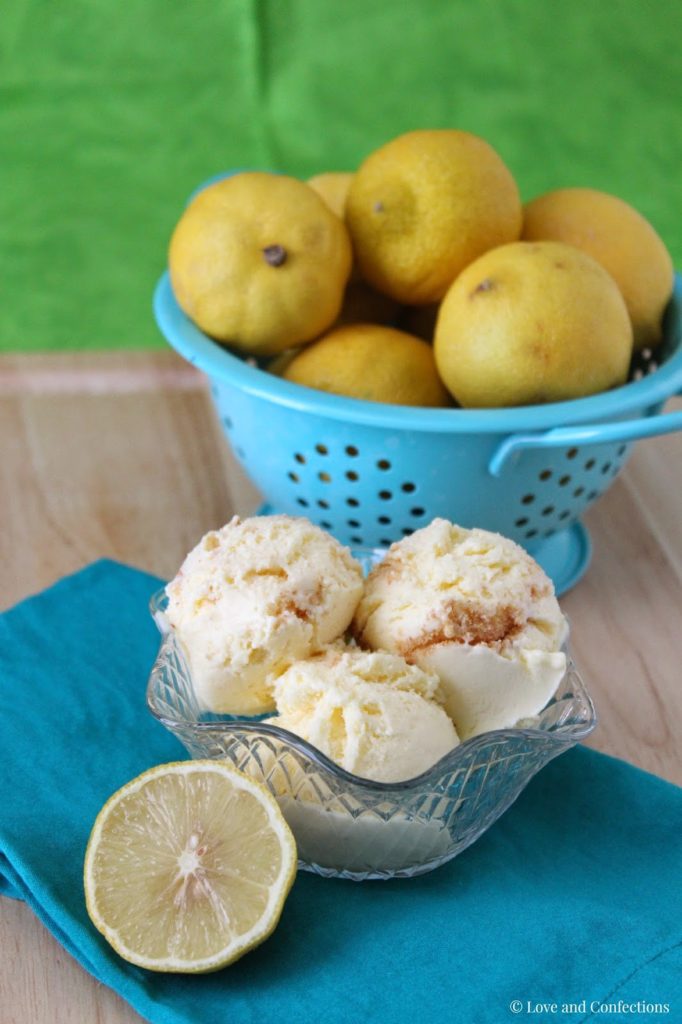 Since meringue does not freeze well (it can get grainy) I decided not to use it in this recipe. Feel free to whip up a batch, dollop it on top and torch it, once you are ready to serve the ice cream. You can even buy those pre-made meringue cookies to crush over the ice cream instead of the normal sprinkles.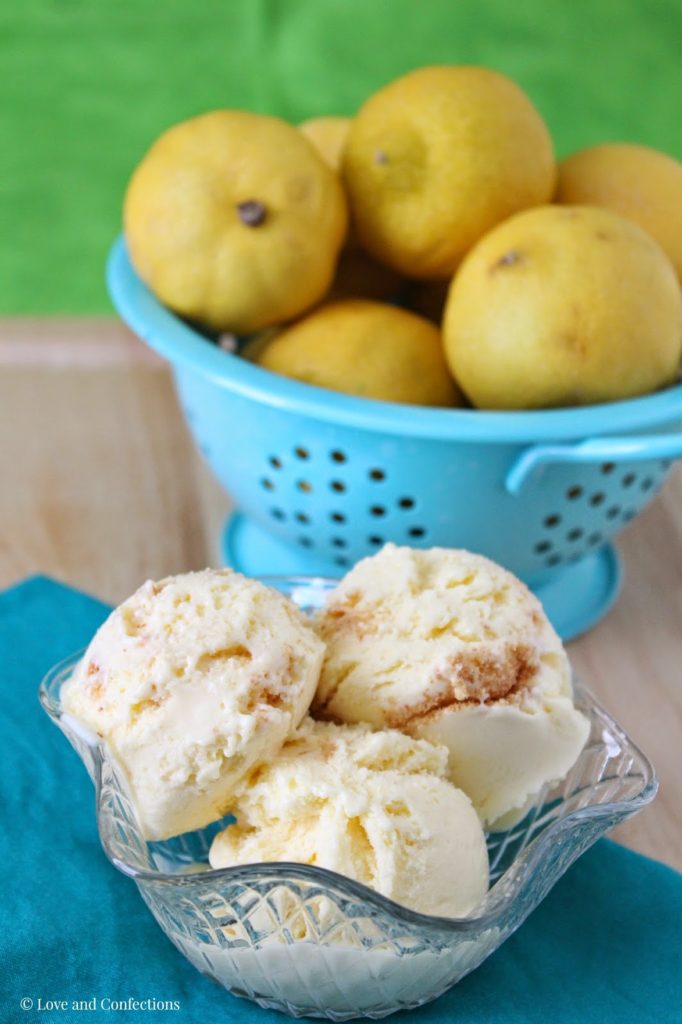 Lemon Meringue Pie Ice Cream
a Love and Confections original
Click here for a printable recipe
Lemon Meringue Pie Ice Cream Ingredients:
– 350 grams Whole Milk
– 120 grams Heavy Cream
– 100 grams Egg Yolks
– 140 grams Granulated Sugar
– 400 grams prepared Lemon Curd, or store bought
– 50 grams Sweetened Condensed Milk
– 50 grams toasted & cooled Graham Cracker Crumbs
Lemon Meringue Pie Ice Cream Directions:
Day 1 (Ice Cream Base)
– Place ice cream attachment/bowl in the freezer at least 24 hours before churning.
1. Bring Milk and Heavy Cream to a slight simmer in a small sauce pan, careful not to boil it. While Milk & Heavy Cream are heating, crack Eggs into medium bowl (bowl needs to be big enough to contain the egg and milk/heavy cream mixture). Once the milk is almost ready, add Sugar to the Eggs and whisk together.
2. Temper* the warm milk & cream into the yolks
3. Return the whole mixture to the sauce pan and heat until it thickens but does not boil, also known as nappe**
4. Strain through a fine mesh sieve into a clean bowl and allow to cool to room temperature. If some egg bits get through the strainer, you can either use an immersion blender to make the mix come together again before cooling.
5. Once cooled to room temperature, store in the fridge, with a lid, for up to 2 days.
Day 2:
1. Whisk together the Ice Cream Base, Lemon Curd and Sweetened Condensed Milk. Churn according to your ice cream maker manufacture instructions
2. Layer the Ice Cream and Graham Cracker Crumbs in an airtight, freezer-safe container. Store no longer than a week (but I'm sure you will devour it before then)
* – Tempering (in this case with eggs) is increasing the temperature of a certain ingredient by gradually adding and constantly whisking a warm/hot item into it. Be careful not to add too much at one time and curdle/scramble the eggs.
** – Coat the back of a wooden spoon in the mixture and run a finger down the middle, if the mixture stays separated and doesn't run, then you should be good. Be careful not to overcook it and curdle/scramble the eggs.

Until next time,
LOVE & CONFECTIONS!
Be sure to visit all of today's Ice Cream Week Participants: