Lemon Ricotta Bundt Cake is full of tart, tasty lemon flavor. A dusting of powdered sugar tops this delicious cake that is garnished with lemon slices and fresh mint.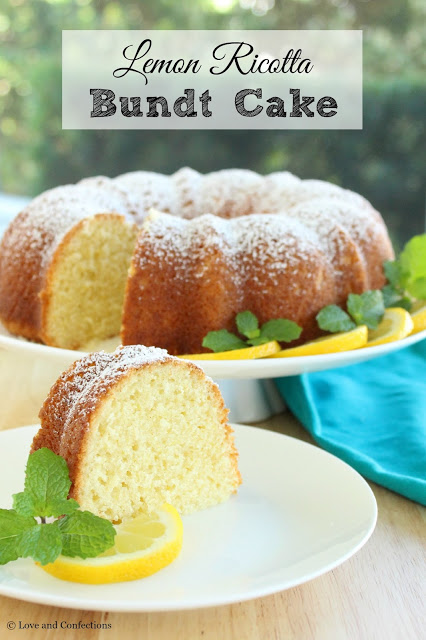 Yay! I am back at #BundtBakers. It has been a while since my last bundt cake. My schedule had been crazy and #ToddlerLnC keeps me very busy. I am so happy that this month's bundt flavor is lemon. It's such a bright, Summery flavor. Lemon curd is one of my absolute favorite things to create from lemons, especially when I pair it with delicious Blueberry Sauce for my Lemon Blueberry Crepe. I also use lemon curd to make ice cream, which is incredible!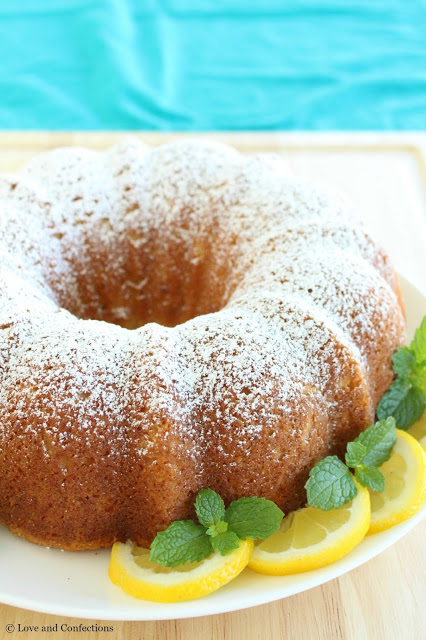 I try to go to the Farmer's Market as often as I can. I brought home eggplants, zucchinis, and lots of lemons and limes from my recent trip. I use lemons in cooking, baking and cocktail-making. Homemade Limoncello is on my baking 'bucket list', and I have a few ideas for Lemon Layer Cakes as well.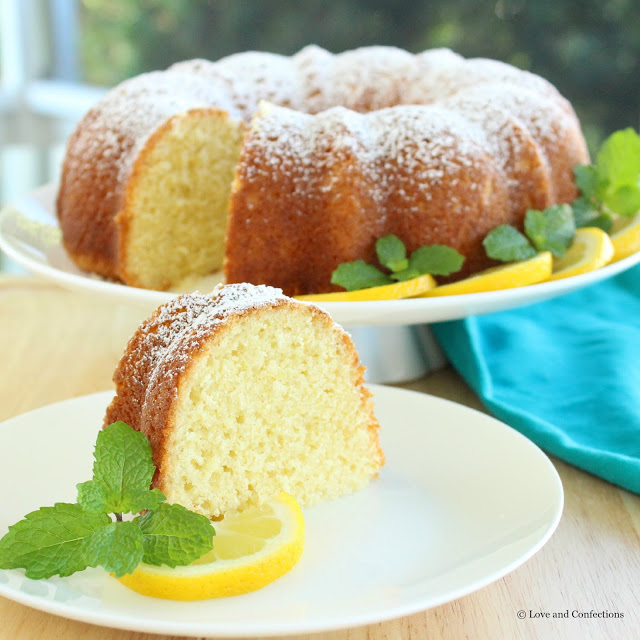 This Lemon Ricotta Cake is not as dense as a pound cake, but heavier than a chiffon cake. I prefer cakes that are a little lighter and more moist, so I will probably re-make this one, with changes, in the future. I decided to top it with a simple dusting of powdered sugar. While I do love frosting and glazes, I thought the powdered sugar would be a nice touch to this month's cake. You can garnish it however you like. I chose to add some lemon slices and fresh mint. I hope you enjoy a slice.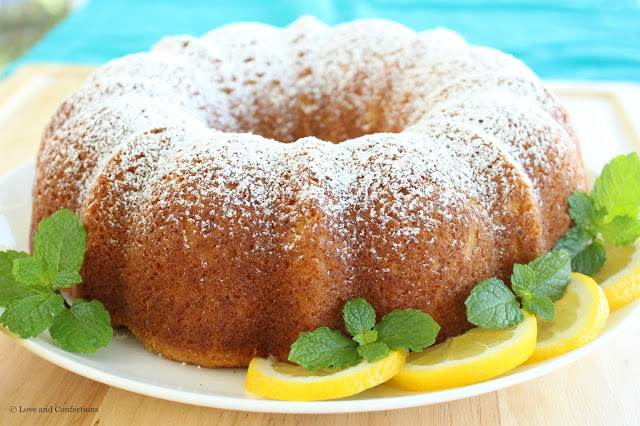 Lemon Ricotta Bundt Cake
Adapted from Familystyle Food
Click here for a printable recipe
Lemon Ricotta Bundt Cake Ingredients:
– 2 & 1/3 cups All-Purpose Flour
– 2 teaspoons Baking Powder
– 1 teaspoon Salt
– 3 large Eggs, room temperature
– 1 & 1/4 cups Granulated Sugar
– 1/2 cup Extra Virgin Olive Oil
– Zest from 3 Lemons, Juice from 1 Lemon
– 1 cup Whole Milk Ricotta Cheese
– 2 teaspoons Vanilla Extract
– Powdered Sugar for dusting (optional)
– Lemons and Mint for garnish (optional)
Lemon Ricotta Bundt Cake Directions:
1. Heat oven to 350F. Generously spray your bundt pan with baking spray and set aside.
2. Sift the Flour, Baking Powder and Salt together into a bowl and set aside.
3. In the bowl of your stand mixer with the paddle attachment, beat the eggs to break them up. Add in the Olive Oil, Sugar and Lemon Juice and beat until combined. Add in the Ricotta, Lemon Zest and Vanilla Extract and beat until combined.
4. Slowly add the Flour mixture in while on low speed and incorporate. Once mixed, scrape around the sides and bottom with a spatula to insure that everything is mixed properly, then pour into prepared bundt pan.
5. Bake for 45-50 minutes, or until golden brown and a toothpick inserted into the center of the cake comes out clean. Let it cool in the pan for 10-15 minutes, then invert onto you serving plate to cool completely. Once cool, dust with Powdered Sugar and garnish with Lemon Slices and Mint. Enjoy!
Until next time,
LOVE & CONFECTIONS!
Here is this month's Lemon-Flavored Bundt Cakes, hosted by Anne of From My Sweet Heart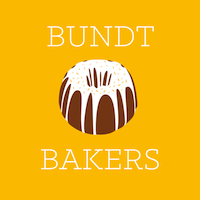 #BundtBakers is a group of Bundt loving Bakers who get together once a month to bake Bundts with a common ingredient or theme. You can see all of our lovely Bundts by following our Pinterest board right here.
We take turns hosting each month and choosing the theme or ingredient.
Updated links for all of our past events and more information about BundtBakers can be found on our homepage.