Mardi Gras is just around the corner. I didn't have time to make a king cake this year. Baby L&C doesn't nap long enough for me to work with yeast breads right now. Quick breads, on the other hand, are perfect. I saw this recipe on TV the other day and knew I wanted to make it, but with my own twist.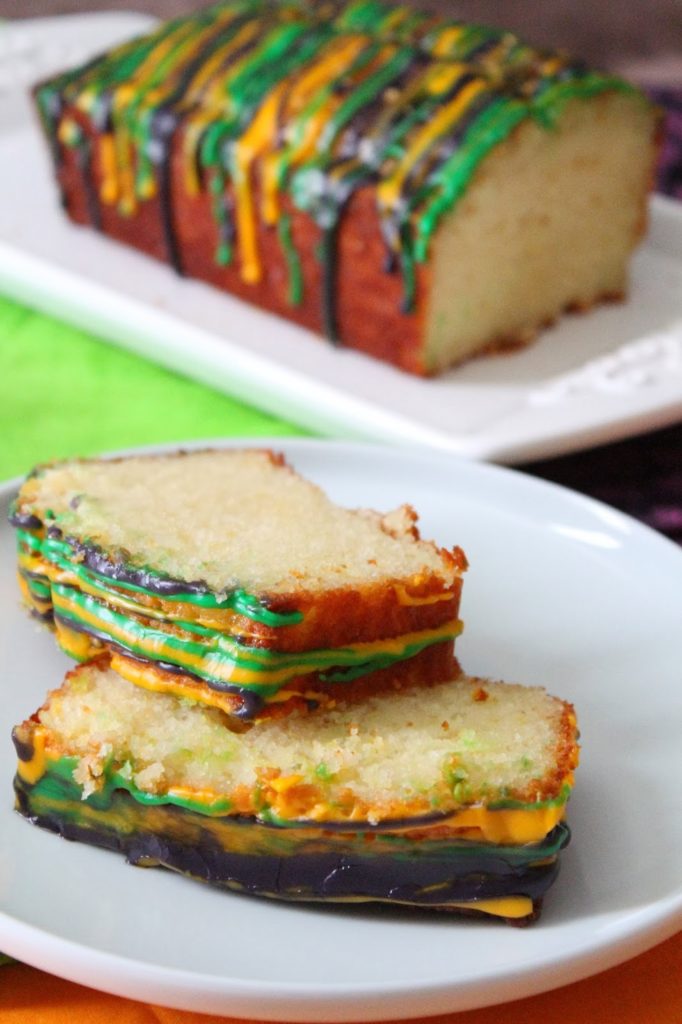 I love anything lemon – just like my Mom. Lemons are so bright and refreshing and my favorite, second to the Key Lime, of course. This cake can easily be adapted to all kinds of citrus: Key Limes, Oranges, Grapefruit.
Lemon Yogurt Mardi Gras Cake
adapted from Ina Garten
Lemon Yogurt Cake Ingredients:
– 1 & 1/2 cups All-Purpose Flour
– 2 teaspoons Baking Powder
– 1/2 teaspoon Salt
– 1 cup Greek Lemon Yogurt (I used Stonyfield Organic)
– 1 cup Granulated Sugar
– 3 large Eggs
– 2 teaspoons Lemon Zest (from one large Lemon)
– 1/2 teaspoon Vanilla Extract
– 1/2 cup Vegetable Oil
Lemon Glaze:
– 1/3 cup granulated Sugar
– 1/3 cup freshly squeezed Lemon Juice (from one large Lemon)
Lemon Mardi Gras Frosting:
– 1 cup Powdered Sugar
– 2-3 tablespoons freshly squeezed Lemon Juice
– Green, Yellow and Purple Food Coloring
Lemon Yogurt Cake Directions:
– Heat oven to 350F. Line an 8.5 inch loaf pan with parchment paper, then grease it with baking spray or butter/shortening and flour.
– In a medium bowl, sift together the Flour, Baking Powder and Salt.
– In another medium bowl, whisk together the Yogurt, Sugar, Eggs, Lemon Zest and Vanilla. While whisking, slowly add the dry ingredients into to wet mixture.
– Using a spatula, stir/fold the oil into the batter.
– Pour into prepared pan and bake for 50 minutes, or until a toothpick comes out clean.
For the Lemon Glaze:
– Cook the second measure of Sugar and the Lemon Juice in a small saucepan on the stove, until the sugar dissolves. Set aside
– When the cake is done, let it cool in its pan for 10 minutes, then place on a cooling rack over a parchment lined baking sheet. Poke some small holes into the cake and pour the Glaze over the warm cake. Let the cake cool completely
For the Lemon Mardi Gras Frosting:
– Combine the Powdered Sugar and Lemon Juice in a bowl. Separate into three small bowls and add Food Coloring. Drizzle over cooled cake. Enjoy
Until next time,
LOVE & CONFECTIONS!
Disclaimer: I was not compensated for using any products mentioned. All opinions are my own.