Loaded Potato Breakfast Gnocchi is a new way to enjoy potatoes in the morning. Add eggs and tomato and you will have a great start to your day.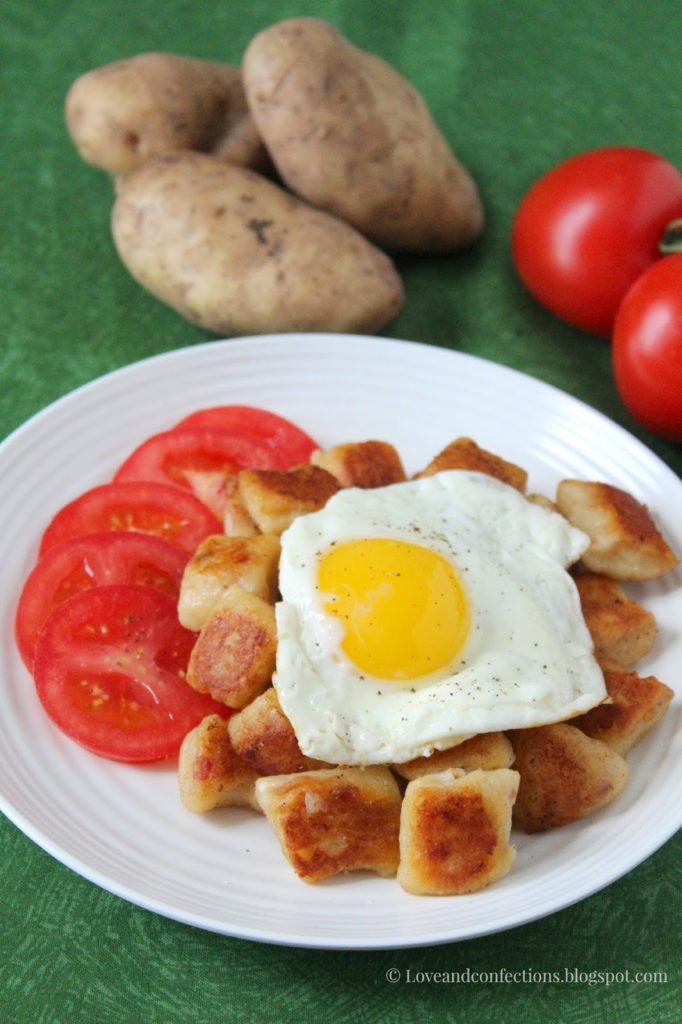 I love cooking with people. Being in the kitchen is more fun when you are doing what you love with family and friends. One of my friends, David, is an awesome cook. We share a love of Alton Brown, kitchen gadgets and all things butter. For this recipe, we bounced ideas off each other and had a few different attempts that were delicious fails.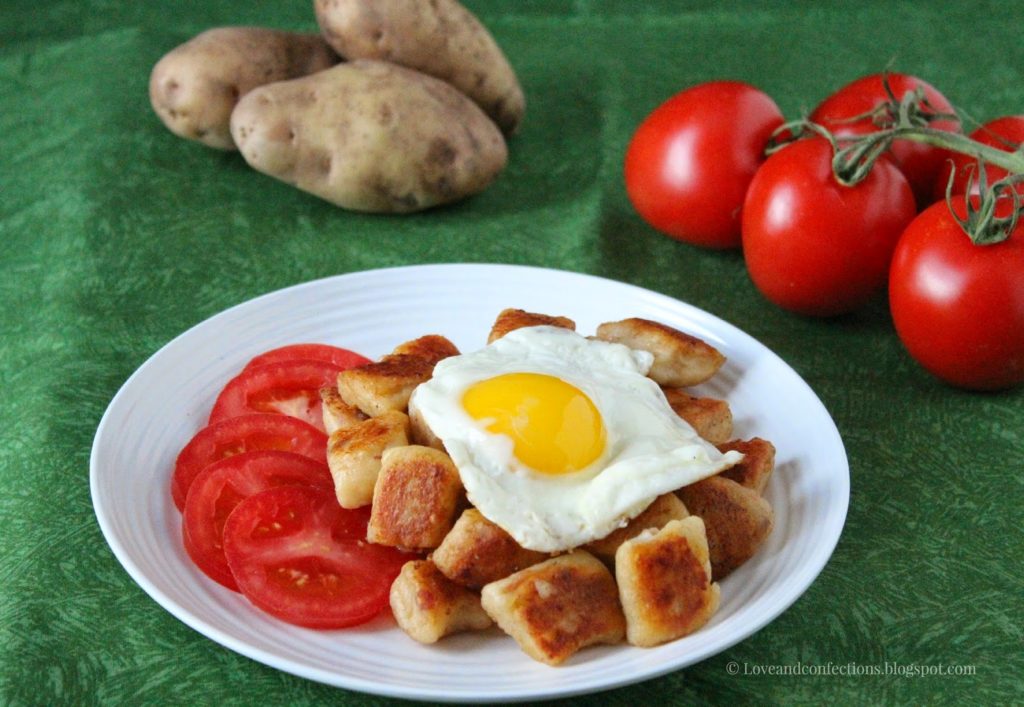 These gnocchi are fabulous! I love the additions of bacon and cheese – makes it different than a normal gnocchi. I also added heavy cream, an egg and cream cheese to help make it a smooth and light texture. This is also a great base recipe for other add-ins. I have also been brainstorming a cheddar and chive gnocchi, as well as a sweet dessert gnocchi!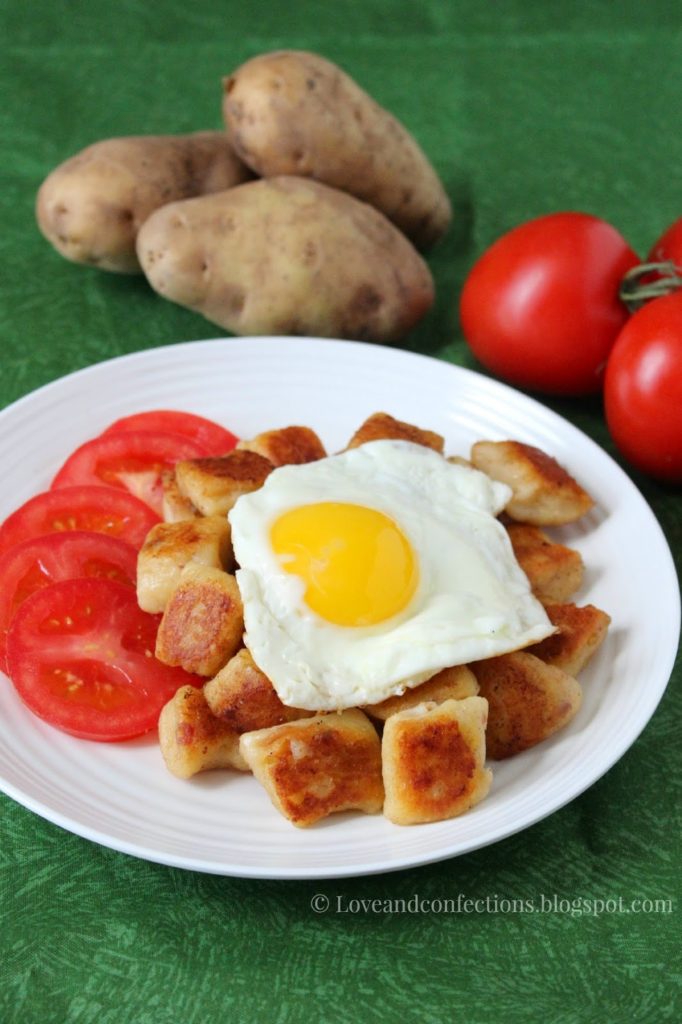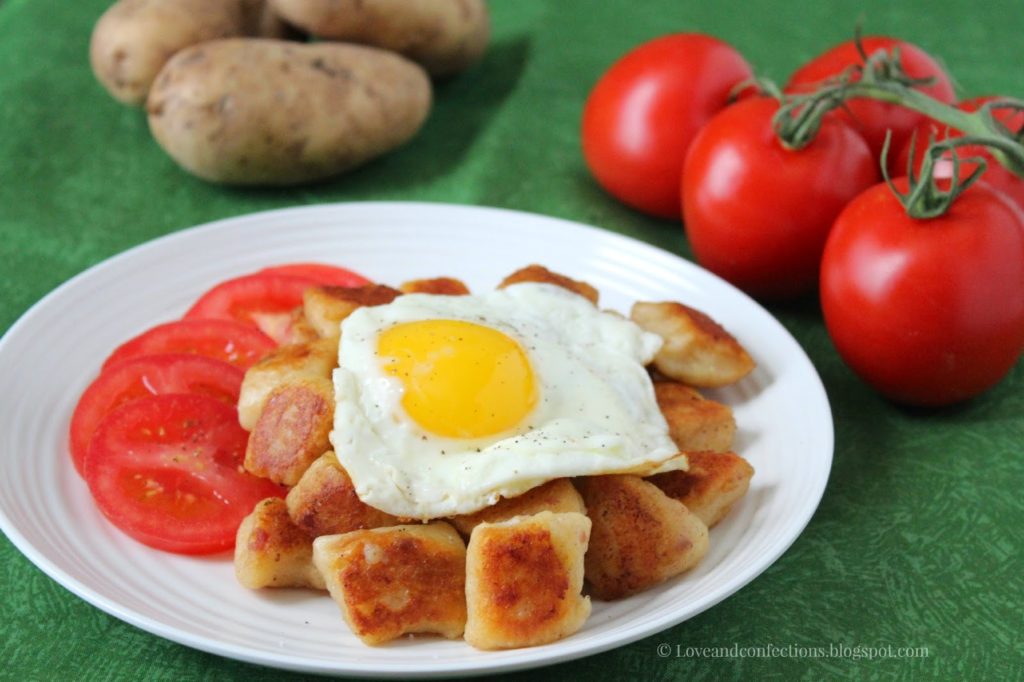 Loaded Potato Breakfast Gnocchi
a Love and Confection original recipe
Serves 4-6
Click here for the printable recipe
Loaded Potato Breakfast Gnocchi Ingredients:
– 4 medium Idaho Russet Potatoes, approximately 1 lb 2 oz
– 1/2 cup Heavy Cream
– 2 tablespoons Unsalted Butter, plus more for sauteing.
– 2 tablespoons Cream Cheese
– 4 slices prepared Bacon*
– 4 ounces Shredded Cheddar Cheese
– 1 large Egg
– 1/2 teaspoon Salt, plus more for salted boiling water
– 1/4 teaspoon Pepper
– 1/8 teaspoon Onion Powder
– 1 & 1/2 cup plus 2 tablespoons All-Purpose Flour, more if necessary
– Olive Oil
– Fried Eggs and Tomato (optional)
Loaded Potato Breakfast Gnocchi Directions:
1. Put a large pot of water on the stove to boil Potatoes. While it is heating up, peel and dice potatoes into 1 inch cubes. Once water comes to a boil, salt it then cook potatoes until they are fork tender. Strain and place in the bowl of your stand mixer.
2. To the potatoes, add Heavy Cream, Butter and Cream Cheese. Mix until the potatoes are combined and slightly cool. Cut the bacon in half lengthwise, then in small pieces no bigger than 1/4 inch wide. Add to the potatoes along with the Shredded Cheddar Cheese. Once the potatoes are cool, add in the Egg, Salt, Pepper and Onion Powder and mix until combined.
3. Add in 1 cup of Flour, slowly, and mix until combined. Remove the paddle attachment and with a spatula or spoon, mix the remaining flour in by hand. You want the potato mixture to hold together and not be sticky to the touch. More flour can be added if necessary.
4. In batches and on a lightly floured surface, roll out the gnocchi dough to rope about the width of your finger and cut into 3/4 inch pieces.
5. Boil the Gnocchi in a large pot, in two or more batches, until they float. Start heating a large skillet with Butter on medium heat as soon as you put the first batch to boil. Remove the Gnocchi with a slotted spoon and place on a sheet tray with sides that is drizzled a bit of Olive Oil (to prevent sticking).
6. Saute Gnocchi in skillet in batches. Turn over the gnocchi when the first side creates a nice golden brown crust. Serve immediately. Top with Fried Egg (optional).
* I bake my Bacon on a foil-lined sheet pan with sides in a 400°F oven for 15-17 minutes
Follow Idaho Potatoes on Twitter, Facebook, Instagram and Pinterest!
Until next time,
LOVE & CONFECTIONS!