Stonyfield Smoothies, fun at the baby gym, playing in the water, and unlimited play time with Mommy is the most fun I have had in a while and a day that was truly "Made to Matter" with my Toddler.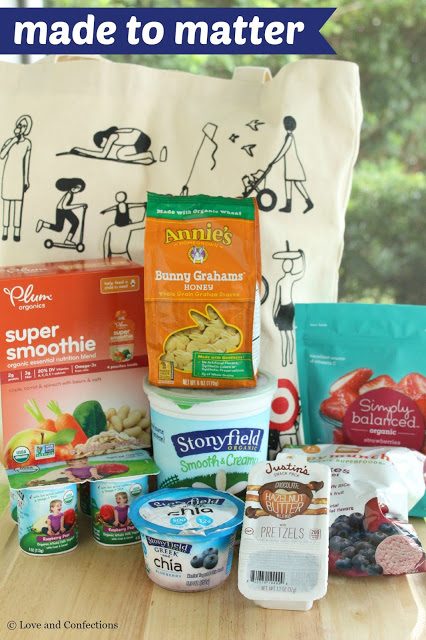 I have been extremely busy with blog work lately. I recently went to a conference for a weekend (the re-cap will be up Friday), and have been working on a lot of projects for the blog. The days have been extremely hot here, with rain and thunderstorms almost every day. Sometimes it is too hot to go outside and play during the day and by the time we are finished with dinner and cleaning up, it's almost #ToddlerLnC's bedtime.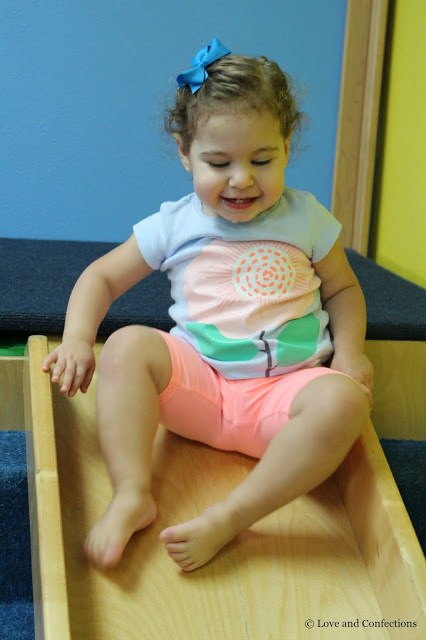 I decided to put the work aside for a day and enjoy some time with #ToddlerLnC. Albeit, I had deadlines and lots of work to do, but being with her was more important. After a delicious breakfast of eggs and Stonyfield YoTot Yogurt, we headed out to the baby gym.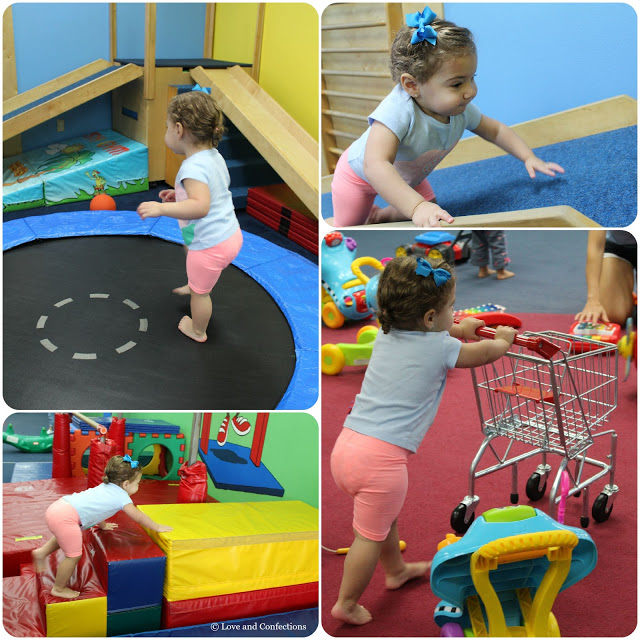 We had so much fun at the baby gym. She loves to jump on the trampoline, walk on the balance beam, and try to climb everything in her path. The gym is a great place to burn off energy especially since there is lots of fun music and activities. She usually has a Plum Organics fruit pouch after the gym time, so she can get a little snack in her before the car ride home. I love being able to give her a healthy snack and glad that Plum Organics is one of the Made to Matter brands.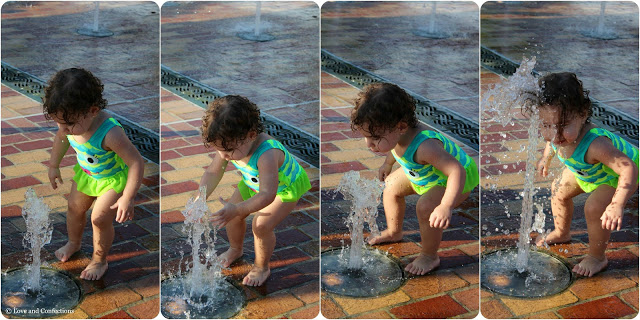 We often go to the splash pad, and what better way to cool off on a hot day than play in the water. It's so much fun to watch her encounter the fountains. She runs to and away from the spraying water, sometimes not realizing when one is going to hit her in the face. She is carefree and enjoying life, inquisitive, caring and so smart. I love watching her discover new things, learn, and have new experiences.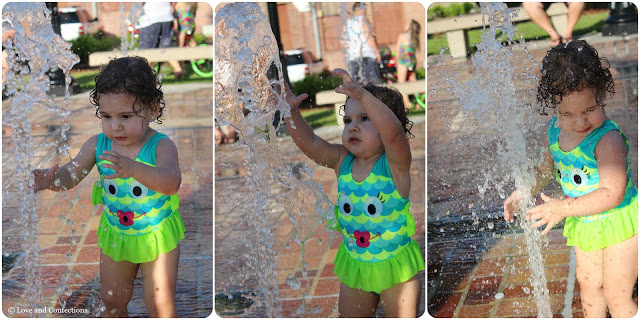 After the splash pad, we went home, had lunch and she took a really good nap – I tired her out. After her nap I fixed us both a smoothie and snack. I love using Stonyfield Yogurt in my smoothies. I am doing a 5-part smoothie series during August, so don't forget to come back to check out all my delicious smoothies. You can also follow along with the hashtag #LnCSmoothieSaturdays on social media. We enjoyed a day playing at the gym, splash pad, reading books, building blocks, sharing smoothies and having fun thanks to inspiration from Stonyfield and Made to Matter from Target.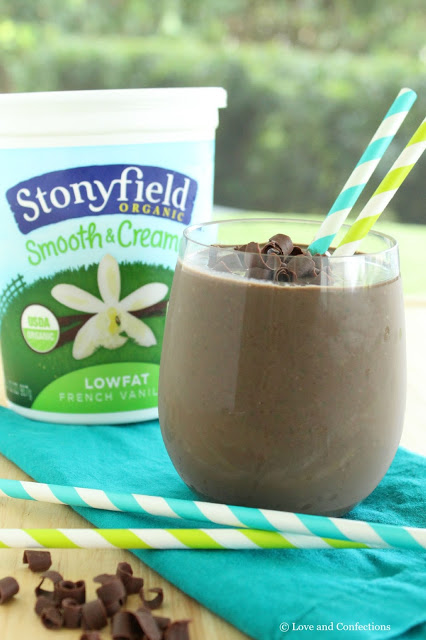 Target's new Made to Matter collection of product includes options that are organic, non-toxic, non-GMO, fair trade and more. Stonyfield Organic is included in the list of handpicked companies included in Target's Made to Matter collection. The collection has baby and children's products, like Plum Organics, Annie's, and Happy Family. There is also beauty, health and cleaning products, like Olly, Method and Seventh Generation. Some of the grocery products include Cascadian Farms, Justin's and Target's Simply Balanced to name a few. You can find the whole list of Made to Matter companies on the Target website.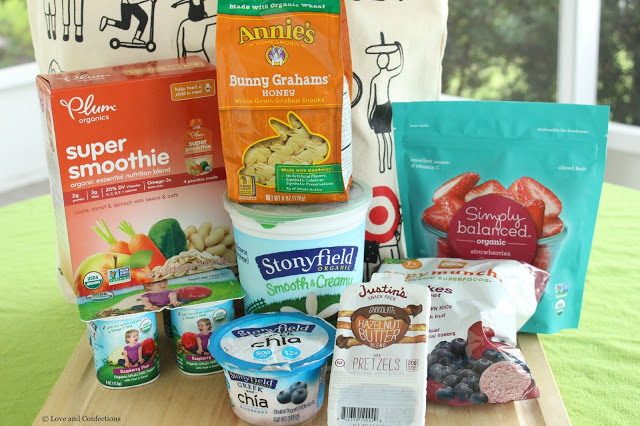 Looking for a Greek yogurt with something…more? Stonyfield to the rescue with two new Target Made to Matter exclusives: Stonyfield Organic Super Seeds and Stonyfield Organic Super Grains Greek Yogurt. Organic Super Seeds features nonfat Greek yogurt with softened flaxseed, in orange-cranberry, blueberry and coconut flavors. Stonyfield Organic Super Grains pairs nonfat Greek yogurt with buckwheat and quinoa, in strawberry, maple and vanilla flavors. Each 5.3oz cup is packed with protein for a wholesome, truly satisfying snack – morning, noon or night. All six flavors are certified organic and gluten-free, and completely delicious. They will be available exclusively at Target stores nationwide starting in August. For more information on Stonyfield Super Seeds & Grains Greek Yogurt or any Stonyfield product, visit www.Stonyfield.com.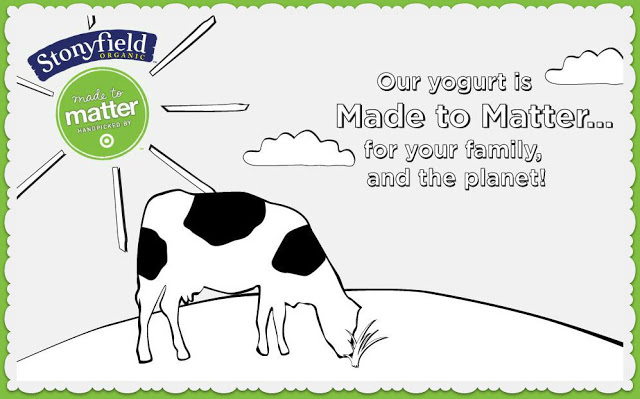 Until next time,
LOVE & CONFECTIONS!
Disclaimer: I received samples of some of the Made to Matter products as well as a Target gift card to purchase more Made to Matter Products. I have an ongoing relationship with Stonyfield as a member of the Clean Plate Club. I receive product, coupons and/or compensation for posts featuring their products. As always, all opinions are my own. #stonyfieldblogger #sponsored.