This shop has been compensated by Collective Bias, Inc. and its advertiser. All opinions are mine alone. #BigHero6MovieNight #CollectiveBias
Malted Milk Ball Cupcakes are the perfect treat for a movie night at home – they taste just like the famous concession stand candy!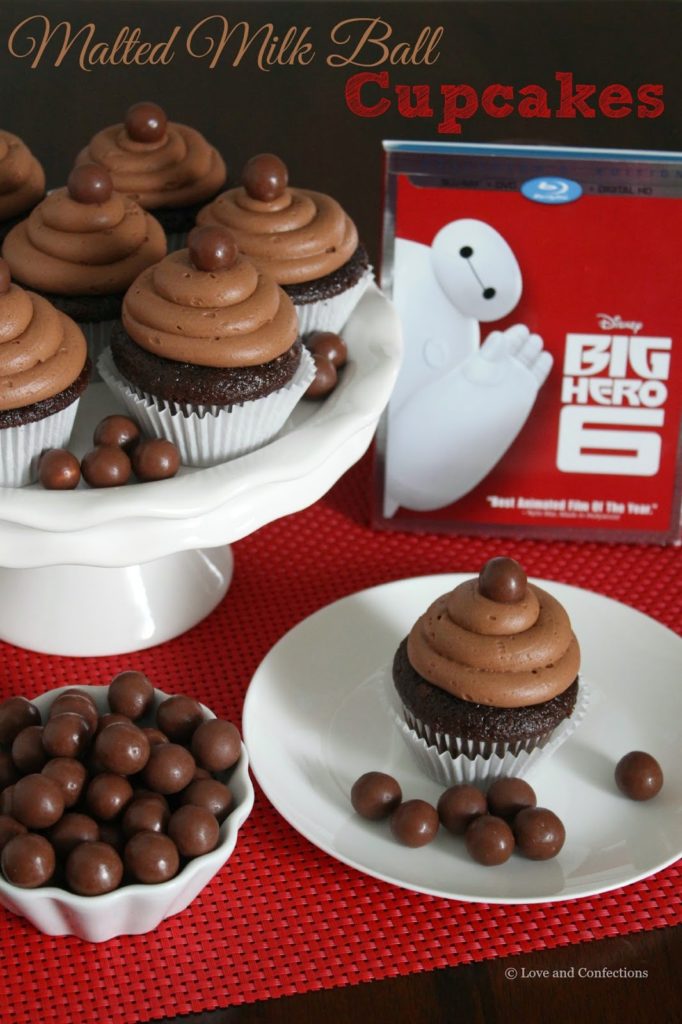 I love going to the movies and we always enjoy our favorite concession stand candy, drinks and popcorn before grabbing a seat for the show. These days, with a toddler, going to the movies doesn't happen often. I usually have to wait for movies to come on DVD or Blu-ray. I wasn't able to see Big Hero 6 while it was in theaters and have waited patiently for it to be released at our local Target for our own movie night at home.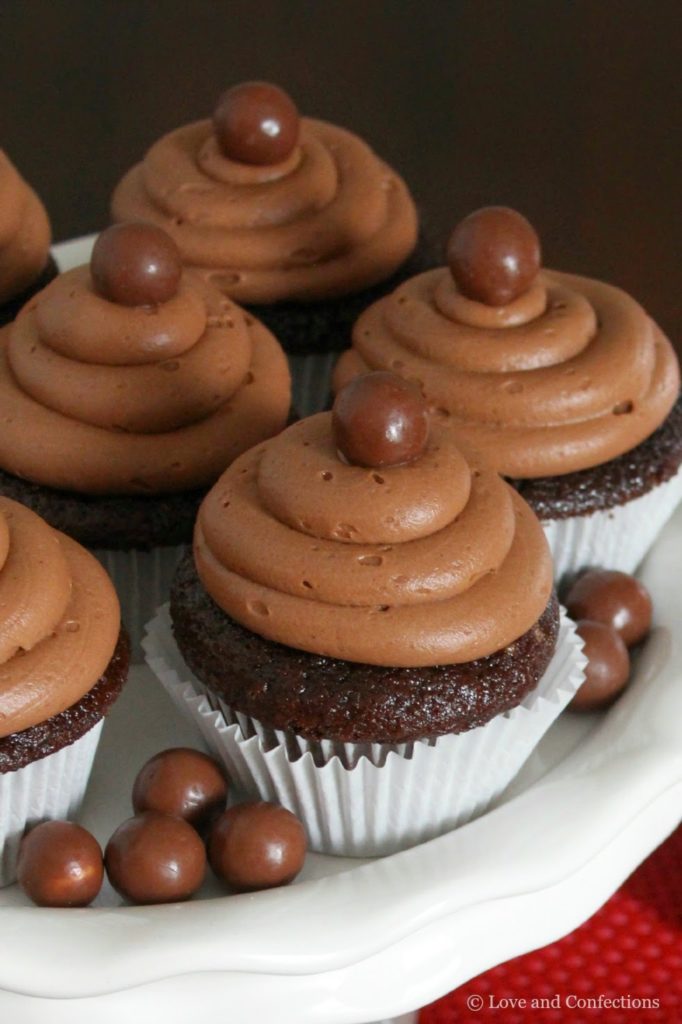 I always joke that you can tell who parents of little kids are, by when they go shopping. If you happen to be at Target before 10am on a Saturday morning, you can bet that you will see tons of parents with small children in tow. I always go in with a list and it never fails that I come out with more than planned. It's so much fun roaming around and picking up random things – especially from the seasonal candy and movie aisles!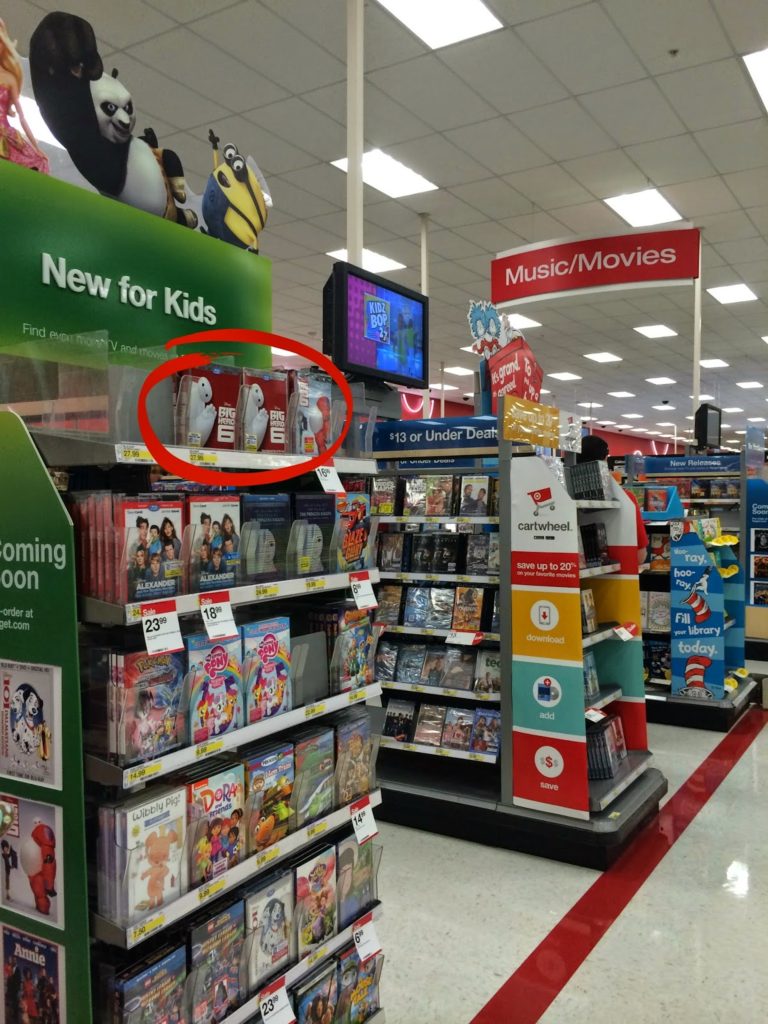 Since we stay home to watch our movies, I wanted to create the same movie experience at home, but with a twist. I LOVE cupcakes and always have fun coming up with new flavors and ideas. My favorite concession stand candies are malted milk balls – so what better candy to make into a cupcake!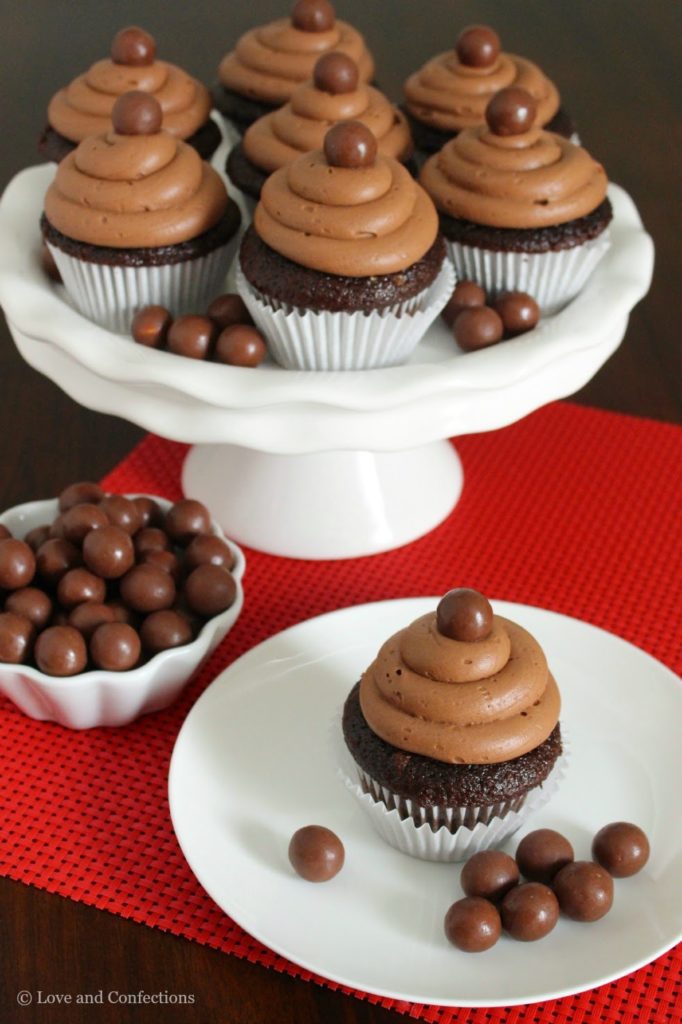 I have a chocolate cake recipe that I tweaked a bit and added Malted Milk Powder. I baked the cupcakes in wrappers and once they were completely cooled, gathered all my ingredients for the frosting.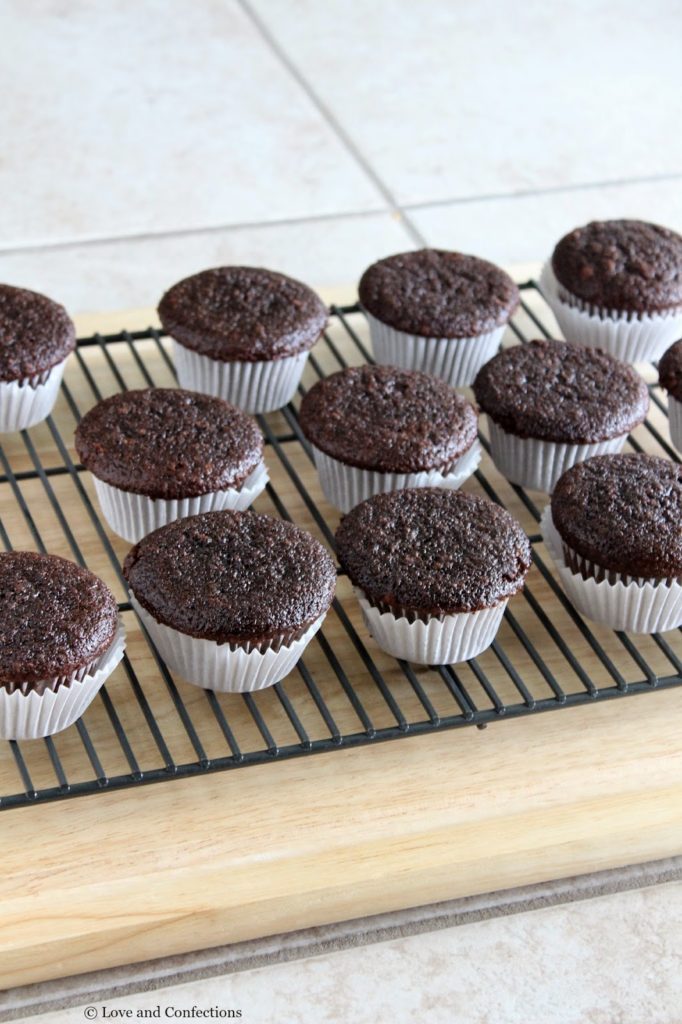 The Malted Milk Pudding Frosting is my favorite part of this cupcake. It tastes just like a malted milk ball! Having a proper piping bag and piping tip make decorating the cupcake a breeze. My go-to tips are usually a large round or large star tip – they create a really pretty topping. Make sure you keep your heavy cream cold and in the refrigerator until you need it – heavy cream whips up better when it is extremely cold.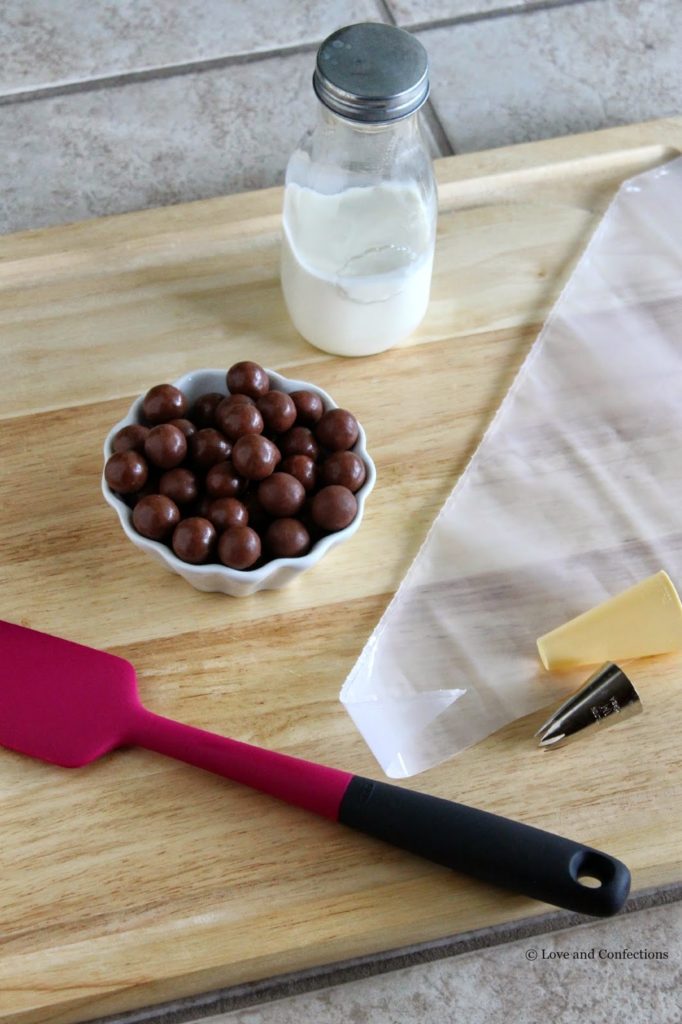 Top the frosting with a malted milk ball and pop them into the refrigerator until you are ready to serve.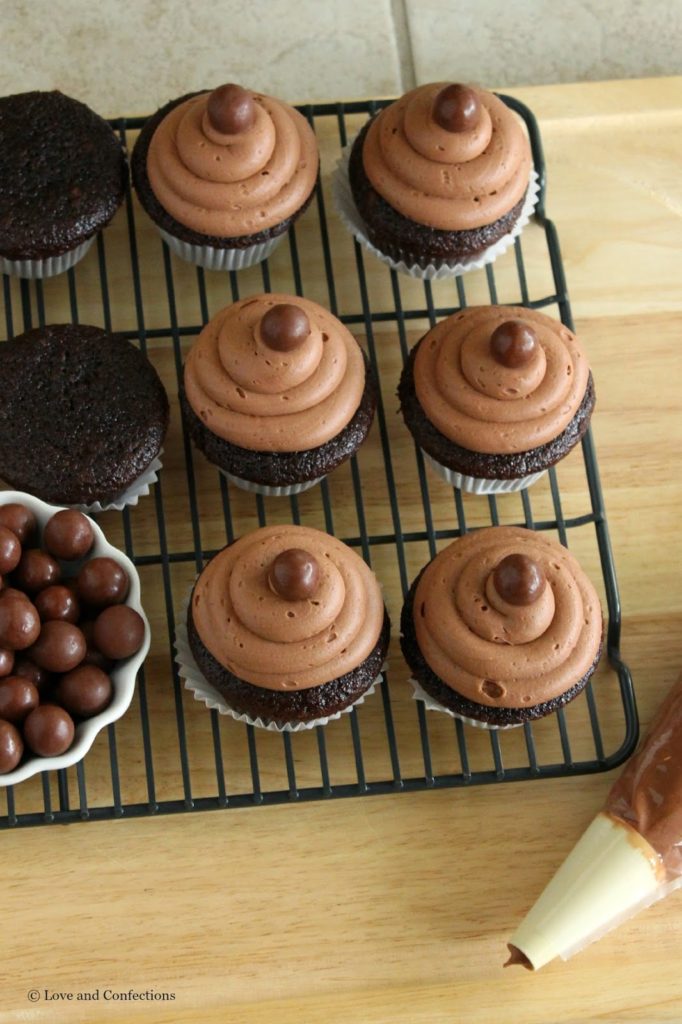 Do you stay in or go out to the movies? What is your favorite concession stand treat? I hope you enjoy these cupcakes as much as I did!
Malted Milk Ball Cupcakes
A Love and Confection original recipe
Click here for a printable recipe
Yield 16-18 cupcakes
Malted Milk Ball Cupcake Ingredients:
– 1 cup Granulated Sugar
– 1 cup plus 2 tablespoons All-Purpose Flour
– 1/3 cup Cocoa Powder
– 1/3 cup Malted Milk Powder
– 1 teaspoon Baking Powder
– 3/4 teaspoon Baking Soda
– 1/2 teaspoon Salt
– 1/2 teaspoon Espresso Powder
– 2 Large Eggs
– 2 teaspoons Vanilla Extract
– 1/2 cup Whole Milk
– 2 tablespoons Vegetable Oil
– 1/2 cup Hot Water
Malted Milk Ball Cupcake Directions:
1. Heat oven to 350F. Line 2 cupcake tins with 16-18 wrappers.
2. In the bowl of your stand mixer, add Granulated Sugar, Flour, Cocoa Powder, Malted Milk Powder, Baking Powder, Baking Soda, Salt and Espresso Powder. Using the paddle attachment, mix until combined.
3. Add in the Eggs and Vanilla Extract and mix together. While the mixer is on, slowly add the Milk, Vegetable Oil and Hot Water.
4. Using a scoop or measuring spoon, fill the cupcake wrappers half full. The batter rises quite a bit. Bake for 18-22 minutes, or until the cupcakes spring back when touched or a toothpick inserted into the center comes out clean. Let them cool for 5 minutes in the tin, then place then on a rack to cool completely before frosting.
Malted Milk Pudding Frosting Ingredients:
– 2 & 1/4 cups Heavy Cream – keep cold and in the refrigerator until needed
– 1/2 cup Powdered Sugar
– 1 cup Malted Milk Powder
– 1 3.9 ounce Instant Chocolate Pudding Package
– 1 teaspoon Vanilla Extract
– Malted Milk Balls for decoration
Malted Milk Pudding Frosting Directions:
1. Measure the Heavy Cream and place it in the metal stand mixing bowl. Keep the mixing bowl and metal whip attachment in the refrigerator 20 minutes before making the frosting – cold cream whips up better.
2. Sift the Powdered Sugar, Malted Milk Powder and Instant Chocolate Pudding onto a sheet of wax or parchment paper, to easily pour into the whipped cream.
3. Whip the Heavy Cream, starting out slow and gradually increasing to high speed for 1-2 minutes until whipped and fluffy. Do not over-mix the cream.
4. With the mixer on low, add in the sifted dry ingredients, followed by the Vanilla Extract. Once it is combined, whip on high until smooth and fluffy. If not using the frosting immediately, store in the refrigerator for up to a few hours.
5. Fill a piping bag with the frosting and pipe onto your cupcakes. Place a Malted Milk Ball on each cupcake. Cupcakes are best eaten the day they are made, but can be store in an airtight container in the refrigerator overnight.
Until next time,
LOVE & CONFECTIONS!