These cookies are a must for your Fall baking. Moist and irresistible, these Melt-In-Your-Mouth Pumpkin Cookies are going to be a hit.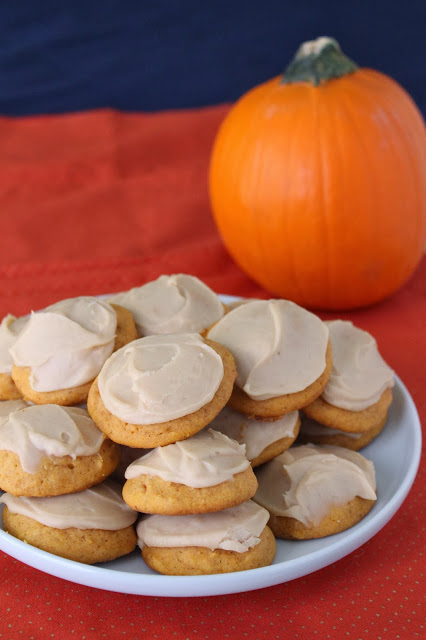 Welcome to #cookieweek! Susan of The Girl In The Little Red Kitchen and Kim of Cravings of a Lunatic have joined together this week with 23 of their blog friends to present to you a week of cookie treats! We have every type of cookie you can think of listed this week, including something for our furry friends! Now is the time to bookmark these recipes for the upcoming holidays and cookie swaps or simply visit our Pinterest board! Make sure you enter the giveaway with some fabulous prizes fromKitchenAid, King Arthur Flour, OXO, Silpat and Zulka Pure Cane Sugar to help with your cookie making needs!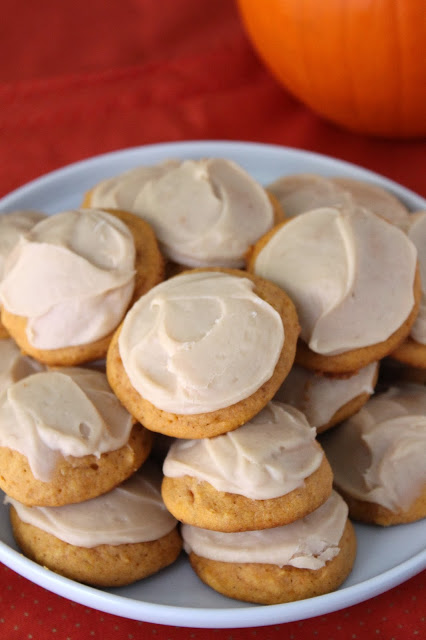 Living in Florida, we don't get the changing of the leaves. I live vicariously through photos from Family and Friends. I always love the bright reds, oranges and yellows mixed in with the green trees. As far as Florida Fall goes, Autumn isn't truly here unless you have pumpkin spice in your life. I love pumpkin pie spice – in coffee, cakes, cookies and so much more.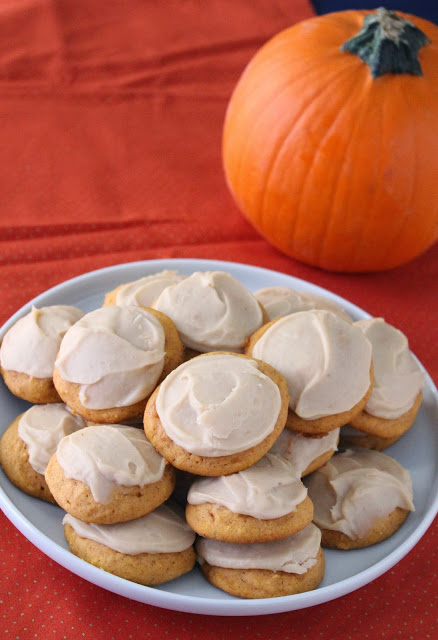 These cookies definitely melt in your mouth. They are so pillow-y soft and have just the right amount of pumpkin spice and sweetness. Our Thanksgiving dessert table will definitely hold a few of these delicious bites. I'm also going to freeze some for Christmas time, just in case we have unexpected guests popping by to see our newest addition to the family.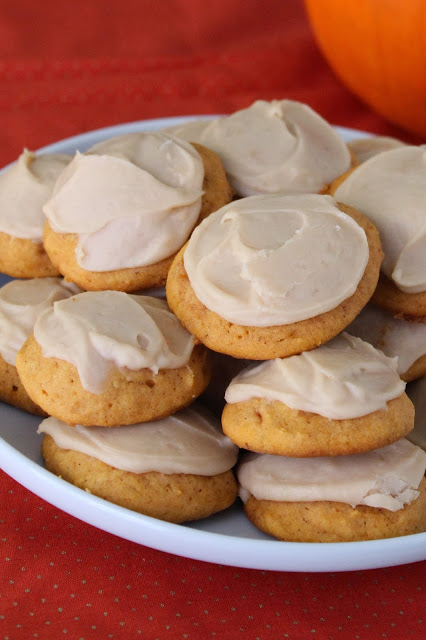 Melt-In-Your-Mouth Pumpkin Cookies
adapted from Better Homes and Gardens
yield 120 cookies – you can easily cut the recipe in half


Melt-In-Your-Mouth Pumpkin Cookies Ingredients:
– 2 cups unsalted Butter, room temperature
– 2 cups granulated Sugar
– 2 teaspoons Baking Powder
– 2 teaspoons Baking Soda
– 1 teaspoon Salt
– 2 teaspoons Homemade Pumpkin Pie Spice
– 2 Eggs
– 2 teaspoons Vanilla Extract
– 1-15 ounce can pureed Pumpkin, not pumpkin pie filling
– 4 cups All Purpose Flour
Melt-In-Your-Mouth Pumpkin Cookies Directions:
– Heat oven to 350F.
– In bowl of your stand mixer, beat Butter for 30 seconds until light and fluffy. Add in Sugar, Baking Powder, Baking Soda, Salt and Pumpkin Pie Spice. Beat until combined and light and fluffy. Scrape down the sides of the bowl to make sure everything is incorporated.
– Add in Eggs, Vanilla Extract and Pumpkin. The mixture will look slightly curdled but it is fine.
– While the mixer is on low, slowly add in the Flour a 1/2 cup at a time and mix until just incorporated.
– Using a small cookie scoop, drop dough 2 inches apart on an ungreased cookie sheet. Bake for 10-12 minutes, or until tops are set and just turning brown around the edges. Cool on a wire rack before frosting.
Pumpkin Cookie Frosting Ingredients:
– 1/2 cup unsalted Butter
– 1/2 cup packed Brown Sugar
– 1/4 cup Milk
– 1 teaspoon Vanilla Extract
– 2 & 3/4 cups Powdered Sugar
– Pumpkin Pie Spice for dusting, optional
Pumpkin Cookie Frosting Directions:
– In a small saucepan, heat the Butter and Brown Sugar until melted and there are no lumps.
– Transfer Butter and Sugar mixture to a medium bowl and stir in Milk and Vanilla Extract. Stir in Powdered Sugar until smooth and there are no lumps.
– Spread on cookies and dust with a little Pumpkin Pie Spice. Enjoy
Four lucky winners will win one of the following:
Prize #1: 1 (one) KitchenAid 9-Speed Hand Mixer plus 1 (one) 4lb bag of Zulka Pure Cane Sugar
Prize #2: 1 (one) OXO gift set including the following: 1 (one) 3-in-1 Egg Separator, 1 (one) Cookie Press, 1(one) Autumn Cookie Disk Set, 1 (one) 3 piece Cookie Cutter Set, 1 (one) Bowl Scraper, 1 (one) 2 Cup Adjustable Measuring Cups
Prize #3: 1 (one) King Arthur Flour gift set including the following: 1 (one) King Arthur Unbleached All Purpose Flour -5lb bag, 1 (one) Snowflake Cookie Cutter Set, 1 (one) King Arthur Flour Pure Vanilla Extract, 1 (one) Sparkling Sugar Collection, 1(one) Semi-Sweet Chocolate Wafers – 16oz and 1(one) 4lb bag of Zulka Pure Cane Sugar
Prize #4: 1 (one) Silpat Halfsize Mat and 1 (one) 4lb bag Zulka Pure Cane Sugar
This giveaway is open to US residents from November 11, 2013 through November 16, 2013 11:59pm EST and will be picked from random draw. The winners will be notified via email and have 72 hours to respond, if not their prize is forfeited and another winner will be chosen.
How to Enter:
Mandatory Entry: Leave a comment with your favorite cookie to bake during the holidays or for cookie swaps.
Many more ways to enter in the rafflecopter widget!
Disclaimer: KitchenAid, OXO, King Arthur Flour, Silpat and Zulka Pure Cane are providing the prizes free of charge. All opinions stated are my own.
Also check out the other #Cookieweek posts for today!
Cinnamon-Sugar Crinkle Cookies by i heart eating
Until next time,
LOVE & CONFECTIONS!