Meyer Lemon Cake with Lemon Glaze is a lemon-lovers' dream.
Tart, sweet and the perfect flavorful bite!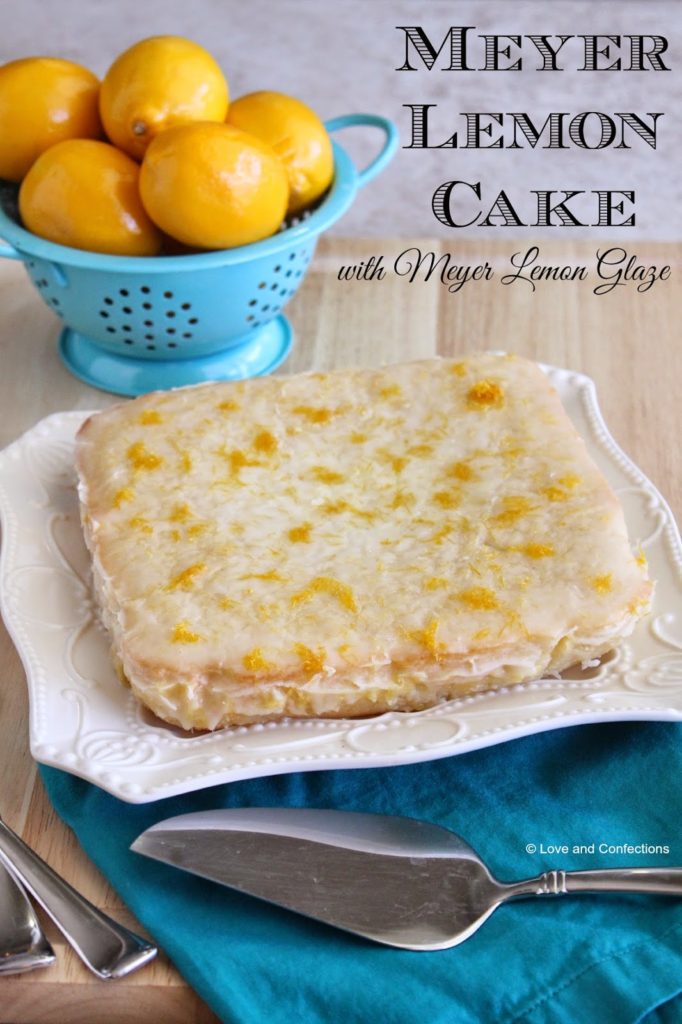 I love Meyer Lemons. They aren't as tart as regular lemons, and they have such a great vibrant color. I await this time of year, when Meyer Lemons come into season and the stores start to carry these golden beauties. I sometimes get so excited I buy a little more than I should. 24 beautiful Meyer Lemons came home with me last weekend and I have been baking and cooking with them almost every day.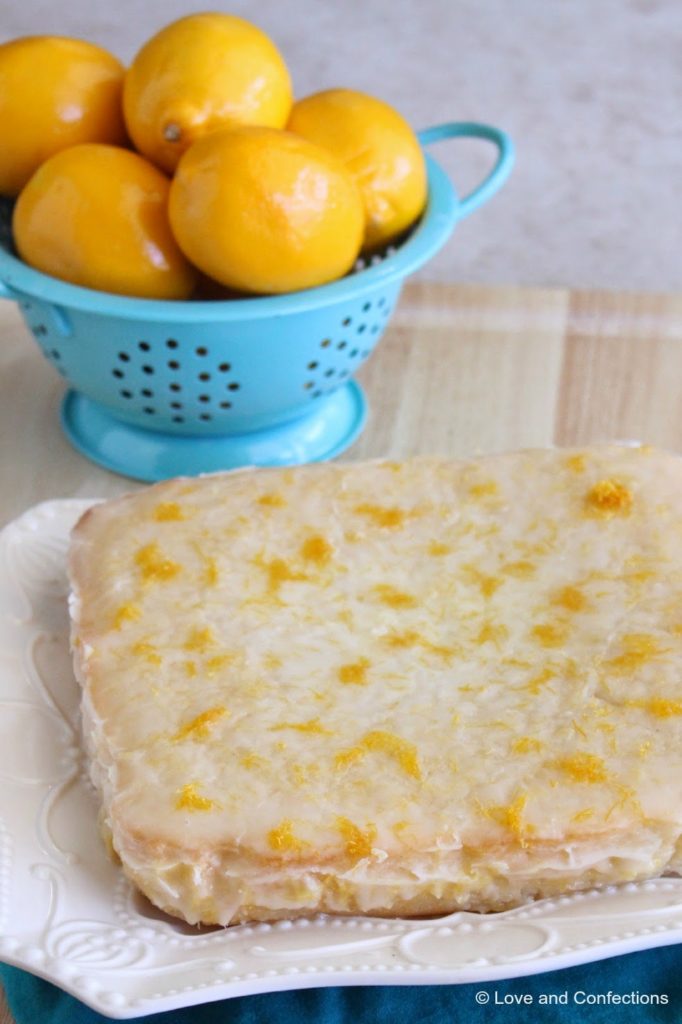 Today's Meyer Lemon Cake was the first baked goodie I made. I also created a Meyer Lemon Pound Cake and Meyer Lemon Breakfast Parfait which will be up on the blog soon. I have used the zest, juice and lemon slices in almost everything this past week! The tart and sweet combination from these lemons makes me wish their season never ended and that I could use them year-round.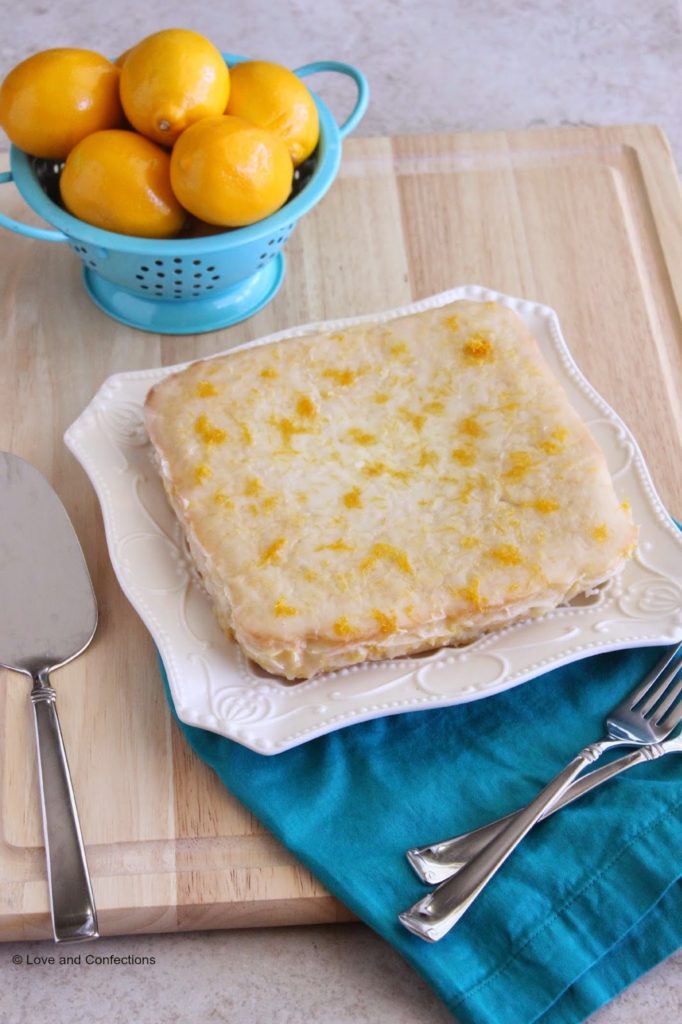 I decided to try this cake from Averie Cooks. I followed her recipe and directions almost exactly how she wrote it – I used Meyer Lemons instead of regular ones and added some extra zest, just to see how it turned out when I made it. The cake turned out delicious, but I am not a fan of her procedure at all. I don't like how she uses foil for the cake. The glaze also ran over the sides and basically pooled around he cake. Next time I make it, I will probably do a different method, make my glaze a bit thicker and pour it once the cake is on a plate or stand. Other than that it was a good cake with some great lemon flavor.
Meyer Lemon Cake with Meyer Lemon Glaze
Slightly adapted from Averie Cooks
Click here for a printable recipe
Meyer Lemon Cake Ingredients:
– 1/2 cup Lemon Milk
– 1 & 1/4 cups All Purpose Flour
– 3/4 cup Granulated Sugar
– 2 teaspoons Baking Powder
– 1/4 teaspoon Salt
– 2 tablespoons Meyer Lemon Zest
– 1 Large Egg
-1/3 cup Sour Cream
– 1/4 cup Meyer Lemon Juice plus 1 teaspoon for Lemon Milk
– 3 tablespoons Vegetable Oil
-1 teaspoon Vanilla Bean Paste
Meyer Lemon Cake Directions:
1. Heat oven to 350F and line an 8×8 baking pan with foil, then spray with baking spray.
2. In a measuring cup or small bowl, mix together 1/2 cup Milk and 1 teaspoon Meyer Lemon Juice and set aside.
3. In a medium bowl, whisk together the Flour, Sugar, Baking Powder and Salt. In a separate bowl, whisk together the Meyer Lemon Zest, Egg, Sour Cream, Meyer Lemon Juice, Vegetable Oil and Vanilla Bean Past. Add the we mixture into the dry mixture and combine with a spatula.
4. Pour into baking dish and bake for 25-30 minutes or until the cake springs back when slightly touched and a toothpick inserted into the center comes out clean.
5. Let the cake cook in its pan while making the glaze.
Lemon Glaze Ingredients:
– 2 cups Confectioners' Sugar
– 1/3 cup Meyer Lemon Juice
– 2 tablespoons Meyer Lemon Zest
Lemon Glaze Directions:
1. In a medium bowl, combine the Confectioners' Sugar, Lemon Juice and 1 tablespoon of the Meyer Lemon Zest. Pour glaze over cake and smooth with a spatula. Sprinkle the remaining Meyer Lemon Zest on top and let the cake cool completely before removing from the pan, minimum 2-8 hours.
Until next time,
LOVE & CONFECTIONS!