Before a couple of months ago, I had never had a Meyer Lemon. I knew what they were, I just never had one. A lot of people don't know what they are – go out and get some, if this is you! Meyer Lemons are citrus fruit that is thought to be a cross between a lemon and an orange, or mandarin orange.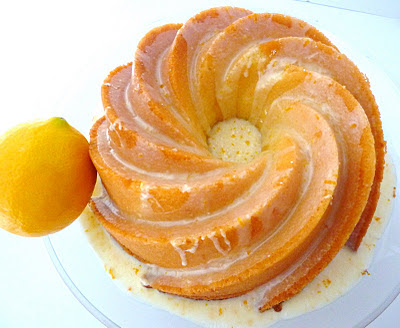 Meyer Lemons are "chubbier" than regular lemons. They have a bright yellow-orange skin, and are sweeter (less acidic) than the lemons found in the grocery store. My Publix and Whole Foods don't carry them, but I was lucky and found some great Meyer Lemons at The Fresh Market. I seriously want to get myself a Meyer Lemon tree – but living in an apartment with no patio kind of makes it difficult.
I decided to do a cake for my first batch of Meyer Lemons. This cake is Delicious, with a capital "D"! It is insanely moist from the whipping cream, and easy to make. I have been wanting to make this cake for a while, and I'm so glad I did. Everyone loved it.
Meyer Lemon Whipping Cream Cake
adapted from Swan's Down Cake Flour
Meyer Lemon Whipping Cream Cake Ingredients:
– 3 sticks unsalted Butter, room temperature
– 3 cups of Sugar
– 6 Eggs
– 3 cups Cake Flour, sifted
– Pinch of Salt
– 1 cup Heavy Whipping Cream
– 2 Meyer Lemons, zested and juiced
Meyer Lemon Whipping Cream Cake Directions:
1. Preheat oven to 325F.
2. Butter and flour (or you can use your favorite baking spray) a 10 inch tube pan
3. Sift Cake Flour and reserve.
4. Cream Sugar and Butter together until light in color, in bowl of stand mixer or with hand mixer.
5. Add Eggs, one at a time, remembering to beat well after each addition.
6. Add in Lemon Zest and Juice.
7. Add in Flour and Whipping Cream, alternating both, and beginning and ending with the Flour.
8. Pour into prepared pan and bake for 75-90 minutes – depending on how your oven heats – until a tester inserted into the cake comes out clean.
Meyer Lemon Cake Glaze Ingredients:
– 1 Meyer Lemon, zested and juiced
– 2-3 cups Confectioner's Sugar, sifted
Meyer Lemon Cake Glaze Directions:
1. Whisk Lemon Juice, Lemon Zest and Confectioner's Sugar together
2. Pour over cooled cake
3. Enjoy!
Until next time,
LOVE & CONFECTIONS!