You don't need an ice cream maker to make delicious ice cream. This easy No-Churn Blueberry Cobbler Ice Cream is the perfect way to savor the taste of Summer and celebrate National Ice Cream Month!
This post is sponsored by Florida Dairy Farmers. All opinions are my own.
No-churn ice cream is so easy to make. If you've never done it, then what are you waiting for? The flavor combinations are limitless and only takes a few minutes to create fantastic homemade ice cream, like my Blueberry Cobbler Ice Cream.
Cobbler is one of my favorite desserts, especially with Summer berries. I knew blueberry cobbler would be the perfect flavor for a no-churn ice cream to round out National Ice Cream Month. Seriously, who wouldn't want to celebrate a month dedicated to ice cream?!?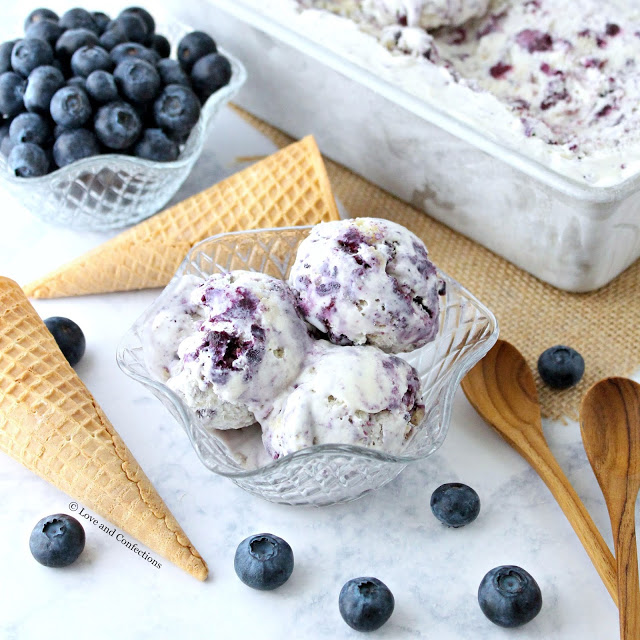 The blueberry cobbler comes together easily, and needs to be baked and cooled before mixing it into the ice cream base. You could definitely adapt this recipe for a regular ice cream machine as well. The fresh blueberries and cobbler topping blended perfectly into the ice cream and created a beautiful purple color when swirled.
The most time consuming part of this recipe was waiting for it to freeze enough to eat. The whole family loved it, especially Little L&C. She has been eating it almost every day, and requests it in a tiny cone for her dessert at night. She got so excited helping me and watching me make this recipe and it is so adorable when she exclaims"yay, blueberry ice cream!" at dessert time. This is one recipe you'll want to keep in your freezer!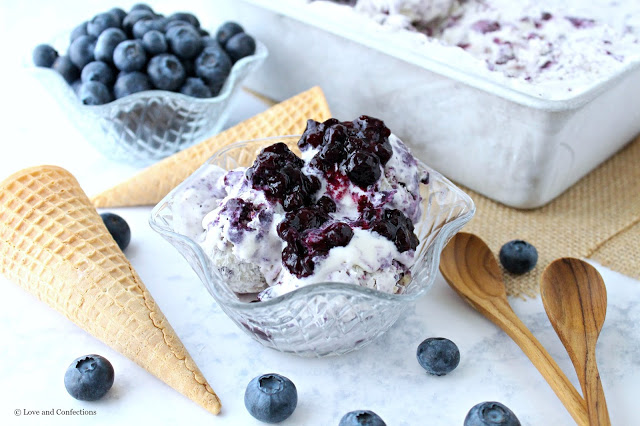 I always have blueberries on hand, whether they are fresh during blueberry season, or frozen from our yearly picking. It was fun showing Little L&C how I made the cobbler and ice cream with berries we picked this past season. She got to have a taste of something she helped make and is already asking for another batch but with strawberries!
This recipe can be made with either, so whatever you have on hand is fine. I would definitely recommend warming up some leftover cobbler and topping it with No-Churn Blueberry Cobbler Ice Cream! There is nothing better than warm cobbler with cold ice cream! Hope you enjoy this easy to make treat!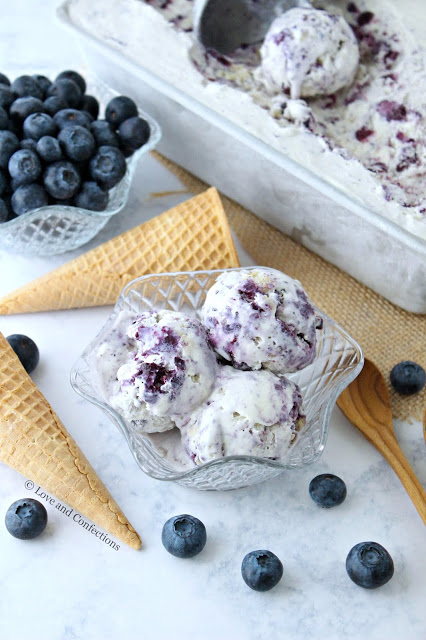 Here are a few items I used in this recipe:
No-Churn Blueberry Cobbler Ice Cream
By Love and Confections
Blueberry Cobbler Ingredients
3 cups fresh or frozen blueberries
2 tablespoons granulated sugar
3 tablespoons orange juice
2/3 cup all purpose flour
1/4 teaspoon baking powder
1/8 teaspoon salt
1/2 cup (1 stick) unsalted butter, softened
1/2 cup granulated sugar
1 large egg
1 teaspoon vanilla extract
No-Churn Ice Cream Ingredients
2 cups heavy whipping cream
2 teaspoons vanilla extract
1 can (14 oz.) sweetened condensed milk
2 cups prepared cobbler, broken into bite-sized pieces
Instructions
Heat oven to 375F. Spray 8-inch square baking dish with cooking spray.
In baking dish, combine blueberries, 2 tablespoons sugar and orange juice, then set aside.
In small bowl, whisk together flour, baking powder and salt, then set aside.
In the bowl of your stand mixer with the paddle attachment or in a medium bowl with a hand mixer, cream butter and granulated sugar for 3 minutes, or until light and fluffy. Scrape down the sides of the bowl then add egg and vanilla extract. Combine and scrape down sides as needed.
Slowly add in the flour mixture while on low speed. Mix until just combined, then evenly cover the blueberries with dollops of batter.
Bake for 35 to 40 minutes, or until the cobbler topping is golden brown. Cool to room temperature, then refrigerate until well chilled.
In bowl of stand mixer with whisk attachment or in medium bowl with hand mixer, whip heavy cream and vanilla extract until stiff peaks form.
Slowly fold in sweetened condensed milk. Fold in 1 cup cobbler.
In loaf pan, place half of the ice cream mixture in, then top with 1/2 cup cobbler and swirl with knife. Top with remaining ice cream mixture and repeat with remaining 1/2 cup cobbler.
Place plastic wrap over surface of ice cream and freeze minimum 6 hours, or overnight.
Yield: 6 cups/1 loaf pan
Prep Time: 00 hrs. 20 mins.
Cook time: 00 hrs. 40 mins.
Chill time: 06 hrs.
Until next time,
LOVE & CONFECTIONS!