Overnight Chocolate Chia Protein Oatmeal is an easy and delicious way to start your day. With 4 simple ingredients you have a protein-packed breakfast or snack waiting for you!
This post is sponsored by Premiere Protein. All opinions are my own.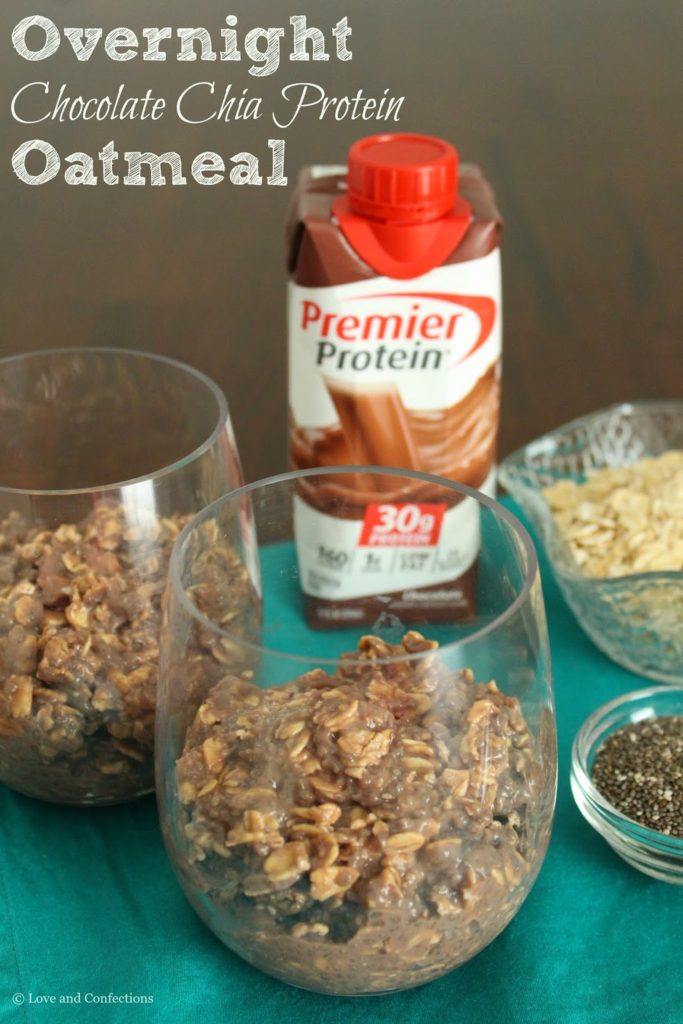 I didn't used to eat breakfast much while in high school or college. I either grabbed a small bite while on my way to school or skipped it altogether. Eating breakfast really is the best way to start your day. I now love eating breakfast, especially since Toddler L&C and I eat together every day.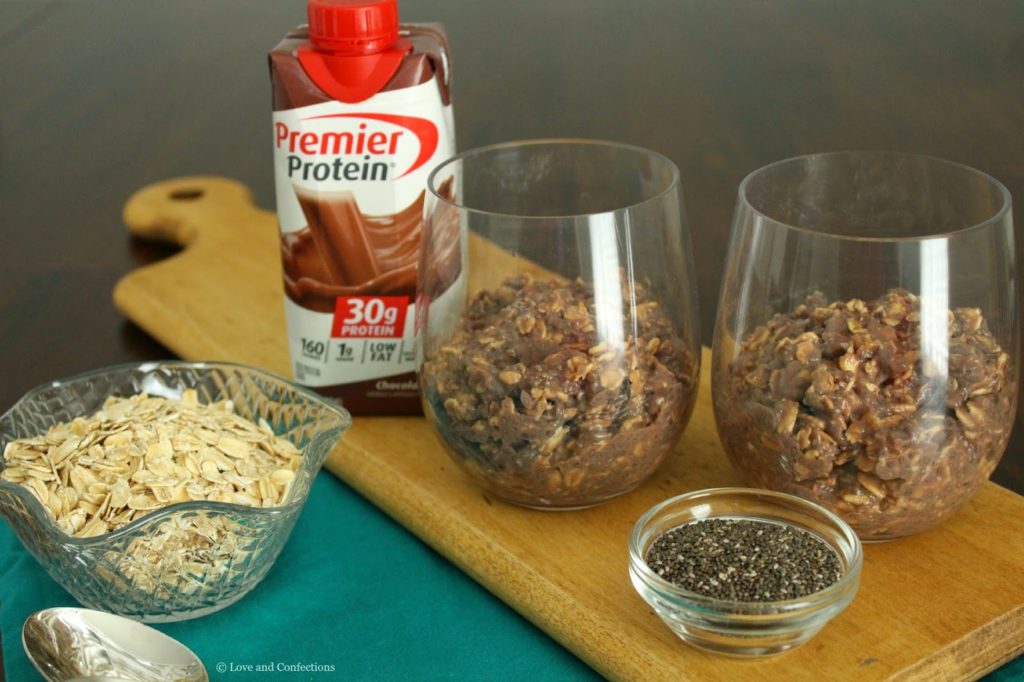 I love making new and different breakfast items and while I do like oatmeal, it's in the upper 80s at least every day, so hot oatmeal for breakfast is out of the question. That's where overnight oatmeal comes in. Overnight oatmeal is a new-to-me concept and I am head-over-heels in love with it. You can make any flavor combinations and they are absolutely delicious. I added Chia Seeds to my oatmeal because of all the great benefits from them as well.
Premier Protein sent me some of their shakes and I knew it would be the perfect addition to my morning oatmeal. Premier Protein has 30 grams of protein – including all the essential amino acids, 160 calories, 1 gram of sugar, 24 vitamins and minerals, is low fat, and an excellent source of calcium. To find out more about Premier Protein and all their products, click here.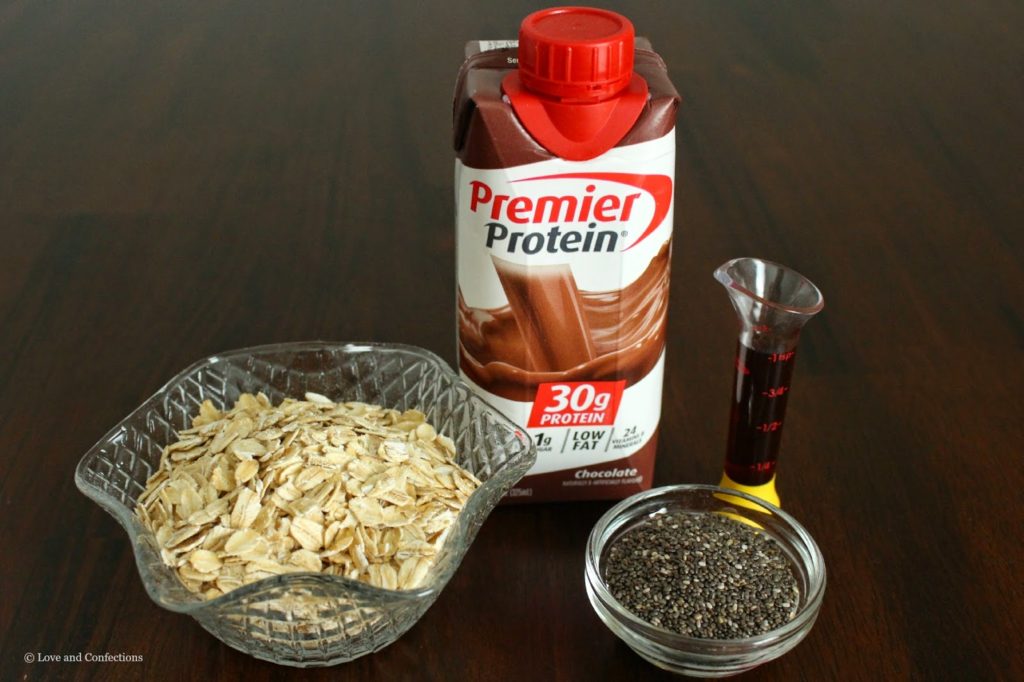 You might be skeptical, like I am when trying most protein shakes, because some of them have a lot of sugar, taste chalky, and don't have as much protein as you would like. Premiere Protein blew me away – it tastes great. Mr. L&C has been running with a friend and helping him train for Tough Mudder Florida 2015. He took one of the Premier Protein shakes and was really surprised that it tasted that good and had more protein than what he had been drinking after his runs.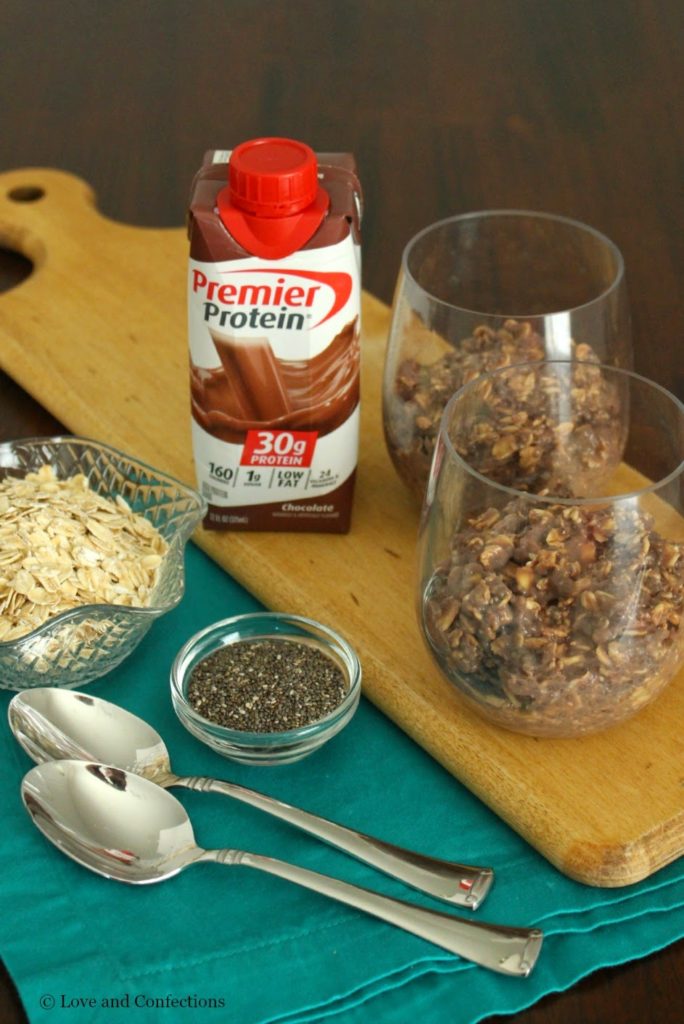 The Vanilla Protein Shake and Chocolate Protein Shake are great on their own, and even better in smoothies and overnight oatmeal. I haven't tried the Strawberries 'n Cream or Mixed Berry Shakes, but I bet they are just as delicious! I can't wait to create some more overnight oatmeal creations and smoothies.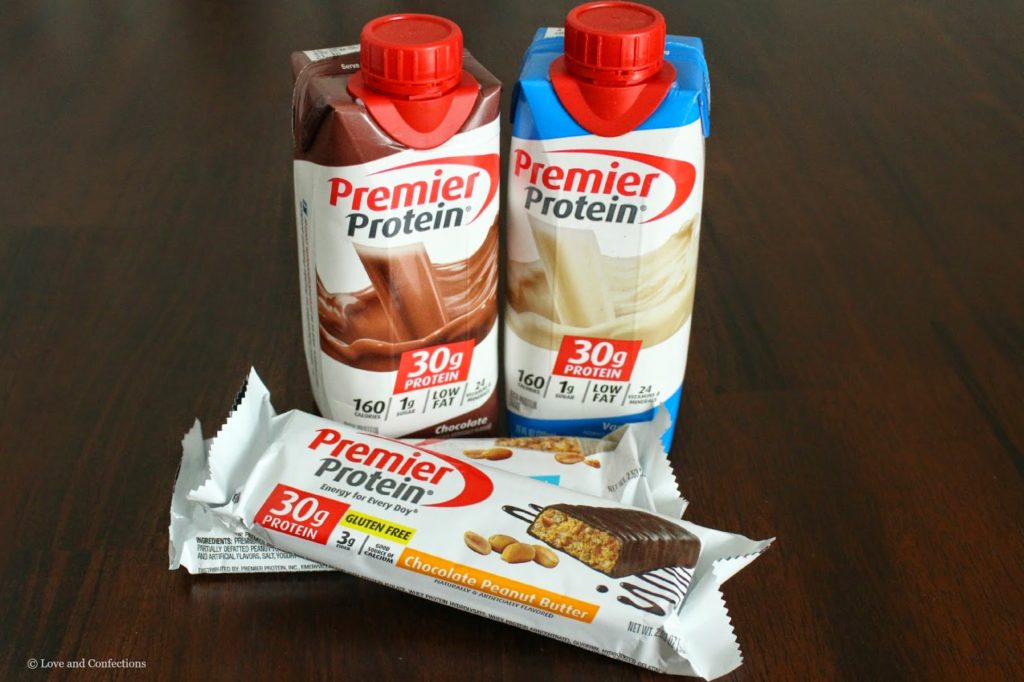 Premier Protein also sent me some Chocolate Peanut Butter Bars to try out as well. They have 11 different flavors including Dark Chocolate Mint, Double Chocolate Crunch, Peanut Butter Crunch, White Fudge Raspberry, Yogurt Peanut Crunch, Chocolate Caramel Fiber, Chocolate Mint Fiber, Cookies 'n Cream Fiber, Honey Caramel Fiber and Peanut Butter Caramel Fiber. Don't they sound delicious and certainly not like those other protein bars? Don't forget to join the Team Premier Advocate Program!
Overnight Chocolate Chia Protein Oatmeal
A Love and Confections original recipe
Click here for a printable link
Yield: 2 servings
Overnight Chocolate Chia Protein Oatmeal Ingredients:
– 1 cup Old Fashioned Rolled Oats
– 3 tablespoons Black Chia Seeds
– 11 ounces Premier Protein Chocolate Shake
– 1 teaspoon Vanilla Extract
Overnight Chocolate Chia Protein Oatmeal Directions:
1. Place all ingredients in a medium bowl and whisk together until combined. Cover with plastic wrap and set in refrigerator overnight. Once ready, you can eat it cold, or microwave it to take the chill off. Enjoy!
Until next time,
LOVE & CONFECTIONS!