Parmesan Pesto Potatoes is an easy and incredibly delicious dish that is perfect for dinner with family
or a fun, Summer gathering with friends.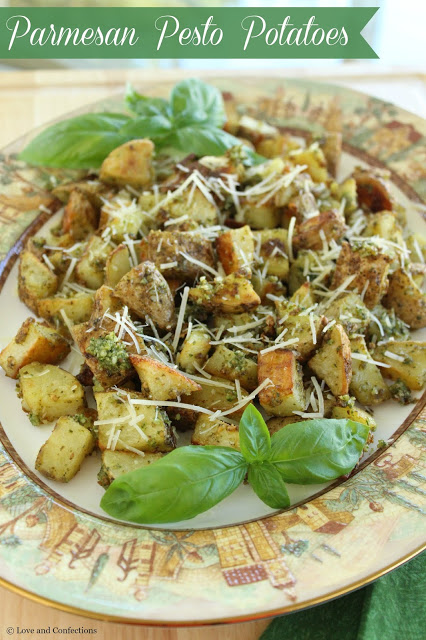 I have never been that good with growing plants. I often forget to water them, or sometimes water them too much. I don't always have the perfect space for them with just the right amount of light. Despite my "black thumb" something pulled me toward the herbs at my local home improvement store a little while ago. The mint and basil looked to be the best choices, so they came home with me, along with some pots and potting soil.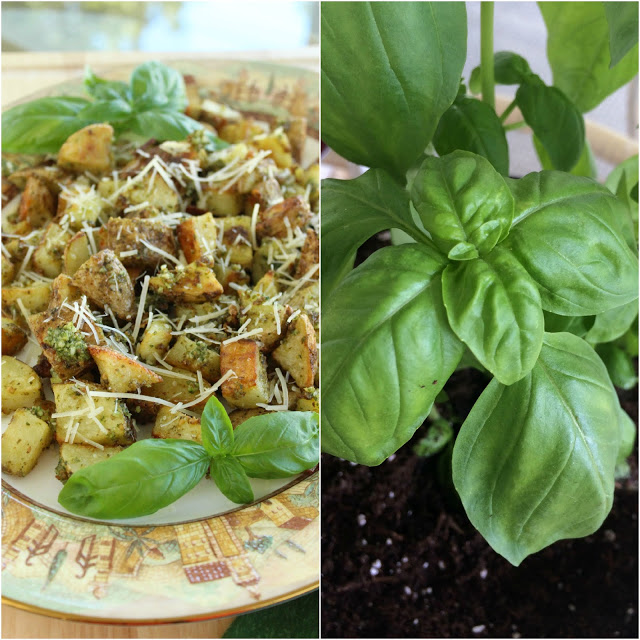 My Dad joked that we would see how long it took me to kill them. I have to admit, these plants must have nine lives, because there was a period where I forgot to water them a few days and looked at their droopy, browning leaves and thought I had killed some perfectly good plants… again. But, like I said, these plants must be zombies or have nine lives, because I trimmed them back, watered them, and they are doing pretty okay.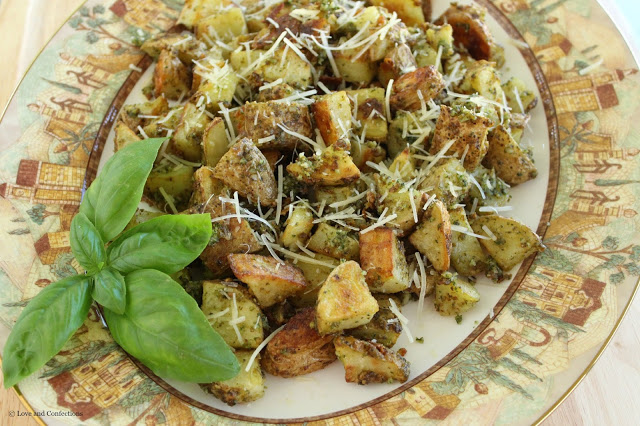 I had visions of using mint in lots of cocktails and drinks and love using basil in all my cooking. I make homemade pasta sauce with it, and thought basil would be the perfect thing to pair with potatoes. Homemade pesto is so easy to make and incorporates great flavor to any dish. Parmesan Pesto Potatoes, aside from a fun alliteration, will surely become a family favorite this Summer.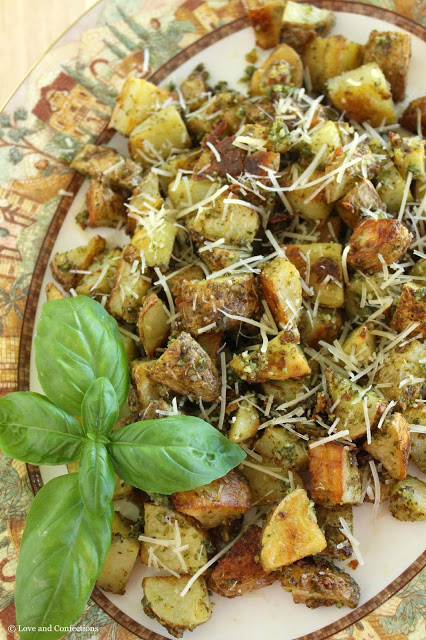 I created these Parmesan Pesto Potatoes for the Idaho Potato Commission Recipe Contest for this year's Food & Wine Conference. The Food & Wine Conference is a 3-day event at the beautiful Rosen Shingle Creek Resort and Spa, here in Orlando, Florida. Food Bloggers, Chefs, Business Owners, Brands and Media Professionals all gather for sessions, demonstrations, food, wine and fun.

I had an incredible time at last year's Food & Wine Conference. I learned so much and am extremely excited about this year's conference as well. We would love to have you join us, too! You can use the promotional code FWC15millt for a $50 discount off the full conference pass. Please be sure to follow and like the Food & Wine Conference on Facebook, Pinterest, Twitter, and Google+ to keep up-to-date on all conference happenings, announcements and updates.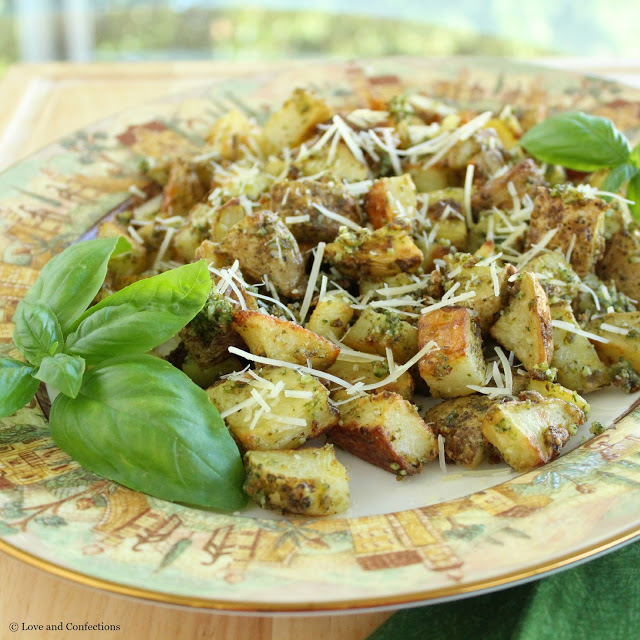 Register for the Food & Wine Conference here and don't forget to use FWC15millt for a $50 discount off the full conference pass.
Parmesan Pesto Potatoes
A Love and Confections original recipe
Click here for a printable recipe
Serves 4-6
Parmesan Pesto Potatoes Ingredients:
– 2 small-medium Garlic Cloves, roughly chopped
– 2 packed cups Basil leaves (about 2 ounces), plus more for garnish
– 1/3 cup Pine Nuts
– 1/2 teaspoon Salt
– 1/4 teaspoon Pepper
– 1/3 cup Extra Virgin Olive Oil
– 1/2 cup freshly grated Parmesan Cheese, plus more for garnish
– 5 medium Idaho Russet Potatoes
– 1 teaspoon Extra Virgin Olive Oil
Parmesan Pesto Potatoes Directions:
1. Heat oven to 400F. Lightly spray a jellyroll pan with cooking spray and set aside.
2. Place Garlic, Basil, Pine Nuts, Salt, and Pepper into your food processor. Pulse about 10 times to chop and combine everything. While the food processor is on, slowly drizzle in the Olive Oil. Scrape down the sides of the food processor and if necessary, pulse once or twice more.
3. Pour the mixture into a small bowl and stir in the Parmesan Cheese with a spoon or spatula. Cover with plastic wrap, pressing down to make sure the surface is completely covered, and set aside while preparing potatoes. Air make the pesto darken in color. This recipe makes about 1 cup of Pesto, about half of that will be used in this recipe.
4. Thoroughly wash and dice the Potatoes into 1/2 inch pieces. In a medium bowl, add 1/3 cup of prepared Pesto, diced Potatoes and the extra teaspoon of Olive Oil. Toss to combine and place onto prepared sheet pan.
5. Bake for 20 minutes, then take the potatoes out and toss them so all the sides crisp up and roast. Bake for another 15-20 minutes, until tender and cooked. Place potatoes back into the medium mixing bowl, add in an extra 1/4 cup Pesto, toss, and place on serving platter. Garnish with Basil Leaves and Parmesan Cheese. Enjoy!
Until next time,
LOVE & CONFECTIONS!
Disclaimer: I am an ambassador and on the planning committee for the Food & Wine Conference and will receive a commission if you use my discount code to purchase a ticket. This recipe was created as an entry for the Idaho Potatoes Recipe Contest. Contest entries are equal opportunity for all Food and Wine Conference participants, and I receive no advantage for being an ambassador or committee member.