Peach, Prosciutto and Mozzarella Skewers are an easy and flavorful Summer appetizer. Basil, balsamic glaze and freshly cracked pepper are all the garnish you need.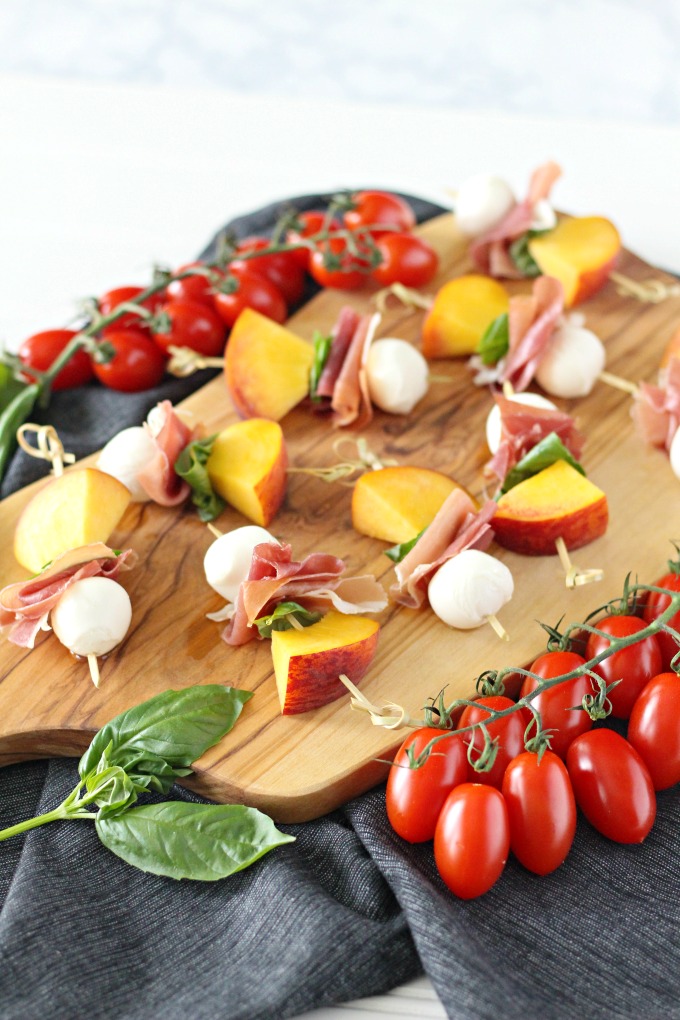 Welcome to #BrunchWeek 2020 hosted by Love and Confections and A Kitchen Hoor's Adventures! This is our 8th year of #BrunchWeek and 22 bloggers are excited to share all our favorite Brunch recipes. We hope you enjoy all our Brunch recipes throughout the week!
For day 3 of BrunchWeek, I created an appetizer favorite – Peach, Prosciutto and Mozzarella Skewers. This appetizer is a crowd pleaser, and extremely easy to put together. These skewers are great on their own, drizzled with balsamic glaze and cracked pepper, but would also be great as part of an antipasto platter.
What is Prosciutto:
Prosciutto literally translates to "ham" in Italian and is aged in a dry-curing process. Curing prosciutto originated in Italy thousands of years ago. One of the most notable and with strict quality control is Prosciutto di Parma. The city of Parma is in the Emilia-Romagna region of Italy, which is also famous for Parmigiano Reggiano (Parmesan cheese) and home to Barilla Pasta. Prosciutto di Parma is a 100% natural cured ham made without preservatives, additives, gluten, hormones or any coloring agent.
Prosciutto di Parma is produced with pigs that are specially bred in 10 central-northern regions of Italy, Mediterranean sea salt, air and time. The prosciutto cures anywhere from 400 days to 36 months. Other types of prosciutto are Serrano or Iberico Jamón from Spain, other Italian prosciutti, and American prosciutto.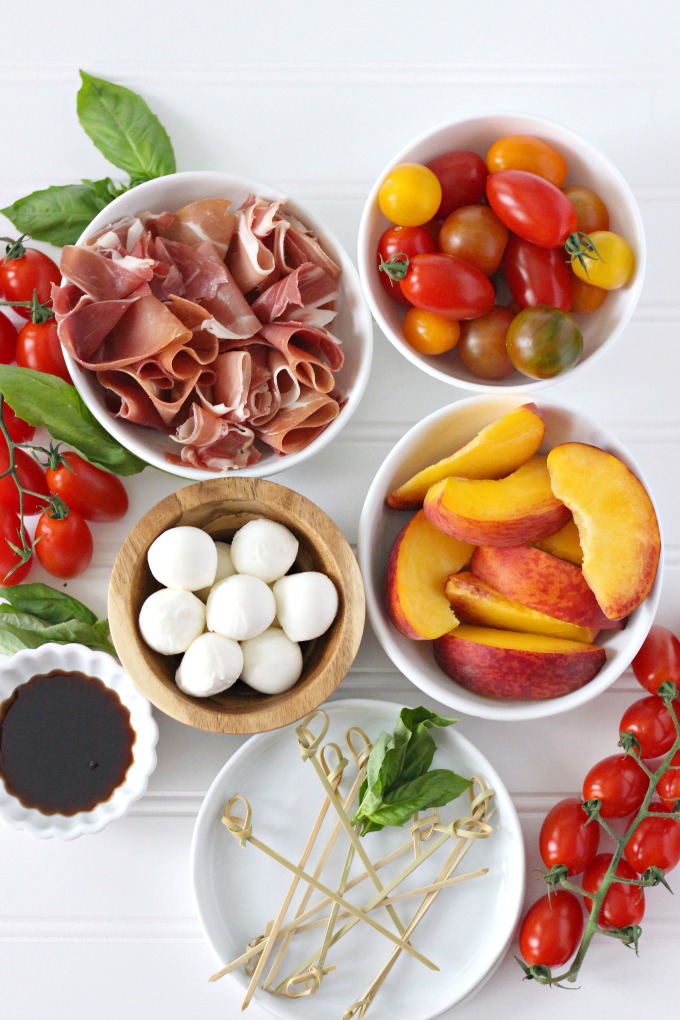 Fruit and Prosciutto:
Melon, specifically cantaloupe, and prosciutto are a traditional match made in Heaven. The sweetness of the melon balances out the saltiness of the cured ham perfectly. Instead of melon, I opted for my seasonal favorite, peaches. That vibrant yellow color is so beautiful, and juicy, ripe peaches are perfect when in season. Figs plums, pears and apricots are other delicious choices to pair with prosciutto.
Peach, fresh basil, prosciutto di parma, and mozzarella are simple ingredients that pair perfectly together. The herbaceous basil, salty prosciutto, sweet peach, creamy mozzarella, and umami from the balsamic glaze come together for a tasty appetizer that is perfect for a crowd. You can also add cherry tomatoes to the skewers for additional flavor and color.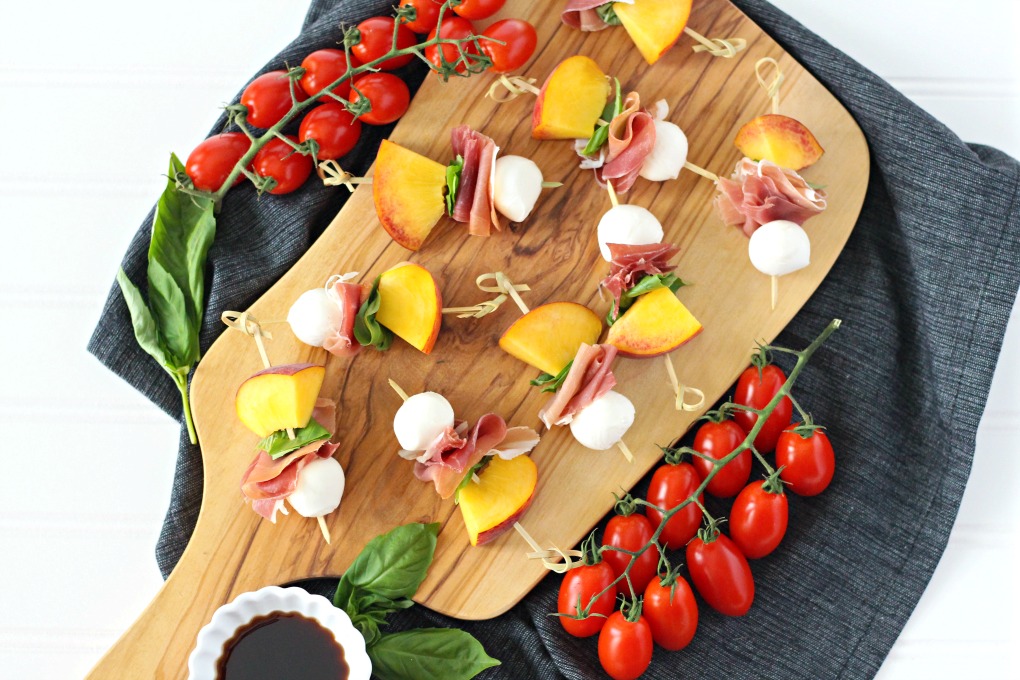 Types of Mozzarella:
I love fresh mozzarella, in all its forms. If you're not familiar fresh mozzarella, it is a creamy, semi-soft cheese, that is made in small batches. Fresh Mozzarella has a higher water content, and is lower in fat and sodium than other cheeses. Therefore, it is kept in a brine, whey, water, or vacuum-sealed in plastic. It comes in different sizes and shapes, and from either cow or water buffalo milk. Fresh mozzarella is best when consumed fresh and cold. Because of the high water content, it does not melt as easily, and can add a soupy milky texture when cooking.
Mozzarella di Bufala – the traditional mozzarella of Italy, is produced around the Southern region of Campania. It is produced from an Italian breed of water buffalo (not American buffalo or bison). It has a unique tangy taste, and has a much higher fat content than cow's milk. Buffalo mozzarella is has specific designations and can only be produced with a traditional recipe in certain regions of Italy. Mozzarella di Bufala is delicious when drizzled with extra virgin olive oil and sprinkled with sea salt.
Fior di Latte Mozzarella – translates from Italian to "flower of milk". This designation is necessary in Italy, where buffalo mozzarella is more prominent. Fresh mozzarella in the U.S. is mostly made from cow's milk, whereas buffalo mozzarella is mostly imported. It is typically the largest of the mozzarella balls and is often sliced thick for a classic caprese.
Ovolini – the name comes from the Italian word for egg. This mozzarella is a size smaller than the traditional mozzarella balls, about the size of extra-large eggs. They are made from either buffalo milk, cow's milk, or a combination.
Bocconcini – the name comes from the Italian word for mouth; these mozzarella balls are bite-sized and most often made from only cow's milk. Marinated bocconcini is a great appetizer or antipasti.
Ciliegine – the name comes from the Italian word for cherry. These mozzarella balls are about the size of a cherry and perfect for skewered appetizers.
Perlini – the smallest of the balls, these pearl-like mozzarella are a perfect addition to pastas and pasta salads.
Burrata – similar to a regular mozzarella ball, Burrata is made with either cow or buffalo milk. The outside texture is a firm, fresh mozzarella, but the inside is  filled with soft cheese curds soaked in cream. It is a decadent treat and the creamy filling oozes out when you cut into the burrata.
Stracciatella – (not to be confused with stracciatella the gelato with chocolate flakes) the proper name of the soft cheese curds inside burrata. It is a mixture of soft, stringy mozzarella curds and cream. Delicious when spread on crusty bread with sea salt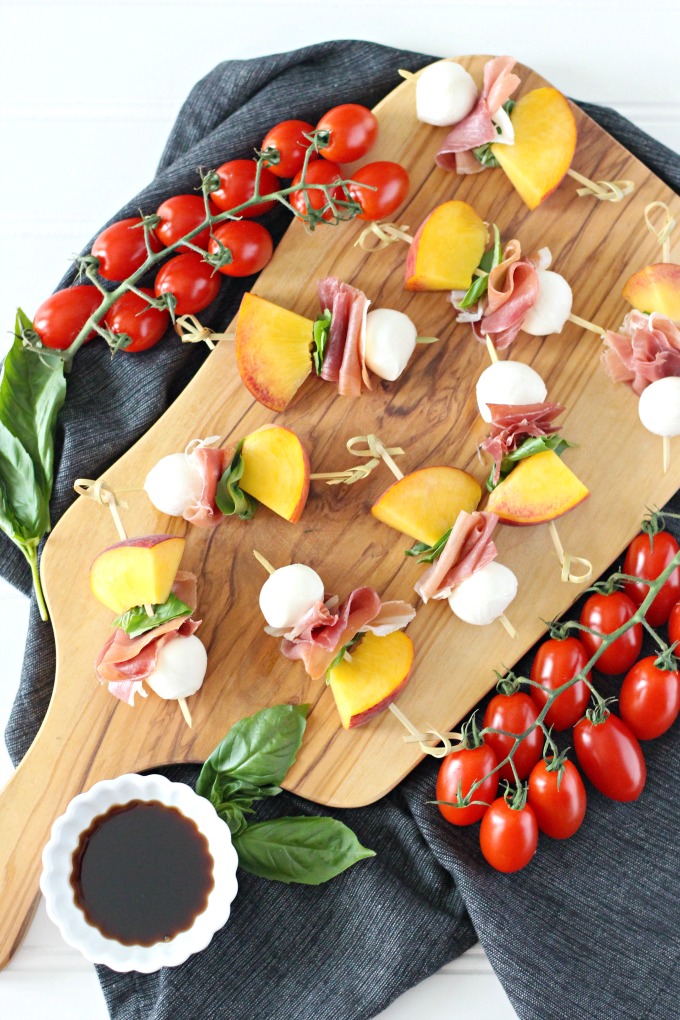 Tips, Tricks, and Tools for Peach, Prosciutto and Mozzarella Skewers:
Here are a few of my favorite entertaining products, including wood boards, bowls and accessories..
The balsamic glaze adds a great depth of flavor, but feel free to use extra virgin olive oil instead.
Prosciutto is a very salty meat, but you can garnish with a few flakes of salt if you prefer.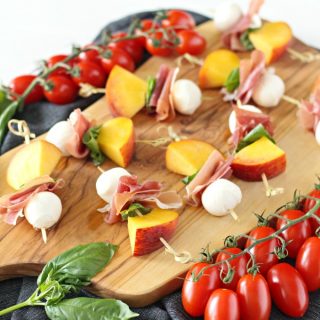 Peach, Prosciutto and Mozzarella Skewers
Ingredients
1-2

fresh peaches

8

ounces

fresh ciliegine mozzarella

4

ounces

prosciutto di parma

basil

balsamic glaze

salt and pepper, to taste
Instructions
Cut peaches into 8-10 slices, then cut the slices into halves. Cut each prosciutto into 2-3 pieces. Skewer peaches, a basil leaf, a piece of prosciutto, then a mozzarella ball.

Place skewers onto platter. Drizzle with balsamic glaze right before serving. Season with salt and pepper to taste.
Here are more great #BrunchWeek recipes
Beverages Recipes
Appetizer and Salad Recipes
Bread, Grains, and Cereal Recipes
Egg Recipes
Fruit and Veggie Recipes
Meat, Poultry, and Fish Recipes
Dessert Recipes