A Southern classic gets a twist when combining deviled eggs and pimento cheese. This make-ahead appetizer is perfect for any holiday, brunch or snack. Farmhouse Cheddar from the Cabot Legacy Collection is the star in this ultimate comfort food.
This recipe is sponsored by Cabot Creamery Co-operative. All opinions are my own.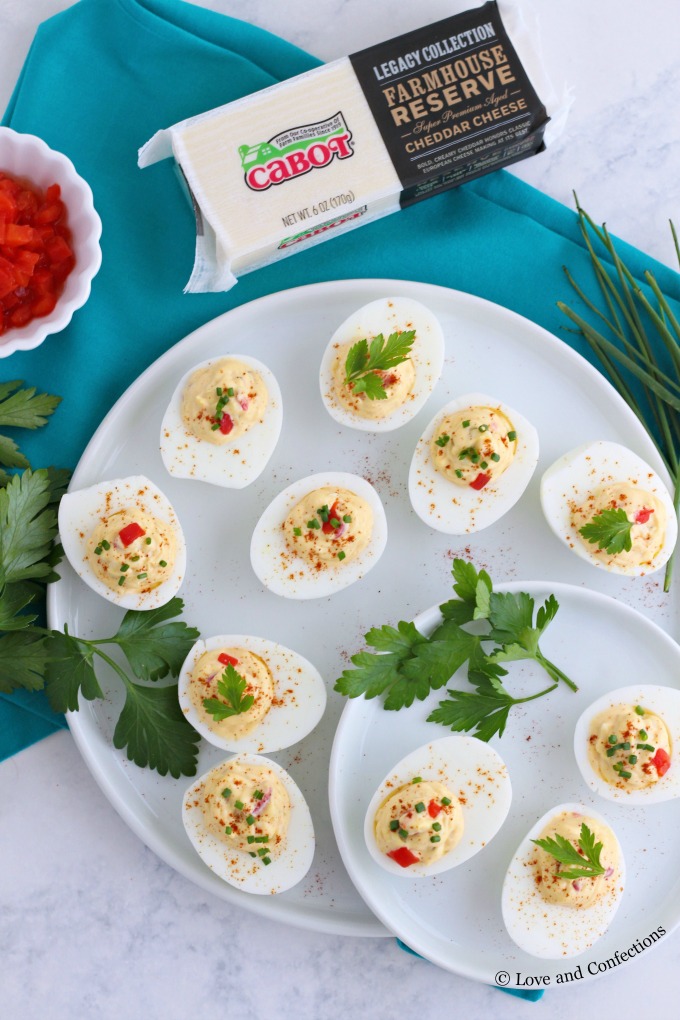 Deviled eggs and pimento cheese are some of the ultimate comfort foods. Pimento cheese deviled eggs is the perfect Southern twist on two favorites. The combination of these two classics rekindle a whole new love of deviled eggs and opens the door for lots of other flavor possibilities.
I have always liked deviled eggs, but I didn't LOVE them until I tasted Grandma Lou's deviled eggs. Grandma Lou, a family friend, is one of the most sweet and caring people I have met, and she makes some amazing deviled eggs. When Grandma Lou offered to bring a dish to my baby shower a few years ago, I immediately said "deviled eggs". Any event where I might get to taste her deviled eggs, is always a highlight.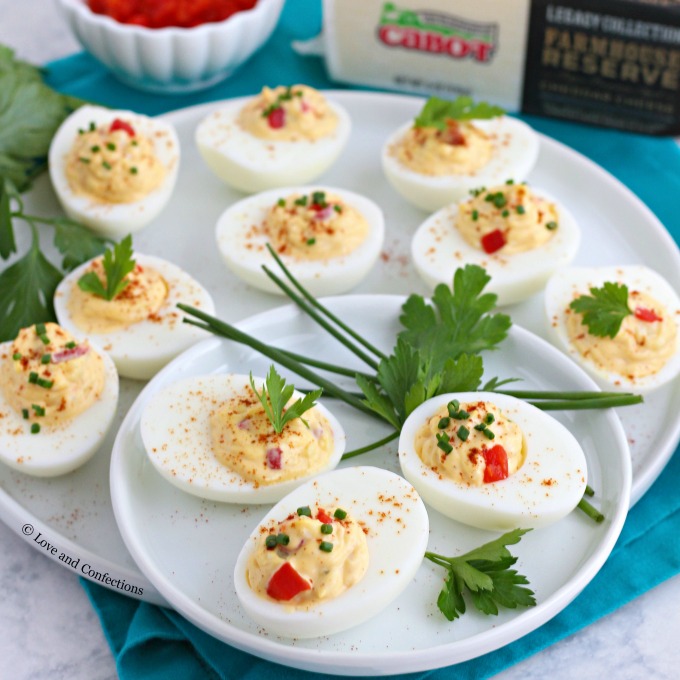 I also make deviled eggs for my own family's special occasions and holidays. Easter is coming up, so you can be sure that deviled eggs are on the menu. My sister and I have a running joke: if they're scrambled, I can only eat two eggs, if they're deviled, I can eat forty! When it comes to both deviled eggs and pimento cheese, you can never have enough at a party.
My White Cheddar Pimento Cheese Spread from Brunchweek was the first time I created homemade pimento cheese. I used two different Cabot cheeses for the spread, and both are equally delicious. It is a recipe definitely worth keeping on hand.
Farmhouse Cheddar in this recipe is from Cabot Creamery Co-operative. Cabot is a co-operative owned by families throughout the Northeast and is the world's first dairy co-operative to achieve B corp certification. 100% of profits go back to the farmers. All of Cabot's cheddars are naturally aged, gluten-free and 100% lactose-free. 2019 is a big year for Cabot, as they celebrate their 100th year as a co-operative. I bet they would love these Pimento Cheese Deviled Eggs at their celebration!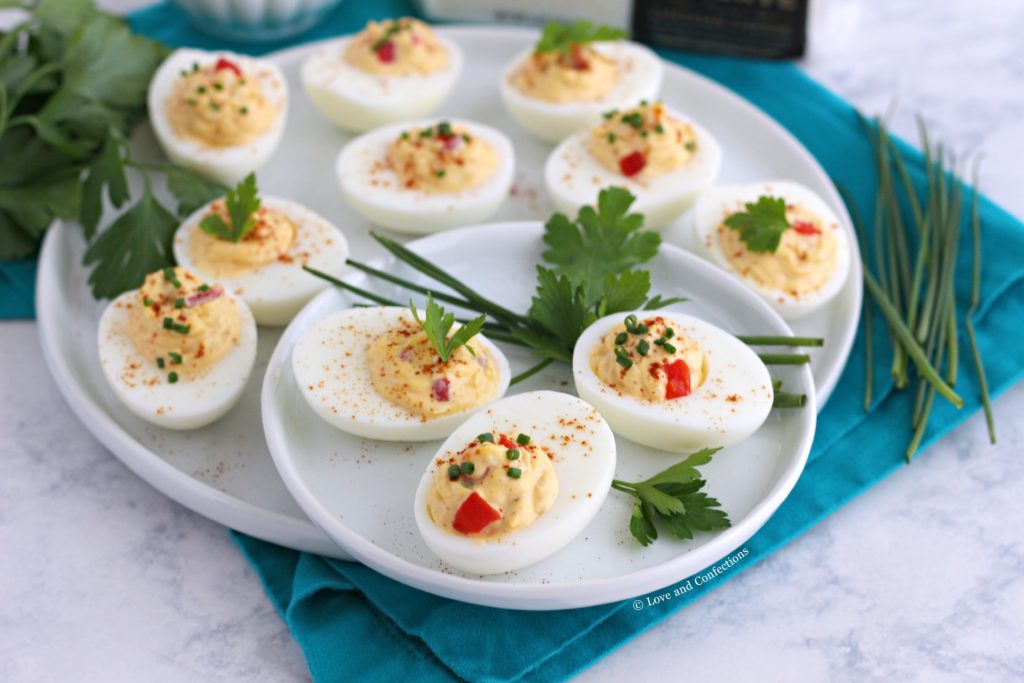 I regularly keep Cabot's line of cheddar in my refrigerator. Cabot's Legacy Collection is always a favorite, as well as their Seriously Sharp and Vermont Sharp bars. My family loves their flavored cheddar too! Little L&C eats the Cracker Cuts for her after-school snack and we freshly grate the bars for our weekly taco night. Cabot has a cheese for every occasion!
Here are some helpful tips for making deviled eggs:
Store-bought hard boiled eggs are an easy and fast solution if you are short on time.
Taste as you go. Spices and ingredients can easily be added, but not taken away.
Make sure your knife is sharp, so you have a clean, easy cut.
Place ingredients in a piping bag and refrigerate until ready to use.
A large star tip gives the filling a nice appearance.
Don't forget garnishes: paprika, chives, parsley, bacon, etc.
Always keep eggs refrigerated until eaten. Food safety is key!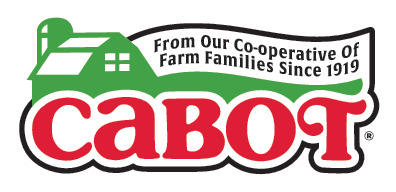 Pimento Cheese Deviled Eggs
Ingredients
6

large hard boiled eggs

2

ounces

Cabot Farmhouse reserve, finely shredded

1/4

cup

mayonnaise

1/4

teaspoon

celery seed

1/4

teaspoon

dried mustard

1/4

teaspoon

granulated sugar

2

tablespoons

chopped pimento peppers, drained

1

tablespoon

sweet relish, optional

ground black pepper, hot sauce, and onion powder, to taste

paprika, chives, or parsley for garnish
Instructions
Peel and rinse hard boiled eggs. Slice in half, lengthwise and remove yolk to medium mixing bowl, Place egg white on serving tray.

Add Cabot Farmhouse Reserve, mayonnaise, celery seed, mustard, sugar, pimentos, and relish to mixing bowl. Using a hand blender, combine until creamy. Add pepper, hot sauce, or onion powder if desired.

Place filling into piping bag. Pipe or spoon into the center of each egg white. Garnish with paprika, finely chopped chives and parsley. Cover and refrigerated until ready to serve.