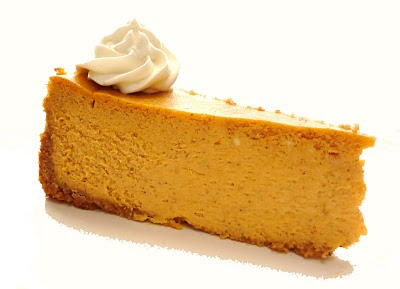 Just in time for your fall festivities… and who doesn't love cheesecake?
After making pumpkin cake and pumpkin pies at my internship, I decided to tackle pumpkin cheesecake on my day off. I really do bake 6-7 days out of the week. The difference is that I love baking at home, because I can make a variety of small things; as opposed to work, where I need to make sure I have enough to feed about 3,000 people per day. That, in and of itself, is not easy, and gourmet pastries, cakes, etc., in mass quantities with limited time and space is difficult.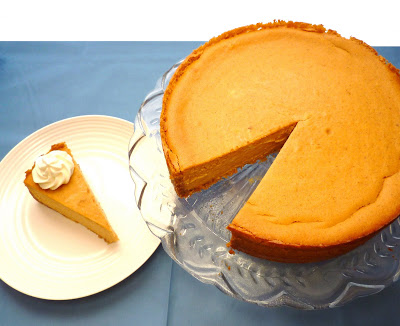 Baking with family has always been some of my best memories. Being in the kitchen with my mother and grandmother was a requirement for most holidays. With my grandmother gone, and my mother a few hundred miles away, I still try to do holiday baking, even though they're not with me – but they're always on my mind. Fall was always the start of the big baking season for us. Halloween, followed by Thanksgiving and then Christmas, meant that we would spend a lot of time together in the kitchen. Because of them, there is no longer a "want" to bake for the holidays; now its a "need." I need to keep the family traditions. I need to keep the memories alive. I need to keep them close, and if baking and being in the kitchen helps, then that's what I need to do.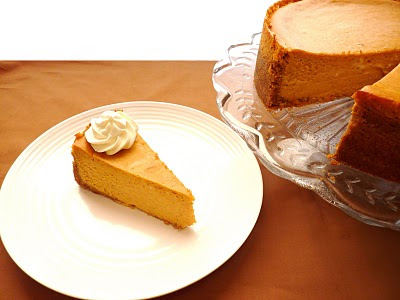 The smell of pumpkin and spices filled my apartment and it truly felt like Autumn – all we need is the cooler weather here in Florida. Yesterday it was 91 degrees! In October! I have a friend in Colorado that already shared a picture of the "first snow of the season" – can you say jealous. We are supposed to get a cold front next week. The temperature might make it down to the 50s!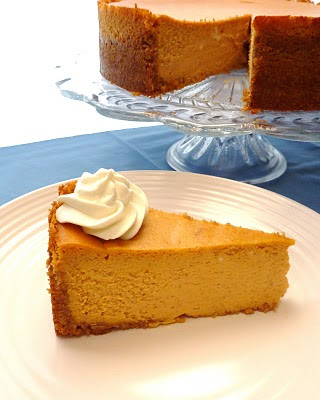 Even with the warmer weather, I have been getting in the Fall spirit. I unpacked some Halloween/Autumn decorations, bought myself some mini pumpkins, and indulged in a bag of candy corn. I also bought myself some flowers, just because I wanted some, and to accentuate my Fall decorations. Sunflowers are one of my favorite types of flowers, and they look great next to the bright orange mini pumpkins.
This recipe is simple and delicious. It is creamy, rich, and perfect for any holiday gathering you plan to have this season. I hope you enjoy making it as much as I did.
Pumpkin Cheesecake
adapted from verybestbaking.com
Pumpkin Cheesecake Ingredients:
Crust
– 1 & 1/2 cups Graham Cracker Crumbs
– 1/3 cup unsalted Butter, melted
– 1/4 cup granulated Sugar
Cheesecake
– 3-8 ounce packages Cream Cheese, softened
– 1 cup granulated Sugar
– 1/4 cup packed Light Brown Sugar
– 2 large Eggs
– 1-15 ounce can 100% Pure Pumpkin
– 1-5 fluid ounce can Evaporated Milk
– 2 tablespoons Corn Starch
– 2 teaspoons Pumpkin Pie Spice
Pumpkin Cheesecake Directions:
Crust
1. Preheat oven to 350 degrees
2. Combine Graham Cracker Crumbs, Butter, and granulated Sugar in a medium bowl.
3. Press into bottom and 1 inch up the sides of a 9-inch springform pan. A little trick I use do is use the bottom and sides of a solid measuring cup to press down and around the sides – much easier and more precise than using your hands.
4. Bake for 6 to 8 minutes (do not allow it to brown)
5. Cool on wire rack for 10 minutes
Cheesecake
1. Beat Cream Cheese, granulated Sugar, and Brown Sugar in a large mixing bowl, until fluffy.
2. Beat in Eggs, Pumpkin and Evaporated Milk.
3. Add Corn Starch and Pumpkin Pie Spice, and beat well.
4. Pour into crust
5. Bake for 55 to 60 minutes – the edge will be set, but the center will still move slightly
6. Cool on wire rack and then refrigerate overnight – keep springform pan sides on while cooling and refrigerating
You can serve this by itself, but it would also be great with some freshly whipped cream or homemade ice cream! Yum!
Until next time,
LOVE & CONFECTIONS!