Pumpkin Creme Brulee is a decadent yet easy-to-make dessert that is perfect for the Fall season!
Welcome to #PumpkinWeek 2016, where my blogging buddies and I share our love of all things pumpkin. Each of the 80+ recipes all contain some form of pumpkin – not just pumpkin spice. Hope you enjoy our delicious week, and don't forget to follow along on the #PumpkinWeek Pinterest Board!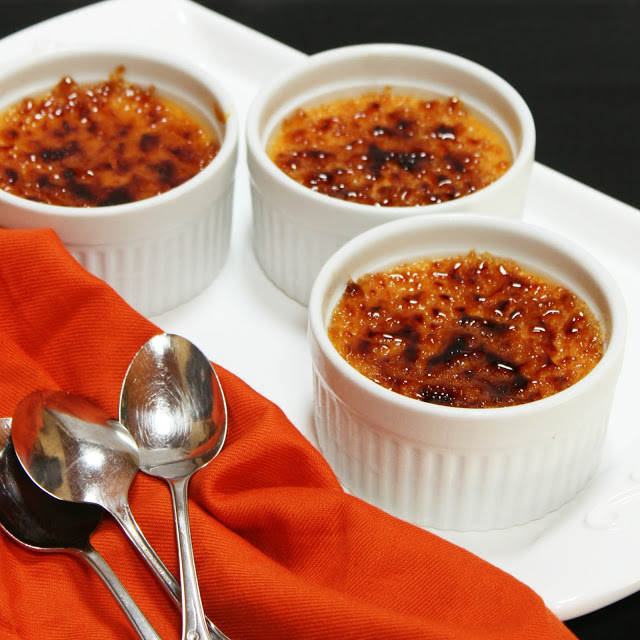 I absolutely love Autumn, but as most of my friends know, I don't start getting excited about it until mid-September. I have a no-pumpkin rule until then, because it just doesn't feel like Fall yet. Living in Florida, we don't really have a Fall season. It's now October and is still hot and muggy outside. There are no changing of leaves, apple picking, etc., so I don't generally use pumpkin in recipes until October.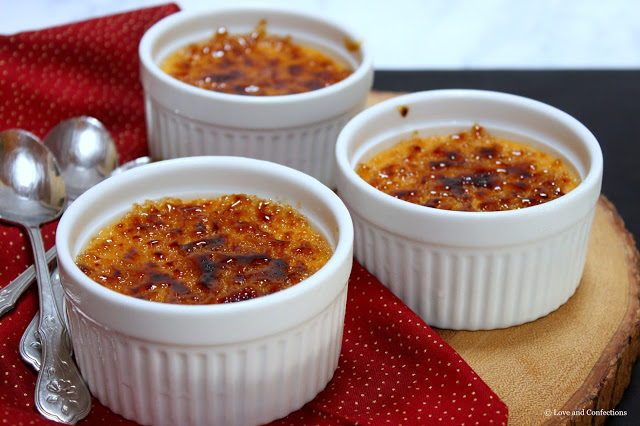 Creme Brulee is such a fun and easy dessert to make, and great if you're having dinner guests over. It needs to be made ahead of time and chilled. Your friends will love the taste and presentation – who doesn't love their own mini dessert. They'll also think you're a pro if you forego the broiler for a tableside torching.
Pumpkin Creme Brulee
By adapted from PIL Cookbooks
Published 10/03/2016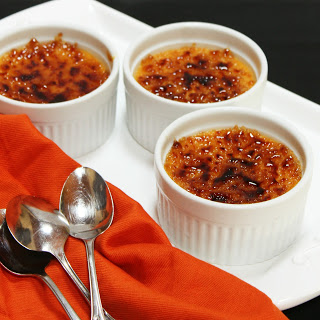 Pumpkin Creme Brulee is a decadent yet easy-to-make dessert that is perfect for the Fall season!
Ingredients
1 1/2 cups heavy cream
1/2 cup milk
1/2 cup granulated sugar, divided
1/4 teaspoon salt
1/4 teaspoon ground cinnamon
pinch nutmeg
4 egg yolks
1/2 cup pumpkin (not pumpkin pie filling)
4 tablespoons brown sugar
Instructions
Heat oven to 300F. Place 4 1-cup ramekins in a 9×13 baking pan.
Combine cream, milk, half of the granulated sugar, salt, cinnamon and nutmeg in a medium saucepan. Bring it to a simmer
Whisk egg yolks and second half of sugar. Gently pour the hot cream into the eggs while whisking constantly. Return mixture to the pot, whisking constantly, and heat until slightly thickened. Remove from heat and whisk in pumpkin
Pour mixture through a sieve into a large measuring cup then into the ramekins. Place the pan onto the oven rack, then using a measuring cup, gently fill the pan halfway with hot water.
Bake for 50-60 minutes, or until set. Cool in pan for 30 minutes, then refrigerate for 2 hours. To serve, sprinkle tops with brown sugar and either broil or torch to caramelize the sugar.
Yield: 4
Prep Time: 00 hrs. 05 mins.
Cook time: 01 hrs. 05 mins.
Total time: 1 hrs. 10 mins.
Tags: creme brulee, pumpkin, pumpkin spice, dessert, custard
Here's more great #PumpkinWeek recipes:
Adorable Turkey Crust Pumpkin Pie from Kudos Kitchen by Renee.
Amish Pumpkin Roll from Palatable Pastime.
Double Pumpkin Gnocchi from Caroline's Cooking.
Gigi's Spiced Pumpkin Pecan Bread from Family Around The Table.
Healthy Pumpkin Oatmeal in the slow cooker from Feeding Big.
Lisa's Pumpkin Soup from Cooking With Carlee.
Mini Pumpkin Pecan Cheesecakes from The Crumby Cupcake.
Pecan Pumpkin Cobbler from Hezzi-D's Books and Cooks.
Pumpkin Bread from The Freshman Cook.
Pumpkin Bread with Maple Glaze from Making Miracles.
Pumpkin Brulee Tart from The Redhead Baker.
Pumpkin Cookies with Butter Rum Icing from Grumpy's Honeybunch.
Pumpkin Creme Brulee from Love and Confections.
Pumpkin Glazed Bacon from Rants From My Crazy Kitchen.
Pumpkin Laksa from Culinary Adventures with Camilla.
Pumpkin Milkshake from A Day in the Life on the Farm
Pumpkin Muffins from Cindy's Recipes and Writings.
Pumpkin Pretzel Bites from A Kitchen Hoor's Adventures.
Pumpkin Spice Affogato from The Bitter Side of Sweet.
Pumpkin Spice Granola from The Chef Next Door.
Spiced Pumpkin Cider from Gluten Free Crumbley


Until next time,
LOVE & CONFECTIONS!