Warm and delicious Pumpkin Loaf is the perfect snack for the season!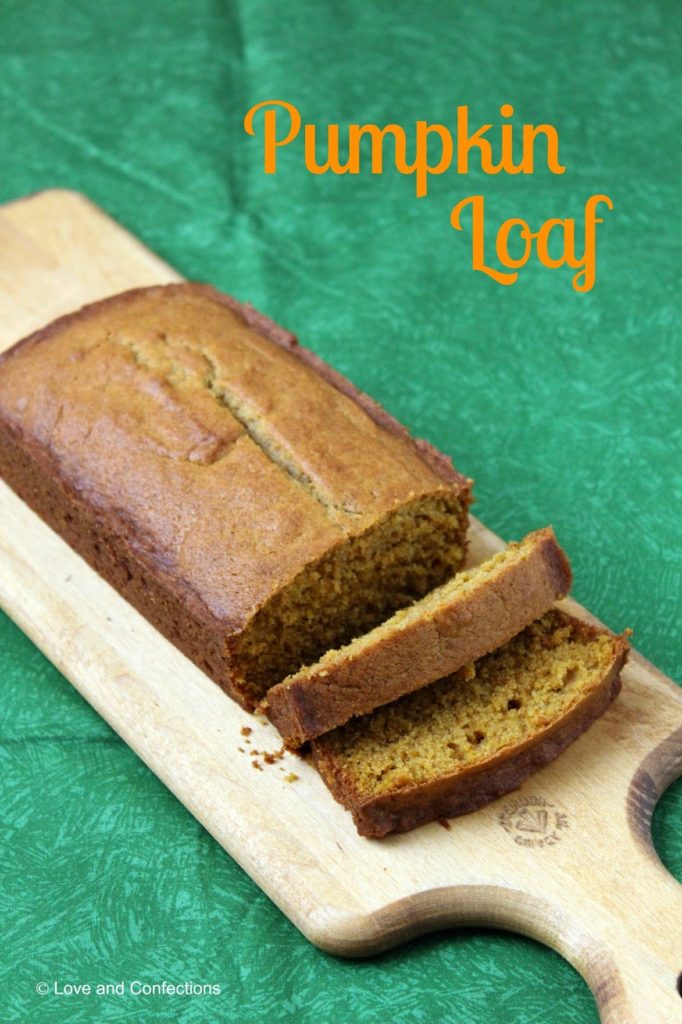 Hi and welcome to #PumpkinWeek! I decided to gather a group of food blogger friends and celebrate our love of the season with a whole week of pumpkin goodies, leading up to National Pumpkin Day. 17 Food Bloggers have come together to share over 65 recipes with you. In addition to homemade pumpkin puree, pie, and cookies, we are also sharing savory pumpkin dishes like hummus, chili and pumpkin corn chowder. Come back every day for #PumpkinWeek recipes. You can also find these great recipes and more on my Love and Confections' #PumpkinWeek Pinterest Board!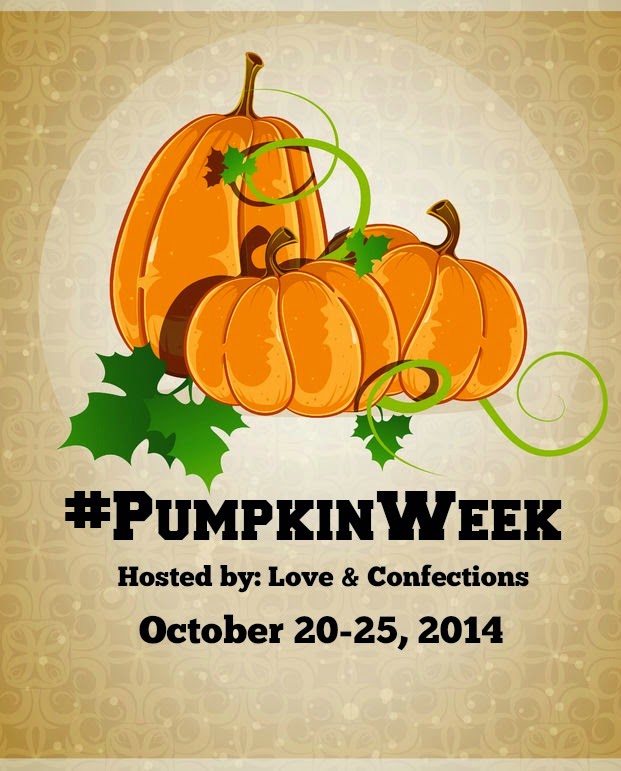 Pumpkin Pie is the quintessential pumpkin dish, but to start #pumpkinweek off, I decided to make a Pumpkin Loaf. I am a huge fan of quick breads. They, like their name says, are quick to come together and easy to make. Some of my favorites are my Zucchini Walnut Bread and Banana Nutella Bread. Pumpkin Loaf is not far behind.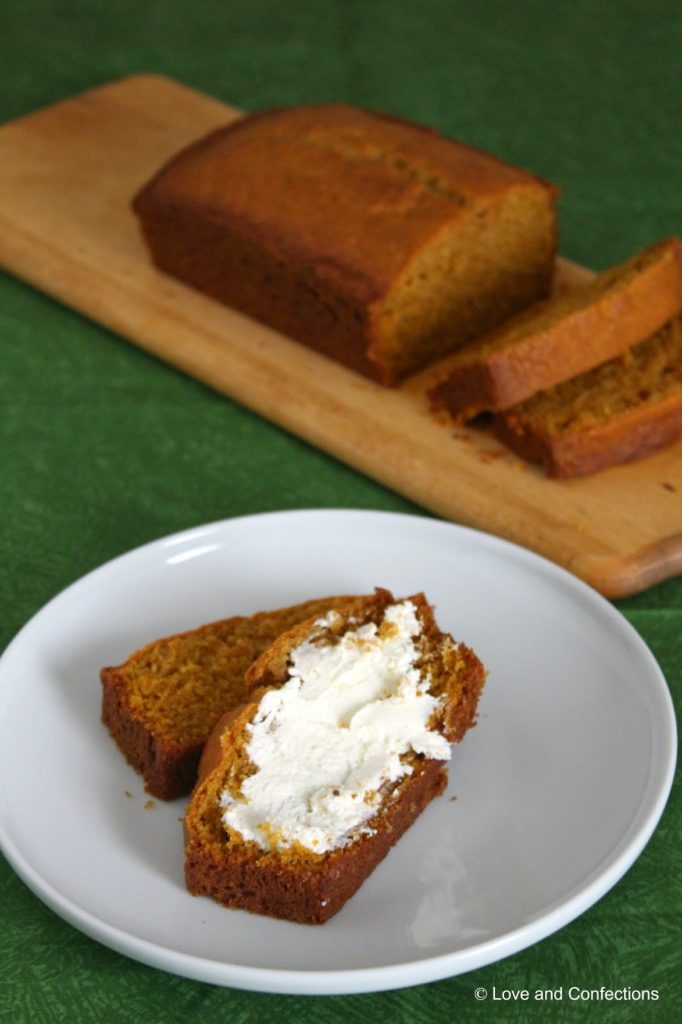 Pumpkin and pumpkin spice are some of my favorite Fall flavors. Living in Florida, we don't get much of the Fall season. There is no changing leaves, apple picking in the orchards, and all the fun Autumn activities the northern states get to enjoy. I indulge by going to pumpkin patches, enjoying the cool weather (whenever we get it) and doing all sorts of Fall baking. Now, I hope you aren't tired of all the pumpkin recipes that have been floating around the internet since Labor Day. This next week is full of pumpkin goodies that I can't wait to share with you!
Pumpkin Loaf
adapted from "Advanced Bread and Pastry" by Michael Suas
Click here for a printable recipe
Pumpkin Loaf Ingredients:
– 4.5 ounces Granulated Sugar
– 4 ounces Unsalted Butter, room temperature
– 1 large Egg, room temperature
– 4 ounces Pumpkin Puree
– 4.25 ounces All-Purpose Flour
– 1/2 teaspoon Baking Soda
– 1/2 teaspoon Baking Powder
– 1/2 teaspoon Salt
– 1 teaspoon Homemade Pumpkin Pie Spice
Pumpkin Loaf Directions
1. Heat oven to 350F. Prepare loaf pan with baking spray and set aside.
2. With a stand mixer, or hand mixer, cream the Butter and Sugar together until light and fluffy. Mix the Egg and Pumpkin together in a small bowl and slowly add it to the butter mixture. After combining, scrape down the sides of the bowl to insure everything is mixed.
3. Sift together the Flour, Baking Soda, Baking Power, Salt and Pumpkin Pie Spice. Add it to the batter and mix until smooth.
4. Pour into loaf pan and bake for 40-45 minutes, or until a toothpick inserted into the center comes out clean. Cool in pan for 15 minutes, then turn out onto rack to cool completely. Enjoy!
Until next time,
LOVE & CONFECTIONS!
Check out all the #PumpkinWeek Bloggers and their recipes:
Pumpkin Loaf by Love and Confections
Lemongrass-Kissed Sankaya (Thai Pumpkin Custard) by Culinary Adventures with Camilla
Pumpkin Bars with Cream Cheese Frosting by That Skinny Chick Can Bake
Brown Butter Pumpkin Cupcakes with Biscoff Frosting by The Spiffy Cookie
Pumpkin Peach Smoothie by Happy Food Healthy Life
Egg and Pumpkin Breakfast Cups by Curious Cuisiniere
Witches Eye Glass Chocolate Pumpkin Cupcakes by Lady Behind The Curtain
Easy Homemade Pumpkin Puree by Life Tastes Good
Pumpkin Orange Soup by The Not So Cheesy Kitchen
Macaroni with Kale and Creamy Pumpkin Sauce by A Day in the Life on the Farm
Roasted Pumpkin and Chickpea Samosas by A Kitchen Hoor's Adventures
Slow Cooker Pumpkin Butter by My Catholic Kitchen
Pumpkin Scones by Making Miracles
Chewy Pumpkin Chocolate Chip Cookies by The Pajama Chef
Pumpkin Molasses Cookies by That's My Home
Pumpkin Spice Overnight Oatmeal by Dizzy Busy and Hungry