Start your morning off right with Pumpkin Pecan French Toast Casserole. This easy, seasonal make-ahead casserole is perfect for breakfast or brunch!
This post is sponsored by Florida Dairy Farmers. All opinions are my own.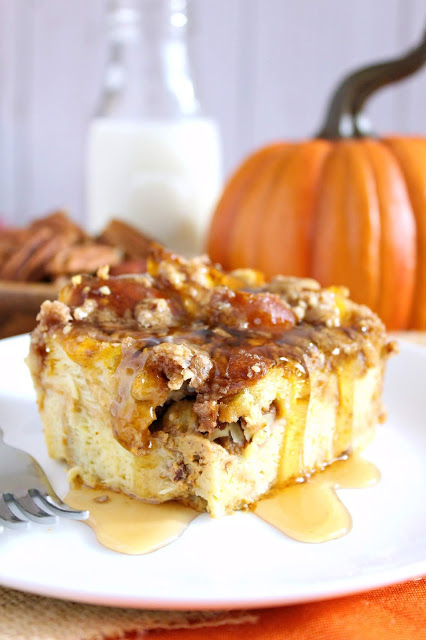 Today is National Farmers Day – a day for us to acknowledge and appreciate the men, women, and families that work to help feed our community and country. Being a dairy farmer takes a 24/7 commitment every day of the year. Cows need to be milked and taken care of even on holidays. Today is about our appreciation and celebration of those who are devoted to providing the food that brings us together, especially dairy farmers for the milk and cheese.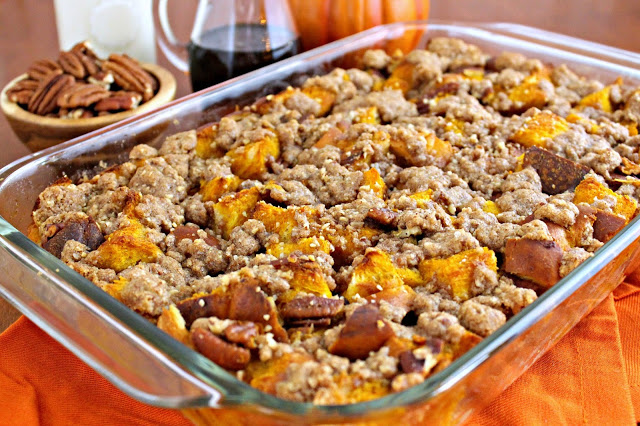 Pumpkin pecan french toast casserole uses both milk and heavy cream – it makes the most delicious combination for French toast. Brunch is my favorite meal because it can be sweet, savory, or both. This casserole is definitely a crowd-pleaser – just ask my family – and so easy because it can be made ahead of time.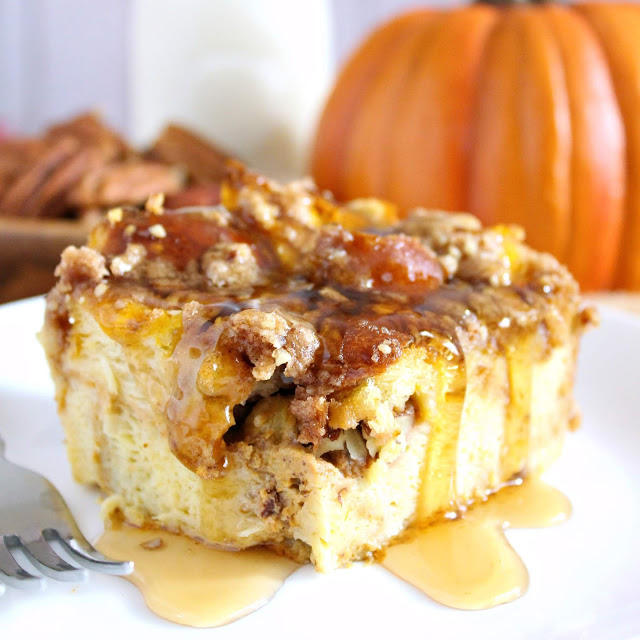 I wanted to create a seasonal and delicious breakfast to share with my family and pumpkin is a favorite. This is an overnight casserole, so the bread has enough time to fully absorb the dairy mixture. Plus, the last thing we want to do is rush around the kitchen in the morning before breakfast. Everything is prepared in advance and just needs to be baked in the oven in the morning.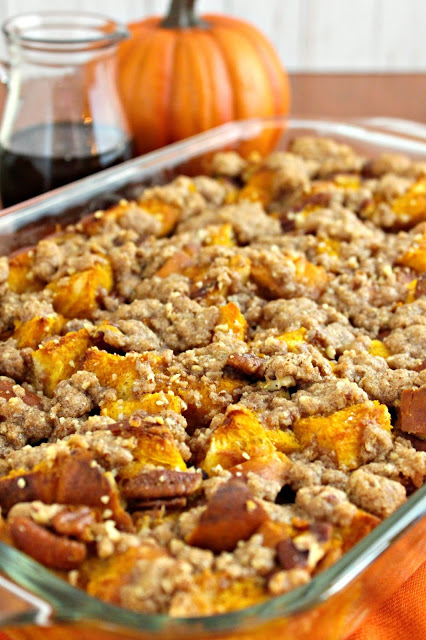 I try to teach my daughter where are food comes and to make sure she understands there are families that grow the food we find in the grocery store. We are lucky to have great farmers and local u-picks in the area as well. Strawberry, citrus, and blueberry season are our favorites.
We have visited farms for both Florida Dairy and Florida Beef too. I have met the farmers and their families, shared meals with them, picked their produce, toured their land, learned how they run the farm, and so much more. Be sure to thank a farmer today!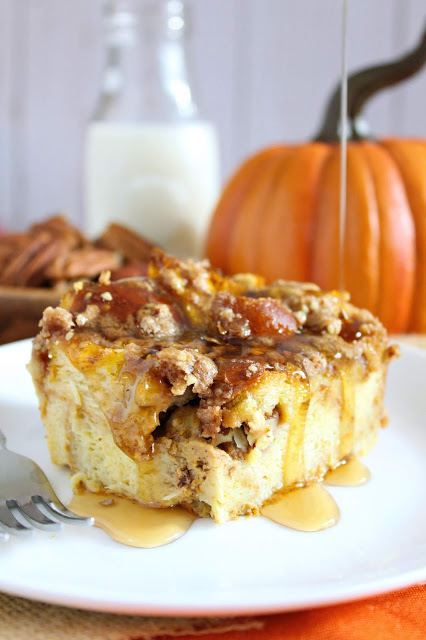 Did you know:
Milk is the #1 food source for calcium, vitamin D and potassium.
Florida is home to more than 125,000 dairy cows that collectively produce around 300 million gallons of milk a year.
Most Americans live within 100 miles of a dairy farm, and 98% of Florida's dairy farms are family owned and operated – most by second and third-generation farmers.
Most of the dairy cows in Florida are Holsteins – the black and white cows.
Each Florida dairy cow produces 6-8 gallons of milk each day and is milked 2-3 times per day.
Here are a few items used in this recipe: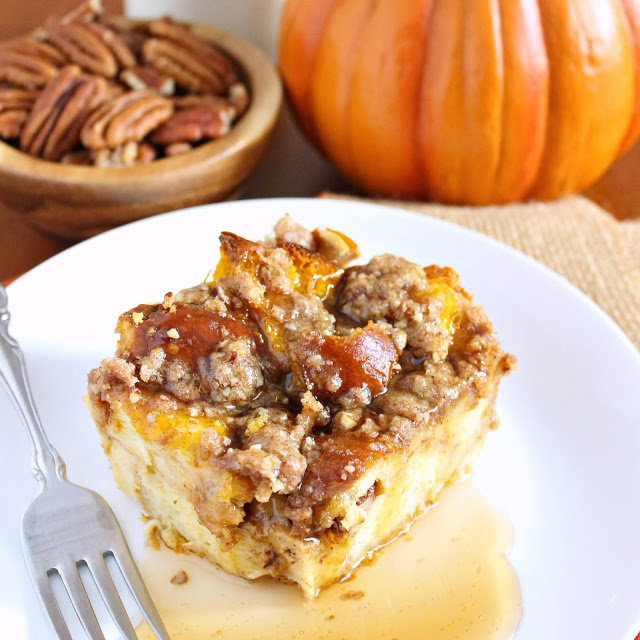 Pumpkin Pecan French Toast Casserole
By Love and Confections
Ingredients
1 pound loaf challah bread
2 1/2 cups milk
1/2 cup heavy cream
1/4 cup granulated sugar
1/4 cup brown sugar
1 tablespoon vanilla
8 large eggs
1 cup pumpkin puree, not pumpkin pie filling
2 teaspoons pumpkin pie spice
1 teaspoon cinnamon
1/4 cup chopped pecans
Instructions
Spray large 9 x 13 pan with cooking spray. Cube loaf and place half of the bread cubes into the pan. Sprinkle pecans over bread then place remaining bread cubes on top.
In a medium sauce pan, heat the milk, cream and sugars until sugars are melted and milk is warm.
In medium bowl, whisk together vanilla, eggs, pumpkin puree and spices. Slowly drizzle the warm milk into the eggs whisking constantly.
Carefully pour mixture over bread, making sure it is completely coated. If necessary, use a spatula and move bread to make sure it is coated in the mixture.
Cover pan with plastic wrap and refrigerate overnight. Prepare topping. Sprinkle topping on just before baking
To bake: Remove casserole from refrigerator while oven heats. Heat oven to 350F. Bake, uncovered for 45-60 minutes, until center is set and no longer soggy.
Let cool 10 minutes before serving. Serve with warm melted butter, maple syrup, powdered sugar, fruit of choice, or toasted chopped pecans.
Pecan Crumble Topping
Ingredients
1/4 cup all purpose four
1/3 cup light brown sugar
1/2 teaspoon cinnamon
3/4 teaspoon pumpkin pie spice
1/4 teaspoon salt
1/4 cup unsalted butter, cubed
1/4 cup pecan halves
Instructions
Combine all ingredients in food processor. Pulse until it resembles course crumbs. Place in container with lid overnight in refrigerator. Sprinkle on casserole just before baking.
Until next time,
LOVE & CONFECTIONS!