The smell of Pumpkin Pie Chia Granola will warm your kitchen and set the mood for the season!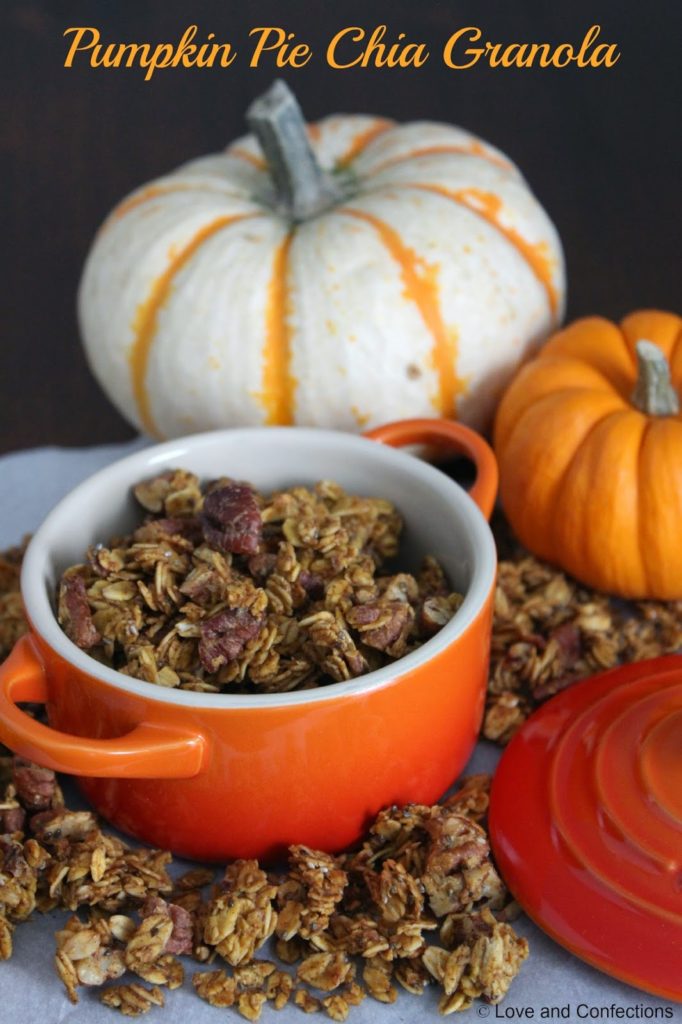 Hi and welcome to day 5 of #PumpkinWeek. We are celebrating our love of the season with a whole week of pumpkin goodies, leading up to National Pumpkin Day. 17 Food Bloggers have come together to share over 65 recipes with you. In addition to homemade pumpkin puree, pie, and cookies, we are also sharing savory pumpkin dishes like hummus, chili and pumpkin corn chowder. Come back every day for #PumpkinWeek recipes. You can also find these great recipes and more on Love and Confections' #PumpkinWeek Pinterest Board!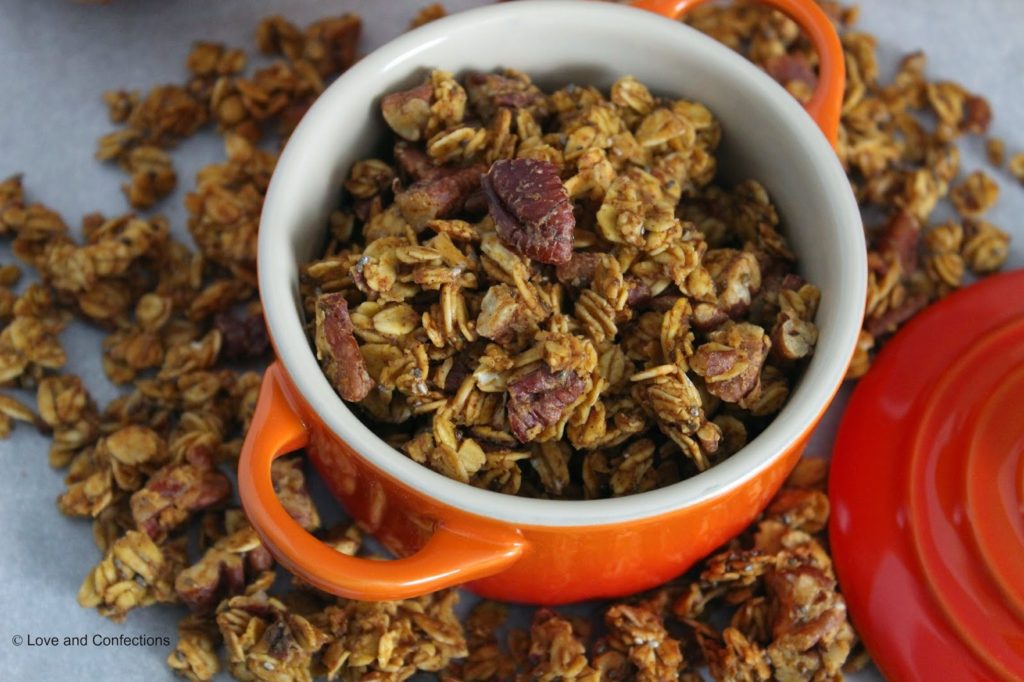 The house smelled like what Fall should smell like, when I made this. The aroma of pumpkin spice made me giddy and I longed for cooler Fall weather. We started to get into the spirit of the season this past weekend. I went to a pumpkin patch with Baby L&C so we could pick out a pumpkin for her first Halloween. She won't remember any of it and it's more for us grownups, but it was cute and a wonderful tradition I hope to keep every year.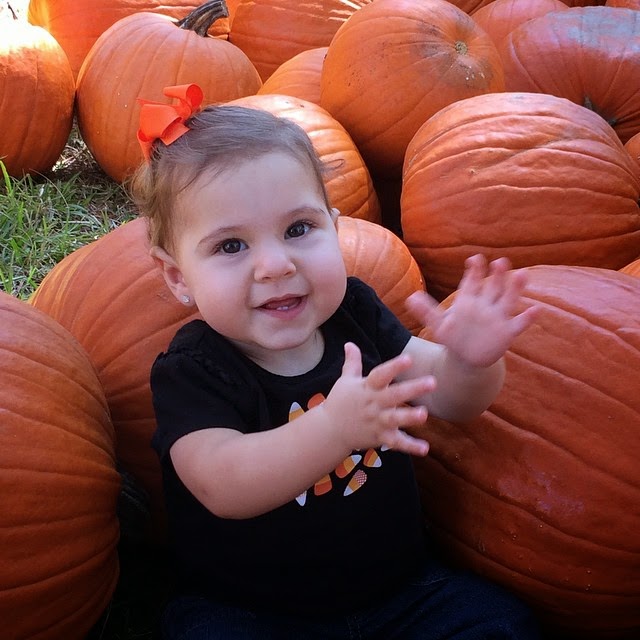 Making Granola is very easy. You can mix and match whichever ingredients you feel like having. Today I made a pumpkin granola with some pecans and chia seeds. It's a great combination and the adding the chia seeds is a great health benefit. Chia seeds are full of Omega-3 fatty acids, fiber, antioxidants, calcium and protein. I've made an Overnight Chocolate Chia Seed Pudding before and definitely like them better in granola. The chia seeds are optional for this granola, but it doesn't hurt to use them and get all the healthy benefits.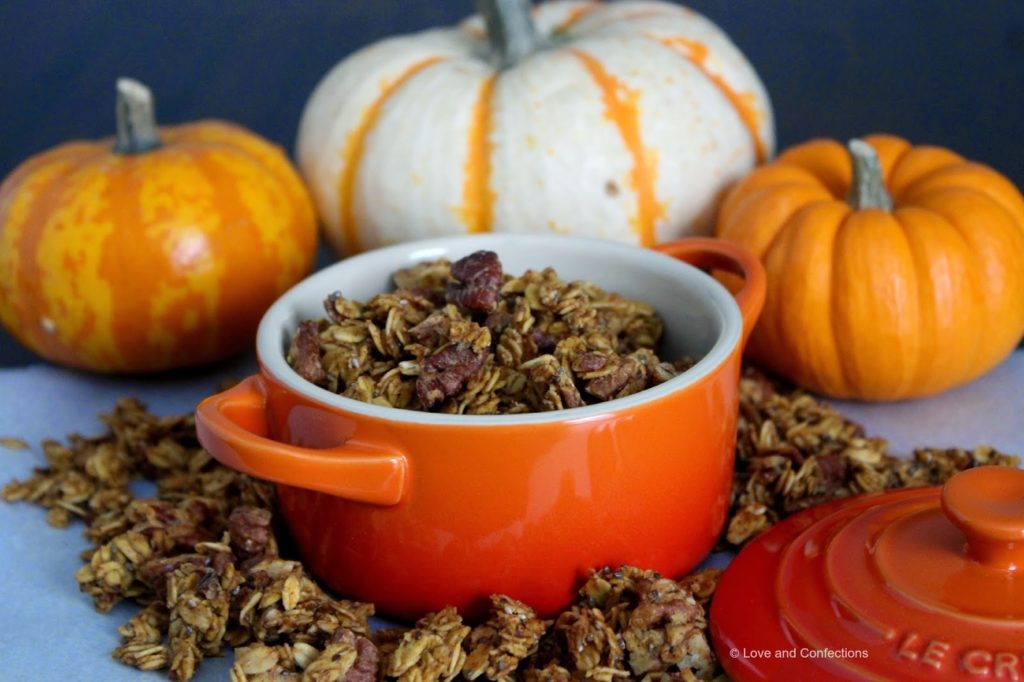 Come back next week when I use this granola in a delicious breakfast dish! Also, I will be giving away these cute little Le Creuset Cocottes in 2 weeks, so be on the lookout for your chance to enter!
Pumpkin Pie Chia Granola
a Love and Confections original recipe
Click here for a printable recipe
Pumpkin Pie Chia Granola Instructions:
– 3 tablespoons Vegetable Oil
– 1/4 teaspoon Salt
– 1/3 cup Maple Syrup
– 1/3 cup Pumpkin Puree
– 1 & 1/2 teaspoons Homemade Pumpkin Pie Spice
– 3 tablespoons Brown Sugar
– 2 teaspoons Vanilla Extract
– 1 cup chopped Pecans
– 2 & 1/2 cups Old Fashioned Rolled Oats
– 1 tablespoon Chia Seeds, optional
Pumpkin Pie Chia Granola Directions:
1. Heat oven to 300F. Line a jellyroll baking tray with parchment paper.
2. In a medium bowl, whisk together the Vegetable Oil, Salt, Maple Syrup, Pumpkin Puree, Pumpkin Pie Spice, Brown Sugar and Vanilla Extract.
3. With a spatula, mix in the chopped Pecans, Oats and Chia Seeds until evenly combined.
4. Spread evenly onto sheet tray and bake for 45 minutes, flipping the oats every 15 minutes so they dry out on all sides. Let it cool completely before storing in an airtight container for up to 2 weeks. Enjoy!
Until next time,
LOVE & CONFECTIONS!
Check out all the #PumpkinWeek Bloggers and their recipes:
Pumpkin Pie Chia Granola by Love and Confections
Meatloaf-Stuffed Mini Pumpkins by Culinary Adventures with Camilla
White Chocolate Reeses Pumpkin Blondies by The Spiffy Cookie
Pumpkin and Corn Chowder by Curious Cuisiniere
Buttermilk Pumpkin Pancakes by Life Tastes Good
Pumpkin Spice Cookie Blossoms by A Day in the Life on the Farm
Curried Roasted Pumpkin Hummus by A Kitchen Hoor's Adventures
Praline Frosted Pumpkin Brownies by My Catholic Kitchen
Slow Cooker Pumpkin Butter by Making Miracles
Pumpkin Biscotti by The Pajama Chef
White Chocolate Chip Pumpkin Cake by Dizzy Busy and Hungry