Pumpkin Pie Cream Cheese Truffles are like delicious, little bite-sized pumpkin cheesecakes coated in chocolate and sprinkles!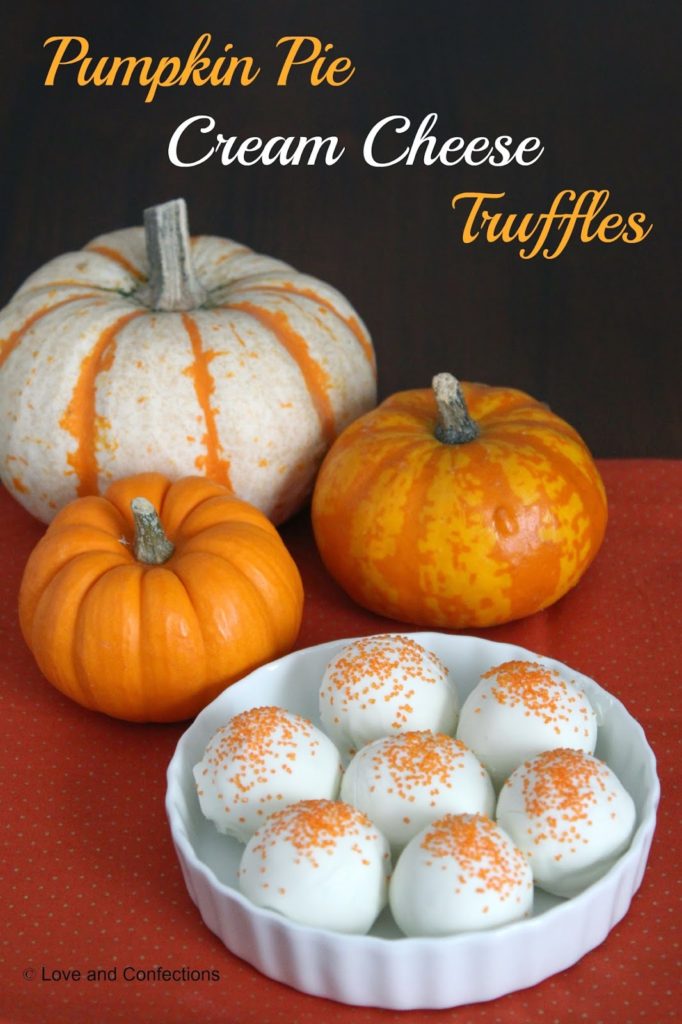 Hi and welcome to day 3 of #PumpkinWeek! We are celebrating our love of the season with a whole week of pumpkin goodies, leading up to National Pumpkin Day. 17 Food Bloggers have come together to share over 65 recipes with you. In addition to homemade pumpkin puree, pie, and cookies, we are also sharing savory pumpkin dishes like hummus, chili and pumpkin corn chowder. Come back every day for #PumpkinWeek recipes. You can also find these great recipes and more on Love and Confections' #PumpkinWeek Pinterest Board!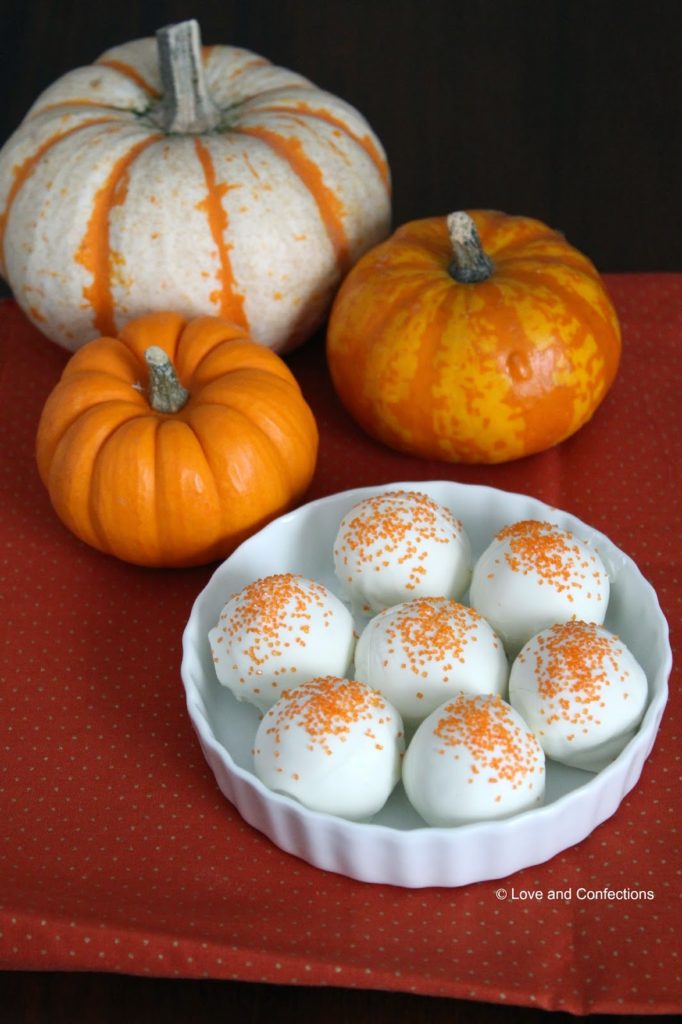 I already shared my Pumpkin Loaf and Baked Pumpkin Donut Holes for #PumpkinWeek and couldn't leave these Pumpkin Pie Cream Cheese Truffles out. They are easy to make and so good. They are the perfect size when you want just one small bite of something sweet.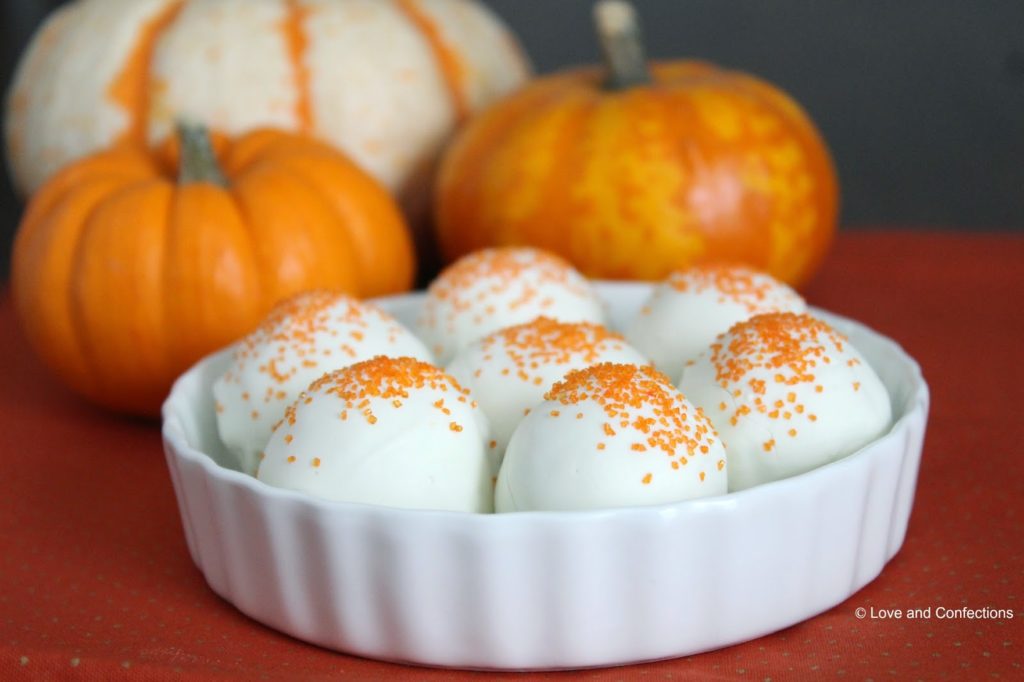 Scoops, or dishers, are a regularly used tool in my kitchen. I use them on everything from cupcakes to meatballs and truffles. They make portioning out recipes easy, so everything is the same size. I have at least 4 different sizes that I keep handy.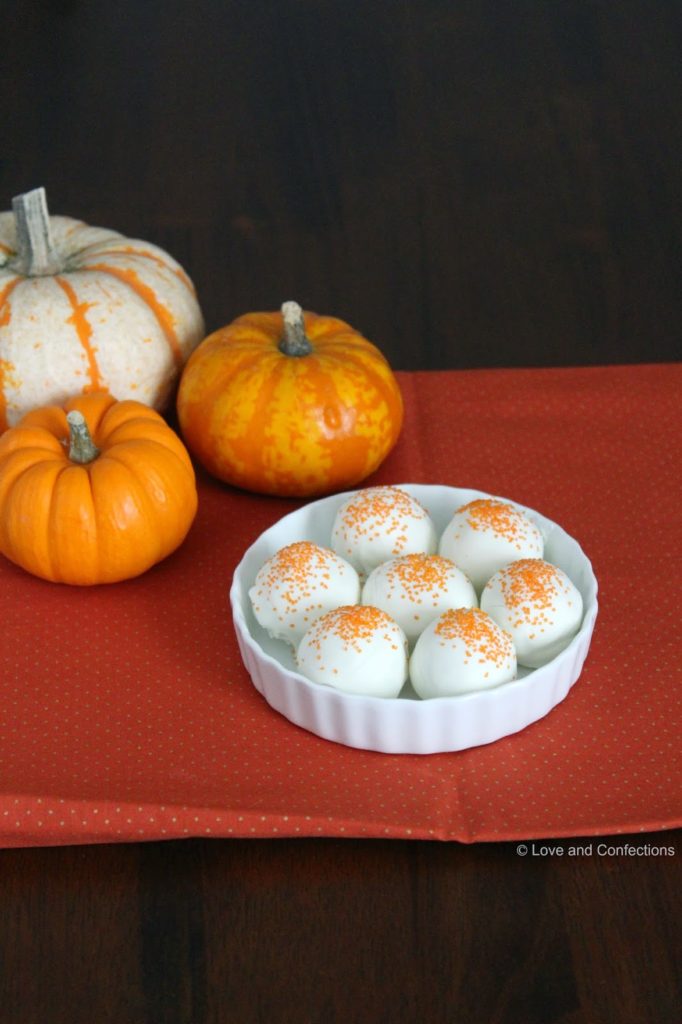 Mr. L&C could not stop eating these. I actually ran out of coating chocolate and they are scrumptious even without the topping. Perfectly pop-able and dangerously good. One thing to note, when making these, the truffles need to be chilled, but not too cold, otherwise the coating chocolate will harden and crack. Make sure you also read the directions on your white chocolate or coating chocolate for heating, it can go from good to bad in a matter of seconds.
Pumpkin Pie Cream Cheese Truffles
a Love and Confections original recipe
Click here for a printable recipe
Pumpkin Pie Cream Cheese Truffles Ingredients:
– 3 ounces Pumpkin Puree
– 4 ounces Cream Cheese, room temperature
– 6 ounces Graham Cracker Crumbs
– 3 tablespoons Confectioners' Sugar
– 1 teaspoon Homemade Pumpkin Pie Spice
– 5.5 ounces Vanilla Almond Bark, about 3 squares
– 10+ ounces White Chocolate or Vanilla Almond Bark for dipping
– 1-2 tablespoons Shortening for dipping, optional
– Sprinkles, optional
Pumpkin Pie Cream Cheese Truffles Directions:
1. Spread Pumpkin Puree between layered paper towels to get excess moisture out.
2. Place Pumpkin Puree, Cream Cheese, Graham Crackers, Confectioners' Sugar and Pumpkin Pie Spice in the bowl of your stand mixer with the paddle attachment and mix to combine.
3. Gently melt the Vanilla Almond Bark in the microwave, 20-30 seconds at a time. Once melted, add into the pumpkin mixture. With a spatula, scrape down the sides and bottom of the bowl to insure everything is mixed properly.
4. Cover the mix with plastic wrap and let it chill in the refrigerator for 1-2 hours until firm but still scoop-able. Using a miniature scoop, portion out the truffles, roll into balls, place onto a parchment lines plate or tray and put back in the refrigerator for another 30 minutes.
5. Melt enough White Chocolate or Vanilla Almond Bark for dipping. I used about 10 ounces to start and added from there. I did a double layer, because I wanted them to be very white and not have the truffle show through. If necessary, you can add 1-2 tablespoons Shortening into the white chocolate to help it become a good coating consistency. Use sprinkles while the chocolate is still drying
6. Store in an airtight container in the refrigerator for up to a week or in the freezer for up to 2 weeks. Enjoy!
* Tip for melting chocolate: chop the chocolate into relatively the same size pieces, so they melt at the same time. Avoid overheating, and only heat in increments. Stir after every time, to make sure the chocolate is melting. Avoid getting any liquid into the chocolate or it will seize and have to be thrown away.
Until next time,
LOVE & CONFECTIONS!
Check out all the #PumpkinWeek Bloggers and their recipes:
Pumpkin Pie Cream Cheese Truffles by Love and Confections
Pumpkin-Vanilla Bean Madeleines by Culinary Adventures with Camilla
White Chocolate Drizzled Pumpkin Scones by That Skinny Chick Can Bake
S'mores Pumpkin Pie by The Spiffy Cookie
Homemade Pumpkin Puree by Happy Food Healthy Life
Pumpkin Mole by Curious Cuisiniere
Drunken Pumpkin Seeds by Life Tastes Good
Pumpkin Roll by A Day in the Life on the Farm
Pumpkin Lasagna by My Catholic Kitchen
Cinnamon Pumpkin Bread by Making Miracles
Pumpkin Quinoa Oatmeal Bake by The Pajama Chef
Pumpkin Chocolate Swirl Pancakes by Dizzy Busy and Hungry