Pumpkin Pie Dip is a great alternative to the traditional pumpkin pie. Cool, creamy, and perfect for any gathering of family and friends.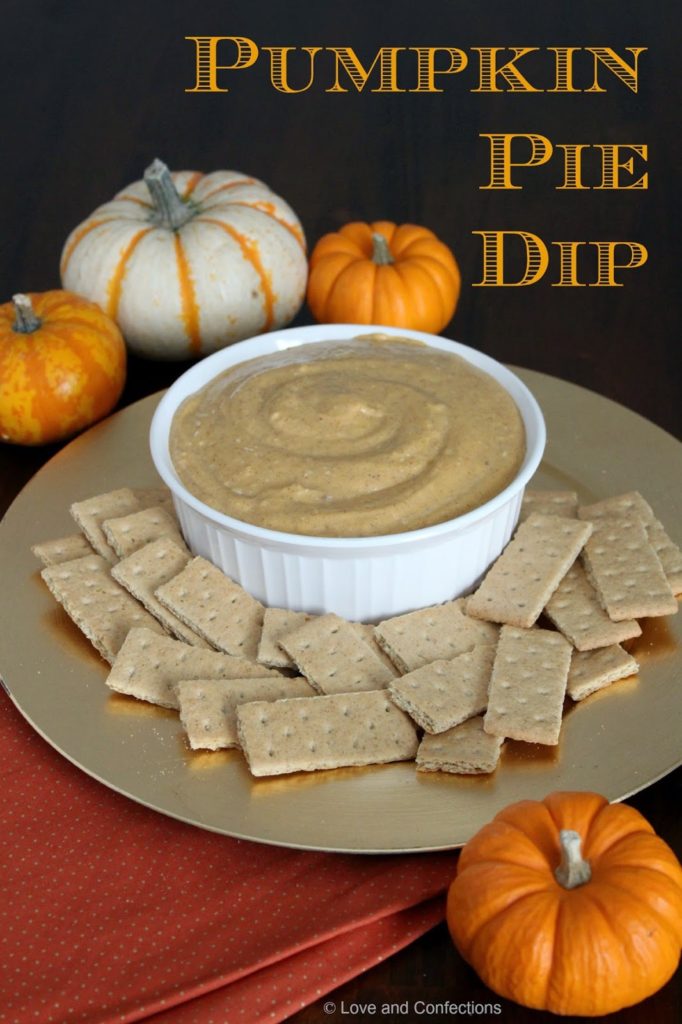 Today is day 6 and the end of #PumpkinWeek. I have loved celebrating all things pumpkin with my Food Blogging friends. Tomorrow is National Pumpkin Day and I hope you have enjoyed all the recipes we have shared this week. In addition to homemade pumpkin puree, pie, and cookies, we have also shared some savory pumpkin dishes like hummus, chili and pumpkin corn chowder. You can also find these great recipes and more on Love and Confections' #PumpkinWeek Pinterest Board!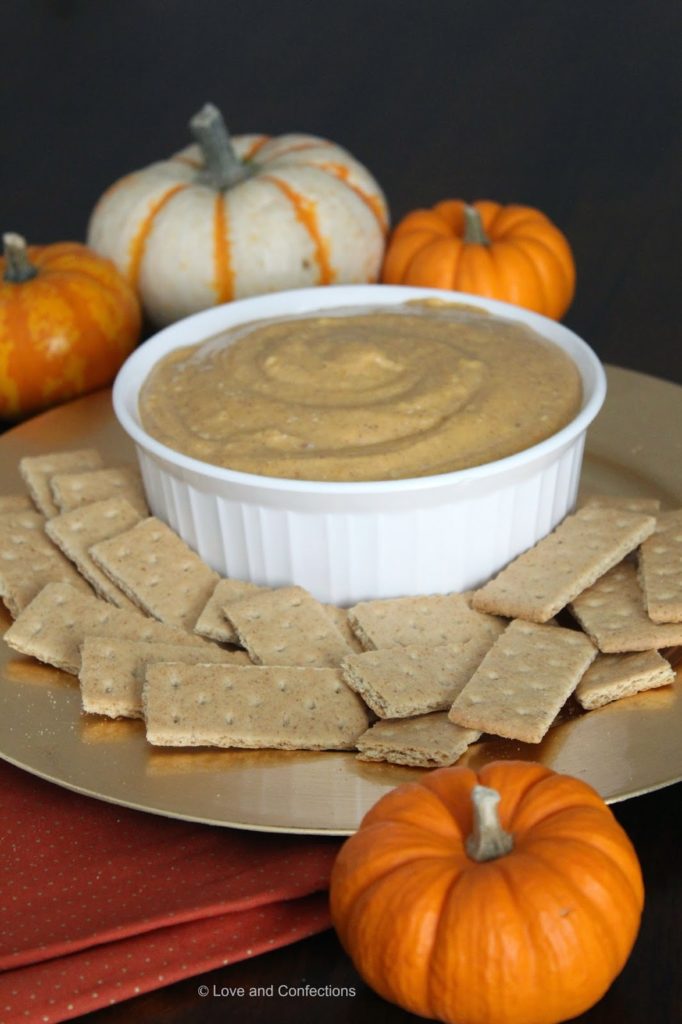 If you look through Pinterest, you will see hundreds of versions of this dip. There are so many different ingredients and ways to make this dip, and I wanted to do something different. I decided to add one of my new favorite treats to the mix.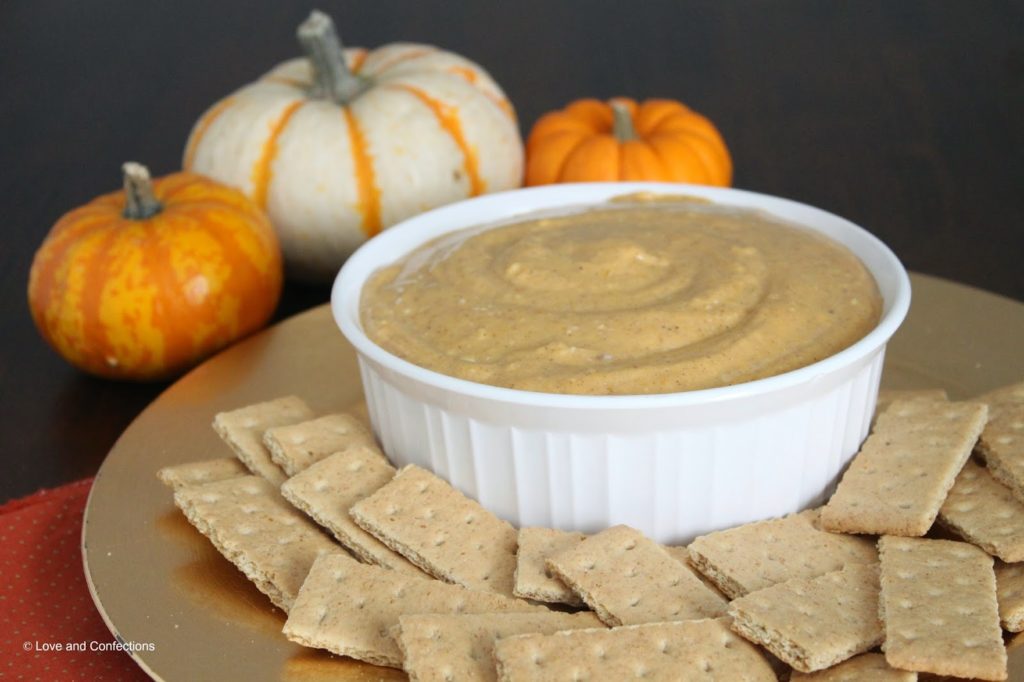 Stonyfield Organic recently introduced a new line of product called Petite Creme. It is similar in texture to Greek yogurt, but is not tangy. Petite Creme is sweet and smooth, just the way I like my yogurt. They have some fabulous flavors and I love them all! The Vive la Vanilla Stonyfield Petite Creme was just what I needed for this dip. The vanilla flavor goes great with the pumpkin pie spice and the smoothness and creaminess of the yogurt helps it not get too firm after refrigeration. All-in-all, I think I created a great, and very easy, recipe and I hope you make it and share it with family and friends.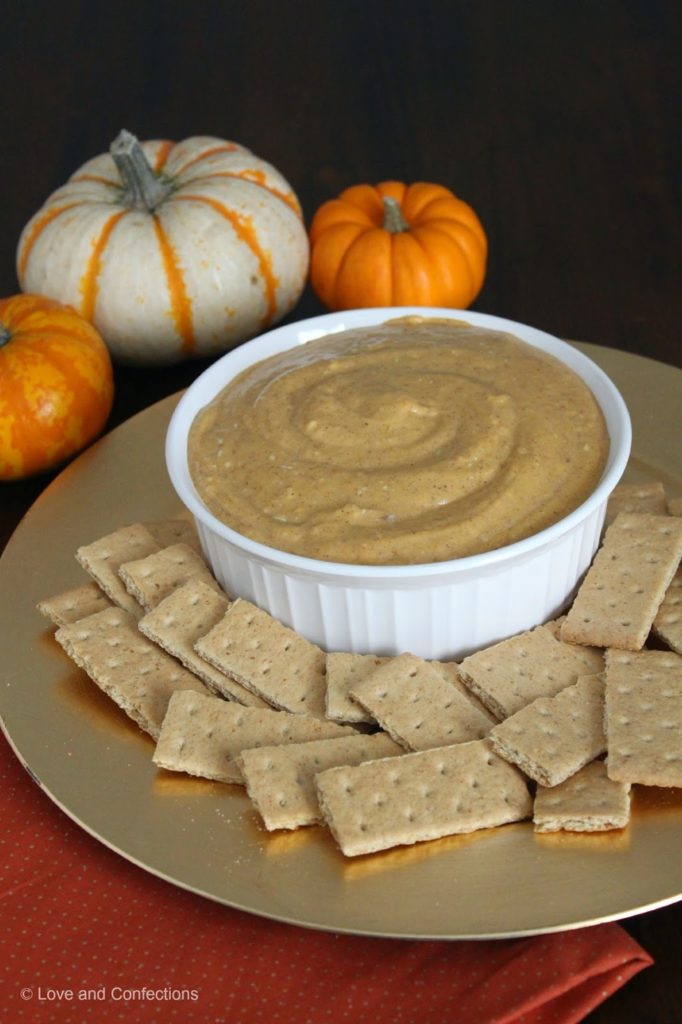 Pumpkin Pie Dip
a Love and Confections original recipe
Click here for a printable recipe
Pumpkin Pie Dip Instructions:
– 8 ounces Cream Cheese, room temperature
– 4 ounces Powdered Sugar, sifted
– 1 container Stonyfield Vive la Vanilla Petite Creme (5.3 oz)
– 8 ounces Pumpkin Puree
– 2 teaspoons Homemade Pumpkin Pie Spice
– Graham Crackers for dipping
Pumpkin Pie Dip Directions:
1. In the bowl of your stand mixer, combine the Cream Cheese and Powdered Sugar until evenly mixed. Add in the Stonyfield Petite Creme and mix. Scrape down the sides of the bowl to insure everything is incorporated.
2. Add in the Pumpkin Puree and Pumpkin Pie Spice. Mix until combined. Scrape down the sides of the bowl if necessary.
3. Pour into serving bowl, cover with plastic wrap and refrigerate a minimum of 1 hour. Separate Graham Crackers into bite-sized pieces for dipping and arrange on a serving tray around the dip. Enjoy!
Until next time,
LOVE & CONFECTIONS!
Check out all the #PumpkinWeek Bloggers and their recipes:
Pumpkin Pie Dip by Love and Confections
Pumpkin Pye – that's Pie with a Rye Crust by Culinary Adventures with Camilla
Caramel Pumpkin Torte by Lady Behind The Curtain
Pumpkin Loaf by The Not So Cheesy Kitchen
Pumpkin Pie Martini by A Day in the Life on the Farm
Pumpkin Cheesecake Swirl Brownies by A Kitchen Hoor's Adventures
Cinnamon Sugar Pumpkin Muffins by Making Miracles