Celebrate Fall with a Pumpkin Pie Moscow Mule – my twist on the classic cocktail with pumpkin and warm Autumn spices!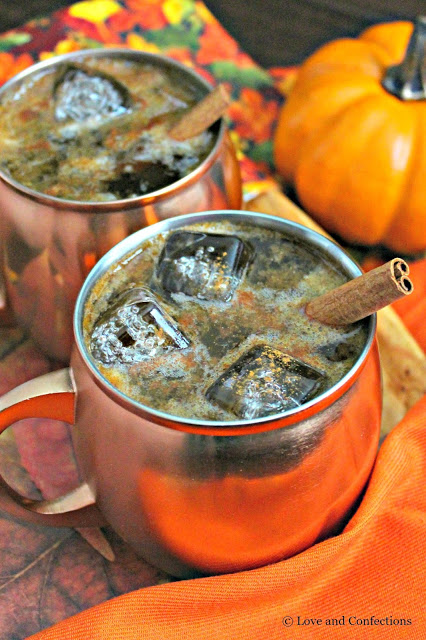 Welcome to #PumpkinWeek 2017!! I can't believe what started as a small gathering of bloggers wanting to celebrate their love of this fabulous Fall flavor has turned into such a great event year after year. What started off with 17 bloggers and 65 recipes has turned into 35 bloggers and 105 recipes, 4 years later. As usual, I like to start off my week-long celebrations with a cocktail, and this Pumpkin Pie Moscow Mule does not disappoint!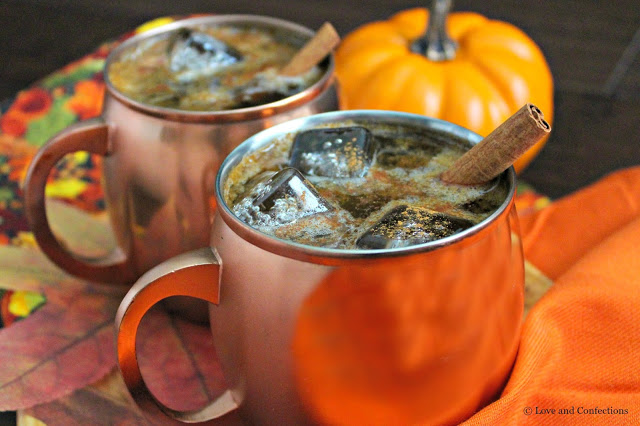 Within the past couple of years, I have jumped on the Mule bandwagon. Aside from the fact that drinking out of a copper mug is awesome, I really do love all the flavors in it. Now, sometimes they are a bit more gingery or limey depending on the recipe or bartender, but since it is quite different than my usual fruity/sweet cocktail order, I like to try them at restaurants or bars.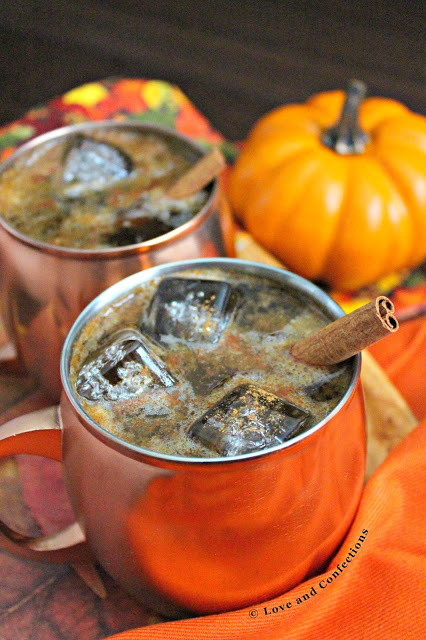 This recipe does not use lime, but the ginger beer I used had a hint of lime. It's all about personal preference, and this recipe can easily be made for two or to serve a crowd. The Pumpkin Pie Simple Syrup is enough for quite a few drinks. I am actually saving some for another pumpkin-inspired cocktail coming soon.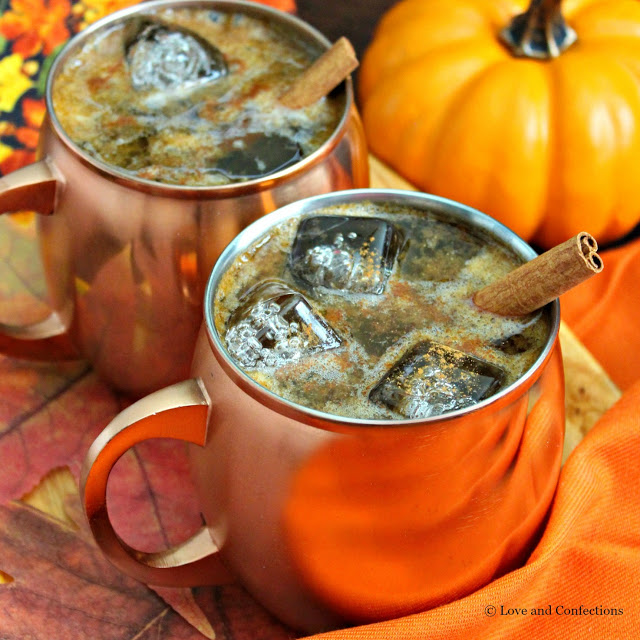 I started the syrup with both granulated and dark brown sugars. The rich molasses flavor from the dark brown sugar complements the spices, but I also didn't want it to be too overbearing. When mixed together, the whole drink is warming and delicious. You can probably even use a flavored vodka (caramel, pumpkin, or apple pie) or to really give it a punch, some bourbon.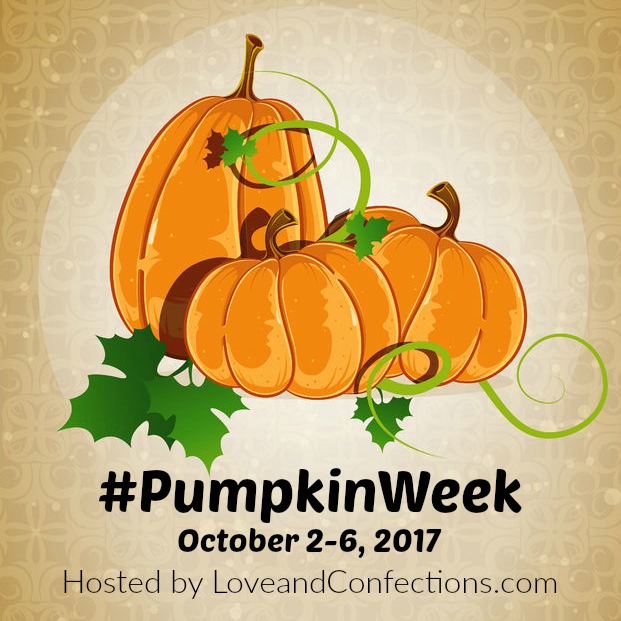 I love playing around with different flavor Moscow Mules, and even created a Berry Basil Moscow Mule this past Summer. October has me craving pumpkin, apple, cinnamon, nutmeg, and all those lovely warm spices that feel like Fall. Since it isn't quite sweater-weather yet, I am definitely enjoying this Moscow Mule that is cool, refreshing, and tastes like Fall in a glass. Cheers!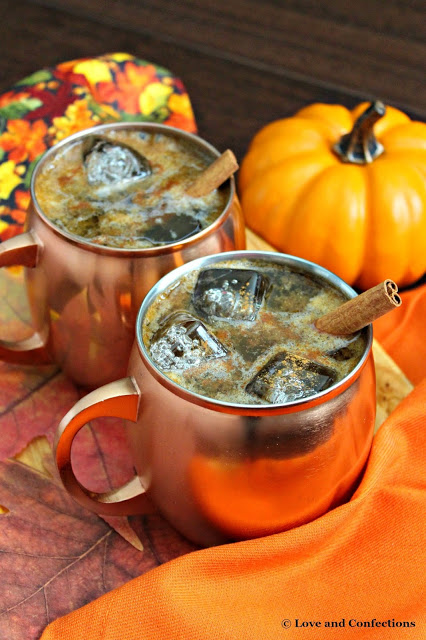 Pumpkin Pie Moscow Mule
By Love and Confections
Published 10/02/2017
Ingredients
1 cup water
1/2 cup dark brown sugar
1/2 cup granulated sugar
1/4 cup pumpkin puree
2 cinnamon sticks
2 teaspoons pumpkin pie spice
2 teaspoons vanilla bean paste
Vodka
Ginger Beer
Instructions
In a medium saucepan, combine water, sugars, pumpkin, spices and vanilla bean paste. Heat until sugars have dissolved. Set aside for 10 minutes.
Discard cinnamon sticks. Pour syrup into heat-safe container and refrigerate until chilled.
Once syrup is chilled, in cocktail shaker or measuring cup, combine 2 ounces pumpkin syrup and 2 ounces vodka per serving. Divide between glasses, top with ginger beer, and garnish with cinnamon stick.
Until next time,
LOVE & CONFECTIONS!
Here are today's #PumpkinWeek recipes:
Pumpkin Drink Recipes:
Pumpkin Pie Moscow Mule from Love and Confections.
Savory Pumpkin Recipes:
Chicken Enchiladas with Pumpkin Sauce from Hardly A Goddess.
Goat Cheese and Sage Pizza with Pumpkin Crust from The Spiffy Cookie.
Kaddo Bowrani (Afghan Pumpkin with Yoghurt Sauce) from Caroline's Cooking.
Pickled Pumpkin with Sage and Autumn Spices from Culinary Adventures with Camilla.
Pumpkin Beer Bread from Forking Up.
Pumpkin Beer Cheese Soup with Herbed Croutons from The Crumby Kitchen.
Pumpkin Chili from A Kitchen Hoor's Adventures.
Pumpkin Corn Chowder with Shrimp from Kudos Kitchen by Renee.
Pumpkin Focaccia Bread from Cookaholic Wife.
Pumpkin Ravioli with Parmesan Sage Cream Sauce from Rants From My Crazy Kitchen.
Pumpkin Rosemary Hummus with Sizzled Garlic from Amy's Cooking Adventures.
Pumpkin Stew with Chicken and Black Beans from Palatable Pastime.
Sweet Pumpkin Recipes:
Brown Butter Pumpkin Oatmeal Cookies from The Redhead Baker.
Cheesecake Stuffed Pumpkin Bundt Cake from Cooking with Carlee.
Easy Pumpkin Pie Cheesecake from Daily Dish Recipes.
Jumbo Pumpkin Spice Muffins with Pecan Streusel Topping from Family Around The Table.
Pumpkin Blondies from It Bakes Me Happy.
Pumpkin Cheesecake Bars from The Bitter Side of Sweet.
Pumpkin Coffee Cake from The Chef Next Door.
Pumpkin Madeleines from Mildly Meandering.
Pumpkin Pie Energy Bites from Making Miracles.
Pumpkin Pie Oatmeal from Seduction in the Kitchen.
Pumpkin Pie Tassies from Cindy's Recipes and Writings.
Pumpkin Scones from The Freshman Cook.
Pumpkin Spice Donuts from A Day in the Life on the Farm.
Pumpkin Spice Donuts from Hezzi-D's Books and Cooks.
Pumpkin Zucchini Streusel Bread from An Affair from the Heart.
Ridiculously Good Dark Chocolate Pumpkin Cake from Bacon Fatte.