Pumpkin Tres Leches is everything great about the traditional tres leches but with a seasonal twist!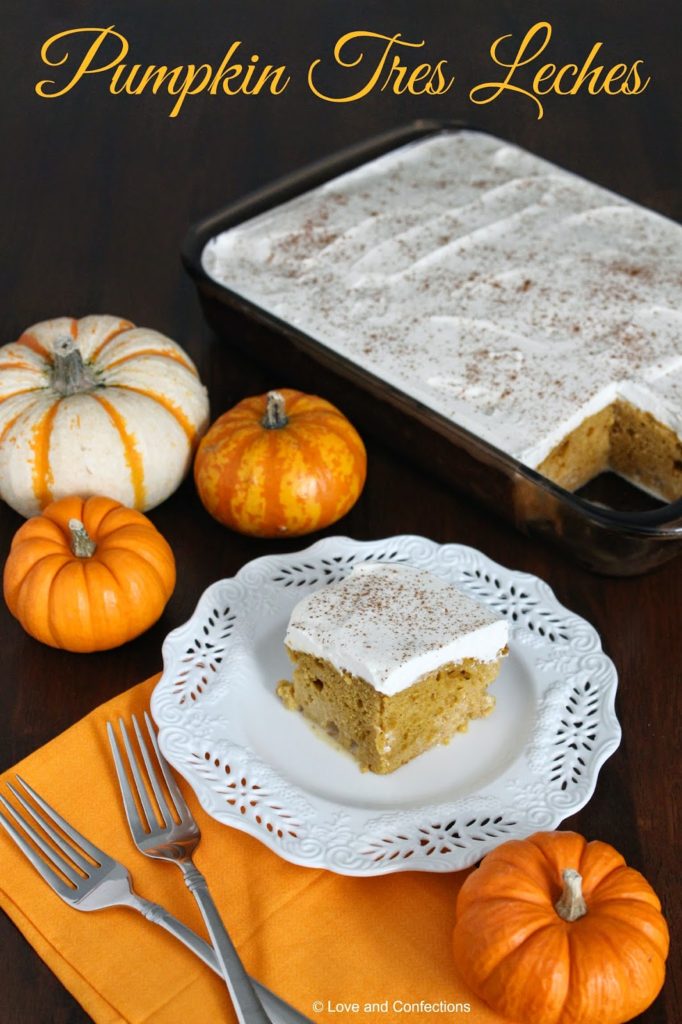 Welcome to day 4 of #PumpkinWeek. We are celebrating our love of the season with a whole week of pumpkin goodies, leading up to National Pumpkin Day. 17 Food Bloggers have come together to share over 65 recipes with you. In addition to homemade pumpkin puree, pie, and cookies, we are also sharing savory pumpkin dishes like hummus, chili and pumpkin corn chowder. Come back every day for #PumpkinWeek recipes. You can also find these great recipes and more on Love and Confections' #PumpkinWeek Pinterest Board!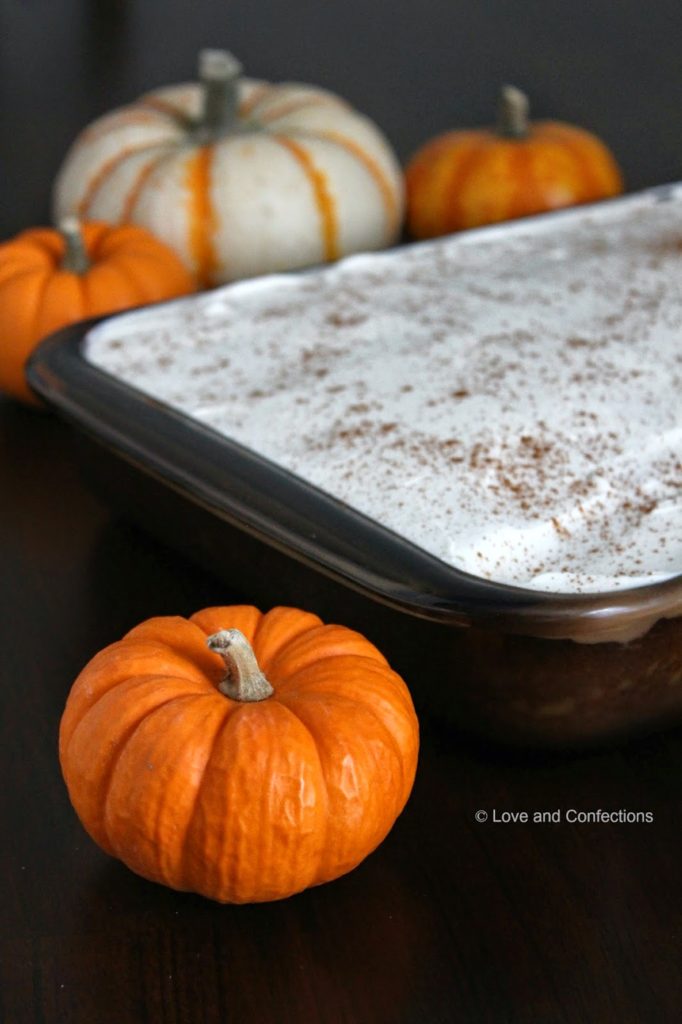 I hope you have enjoyed my #PumpkinWeek creations so far. The Pumpkin Loaf, Baked Pumpkin Donut Holes and Pumpkin Pie Cream Cheese Truffles are all delicious, but this Pumpkin Tres Leches is my favorite so far!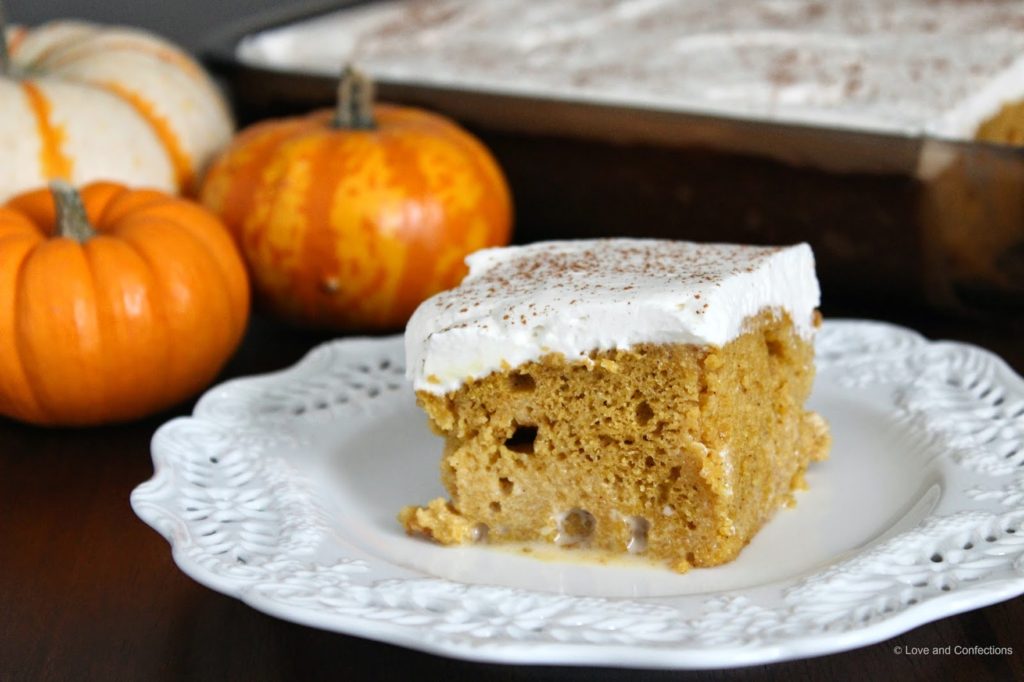 I grew up in Miami, where Cuban food was everywhere. Black beans and rice were a delicious side to amazing chicken, beef or pork dishes. Cuban coffee, Cafe con Leches or Cortaditos, were a morning staple and Tres Leches or Flan was the perfect ending to a meal. I decided to do a different take on the Tres Leches using flavors of the season.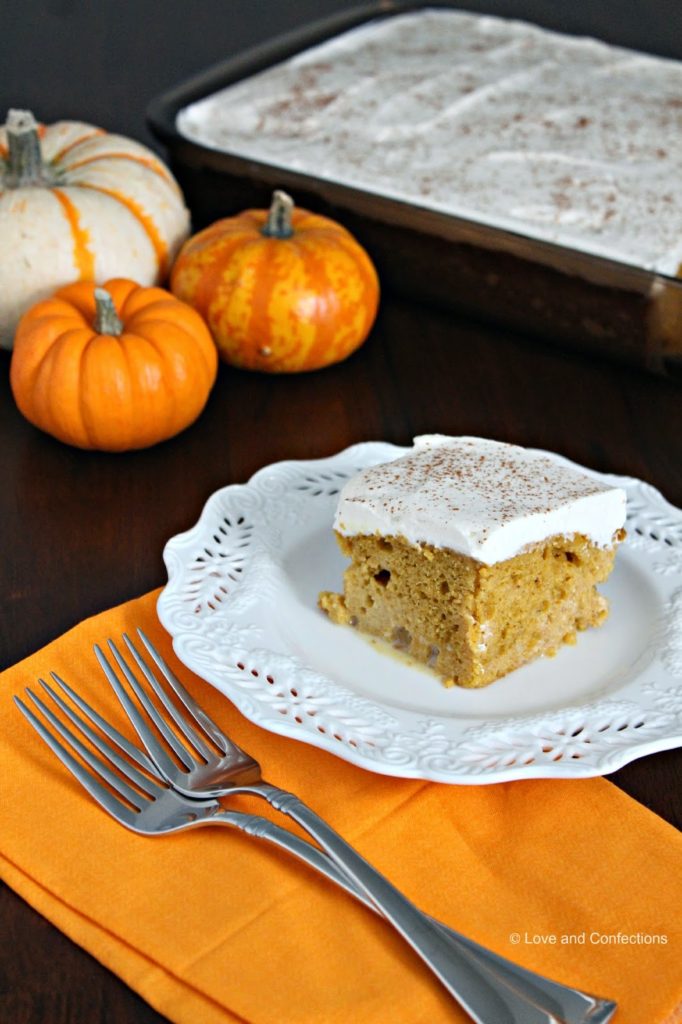 Pumpkin Tres Leches is decadent, creamy and oh-so-good. The milk soaks into every nook and cranny of the warm pumpkin cake. It chills overnight, so every flavor can meld and the cake can really get soaked good. The cold, sweet whipped cream is the perfect topping on the rich cake and the hint of cinnamon dusted on top is perfection.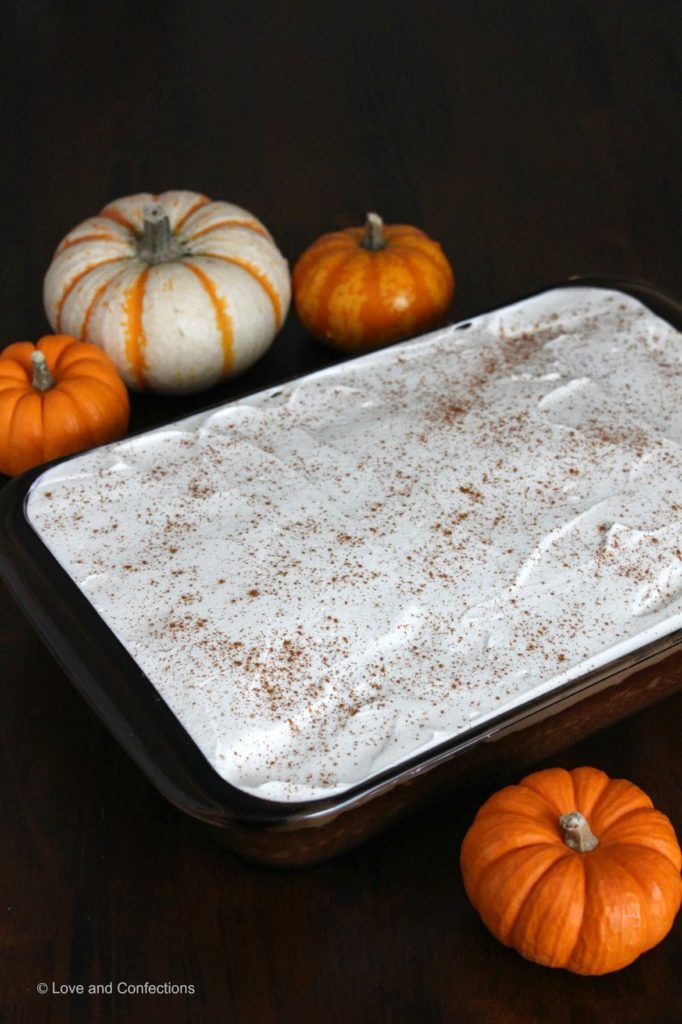 Pumpkin Tres Leches
a Love and Confections original recipe
Click here for a printable recipe
Pumpkin Tres Leches Ingredients:
For the Cake:
– 1/2 cup Unsalted Butter, room temperature
– 1 & 3/4 cups Granulated Sugar
– 4 Large Eggs, room temperature
– 1-15 ounce can of Pumpkin Puree
– 2 teaspoons Vanilla Extract
– 2 cups All-Purpose Flour
– 1 tablespoon Baking Powder
– 2 teaspoons Homemade Pumpkin Pie Spice
– 1/2 teaspoon Salt
For the Milk Mixture:
– 1-12 ounce can Evaporated Milk
– 1-14 ounce can Sweetened Condensed Milk
– 1 cup Half & Half
For the Topping:
– 1 & 1/2 cups Heavy Cream
– 2 cups Powdered Sugar
– 1 teaspoon Vanilla Extract
– Cinnamon to dust
Pumpkin Tres Leches Directions:
1. Heat oven to 350F. Prepare a 9×13 pan with baking spray and set aside.
2. In the bowl of your stand mixer, cream the Butter and Sugar until light and fluffy. While the mixer is on low, add in the Eggs one at a time. Scrape down the sides of the bowl to insure everything is incorporated. Add in the Pumpkin Puree and Vanilla Extract and mix to combine.
3. In a small bowl, whisk together the Flour, Baking Powder, Pumpkin Pie Spice and Salt. Add into the pumpkin mixture a little at a time and mix on medium to incorporate.
4. Pour batter into pan and bake for 30-35 minutes, or until a toothpick inserted into the center comes out clean. Make the Milk Mixture while it cools.
5. In a medium bowl, whisk the Evaporated Milk, Sweetened Condensed Milk and Half & Half together. with one or two skewers, poke holes all over the the cake, making sure you go all the way through to the bottom. With a ladle, spoon the milk mixture over the cake, trying to get as much as possible into the holes. It looks like a lot, but the cake will absorb everything. Cover with plastic wrap and refrigerate a minimum of 4 hours, preferably overnight.
6. 30 minutes before making the topping, place the bowl and whisk attachment from your stand mixer in the freezer.* Whip the Heavy Cream on medium until it starts to thicken and form soft peaks. Slowly add in the Powdered Sugar and Vanilla Extract, then turn the mixer up to high to whip until firm peaks.
7. Remove the cake from the refrigerator and spread the whipped topping on with an offset spatula. Dust the top with Cinnamon and enjoy! The cake needs to remain refrigerated and covered because of the whipped topping. If necessary, use toothpicks on the cake so the plastic wrap does not touch the whipped topping. Serve within 2 days.
* Heavy cream whips better when cold. To insure a good whip, it is best to chill the bowl and whip attachment before it is needed.
Until next time,
LOVE & CONFECTIONS!
Check out all the #PumpkinWeek Bloggers and their recipes:
Pumpkin Tres Leches by Love and Confections
Spiced Pumpkin Butter by Culinary Adventures with Camilla
Pumpkin Palmiers by That Skinny Chick Can Bake
Pumpkin Pecan Oatmeal by The Spiffy Cookie
Mini Healthy Pumpkin Pies by Happy Food Healthy Life
Easy Pumpkin Caramel Sauce by Lady Behind The Curtain
Savory Pumpkin Tart by The Not So Cheesy Kitchen
Pumpkin Custard Pie by A Day in the Life on the Farm
Pumpkin Chocolate Chip Cookies by Making Miracles