Red Lentil Soup is a warm and hearty dish, full of flavor and simple to make – a great start for the Fall season.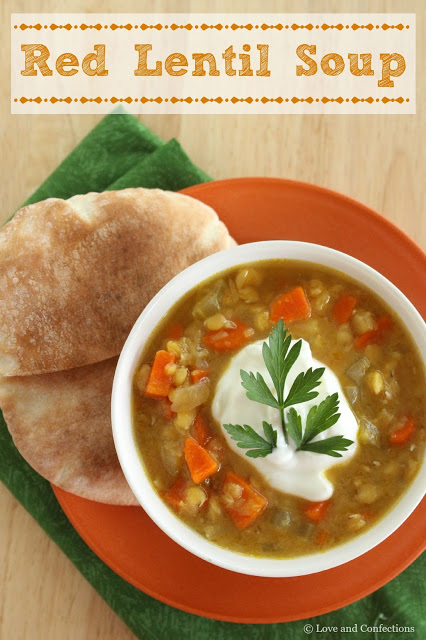 This is a sponsored post on behalf of Stonyfield Organics and Bob's Red Mill.
As always all opinions are my own.

I cannot wait for Fall. Yes, I know, it is officially Fall – everywhere but here. Florida is still hot and humid and rainy. I keep seeing pictures of pumpkins, apple picking, Autumn decorations and changing leaves and I am longing for the cooler weather.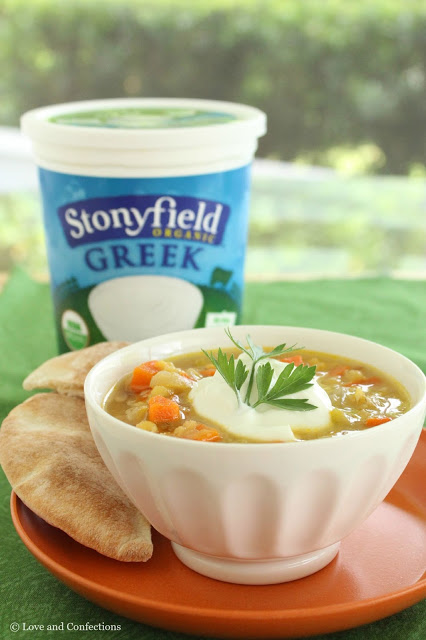 Even though it is still warm outside, I wanted to make an easy soup to get me in the mood for Fall. I received a package of Red Lentils and Orca Beans from Bob's Red Mill, and decided to use the lentils. The Orca Beans will turn into a great chili once the cold weather gets here!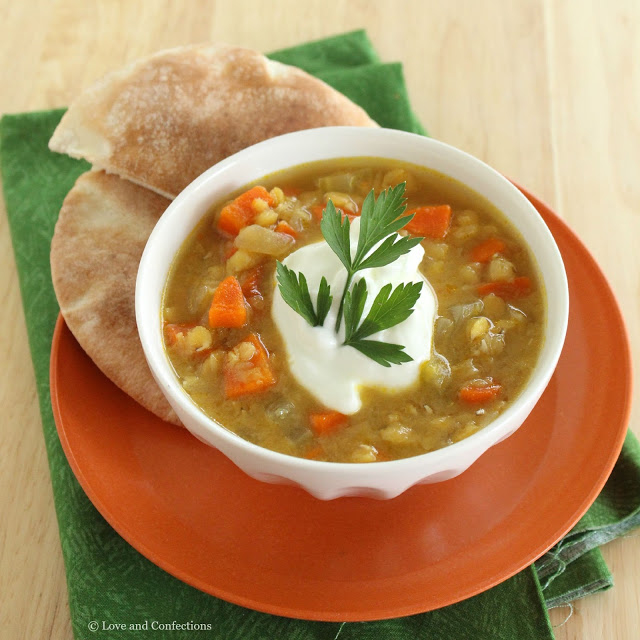 This soup couldn't be easier. It starts with the traditional carrots, celery and onions, followed by lentils and stock. I used chicken stock, because it's what I had in my pantry. You can easily substitute vegetable stock to make it vegetarian. I topped it with a dollop of Stonyfield Greek Yogurt. I loved the cool, creamy tang of the yogurt with the warm, hearty soup – definitely going to keep this in my cold-weather recipe repertoire.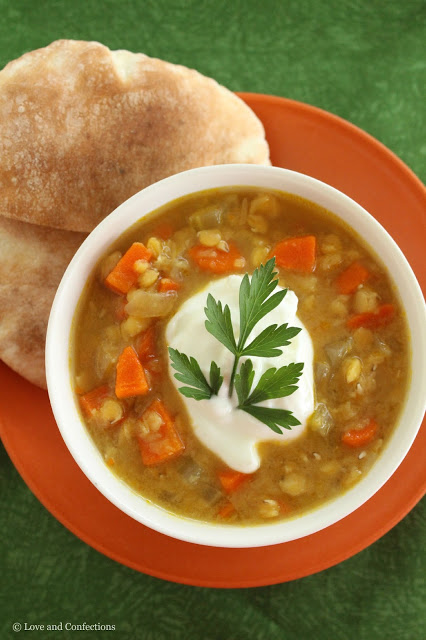 Red Lentil Soup
Adapted from The Kitchn
Serves 4
Red Lentil Soup Ingredients:
– 1 tablespoon Extra Virgin Olive Oil
– 2 large Carrots, diced
– 2 large ribs of Celery, diced
– 1/2 medium Onion, diced
– 1/4 teaspoon Salt
– 1 cup Bob's Red Mill Red Lentils
– 4 cups Organic Low-Sodium Chicken Broth
– 1 whole Bay Leaf
– Juice from half a Lemon
– 1/4 cup Stonyfield Organic Greek Yogurt
Red Lentil Soup Directions:
1. In a medium-large saucepan, heat the Olive Oil, then stir in the Carrots, Celery, Onion and Salt. Cover and let the vegetables cook for 5 minutes
2. Add the Lentils, Chicken Broth and Bay Leaf. Stir, bring to a boil, then simmer for 20 minutes.
3. Remove from the heat and stir in the Lemon Juice. Spoon into bowls and top with Stonyfield Greek Yogurt. Enjoy!
Until next time,
LOVE & CONFECTIONS!
Disclaimer: I have an ongoing relationship with Stonyfield as a member of the Clean Plate Club. I receive product, coupons and/or compensation for posts featuring their products. As always, all opinions are my own. #stonyfieldblogger #sponsored.