Red Velvet Pound Cake with Cream Cheese Icing is easily a family favorite. Use a box mix for a shortcut and top it off with adorable sprinkles!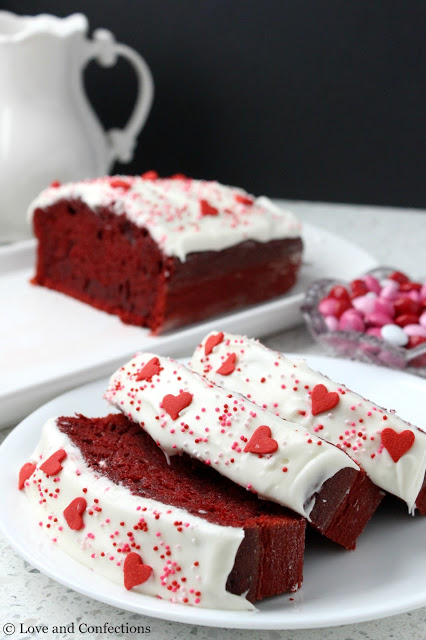 Red Velvet is such a delicious cake, if made right. For most people it's hit or miss. Some like it, some don't but my family is in the first group. I came across this recipe in February and knew I had to make ASAP.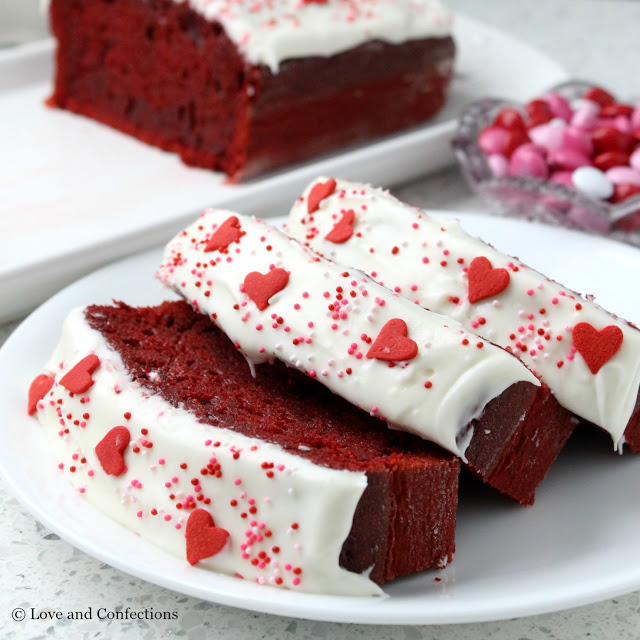 My sister loves red velvet cake and this one was definitely a hit. It is incredibly easy since I used my favorite box mix. While I do like to create baked goods from scratch, I also doctor up cake mixes because, let's be real, sometimes it's a lot easier to do that than scratch, especially with a three-year-old running around.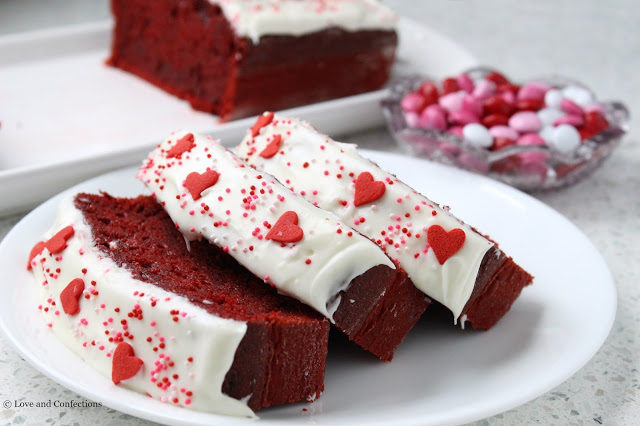 I live for homemade cream cheese frosting and this one was no exception. Smooth, creamy, just the right amount of sweetness – absolutely perfect! Toppings are optional, but everyone here loves sprinkles so I made it extra adorable with some heart sprinkles and nonpareils.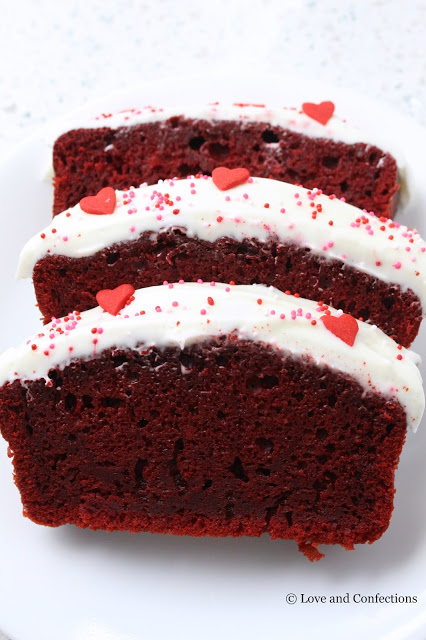 This pound cake was so delicious and you can play around with the flavors too. For Easter this year, I created one with lemon cake mix and lemon pudding. I cannot wait to try out different flavor combinations. I am also going to experiment with baking it in one loaf pan, as opposed to two like the recipe states, and also in a bundt pan. I am a bundt-lover and this would definitely be a delicious bundt cake too!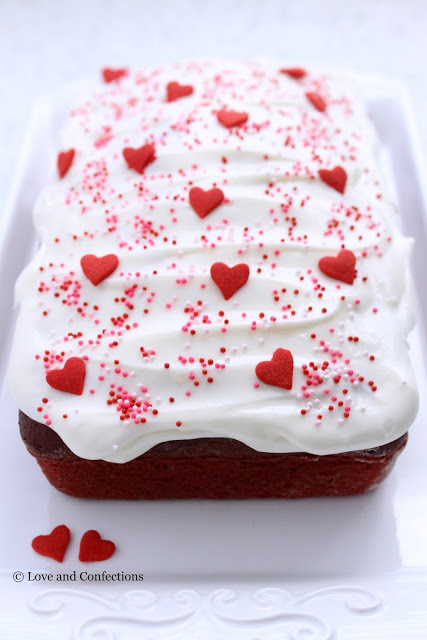 Red Velvet Pound Cake
By adapted from The Recipe Critic
Published 04/18/2017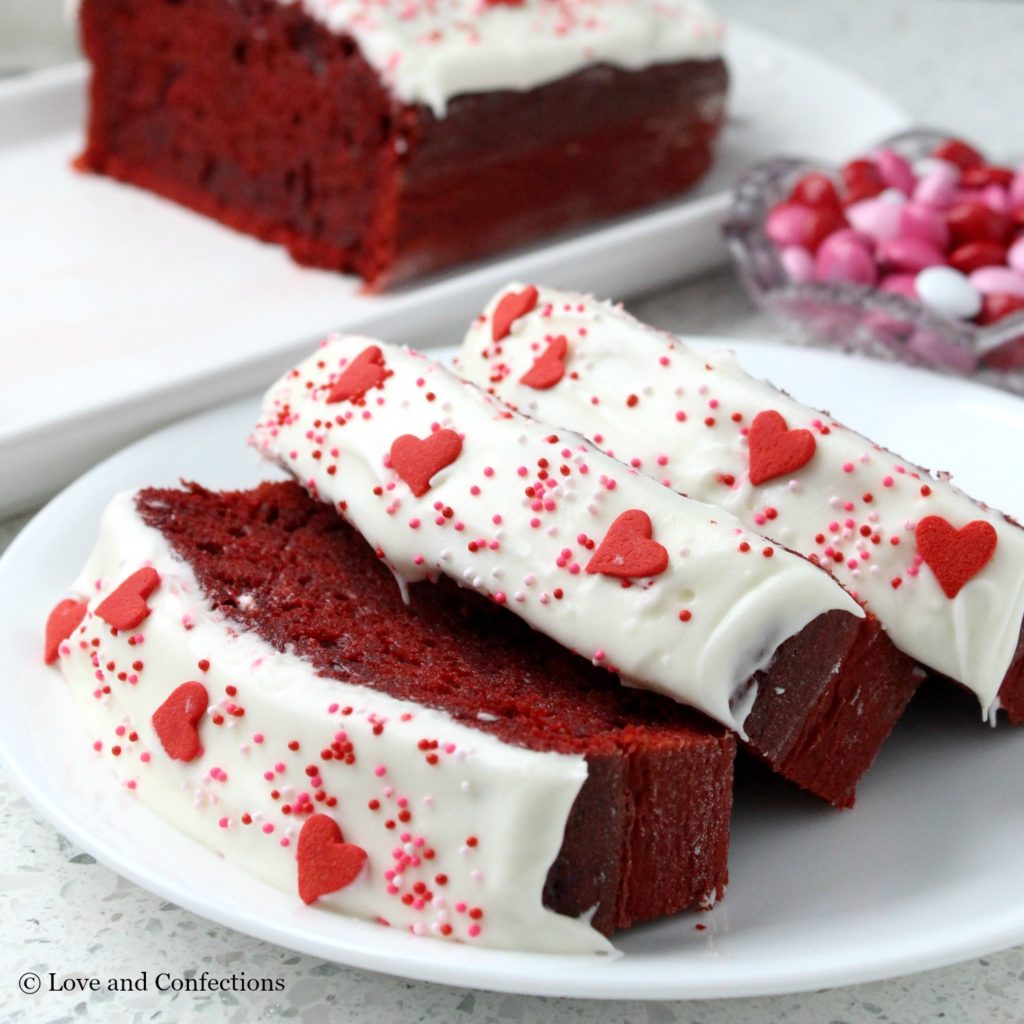 Red Velvet Pound Cake with Cream Cheese Icing is easily a family favorite. Use a box mix for a shortcut and top it off with adorable sprinkles!
Ingredients
4 large eggs, room temperature
1 box Red Velvet Cake Mix
1 (4.3 ounce) package Instant Chocolate Pudding Mix, dry
1 teaspoon vanilla extract
1 1/2 cups water
1/2 cup vegetable oil
Instructions
Heat oven to 325F. Prepare 2 bread pans with baking spray and set aside.
In a medium bowl, whisk the eggs until foamy. Combine the rest of the ingredients until mixed.
Divide batter between loaf pans and bake for 45-60 minutes, or until a toothpick comes out clean when inserted into the center of the cakes.
Remove from oven and allow to cool in pans for 10-15 minutes. Remove from pans and cool completely on wire rack or serving dish. Serve warm or room temperature. Optional Cream Cheese Frosting after completely cooled
Yield: 24 servings
Prep Time: 00 hrs. 05 mins.
Cook time: 00 hrs. 45 mins.
Total time: 50 mins.
Tags: Red Velvet, Red Velvet Cake, Pound Cake, Cake
Cream Cheese Frosting
By Love and Confections
Published 04/18/2017
Ingredients
4 ounces cream cheese, softened
4 tablespoons butter, softened
3-4 cups powdered sugar
1/2 teaspoon vanilla extract
3-5 tablespoons heavy cream
Instructions
Cream together cream cheese and butter. Beat in powdered sugar, vanilla and 1 tablespoon of heavy cream at a time, until desired consistency. Spread onto cake with offset spatula and decorate with sprinkles.
Prep Time: 00 hrs. 10 mins.
Total time: 10 mins.
Until next time,
LOVE & CONFECTIONS!