Red Velvet Sprinkle Explosion Bundt Cake – red velvet cake topped with fluffy, rich cream cheese frosting and strewn with a barrage of sprinkles is a fun and scrumptious cake for any occasion.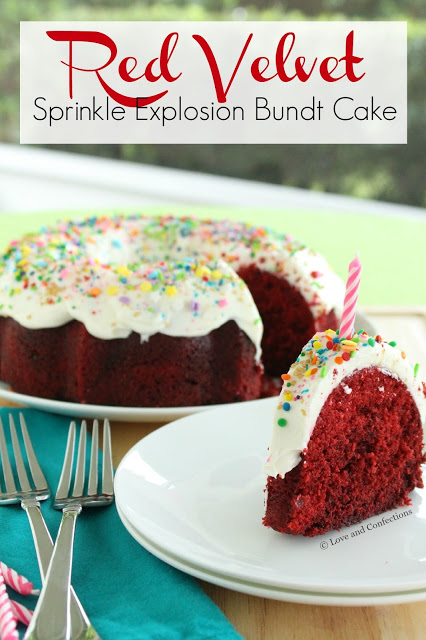 Yay! It's time for #BundtBakers again. Today I am hosting Bundt Bakers and since I recently celebrated my birthday, the theme I chose for this month is "Sprinkles". I love sprinkles – all shapes, sizes, and colors! There is always a running debate in my house about which is better: rainbow sprinkles or chocolate jimmies. I'm partial to the rainbow sprinkles, even though I do like the chocolate ones too.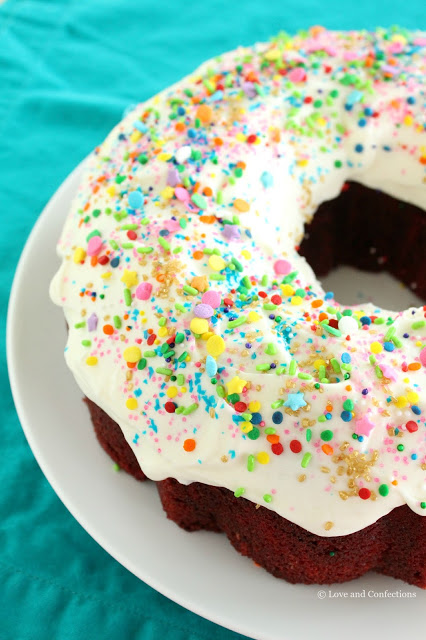 As a pastry chef, cake and cupcake decorating is always a big part of my life. I love color coordinating sprinkles for holidays and themes. Because of that, I have amassed a large collection of sprinkles, and it is slowly taking over a reasonable space in my pantry. But who can blame me? Sprinkles are that awesome!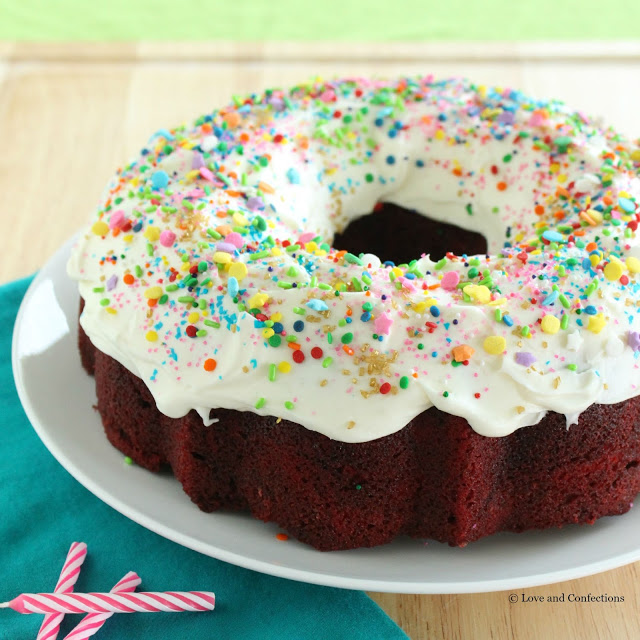 You might think the amount of sprinkles on this cake is a bit overboard, but there's a story behind it. One of my all-time favorite birthday cakes was in my teenage years. My mom made a chocolate-frosted marble cake. She let my little sister, KB, decorate it… uh-oh! She poured on every sprinkle imaginable. The cake was covered in all sorts of sprinkles – nonpareils, jimmies, dragées, quins, sanding sugar, and edible glitter. They topped it off with an overabundance of candles and it was one of the best and most fun birthday cakes and parties ever.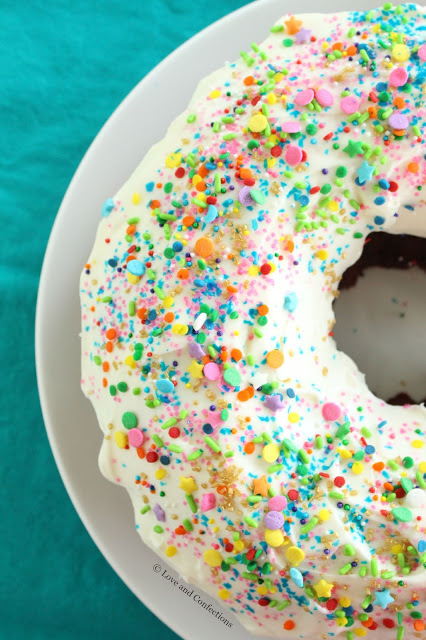 So, in memory of one of my favorite birthday cakes, I made a Red Velvet Sprinkle Explosion Bundt Cake. Next time you make a cake, add as many sprinkles as you want! Enjoy!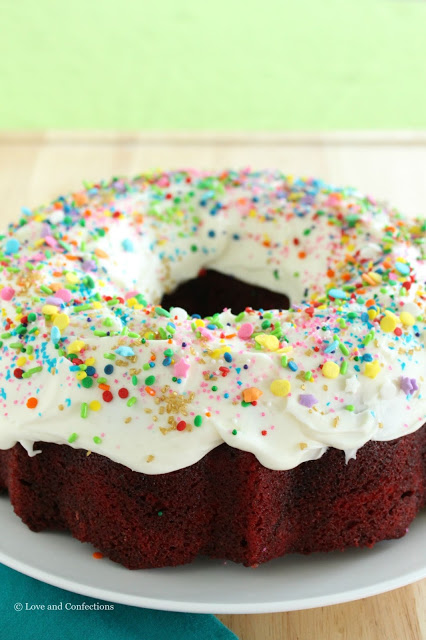 Red Velvet Explosion Bundt Cake
Slightly adapted from Joy of Baking
Red Velvet Bundt Cake Ingredients:
– 250 grams Cake Flour
– 1/2 teaspoon Salt
– 15 grams Dutch Process Cocoa Powder
– 113 grams Unsalted Butter, room temperature
– 300 grams Extra-Fine Granulated Sugar
– 2 large Eggs
– 1 teaspoon Vanilla Extract
– 1 cup Buttermilk
– 1 ounce bottle of Red Food Coloring
– 1 teaspoon Baking Soda
– 1 teaspoon White Distilled Vinegar
Red Velvet Bundt Cake Directions:
1. Heat oven to 350F with rack in the center. Prepare bundt pan with baking spray and set aside.
2. In a medium mixing bowl, sift together the Cake Flour, Salt and Dutch Process Cocoa Powder.
3. In the bowl of your stand mixer, beat the Butter with the whip attachment for 1 minute. Add in the Sugar and scrape down the sides and bottom of the bowl before mixing in the sugar. Beat on medium for 3 minutes, until the mixture is light and fluffy.
4. Add the Eggs, one at a time, and scrape the bowl after each egg. Add in the Vanilla Extract and mix to combine. In a medium measuring cup, whisk together the Buttermilk and Red Food Coloring.
5. Add the flour mixture into the butter mixture in thirds, beginning and ending with the flour, and alternating with the buttermilk mixture. Once mixed, use a spatula to insure that everything is incorporated.
6. Have the Baking Soda prepared in a small bowl. Add the Vinegar to the baking soda, give it a quick stir, and pour into the batter. Fold the mixture into the batter, then immediately pour it into the prepared bundt pan.
7. Bake for 35-40 minutes, or until a cake tester inserted into the center of the cake comes out clean. Let it cool in the pan for 10-15 minutes, then turn it out onto a rack to cool completely. If not frosting right away, wrap it and frost the next day.
Cream Cheese Frosting Ingredients:
– 8 ounce block of Cream Cheese, room temperature
– 1 teaspoon Vanilla Extract
– 115 grams Confectioners' Sugar, sifted
– 1 & 1/2 cups cold Heavy Whipping Cream
– Sprinkles – lots and lots of sprinkles (optional)
Cream Cheese Frosting Directions:
1. With your stand mixer, beat the Cream Cheese until smooth. Add in the Vanilla Extract and slowly add the Confectioners' Sugar. Beat it slowly until the sugar is combined, then beat on medium until smooth.
2. Switch to the whisk attachment and add in the Heavy Cream. Whip it slowly at first, to incorporate it, then whip until the frosting is light and spreadable.
3. Spread or pipe onto cooled bundt cake and top with sprinkles!
Here are this month's "Sprinkles" Bundts: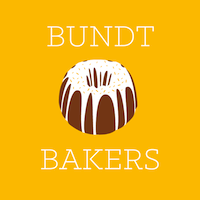 #BundtBakers is a group of Bundt loving Bakers who get together once a month to bake Bundts with a common ingredient or theme. You can see all of our lovely Bundts by following our Pinterest Board.
We take turns hosting each month and choosing the theme or ingredient.
Updated links for all of our past events and more information about BundtBakers can be found on our homepage.
Disclaimer: This post contains affiliate links. All opinions are my own.