I put a spell on you, and now you're mine – with these colorful, apple-flavored "Hocus Pocus" Sanderson Sisters cocktail. There is always room for glitter cocktails at Halloween!
I received product samples from sponsor companies to aid in the creation of the #HalloweenTreatsWeek recipes. All opinions are mine alone. This recipe is for adults 21+ and contains alcohol.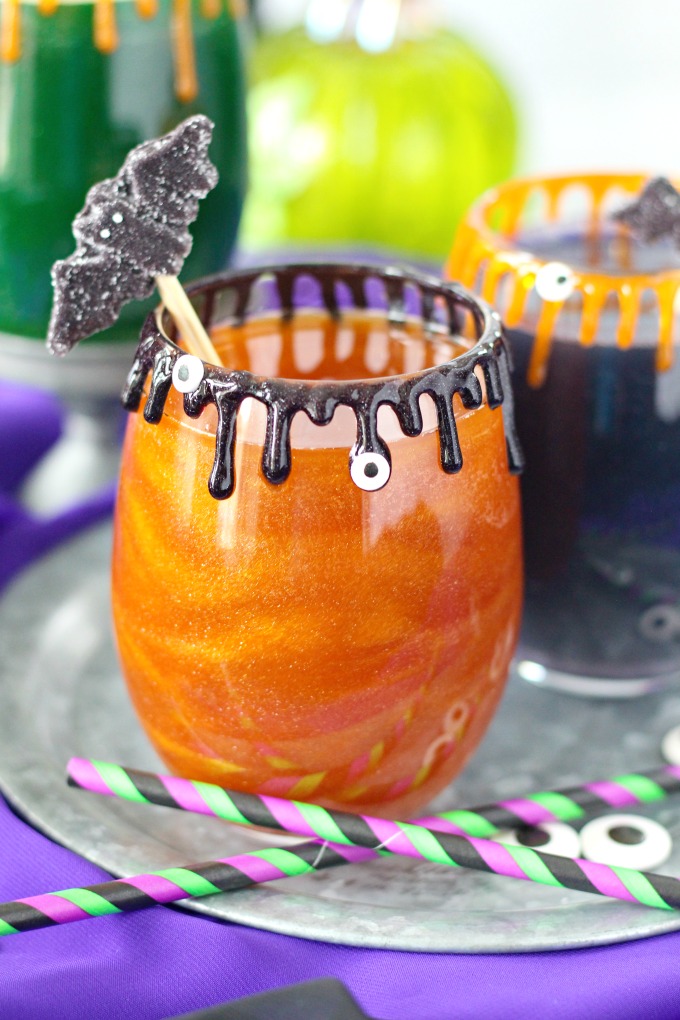 Before you go running "Amuck! Amuck! Amuck!" this Halloween, these Sanderson Sisters Cocktails are the perfect addition to everyone's favorite Hocus Pocus party.
Hocus Pocus:
I loved watching Hocus Pocus growing up and am so happy it has made a comeback in recent years. Bette Midler (Winifred), Sarah Jessica Parker (Sarah), and Kathy Najimy (Mary) are the hilarious witch trio these cocktails are based upon. Years ago, I laughed hard at their silly antics, was freaked out by the spellbook, teared up when Emily was reunited with her brother, wanted a black cat even though I'm allergic, and of course had a silly little crush on Thackery Binx. This movie is probably my favorite for Halloween.
My little sister, on the other hand, was kind of petrified by the movie. We actually had to put a salt ring around her bed a couple times. Sorry for traumatizing you Sissy! I don't think she likes it even to this day. I absolutely love watching it every October and can't wait until Little L&C is old enough to watch it with me.
Sanderson Sisters Cocktail:
I chose orange, green and purple for the cocktail colors, to represent each sister. The pictures don't do this cocktail justice, because the glitter swirls are so mesmerizing. The purple and green are a bit dark to appreciate the pearl dust, and it works best with lighter colored cocktails, but it was still fun to create. Litehouse Apple Cider is the base of this cocktail and perfect for this time of year.
I used Wilton's Pearl Dust in gold, green and purple. These are edible and FDA approved. I can't vouch for any other brand, so be sure to look at labels when searching for the dust. Wilton Sparkle Gel also created a great drip effect on the glasses. The black gel really stood out. Serve these cocktails alongside my Purple Velvet Halloween Layer Cake for a delightful green, purple and orange party!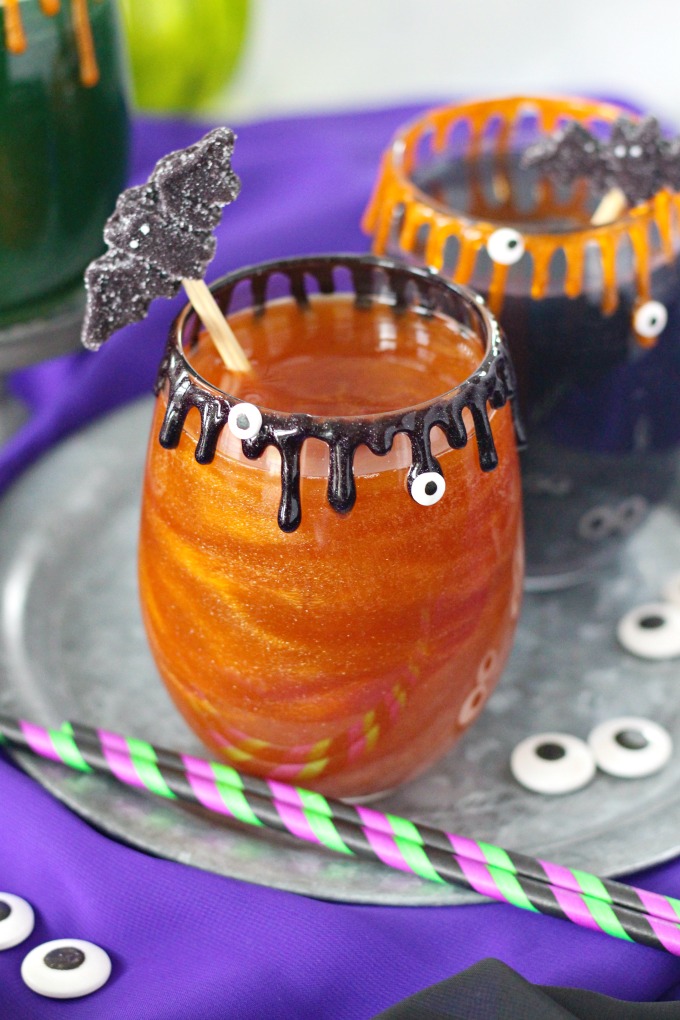 Tools, Tips and Tricks:
The pearl dust settles, so this cocktail should be made right before serving.
Wine glasses are perfect for the Sanderson Sisters Cocktail
This cocktail can be made kid-friendly by omitting the apple pie liqueur and just using straight apple cider.
Don't let a virgin light the candle! 😉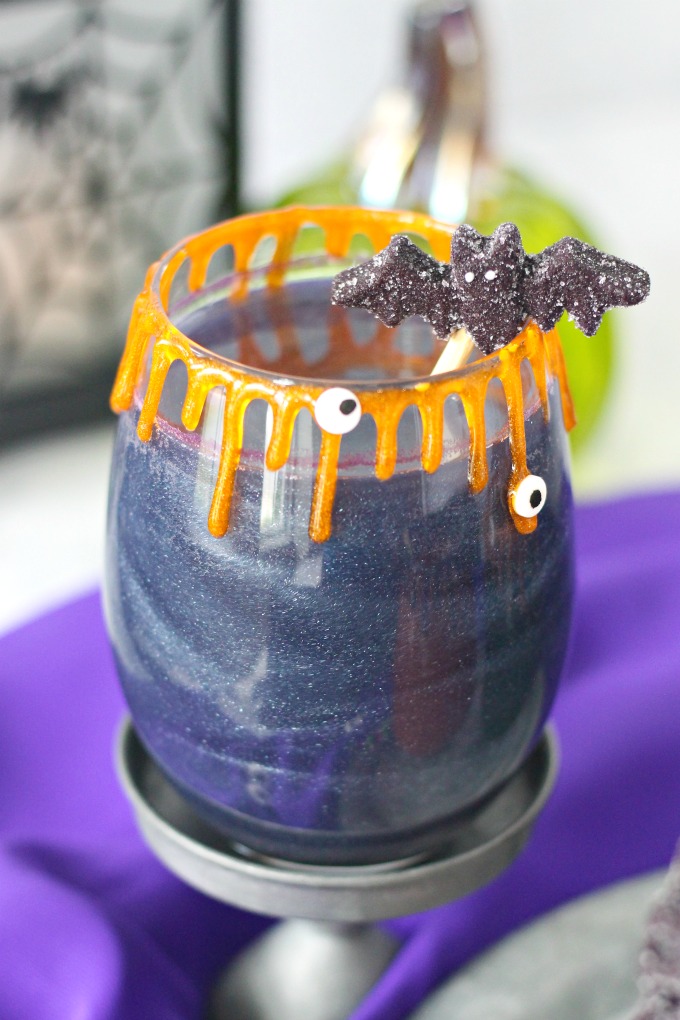 Sanderson Sisters Cocktail
Ingredients
3/4-1

cup

Litehouse Apple Cider

2-3

ounces

Apple Pie Liqueur

Gold, Green and Purple Wilton Pearl Dust

Orange, Green and Purple food coloring

Wilton glitter gel in black or orange, optional drip
Instructions
Place cider, liqueur, approximately 1/4 teaspoon dust and 1-2 drops matching food coloring in ice-filled cocktail shaker. Shake until chilled and pour into prepared glasses. Serve immediately.
Check out the amazing #HalloweenTreatsWeek recipes from our bloggers today!
Happy Halloween! It's October which means it's time for Spooky Season and this year's #HalloweenTreatsWeek event! #HalloweenTreatsWeek is hosted by Angie from Big Bear's Wife & its a creepy and haunting week-long event is filled with some amazingly wicked Halloween treats, recipes and some frightfully fun giveaways.
"When witches go riding, and black cats are seen, the moon laughs and whispers 'tis near Halloween."
For the 2nd annual #HalloweenTreatsWeek event we have 41 fantastically talented bloggers that are sharing their favorite Halloween recipes throughout the week! There are going to be over 160 Halloween themed recipes shared during this year's #HalloweenTreatsWeek and we can't wait for you to see them all! Follow the hashtag #HalloweenTreatsWeek on social media and look at the bottom of each post to see all of the Halloween recipes that we're sharing!
Plus, don't forget that we have 6 (six) great giveaways for you this week thanks to our amazing sponsors!
Scroll down to take a look!
Prize #1
Prize #1 — Dixie Crystals is giving away a "Dinner and Dessert Set" – ONE 6-Quart Cook & Carry Programmable Slow Cooker, a Pyrex mixing bowl set plus some fun Dixie Crystals items like a Dixie Crystal Apron and Cookbook!
Prize #2
Prize #2 — Adam's Extract is giving away – 1 Gift Pack – including 4oz Adams Best, 1.5 oz Peppermint, 1.5oz Almond, 1 bottle vanilla cinnamon sugar, 1 bottle pumpkin pie spice
Prize #3
Prize #3 —Wilton is giving away a Texturra 7-Piece Bakeware Set
Prize #4
Prize #4 — Sweets and Treats Shop is giving away a large baking box of goodies! Sweets and Treats will send one lucky winner a large assortment of sprinkles and lines and other samples of their products!
Prize #5
Prize #5 — Treat Street USA is giving away a set of Holiday Treat Decorations (1 Gummy Assortment, 1 Marshmallow Snowman, 1 Toy Solider and 1 Gingerbread Men)
Prize #6
Prize # 6– Litehouseis giving away the following: 1 Litehouse® Honeycrisp Apple Cider, 1 Litehouse® Old Fashioned Caramel, 1 Litehouse® Pumpkin Spice Caramel, 1 Litehouse® Butterscotch Caramel & 1 Litehouse® Chocolate Dip, Snack Packs
Giveaway open to US Residents 18 years or older. All entries will be verified. No PO Boxes Please. Prizes will be sent directly from sponsors to winners, bloggers are not responsible for prizes. This giveaway runs from October 7th – October 13th at 11:59PM EST. Winners will be selected soon afterward and contacted by e-mail. Winners will have 48 hours to respond or a new winner will be chosen. There are a total of 6 (six) prizes and therefore we will have a total of 6 (six) winners. No purchase necessary. Void where prohibited by law.
Disclaimer: These posts and recipes are part of the week-long event, #HalloweenTreatsWeek but all opinions are 100% mine! We would like to Thank our amazing sponsors: Dixie Crystals, Adam's Extract, Wilton, Sweets and Treats Shop, Treat Street USA and Litehouse! These wonderful sponsors provided the prize packs for our giveaways and also sent samples and products to the #HalloweenTreatsWeek bloggers to use in their recipes.