This shop has been compensated by Collective Bias, Inc. and its advertiser. All opinions are mine alone. #ScoreMoreFans #CollectiveBias
It's almost time for the big game and a football-themed party with food and fun is the perfect way to celebrate. Start with RITZ® Crackers Raspberry Brie Bites. Build-your-own Fry Bar complete with Homemade Cheese Sauce and Coca-Cola Pulled Pork, Chili, Buffalo Chicken Sliders and Mini Chicken & Waffles. Score big with a dessert buffet including Coke Zero Cupcakes, Football-shaped Marshmallow Treats, and Chocolate Covered Peanut Butter RITZ® Crackers. Bring home the trophy with a tailgating spread that is sure to score with your biggest fans!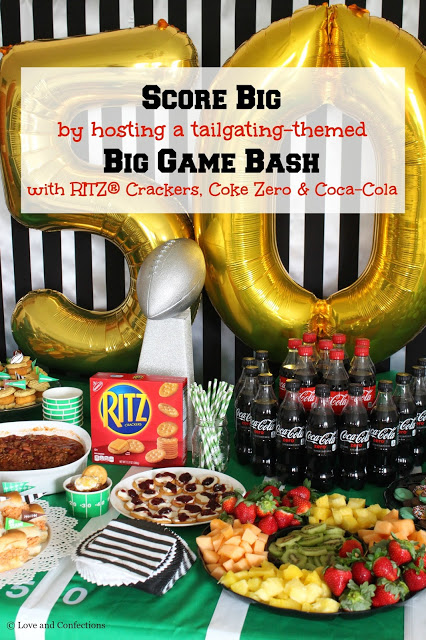 Hosting a large gathering can seem intimidating, but a lot of the planning can be done ahead of time. Make a grocery and decoration list, and head to Walmart to find everything you need for the big game.
When home-gaiting, I like to expand on classics as well as create a few different items that normally aren't at the stadium concession. One of my favorite appetizers includes raspberry and brie – baked en croute, in pastry cups, as a dip or on crackers. Raspberry Brie RITZ® Crackers are the perfect appetizer to start off any party.
Coke Zero and Coca-Cola are classic game-day drinks we always have on hand. To help you prepare for the big game, there is a special 2 for $5 on all Coca-Cola 16.9 oz 6-packs at Walmart too. The guys even had fun creating Coke Zero and Coca-Cola "football teams" for our party.
Fries are a must at any game, and my Build-your-own Fry Bar makes everyone happy. Bake two kinds of fries, so your guests have a choice. Sweet potato and waffle fries are always crowd favorites here. Homemade Cheese Sauce is a necessity for any fry bar. I also made Coca-Cola Pulled Pork as a topping, in addition to having tomatoes, onions, bacon, shredded cheese, and pickled jalapeños.
Chili is always a winner, especially with sour cream, cheese and RITZ® Crackers on top. Buffalo wings are a group favorite whenever we eat out so I knew my less mess version of Buffalo Sliders was going to be a touchdown.
Desserts are always my favorite and these cute football-themed ones were a hit. Coke Zero Cupcakes were topped with a green vanilla frosting and little football decorations. Football-shaped Marshmallow Treats were made from chocolate rice cereal and piped with vanilla frosting to look like the laces on a football. Chocolate Covered Peanut Butter RITZ® Crackers stole the show, because who doesn't love chocolate and peanut butter, especially when they have fun decorations like green white chocolate and colorful sprinkles.
I love walking through Walmart's craft and fabric sections for inspiration. I bought some black fabric and ribbon and created a backdrop to mimic a referee uniform. Paper lanterns are always a fun way to add movement to any tablescape. Theme-shaped cutouts and balloons are a great choice to brighten up any background. Don't forget to check out the party section for some fun, colored plates, napkins, and straws.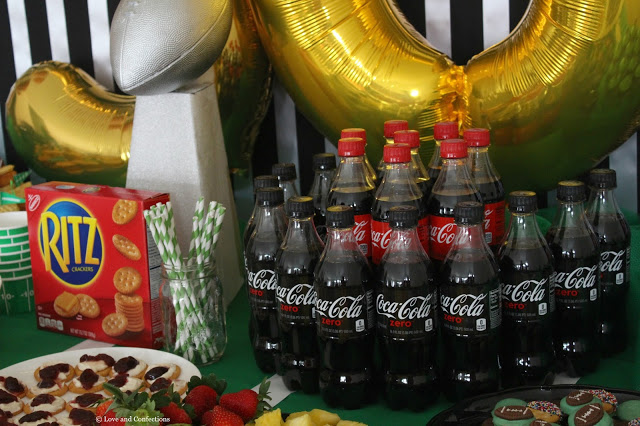 I knew I wanted to have a trophy, and a DIY craft project was the way to go. The football came from the Sports section, spray paint from Home Improvement, Styrofoam from the craft section, and glitter paper from my supplies at home. Hot glue everything together and your trophy is the perfect centerpiece for any big game party!
Don't forget to check out Coca Cola, Coke Zero and RITZ® Crackers for more game-time entertaining ideas.


RITZ® Crackers Raspberry Brie Bites
A Love and Confections original recipe
RITZ® Crackers Raspberry Brie Bites Ingredients:
– RITZ® Crackers
– 1 tub of Creamy Brie
– Seedless Raspberry Jam
RITZ® Crackers Raspberry Brie Bites Directions:
1. Place RITZ® Crackers on serving tray.
2. If spreading – spread Brie first, then top with Raspberry Jam. If piping, mix the Brie and Jam together, but not completely, then place in pastry bag with star tip and pip onto RITZ® Crackers. Use immediately or refrigerate for up to 1 hour. Enjoy!
Coca-Cola Pulled Pork
A Love and Confections original recipe
Coca-Cola Pulled Pork Ingredients:
– Boneless Pork
– 1-2 teaspoons All-purpose seasoning
– 2 cups Coca-Cola


Coca-Cola Pulled Pork Directions:
1. Season Pork and place into slow cooker. Pour Coca-Cola over, cover and cook on low for 6-8 hours.
2. Remove from slow cooker, and if necessary, remove any fat. Place into the bowl of your stand mixer with the paddle attachment. Shred Pork on the lowest setting. Use immediately, mix with your favorite sauce, or store in refrigerator. Enjoy!
Homemade Cheese Sauce adapted from Oh Sweet Basil
Until next time,
LOVE & CONFECTIONS!