Skinny Mexicorn Dip is an addicting and delicious recipe that is great for any party or gathering. Pair it with some delicious chips and your guests will ask you for the recipe by the end of the night.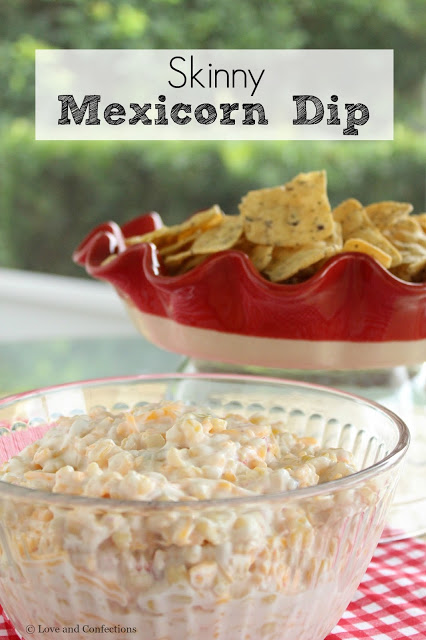 A Summer get-together is the best. Whether it's for an occasion or just because, it's always fun and usually involves food. A lot of times, my family or friends each bring something to share – pot-luck style. Having each person bring an appetizer, snack or dessert helps whomever is hosting. Plus, it's fun to try new and different dishes.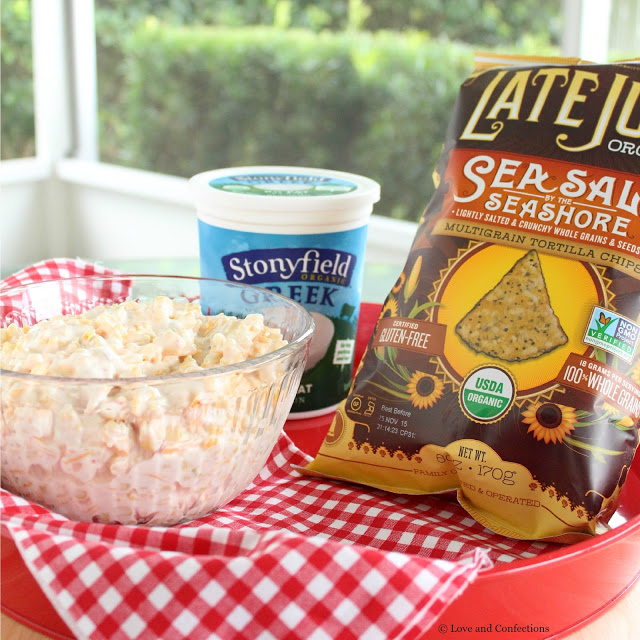 This is the perfect dip to bring to a party, or in case you have some last minute dinner guests. It is so simple and easy to create. The best part is that by using Stonyfield Greek Yogurt instead of just Sour Cream and Mayonnaise, you can cut the calories a bit.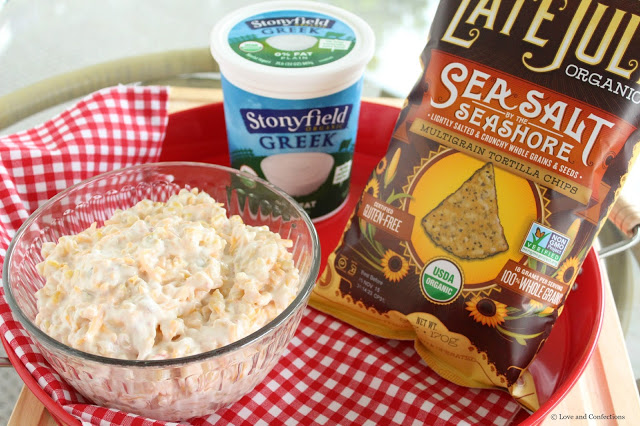 This month, Stonyfield partnered with Late July. I was able to try the Late July Organic Sea Salt by the Seashore Multigrain Tortilla Chips. They are a really tasty chip, perfect for holding up to my thick corn dip, and they are gluten-free, organic and non-GMO. Late July has a bunch of different flavors, including two that I want to try: Mild Green Moho and Sweet Potato. Check them out on Facebook, Twitter and Instagram. Also, head to Stonyfield's website for some awesome dip recipes too!


Skinny Mexicorn Dip
A Love and Confections Original recipe & inspired by a family recipe
Click here for a printable recipe
Skinny Mexicorn Dip Ingredients:
– 2 cans Mexicorn, well drained
– 2 cups shredded Cheddar Cheese
– 1 & 1/3 cup Stonyfield Greek Yogurt
– 4 tablespoons Sour Cream
– 3 tablespoons Mayonnaise
– 1 can Chopped Green Chilies, optional
– 1/4 teaspoon Garlic Powder
Skinny Mexicorn Dip Directions:
1. In a medium bowl, mix all the ingredients together. You can serve as is, or it can be prepared ahead of time (up to 8 hours) covered and refrigerated until serving.
Until next time,
LOVE & CONFECTIONS!


Disclaimer: I have an ongoing relationship with Stonyfield as a member of the Clean Plate Club. I receive product, coupons and/or compensation for posts featuring their products. As always, all opinions are my own. #stonyfieldblogger #sponsored.