Snowball Cookies are a family favorite and the perfect small cookie to grace your holiday table!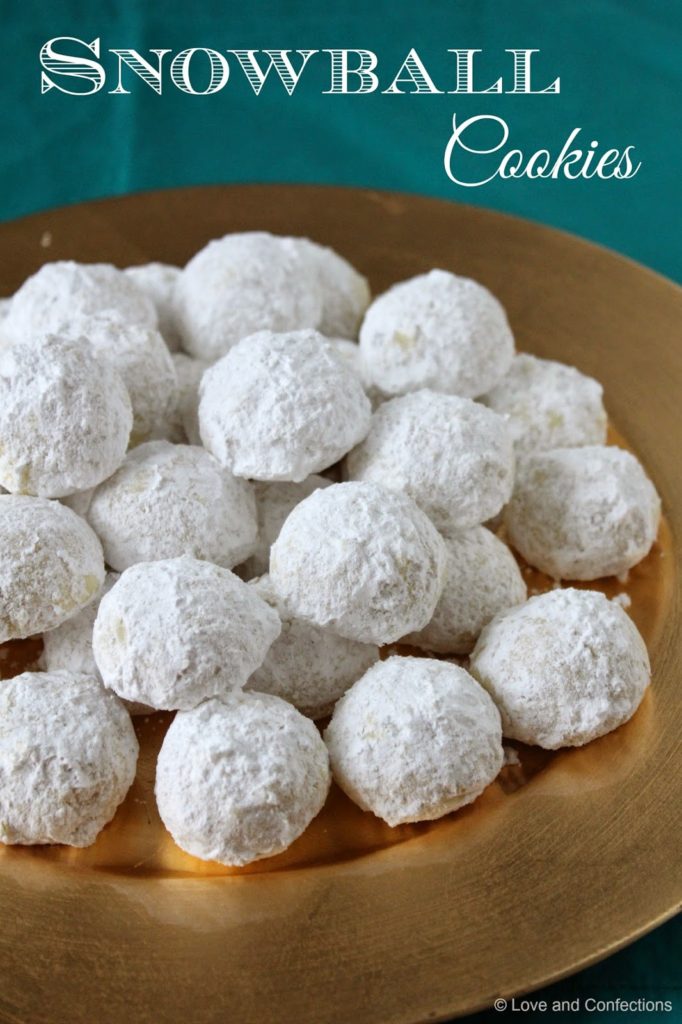 It's that time of year… parties to attend, family gatherings, trimming the tree and holiday decorations are up – well not quite yet for me. I am late with all the festivities this year because this past weekend we celebrated Baby L&C's first birthday! Her birthday is today and we planned to decorate after her Mickey Mouse party. We got the tree yesterday and this week is Christmas prep – cookie baking, grocery list making, gift wrapping, and tree trimming – all before family arrives Sunday. Whew, I'm tired just looking at all I have to do.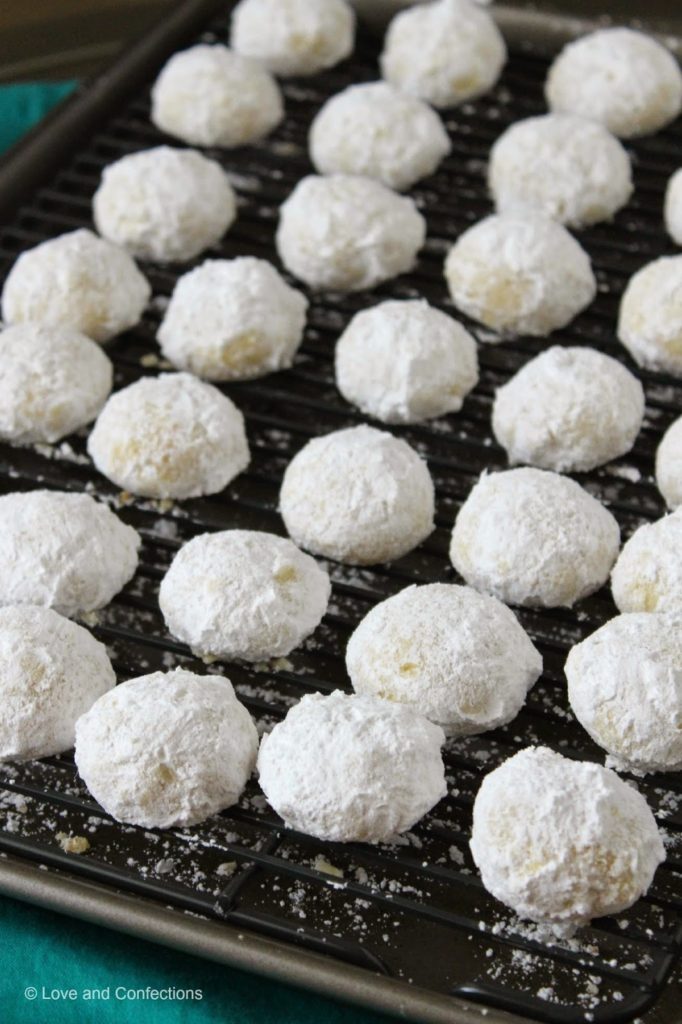 Food prep takes a lot of time during the holidays and everyone wants to be able to visit and not be stuck in the kitchen. Dessert is usually an easy course, because most of the items can be prepped and made ahead of time. Snowball cookies are perfect because you can freeze them for a few weeks and just thaw a few hours before you need them.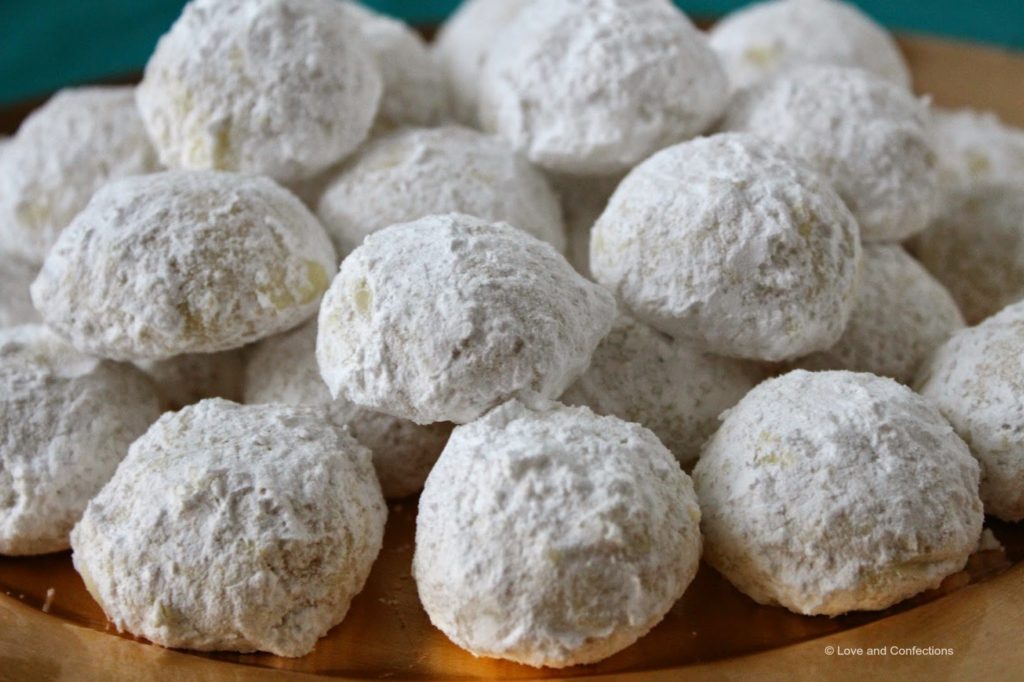 I love The Great Food Blogger Cookie Exchange. I participated in the first one and loved it. Last year I was very pregnant and wasn't able to do a lot of baking so I couldn't join in. This year, I was anxiously waiting to get all my cookies in the mail. I received Mint Crinkle Cookies from Baking Bandit, Rum Balls from Stir and Strain, and Chocolate Peppermint Patty Cookies from Alyssa and Carla. Hopefully my matches enjoyed their snowballs. Happy Holidays!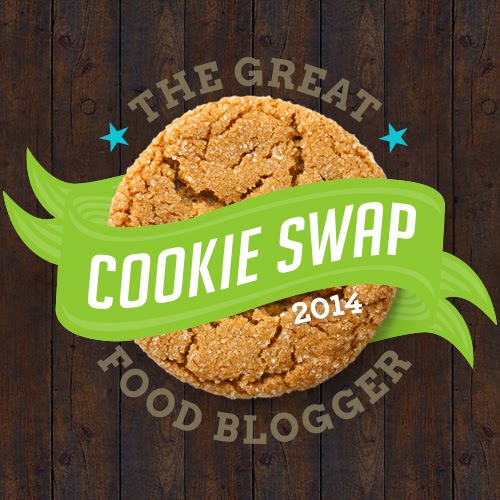 Here is the website and more information about The Great Food Blogger Cookie Swap. Don't forget to follow the #fbcookieswap hashtag on Facebook, Twitter and Instagram!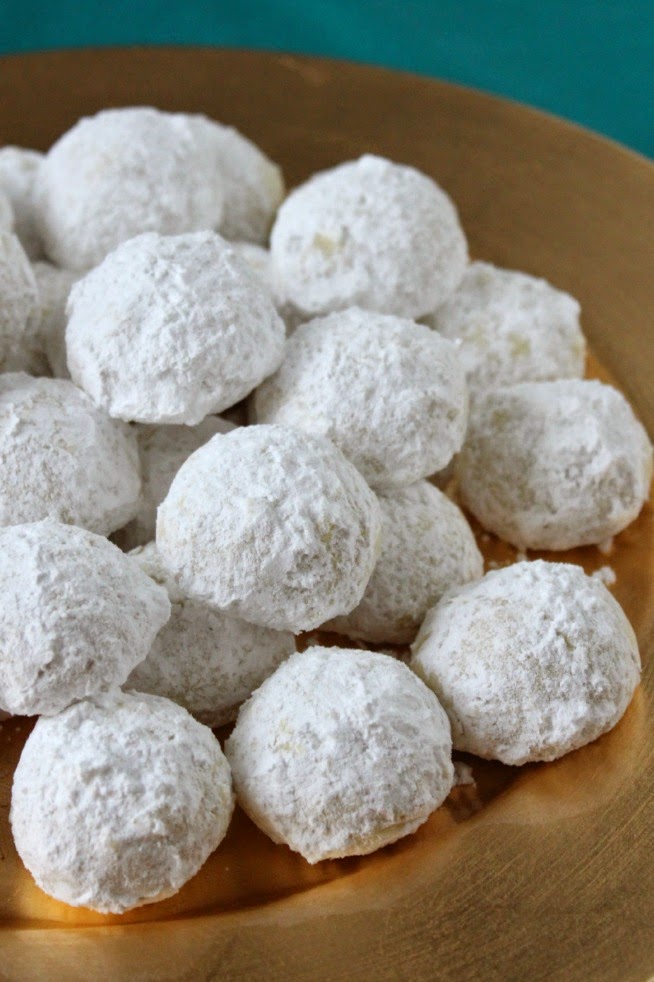 Snowball Cookies
Family recipe adapted from The Complete Everyday Cookbook
Click here for a printable recipe
Yield 40 cookies
Snowball Cookie Ingredients:
– 1 cup Unsalted Butter, room temperature
– 1/2 cup Granulated Sugar
– 1 Egg Yolk
– 1/2 teaspoon Almond Extract
– 2 & 1/2 cups sifted Flour
– 1/2 teaspoon Salt
– Confectioners' Sugar, for rolling
Snowball Cookie Directions:
1. With a stand mixer, cream together the Butter and Sugar until pale yellow and light and fluffy. Add in the Egg Yolk and Almond Extract, mixing well and scraping down the sides of the bowl.
2. Sift Flour before measuring, then add slowly to the butter mixture while it is on low. Add in Salt and incorporate. Cover dough with plastic wrap and chill for a minimum of 30 minutes to 2 hours.
3. Heat oven to 325F. Grease cookie sheets with baking spray. Using a small cookie scoop, scoop out dough, roll into a ball and place on the cookie sheets.
4. Bake cookies for 22-28 minutes, or until very lightly golden brown. Let cookies cool for 2 minutes on cookie sheet, then while hot, roll in Confectioners' Sugar and place on rack to cool completely.
5. Once cookies are completely cool, roll once more in powdered sugar. You can serve immediately or if you want to freeze them, use wax paper and extra confectioner's sugar in between the layers. Enjoy!
Until next time,
LOVE & CONFECTIONS!