All your Southern brunch favorites are gathered into one place with a Southern Brunch Board. A mixture of scratch recipes, along with already prepared items completes the presentation!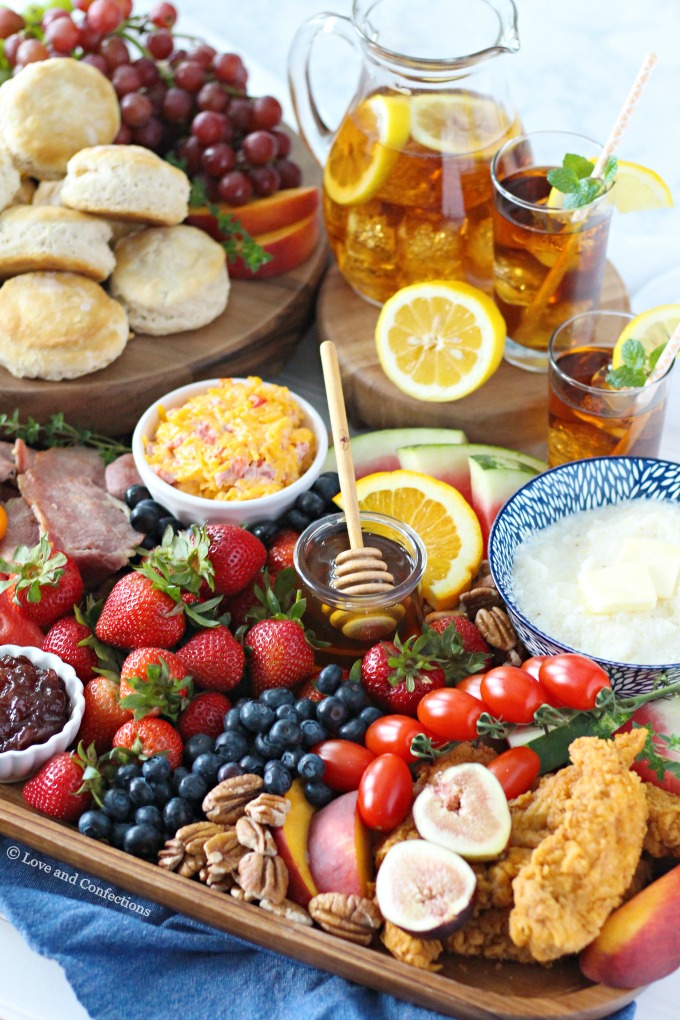 Day 2 of #BrunchWeek hosted by myself and A Kitchen Hoor's Adventures starts with an amazing brunch board. I love food boards, whether it's an antipasto full of meats and cheeses, fruit, crudités, or desserts. Platters and boards add fun to any meal or party.
How to build a food board:
I plan in advance what my food board theme will be, because a cohesive food board always looks better. A shopping list is a necessity, because when I go to the grocery store, I want ALL THE THINGS for a food board, and have to rein it in. When building a board like this, it's okay to go with store-bought or semi-homemade items, like deli fried chicken. Prepared foods like hummus and dips, are also a great addition to boards, and easy when bought from the store.
My food boards would not look as good without out the help of my Mom. She catered for many years and always created the beautiful platters of food for events. We started with the biggest foods or bowls that took up the most space. Height and movement are important when plating. This Southern Brunch Board is actually three different wooden boards to have enough space and height for the food.
This board has both hot and cold items, so make sure you time everything correctly so the hot items will remain warm for serving. If necessary, place empty bowls or containers as place-holders on your board, and add the hot food last.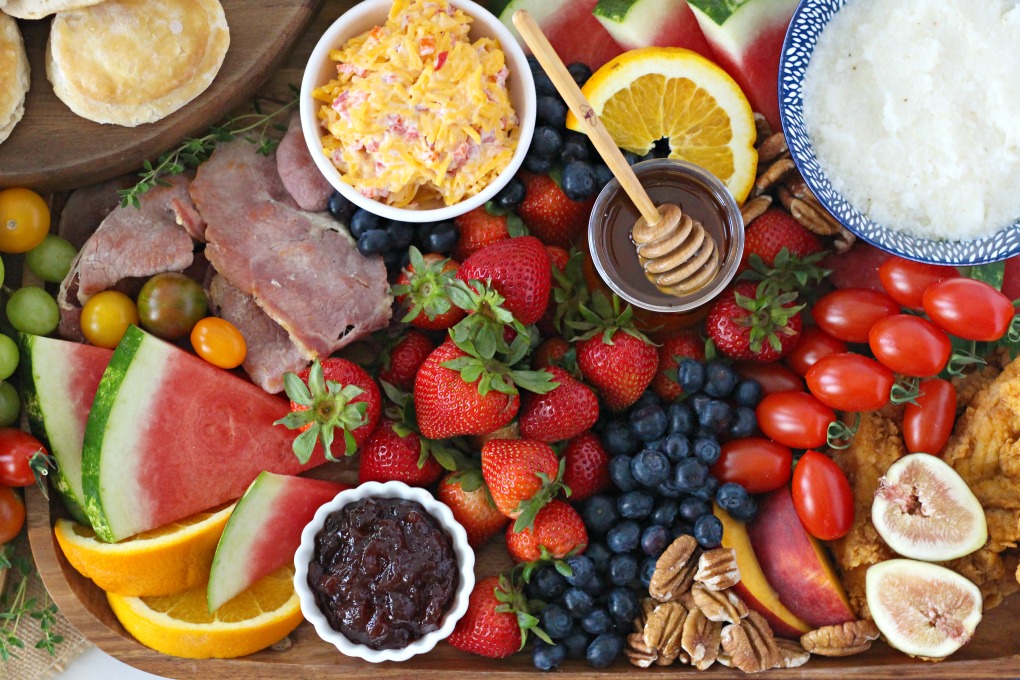 Southern Favorites:
For a Southern Brunch Board, classic and easy to prepare items are a hit. Homemade Pimento Cheese is an easy recipe that takes less than 5 minutes to make, but adds both color and flavor to the board. Country ham, brown sugar breakfast sausage, and fried chicken tenders are the proteins. I opted for fresh tomatoes as opposed to fried green tomatoes. Whip up a batch of grits with butter and cheese, and homemade white gravy for biscuits. Jams and jellies are also a great addition, as well as honey.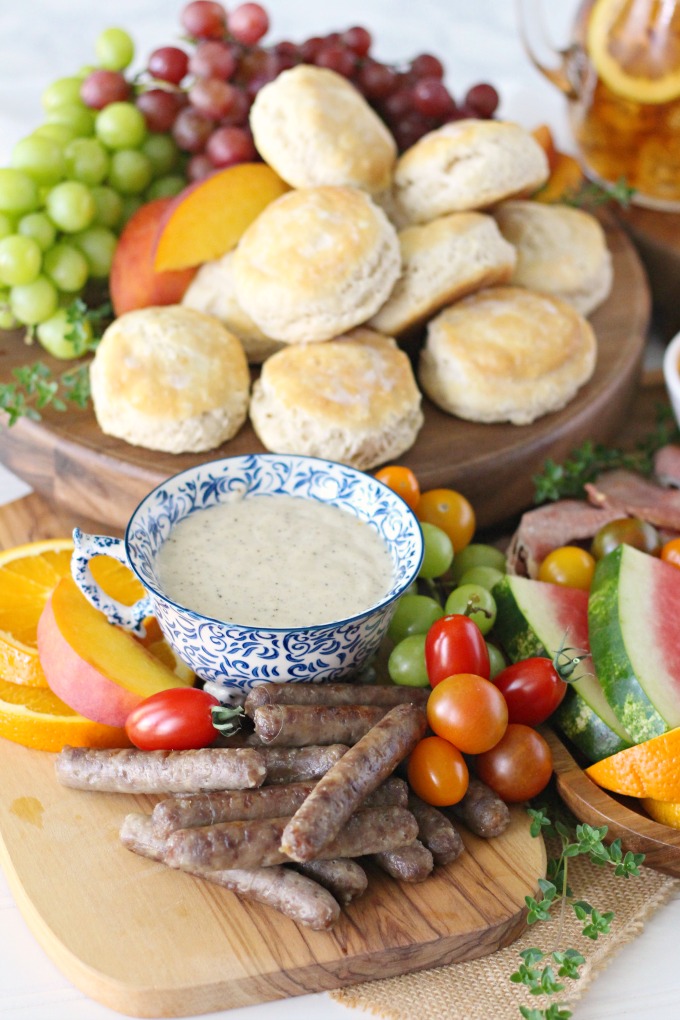 Tips, Tricks, and Tools:
Here are a few of my favorite entertaining products, like including wood boards, bowls and accessories.
Move store-bought items from their packaging into dishes or bowls for a beautiful presentation.
Seasonal fruits add color, and smaller items, like nuts should be placed last as a filler.
Southern Brunch Board Ingredients:
Buttermilk Biscuits
Meat: Deli Fried Chicken, Brown Sugar Breakfast Sausage, and Country Ham
Southern White Pepper Gravy
Classic Southern Pimento Cheese
Grits
Honey and Seedless Strawberry Butter
Grape tomatoes
Fruit: Watermelon, Grapes, Peaches, Strawberries, Blueberries, Orange slices, and Figs
Pecans
Some other fun additions would be:

Enjoy these #BrunchWeek recipes:
Beverage Recipes
Bread, Grains, and Cereal Recipes
Egg Recipes
Fruit and Veggie Recipes
Meat, Poultry, and Fish Recipes
Dessert Recipes