Strawberry Faisier is the perfect dessert to showcase beautiful Florida Strawberries. Delicate syrup-soaked sponge cake is filled with strawberries and vanilla cream. It is a feast for the eyes and the tastebuds!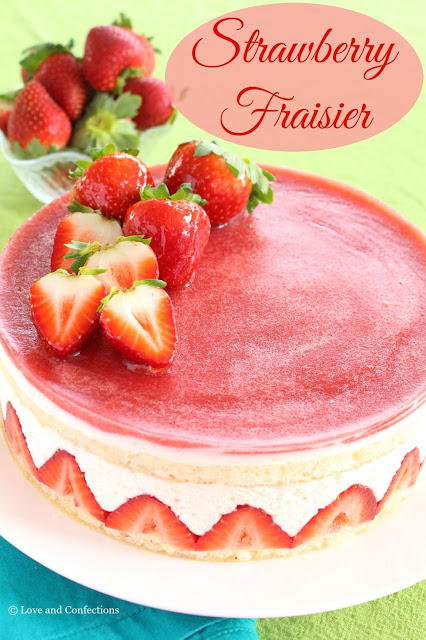 This post is sponsored by Florida Strawberry Growers Association in conjunction with a social media campaign through Sunday Supper LLC. All opinions are my own.

Strawberry season is here and I am ecstatic! Last year was the first time I went strawberry picking with #ToddlerLnC – she was about 15 months old at the time. Our whole family enjoyed picking strawberries out in the field and the Toddler enjoyed eating them as we picked.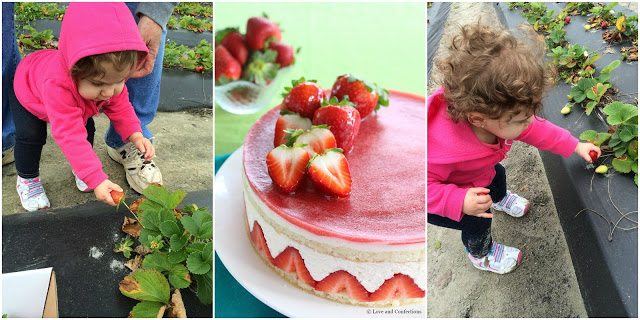 I think her train of thought was "one for the basket, one for me". Strawberries have always been one of her favorite fruits. 8 medium strawberries equal your daily requirement of vitamin C and we love supporting locally grown, nutritious, and delicious Florida Strawberries.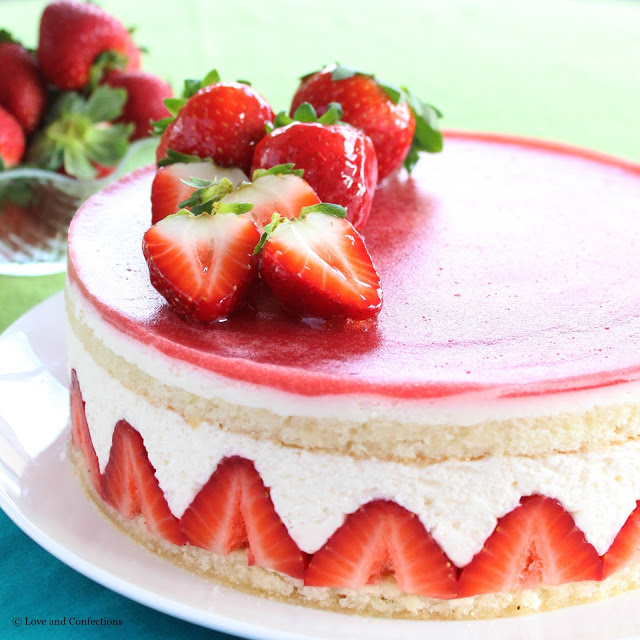 Fresh from Florida Strawberries are available December through April, so everyone experiencing Winter can enjoy the fresh Summer taste all season long. We can't wait to go back to the fields for a family outing and pick strawberries again. There are so many delicious recipes I enjoy making – sweet, savory, and cocktails. I decided that my first recipe for Florida Strawberry season had to be a show-stopping cake – the Fraisier.
In culinary school, one of my classes was Contemporary Cakes. There were actually a couple chefs that taught this class and I, unfortunately, was not placed with the one I wanted. While I did create a lot of cakes that I enjoyed, I missed out on some really good instruction and great contemporary cakes from the other chef. The Fraisier was one of the cakes the other chef had the class create, so I was able to go in after, and get a mini lesson and take pictures.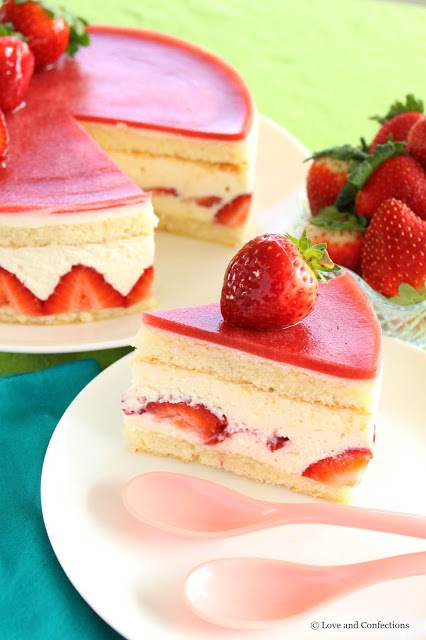 Fast forward a few years to my time at a small French Bakery. Low and behold, once strawberry season hit, I had to create Fraisiers – lots and lots of Fraisiers. After being instructed on how to make them, and lots of practice, I succeeded in creating some delicious cakes. These gorgeous Fraisiers seem in depth and difficult to make, but are really straight-forward, simple steps.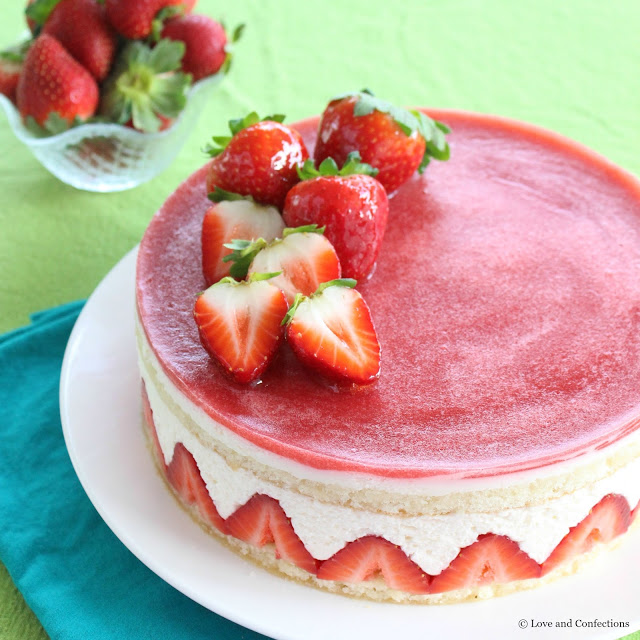 Faisier comes from the French word "fraise", meaning "strawberry". It is a delicate sponge cake that is soaked with an alcoholic infused simple syrup. Strawberries are cut and decorating the sides, since it is what we would call a "naked cake" – no frosting on the outside to cover it. The filling is debatable, depending on the pastry chef and bakery. Some say just pastry cream or stabilized whipped cream, others say Diplomat Creme, Bavarian Cream, or Mousseline Creme. More strawberries or compote are included in the filling followed by a second layer of sponge cake. The Fraisier can be topped with marzipan, gelee, or other decorations. Any way you make it, Fraisiers are delicious!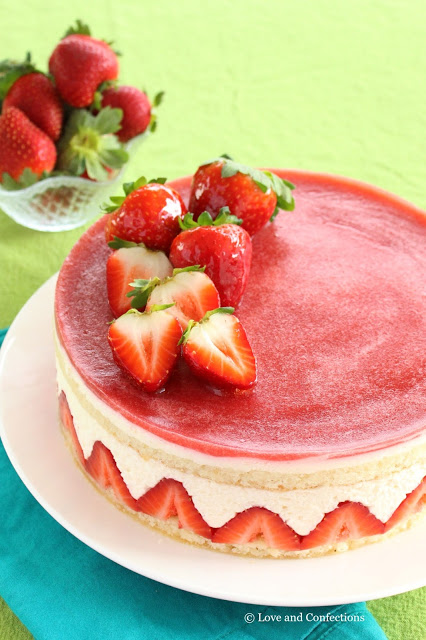 I hope you enjoy all the deliciousness of the Florida Strawberry season!
Strawberry Fraisier
Genoise from BakingMad.com
Simply Syrup from Love and Confections
Diplomat Cream adapted from The Daring Kitchen
Strawberry Gelee from Canelle et Vanille
*Pastry Cream should be made a day ahead to chill it properly.
*Gelee requires a few hours to set, so plan accordingly for serving time.
* I used an 8-inch Ring Mold and Acetate Cake Collars to prepare this cake.
Strawberry Fraisier Ingredients:
Genoise:
– 6 large Eggs
– 300 grams granulated Sugar
– 300 grams All-Purpose Flour, sifted
– 125 grams Unsalted Butter


Vanilla Simple Syrup:
– 1/2 cup granulated Sugar
– 1/2 cup Water
– 1-2 tablespoons Vanilla Vodka
Diplomat Cream:
– 350 grams Whole Milk
– 1 teaspoon Vanilla Extract
– 1/4 teaspoon Salt
– 10 grams Corn Starch
– 85 grams Vanilla Sugar or granulated Sugar
– 2 large Eggs
– 3 tablespoons Unsalted Butter
– 6 grams powdered Gelatin
– 1 tablespoon Water
– 350 grams Heavy Whipping Cream
Strawberry Gelee:
– 300 grams Strawberries
– 30 grams granulated Sugar
– 10 grams powdered Gelatin
– 30 grams Water
– Strawberries, some green cut off and halved, and some quartered
– Apple or Apricot Jelly for optional garnish
Strawberry Fraisier Directions:
Genoise:
1. Line two half-sheet pans with parchment paper or silicone baking mats and set aside. heat oven to 375F.
2. Prepare a bain-marie by placing a small pot filled with 1/3-1/2 with water on the stove. Make sure that the bowl of your stand mixer, when placed over the pot, does not touch the water.
3. In the bowl of your stand mixer, combine the Eggs and Sugar. Whisk over the bain-marie until hot and the sugar has dissolved.
4. Place bowl onto mixer and whip until the eggs are thick and leaves a trail. Gently fold in the Flour
5. Melt the Butter. Take about a cup of the whipped eggs and whisk it into the melted butter, then fold that butter mixture back into the whipped eggs.
6. Divide evenly between the two trays and spread with a palette knife. Bake for 15-17 minutes, or until golden brown and springs back when gently pressed. Do not over bake. Once it is cool, remove from the pan and lay each onto a sheet of parchment.
Simple Syrup:
1. Place all ingredients into a small saucepan and heat until the sugar is completely dissolved, stirring occasionally. Store in a container for up to 5 days. Reheat before use in Fraisier.
Diplomat Cream:
1. Pour the Milk, Vanilla and Salt into a medium saucepan and scald. In the bowl of your stand mixer, whisk together the Sugar and Corn Starch.
2. Add in Eggs and whisk until smooth. Slowly pour the milk down the side of the bowl while the mixer is on low. Once it is all mixed in, pour the egg mixture back into the pan over medium heat until it is thick.
3. Pour through a fine mesh sieve into a medium mixing bowl and cool for 10 minutes while stirring occasionally.
4. Whisk Butter into the pastry cream until it is smooth. Cover the cream with plastic wrap, pressing down on the surface so there is no air to form a skin. Refrigerate until cool.
5. Once pastry cream is completely chilled, sprinkle the Gelatin over the Water and let it stand a few minutes to soften.
6. Place about 1 cup of the pastry cream into a large mixing bowl over a bain-marie. Heat until 120F, then add in the gelatin and whisk until smooth. Remove from the bain-marie and whisk in the remaining pastry cream.
7. In the bowl of your stand mixer, whip the heavy cream until it holds medium-stiff peaks. Take 1/4 of the whipped cream and gently stir it into the pastry cream to lighten it a bit before folding in the rest of the whipped cream in two batches.
Strawberry Gelee:
1. In a small saucepan, cook the Strawberries and Sugar until soft, puree in a food processor or blender, and strain through a sieve. Use 150 grams of puree for the gelee recipe.
2. Sprinkle the Gelatin over the Water and let it stand a few minutes to soften.
3. Heat the puree in a small saucepan and whisk in the gelatin until smooth and completely dissolved.
Strawberry Fraisier Assembly:
1. Using your ring mold, press down onto the Genoise and cut 2 circles of the same size in each cake. Clean the mold and place onto your serving plate, tray or cake stand – making sure it is able to fit into your refrigerator to keep cold. Line the mold with an Acetate Cake Collar.
2. Place one of the cake circles, top side down, into the mold and make sure it fits firmly into place. Using a pastry brush, gently moisten the cake with the Vanilla Simple Syrup.
3. Firmly arrange the Strawberry Halves around the side of the mold, with the cut side out. Try not to leave any gaps between the base of the berries.
4. Pipe Diplomat Cream in between the berries and a small layer on the cake. Place quartered strawberries over cream. Pipe another layer of cream, leaving about 3/4-1 cup, covering all the berries inside and out. use a small palette knife to make the cream level.
5. Place the second cake layer on top and moisten with the simple syrup. Spread the remaining cream on top in an even layer. Pour the slightly cooled Strawberry Gelee on top in an even layer. Refrigerate for 4 hours.
6. Before serving, lift the ring mold and remove the acetate by gently peeling it away from the cake.
7. Optional garnish: heat 1 cup of Jelly with 1-2 tablespoons of water in a small saucepan. Dip Strawberries in, shake excess off gently, and place on top of cake. Serve immediately. Only garnish right before serving otherwise the jelly will not hold in the refrigerator. Store cake in the refrigerator for up to 2-3 days. Enjoy.


Until next time,
LOVE & CONFECTIONS!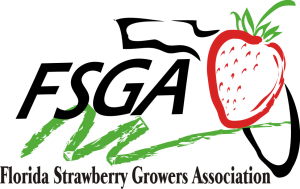 Strawberry Cocktail
Strawberry Starters
Strawberry Salads
Strawberry Main Dishes
Strawberry Desserts

Join the #SundaySupper conversation on twitter on Sunday! We tweet throughout the day and share recipes from all over the world. Our weekly chat starts at 7:00 pm ET. Follow the #SundaySupper hashtag and remember to include it in your tweets to join in the chat. To get more great Sunday Supper Recipes, visit our website or check out our Pinterest board.
Would you like to join the Sunday Supper Movement? It's easy. You can sign up by clicking here: Sunday Supper Movement.
For more great recipe inspiration head on over to Strawberry Sue's website. Click here for more strawberry nutritional information. You can also see the Florida Strawberry Association Website, Facebook, Twitter, Instagram and Pinterest for more strawberry deliciousness. Also follow Strawberry Sue on YouTube and Twitter! The Sunday Supper Live Strawberry Event is also sponsored by Epicurean Hotel, Cask Social Kitchen, Ava, Edge Rooftop Bar at Epicurean, Elevage, and Bern's Harry Waugh Dessert Room.