Summer is calling and it's in the form of Strawberry Frozen Yogurt. Wake up your taste-buds and enjoy a delicious scoop of Homemade Strawberry Frozen Yogurt!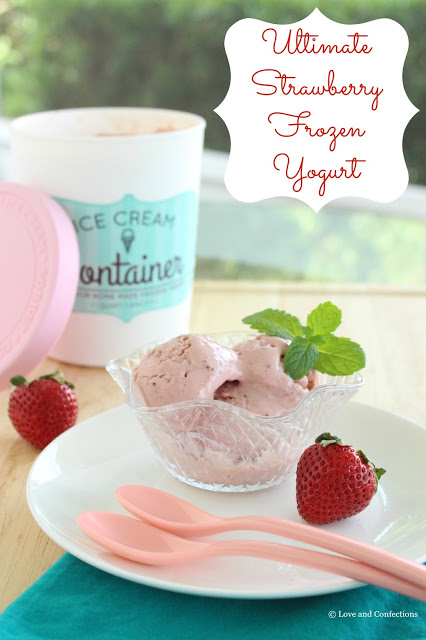 Summer is in full swing here in Florida. I know it doesn't officially start until mid-June, but with the weather in the low 90s, and afternoon thunderstorms most days of the week, you can imagine why I would consider it Summer already. Going to the pool, trips to the beach, slumber parties and ice cream cones that melt faster than you can eat them are usually included in Summer plans.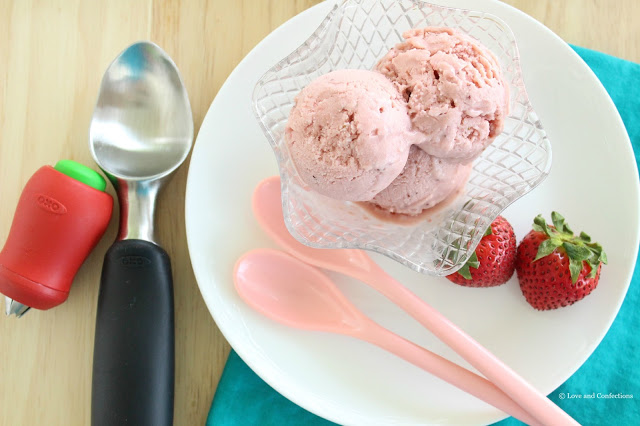 I love any kind of frozen treat, ice cream, popsicles, milkshakes and frozen yogurt. We love heading to our local frozen yogurt shop and creating our own wonderful combinations. Sometimes, though, getting frozen yogurt on a whim isn't always the easiest when you have a toddler in tow. I often make my own frozen treats and was beyond thrilled when Stonyfield and OXO sent the new Yogurt Culture book by Cheryl Sternman Rule, along with a Stainless Steel Ice Cream Scoop and Strawberry Huller.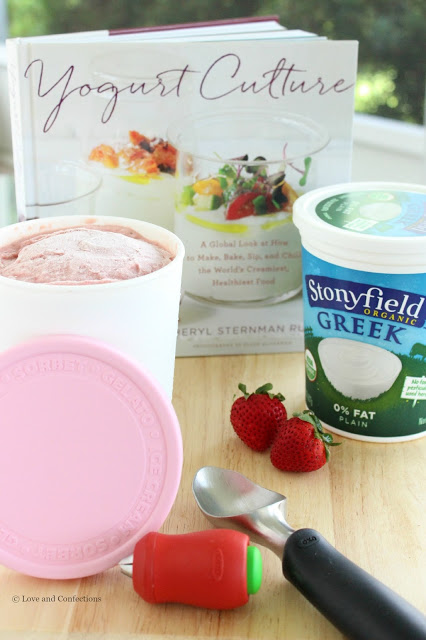 This book is gorgeous. If you are a yogurt fan, you will love it. If you aren't a yogurt fan, try a few recipes and you are sure to be a convert. Yogurt Culture has 115 sweet and savory recipes for breakfast, lunch, dinner, snacks and dessert. Cheryl Sternman Rule goes beyond traditional yogurt recipes to create bright and flavorful dishes, beautifully shot by Ellen Silverman. Yogurt Culture is definitely one that should make a home on your bookshelf.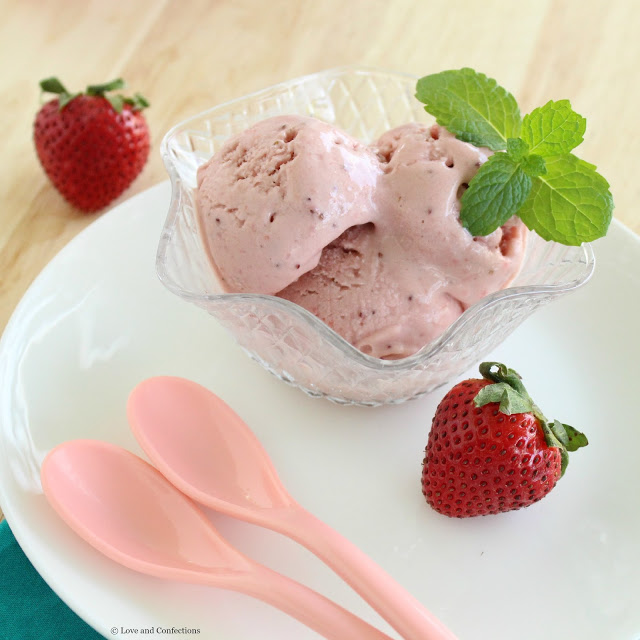 Here is your chance to win a copy of Yogurt Culture along with some yogurt coupons
provided by Stonyfield Organic.
Ultimate Strawberry Frozen Yogurt
from Yogurt Culture by Cheryl Sternman Rule
Ultimate Strawberry Yogurt Ingredients:
– 1 pound Strawberries, preferably organic
– 1/2 cup plus 2 tablespoons sugar
– 2 tablespoons balsamic vinegar
– 2 & 1/2 cups plain whole-milk Yogurt (not Greek) or 1 & 1/2 cups plain whole-milk Greek Yogurt
– 1 tablespoon Light Corn Syrup
– 1 tablespoon plus 1 teaspoon finely minced fresh Rosemary, plus (optional) additional minced Rosemary for garnish
Ultimate Strawberry Yogurt Directions:
1. PREP THE BERRIES. In a food processor, pulse the Strawberries, sugar and Vinegar in five 1-second bursts. Let stand at room temperature (go ahead and keep it in the food processor), covered, for 1 hour.
2. MEANWHILE, PREP THE YOGURT. If using traditional yogurt, spoon it into a fine-mesh sieve set over a deep bowl. Refrigerate to drain off the whey for 1 hour only. Discard the whey or reserve it for another use. Add the yogurt to the food processor with the strawberries. (If using Greek Yogurt, do not strain, but do not add the yogurt to the berries until after they have stood for 1 hour.)
3. PUREE AND CHILL. Ad the corn syrup to the yogurt mixture. Process until nearly smooth. Transfer to a covered container and refrigerate for at least 4 hours or overnight.
4. FREEZE. Freeze the mixture in an ice cream maker according to the manufacturer's instructions. After 20 minutes, add the rosemary. (I did not add any rosemary in my recipe.) Continue churning until the mixture has fully thickened and is nearly scoopable. You may eat it now, soft-serve stle, but I recommend transferring it to a metal loaf pan to further chill and develop deeper flavor. Press a sheet of parchment directly on the surface of the frozen yogurt, then cover tightly with aluminum foil. Freeze for several hours.
5. SERVE. Let the yogurt stand at room temperature at least 20 minutes before scooping with a hot, dry, scoop. Garnish sparingly with rosemary.
Until next time,
LOVE & CONFECTIONS!
Disclaimer: I have an ongoing relationship with Stonyfield as a member of the Clean Plate Club. I receive product, coupons and/or compensation for posts featuring their products. As always, all opinions are my own. #stonyfieldblogger #sponsored.