This shop has been compensated by Collective Bias, Inc. and its advertiser. All opinions are mine alone. #IDSimplyPure #CollectiveBias
Make every morning extraordinary with International Delight Simply Pure Coffee Creamer for your coffee. Scones are the perfect accompaniment, especially with fresh-from-the-field strawberries!


I never used to be a morning person, and still, some days are harder than others to get up and get going. Even though I wish I was still snuggling under my comforter, the toddler is awake and the day has begun. A hot cup of coffee is a welcome sight in the morning, especially when I am dragging my feet to start the day.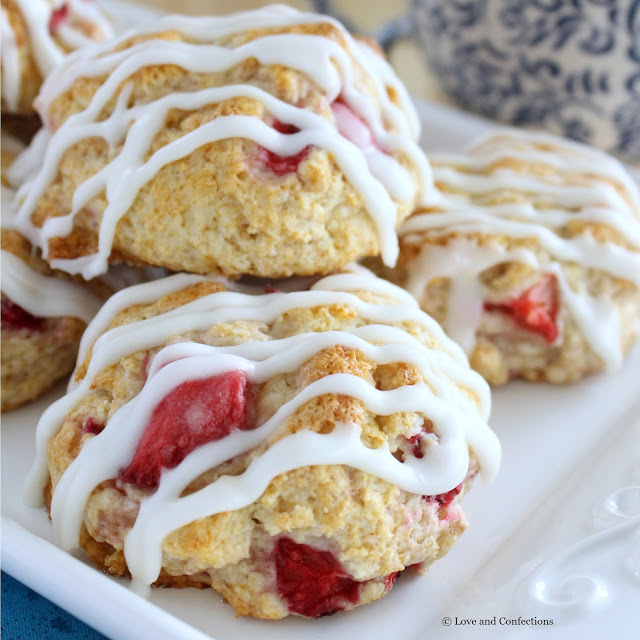 The same goes for breakfast. I used to not eat breakfast because I wanted those few extra minutes of sleep. Nowadays, breakfast starts my day off right, whether it's oatmeal, eggs, or a baked good, like these fresh Strawberry Scones. My family and I love fresh fruit, and since we recently went strawberry picking, strawberry scones were on my to-do list.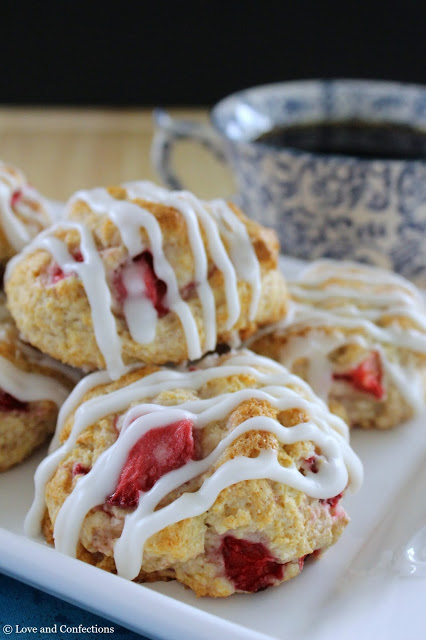 These scones are such a delicious breakfast, and they pair perfectly with a freshly brewed cup of coffee that is lightly sweetened with
International Delight Simply Pure Coffee Creamer
. I am definitely a sugar and milk kinda gal when it comes to coffee, so I love that Simply Pure contains only 5 simple ingredients, including real milk, cream and sugar. While in Walmart, pick up one of the three flavors: Vanilla, Caramel and Hazelnut. I am a vanilla girl at heart, and it paired perfectly with my scones.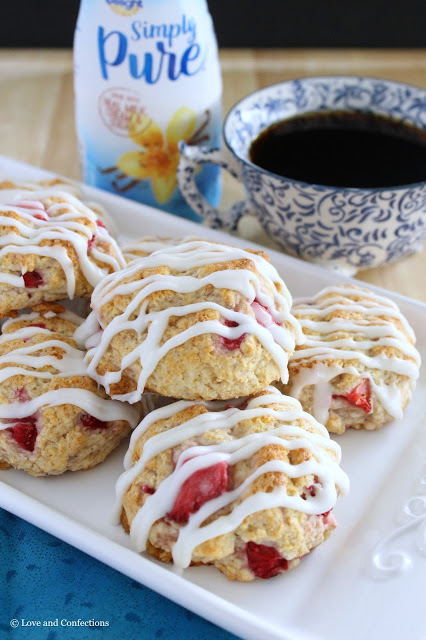 Which flavor will you try first?
Strawberry Scones
Adapted from Betty Crocker
Strawberry Scone Ingredients:
– 2 cups Baking Mix
– 3 tablespoons granulated Sugar
– 1 large Egg
– 1 teaspoon Vanilla Extract
– 1/3 cup Vanilla International Delight Simply Pure Coffee Creamer
– 1/2 cup chopped Strawberries
– Additional Vanilla International Delight Simply Pure Coffee Creamer
– Additional Sugar
Glaze:
– 1/2 cup Powdered Sugar
– 3 tablespoons Vanilla International Delight Simply Pure Coffee Creamer

Strawberry Scone Directions:
1. Heat oven to 425F. Prepare sheet pan with cooking spray. If needed, place a second cookie sheet underneath, so the bottom of the scones don't burn.
2. In a medium bowl, Add Bisquick, Sugar, Egg, Vanilla, Simply Pure Creamer, and Strawberries. Gently stir with a spatula until the mixture comes together and a soft, and slightly sticky, dough forms.
3. Using a cookie/ice cream scoop, spoon out equal portions of dough onto the cookie sheet. Gently brush on additional Simply Pure and sprinkle with Sugar.
4. Bake 12-16 minutes, or until golden brown. Cool on the sheet pan for 5 minutes, then transfer to cooling rack.
5. While the scones are cooling, whisk together the Powdered Sugar and Simply Pure. Place in piping or zip top bag and drizzle over scones. Serve immediately. Enjoy!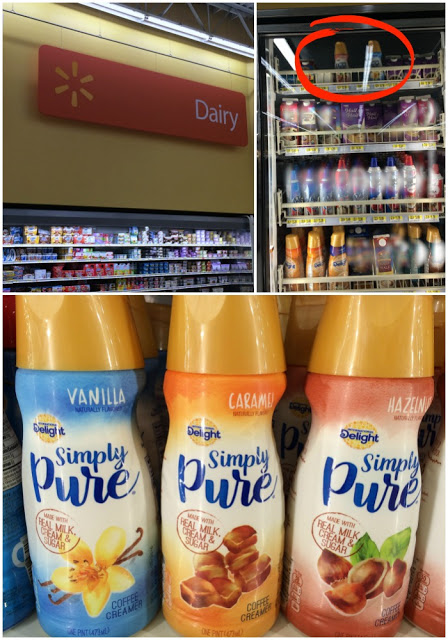 Until next time,
LOVE & CONFECTIONS!