Thai Tea Blondies with Sweetened Condensed Milk Frosting is the perfect dessert for Thai Tea lovers.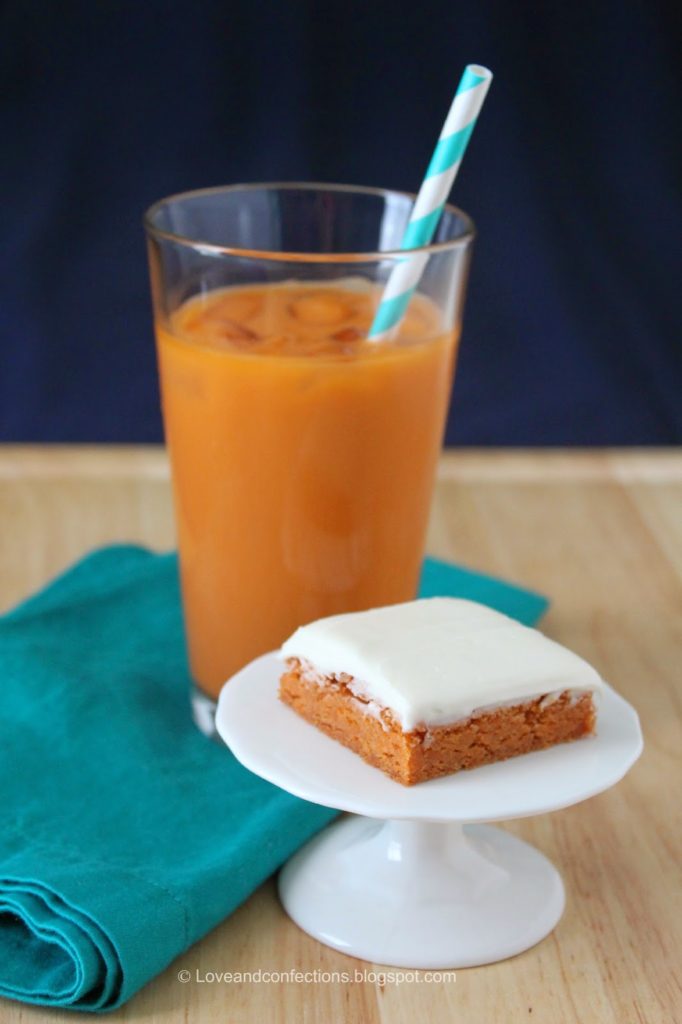 So I had this idea. I wrote a recipe, baked and re-worked it a few times, and this is the result. It was like a little light-bulb turned on above my head. I love those light-bulb moments. Everything in the universe aligns and you have that one brilliant idea. Then I turned to the all powerful Google to see how many millions of people have already had their "Thai Tea Blondie light-bulb moment" but I didn't find any.
These Blondies embody what I love about Thai Tea. It already smells like a baked good when you brew it. I love the addition of sweetened condensed milk – my little piece of Heaven. Iced. Sweet. Delicious! I especially loved the bright orange color the tea mix gave to the blondies – not what you normally see in a baked good.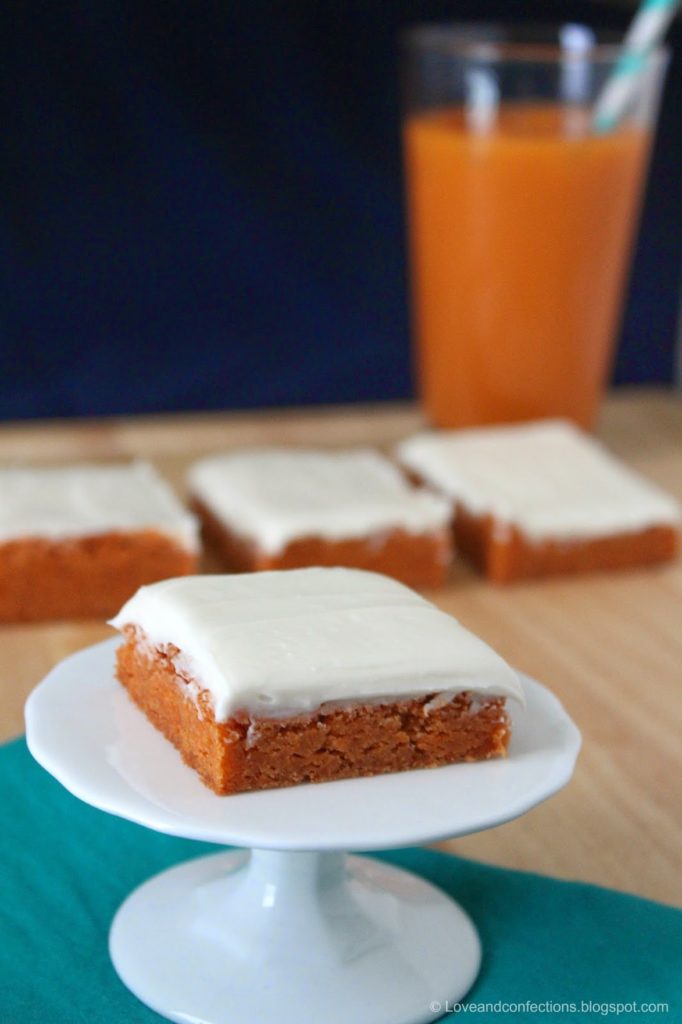 I am still tweaking the recipe for thai tea blondies with
tea leaves
and will post that as soon as I make it perfect. For now, these
individual packets of Thai Tea
are the next best thing. I love them because if I want a quick drink they are portioned and simple to make.
This is my entry for the Food and Wine Conference Dixie Crystal Brownie Dessert Contest. You can get more information about the conference in my Food and Wine Conference blog post as well as a promotional code for a discounted ticket!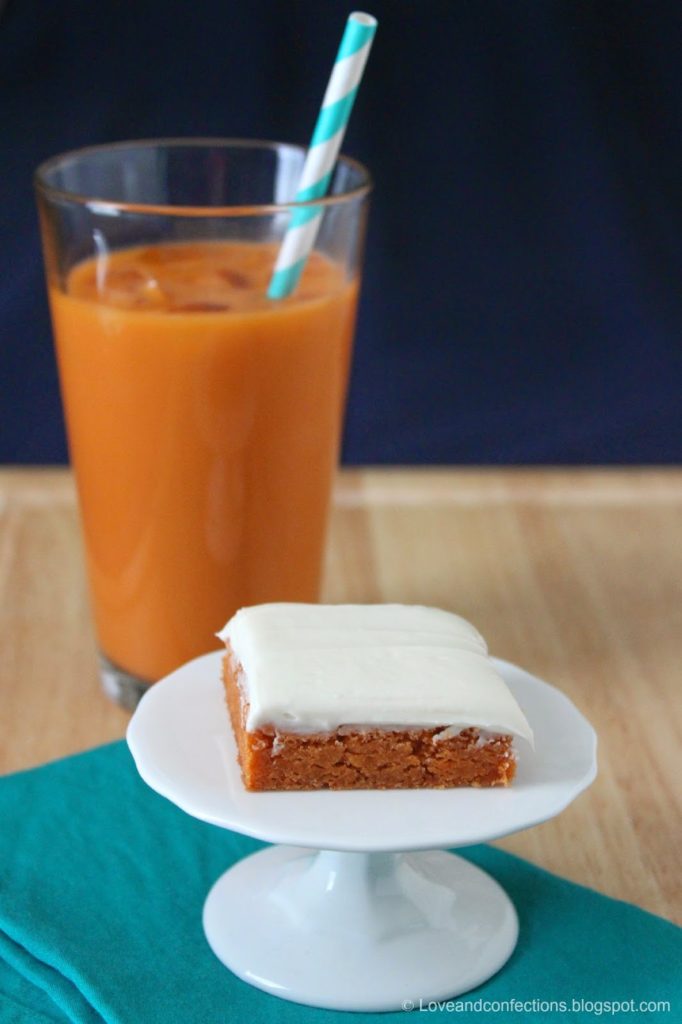 Thai Tea Blondies with Sweetened Condensed Milk Frosting
a Love and Confections original recipe
Makes 24 squares
Click here for printable recipe
Thai Tea Blondie Ingredients:
– 2 sticks Unsalted Butter, melted and cooled slightly
– 1 cup Dixie Crystals Light Brown Sugar
– 2 large Eggs, room temperature
– 2 teaspoons Vanilla Extract
– 2 cups All-Purpose flour
– 1 teaspoon Salt
– 4 packet of Instant Thai Tea
Thai Tea Blondie Directions:
1. Heat oven to 350°F. Line a 9×13 baking pan with parchment (leaving some overhang so you can get the blondies out of the pan easily) then spray with baking spray.
2. In either your stand mixer or in a medium bowl with a hand mixer, blend together the melted Butter and Light Brown Sugar.
3. Add in the Eggs one at a time, followed by the Vanilla Extract. Scrape the sides of the bowl to insure everything is mixed.
4. In a small bowl, mix the Flour, Salt and Instant Thai Tea together with a whisk.
5. While the butter mixture is beating on low, add in the flour mixture a 1/2 cup at a time. Once all combined, use a spatula and scrape the sides to make sure everything is combined.
6. Pour into prepared pan and bake for 25-30 minutes, rotating halfway, or until a toothpick stuck into the center comes out clean.
7. Let it cool in the pan for 10 minutes, then using the parchment, lift the blondies out and cool completely on a wire rack before frosting.
Sweetened Condensed Milk Frosting Ingredients:
– 3 tablespoons Unsalted Butter, room temperature
– 1 & 1/2 cups Dixie Crystals Powdered Sugar
– 2-3 ounces Sweetened Condensed Milk
– a pinch of Salt
Sweetened Condensed Milk Frosting Directions:
– This frosting makes a thin, sweet layer on top of the blondies. You can increase the powdered sugar to your liking to create a thicker frosting.
1. In a small bowl, with a hand blender, cream the Butter and Powdered Sugar together on a low speed.
2. Add in the Sweetened Condensed Milk. If you use more than 2 ounces, you will have to increase your powdered sugar so it will not be too runny.
3. Add in the Salt and mix until blended. Frost the Blondies with an offset spatula and enjoy!
Follow Dixie Crystals on Twitter, Facebook, Pinterest, and Instagram.
Until next time,
LOVE & CONFECTIONS!
Disclaimer: post contains affiliate links