Create an unforgettable appetizer or snack with my instructions on how to make the perfect cheddar cheese board. Plus, I created an amazing Balsamic Onion Jam that pairs nicely with the cheeses.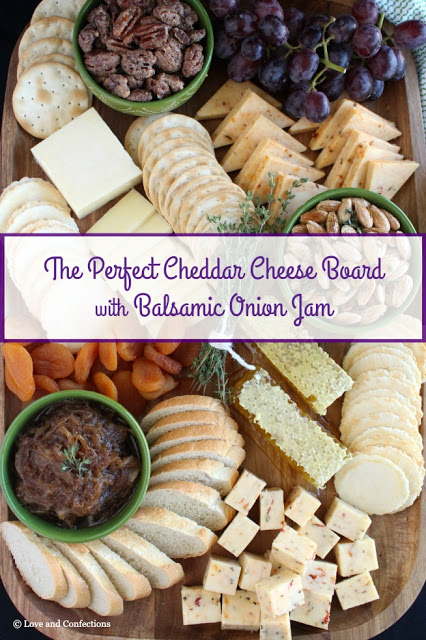 Welcome to day 5 of #BrunchWeek! The week is almost over, so I had to share one of my favorite appetizers – a cheese board. Cheese boards can be glamorous, elegant, and over the top, or simply styled and satisfyingly delicious. There is such a variety of ingredients that there is something for everyone. An assortment of cheeses, meats, spreads, crackers, fruits, nuts, and much more come together to form a delicious appetizer or snack.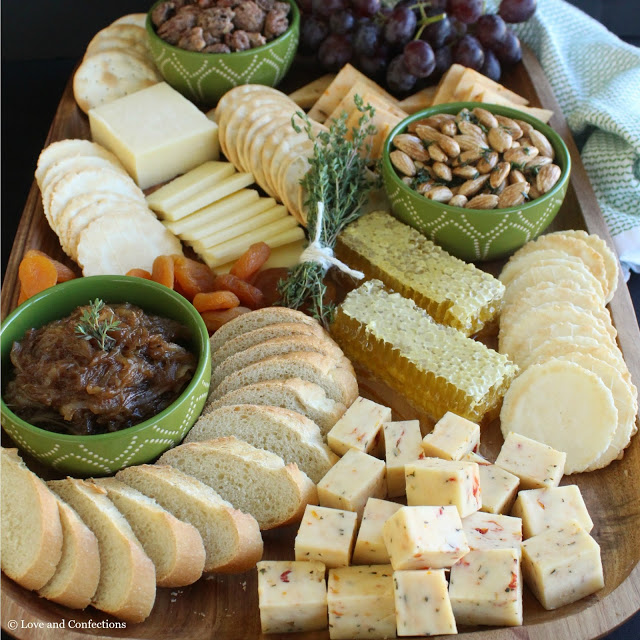 Cheese: I had so much fun making this cheese board! Cabot Cheese sent me so many different and delicious cheddar varieties that I had a hard time deciding what I wanted to use. I chose Seriously Sharp Cheddar, Tomato Basil Cheddar, and Chipotle Cheddar – a little something for everyone – and they all were different colors for variety. Three cheeses is a good starting point, since you want to leave room for all the other goodies.
Crackers: Next, I wanted different textures for the crackers so I chose a traditional water cracker, a wafer cracker, and thinly sliced crusty bread. You can toast your bread to give it a nice char. Grissini breadsticks are also a fun addition to boards.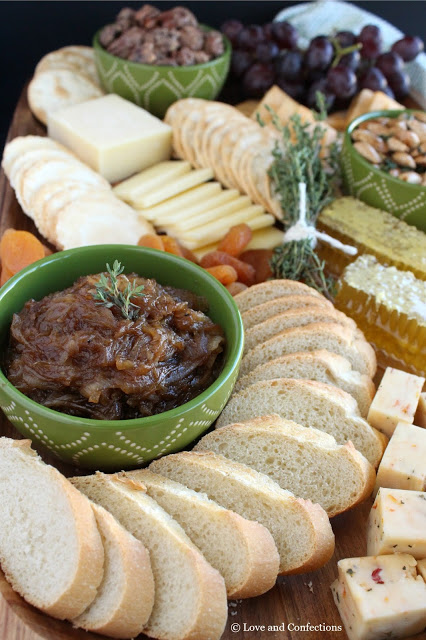 Spreads: Spreads are always fun for a cheese board, and when presented in jars or bowls, it gives height and color to your board. A mix of sweet and savory is good, so it appeals to different guests. Jam, compote, and marmalade are good options, and readily available at stores. Balsamic Onion Jam is absolutely delicious, easy to make, and perfect for a savory addition to some crusty bread. I use a mandolin to evenly and quickly slice the onions, and the KitchenIQ Better Zester to grate the garlic right into the pan.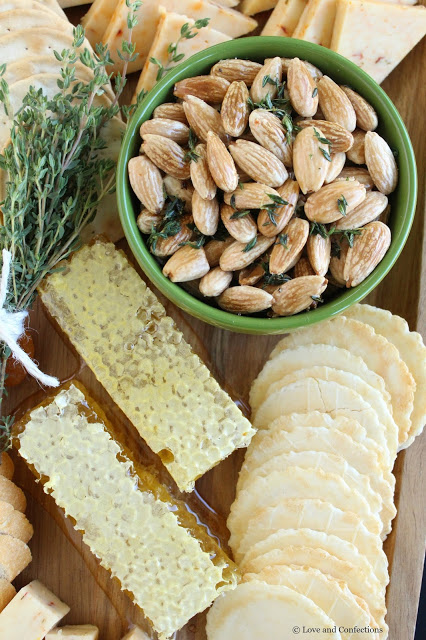 Honeycomb is a must for me when it comes to cheese boards. Once you have honey with cheese, you never go back. It is delicious, and pairs beautifully with many different kinds of cheeses.
Fruit and Nuts: I made a sweet nut recipe and a savory nut recipe, because I like variety. Spiced pecans are a family favorite and made constantly during the holidays. Thyme fried almonds are a twist on my favorite wine bar snack of salted marcona almonds. Salty, crunchy and herbaceous is a great blend of flavors for any cheese board.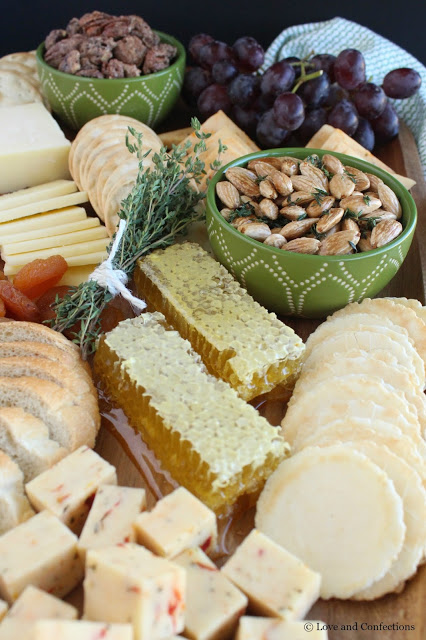 Balsamic Onion Jam
A Love and Confections original recipe
Balsamic Onion Jam Ingredients:
– 2 tablespoons Butter
– 3 tablespoons Dixie Crystals Dark Brown Sugar
– 1 tablespoon Dixie Crystals Extra Fine Granulated Sugar
– 2 Garlic cloves, grated
– 4 large Vidalia Onions, thinly sliced
– 2 tablespoons Balsamic Vinegar
– Salt and Pepper, to taste


Balsamic Onion Jam Directions:
1. In a large skillet with a tight fitting lid, melt the butter on medium heat. Once melted add in the Brown and Granulated Sugars. Add garlic into the skillet and stir to combine
2. Add onions, stirring to coat in sugar mixture. Place lid on and cook for 20 minutes, stirring occasionally.
3. Remove lid and cook for 10 minutes. After, add Vinegar, Salt and Pepper, and stir to combine. Cook an additional 2 minutes, stirring occasionally, until the onions the liquid is dissolved and the onions are a dark brown. Enjoy!
Until next time,
LOVE & CONFECTIONS!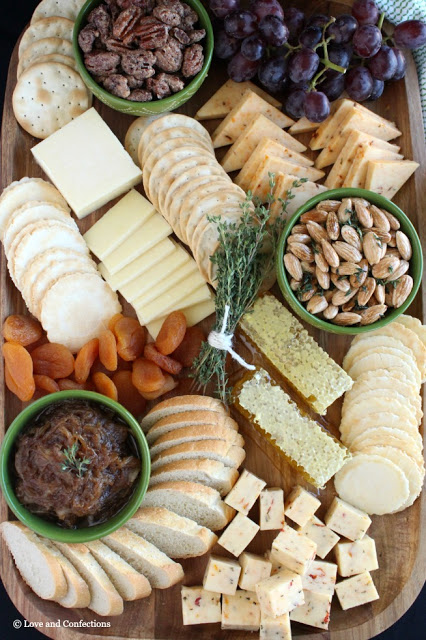 BrunchWeek Beverages:
BrunchWeek Breads, Grains and Pastries:

BrunchWeek Fruits, Vegetables and Sides:

BrunchWeek Egg Dishes:

BrunchWeek Main Dishes:

BrunchWeek Desserts:

Disclaimer: Thank you to #BrunchWeekSponsors: Red Star Yeast, Dixie Crystals, Cabot Cheese, Vidalia Onion Committee, Sage Fruits, Nielsen-Massey, KitchenIQ, and Le Creuset for providing the prizes free of charge. These companies also provided the bloggers with samples and product to use for #BrunchWeek. All opinions are my own.