This shop has been compensated by Collective Bias, Inc. and its advertiser. All opinions are mine alone. #FightFever #CollectiveBias
Sick days are no fun, especially when you are nearly two years old. Here are some tips and tricks to brighten up a sick day with a toddler.
November has definitely been a month to remember. #ToddlerLnC got Hand, Foot and Mouth Disease while we were visiting my Mom for Halloween. She had some little red spots on her hands and when we checked, she had spots and blisters in her mouth and on her feet too. As soon as we got home, I took her to the pediatrician who confirmed it was HFMD. She told me to give her
Children's Advil®
for discomfort and fever.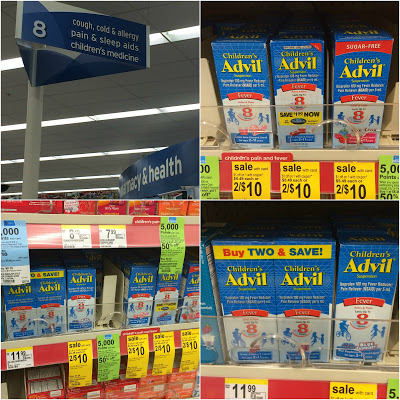 What I didn't realize is how contagious Hand, Foot and Mouth is. A few days later, I showed signs of it as well. I think (and hope) that it is worse in adults than children, because I was miserable and wouldn't want her to go through that. The Toddler was on the mend, thankfully, and I just needed to take care of myself too.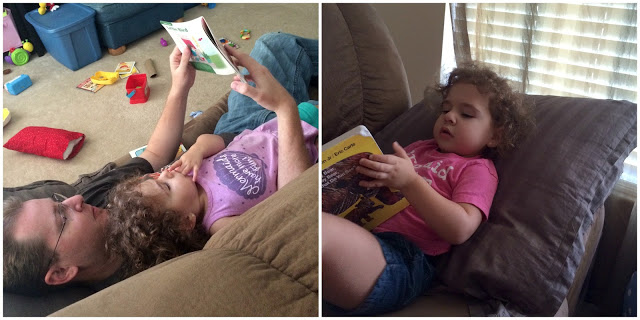 Whenever she is sick, I try and keep her comfortable and happy. I have a little checklist of items and activities that we do, so she can have fun, even while not feeling good. Children's Advil® from Walgreens is always in our medicine cabinet. The Toddler loves Grape flavor, but I'm sure when she is older she might like some of the other tasty Sugar-free Dye-free flavors, like Berry, Bubble Gum, Blue Raspberry, Fruit Punch and Dye-Free White Grape. I remember, as a kid, having the Children's Advil® Grape Chewables easy-to-swallow tablets, because I liked them better than liquid at that point. When my toddler has a fever, I want effective relief that I can count on.
Children's Advil®
helps bring her fevers down, keeps them down longer with less medicine than Children's Tylenol®, and gives relief, for both her and me.*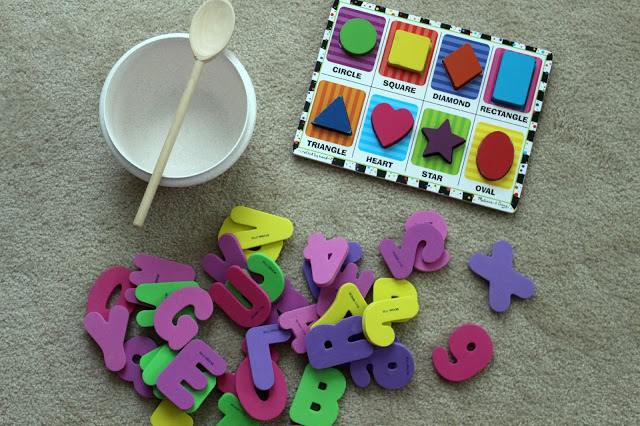 Sick Day Activities for a Happy Toddler:
Forts/Tents – we love building forts and the toddler loves playing hide-and-seek in them.
Coloring – crayons and coloring books are one of our favorite activities. It helps her learn the color names and fine motor skills
Puzzles & Books – these are two of her favorite things. She is so smart and loves her shape puzzles. She has her very own bookshelf with her favorite books, so she can grab them anytime and look through them – or bring one to Mommy or Daddy to read to her.
Bath Time – sometimes a little extra bath time makes her feel better, especially when we have fun bath toys to play with like foam alphabet letters.
Make Music – we make music with everything. She has some musical instrument toys, like bells, drums, and a piano, but we also use bowls, spoons, and anything else she can find. She loves listening to and making music.
Busy Books, Sensory Bins, and Crafts – a great resource and one of my favorite blogs is The Educators Spin On It, run by my friends Amanda and Kim. They have so many great ideas for children of all ages on their blog.
Cuddles – a necessity when sick, because cuddles make everything better!
Tips & Tricks
Rest, rest, rest – she normally has a set sleep/nap schedule, but when the Toddler is sick, that goes out the window. She needs rest to get better, so she naps and sleeps a bit more, and doesn't do any strenuous activities.
Food – a lot of times, she doesn't want to eat much, or at all, when she isn't feeling good. I make sure we have some fruit and veggie pouches because I know she loves them and can get good nutrients from them too. Depending on her illness and what her pediatrician says, I also make her smoothies. She loves all kinds of smoothies and it cheers her up when I pull the blender out
Hydrate – I make sure she has a sippy cup of water available at all times. Depending on her illness and what the pediatrician says, sometimes she can have milk or juice mixed with water.
Ice Pops – if she has a sore throat, she loves Ice Pops. Homemade Ice Pops are great, but if you don't have the molds or time, store bought is okay – I try and get the 100% fruit with no added sugar ones.
Humidifier – if needed, we plug in her humidifier at night, to help her sleep better.
Children's Advil® – we always keep Children's Advil® on hand in case of a fever, teething, or cold.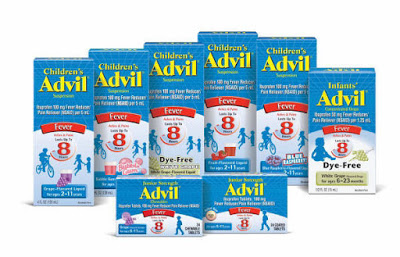 What are your go-to sick day activities and what is your child's favorite Children's Advil® flavor?
Until next time,
LOVE & CONFECTIONS!
*Disclaimer: I am not a medical professional. Please, always, consult your child's pediatrician with concerns and questions. Always read and keep the cartons for complete warnings and dosing information on Children's Advil®. Refer to and only use the dosing device and information that comes packaged with Children's Advil®. If known, dose child based on weight, as this is the most appropriate method. If weight is not known, use age.