Tiramisu Tres Leches is like a match made in Heaven. Delicious espresso-flavored and milk-soaked cake is topped with traditional coffee liqueur-soaked ladyfingers, a mascarpone whipped cream, and dusted with cocoa powder!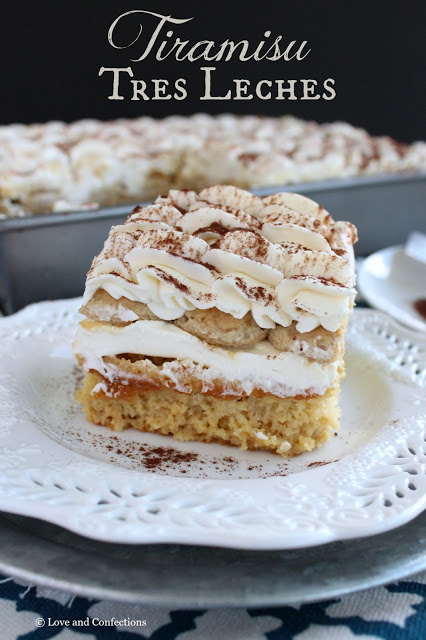 This is one of my favorite desserts to date. I love both tiramisu and tres leches, so combining them made an even better dessert! My tiramisu tres leches has the traditional coffee flavor, but the combinations are endless for flavor profiles. I'm sure a fruity one would be amazing during the Spring and Summer months.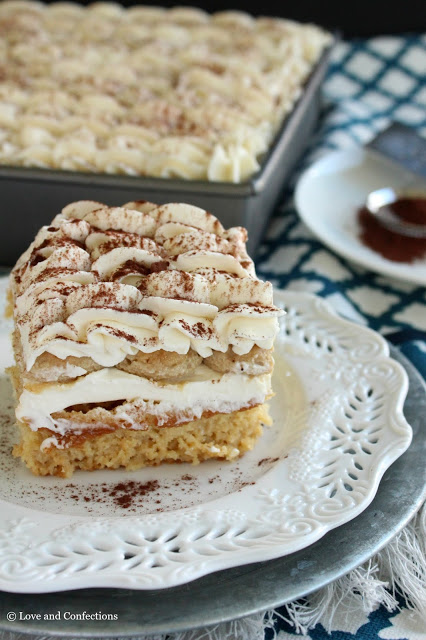 This is also great for a crowd. Since the dish needs to be made ahead of time for the flavors to meld, it is perfect to make ahead and bring to a party. I wouldn't dust with cocoa powder until then, though, because you don't want it to get clumpy in the refrigerator. I served this dessert to some family and friends, and it was a hit. They keep asking me when I will make it again.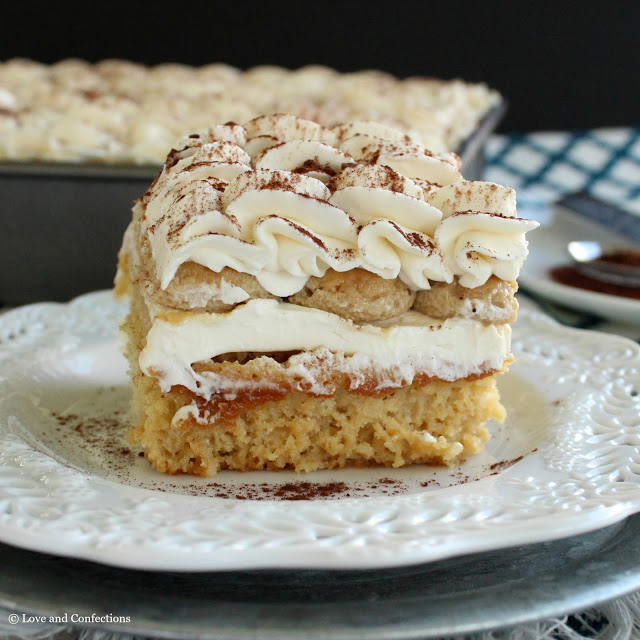 This recipe has lots of dairy – milk, heavy cream, evaporated milk, sweetened condensed milk. I can't believe I never thought to combine Tres Leches and Tiramisu before. They are like a match made in Heaven. I have made Pumpkin Tres Leches and Chocolate Tres Leches, and cannot wait to develop more recipes for Tres Leches.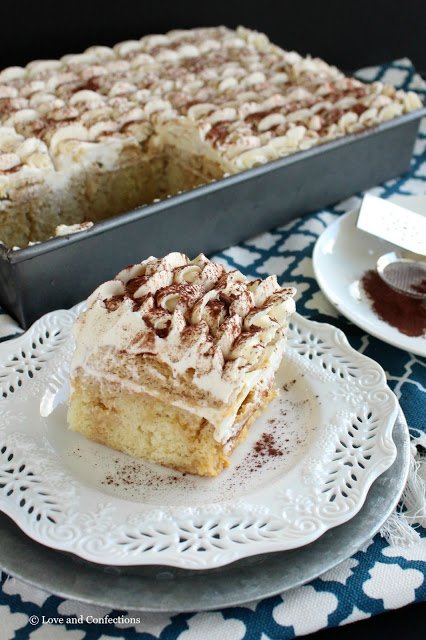 Tiramisu tres leches is rich and decadent, but light and airy at the same time. It is a great all-around dessert. The cream is my favorite part, because mascarpone has such a luxurious texture. It's similar to cream cheese, but without the tang. You can fin mascarpone usually in the deli or specialty cheese section of the grocery store. Don't skip this and use a substitution, because it is crucial in the recipe.
Tiramisu Tres Leches
A Love and Confections original recipe
Yield 16-20 servings
Tiramisu Tres Leches Ingredients:
For the Cake:
– 1/2 cup Unsalted Butter, room temperature
– 1 & 1/2 cup Dixie Crystals Extra Fine Granulated Sugar
– 4 large Eggs, room temperature
– 1 cup Whole Milk
– 2 teaspoons Vanilla Extract
– 2 cups Unbleached All-Purpose Flour
– 1 tablespoon Baking Powder
– 1/2 teaspoon Salt
For the Milk Mixture:
– 12 ounces Evaporated Milk
– 14 ounces Sweetened Condensed Milk
– 8 ounces Whole Milk
– 4 ounces Heavy Cream
– 2 teaspoons Vanilla Extract
– 1 tablespoon Espresso Powder
For the Topping:
– 8 ounces Mascarpone
– 2 cups Heavy Cream, very cold
– 2 & 1/2 cups Dixie Crystals Powdered Sugar, sifted
– 2 teaspoon Vanilla Extract
– 3/4 cup Coffee
– 3/4 cup Coffee Liqueur, or Coffee Wine Cocktail like I used
– 30-40 Ladyfingers
– Cocoa Powder for dusting
Tiramisu Tres Leches Directions:
1. Heat oven to 350F. Prepare a 9×13 pan with baking spray and set aside.
2. In the bowl of your stand mixer, cream the Butter and Sugar until light and fluffy. While the mixer is on low, add the Eggs one at a time. Scrape down the sides of the bowl to insure everything is incorporated. Add in the Milk and Vanilla Extract and mix to combine.
3. In a medium bowl, whisk together the Flour, Baking Powder, and Salt. Add it into the liquid mixture, while on low.
4. Pour batter into prepared pan and bake for 28-32 minutes, or until a toothpick inserted into the center comes out clean. Make the Milk Mixture while the cake cools.
5. In a medium bowl, whisk the Evaporated Milk, Sweetened Condensed Milk, Whole Milk, Heavy Cream, Vanilla Extract, and Espresso Powder together. With skewers, poke holes all over the cake, making sure you go all the way through to the bottom of the pan. With a ladle, spoon the milk mixture over the cake, trying to get as much as possible into the holes. It looks like a lot of milk, but the cake will absorb everything. Cover with plastic wrap and refrigerate a minimum of 6 hours, preferably overnight.
6. Thirty minutes before making the topping, place the bowl and whisk attachment from your stand mixer into the freezer.* Whip the Mascarpone with a little bit of Heavy Cream to start. Add the rest of the Heavy Cream and whip slowly working your way up to medium-high, until it starts to thicken and form soft peaks. Add in the Vanilla Extract and combine. Slowly add in the Powdered Sugar while the mixer is on low. Once it is incorporated, mix on high to whip until firm peaks.
7. Remove the cake from the refrigerator and spread about a quarter of the whipped topping on, and make it level, with an offset spatula.
8. Combine Coffee and Coffee Liqueur in a shallow dish and briefly dunk the Ladyfingers in and arrange them on the cake so there are no spaces in between. If necessary, re-whip the whipped topping before piping.
9. Place mascarpone whipped topping in a piping bag fitted with a star tip. Pip onto the top of the cake and dust with powdered sugar. Enjoy! **
*Heavy Cream whips better when cold. To insure a good whip, it is best to chill the bowl and whip attachment before it is needed.
**The cake needs to remain refrigerated and covered because of the whipped topping. If necessary, use toothpicks on the cake so the plastic wrap does not touch the whipped topping. If not serving immediately, store in the refrigerator and do not put the cocoa powder on until right before serving.
Until next time,
LOVE & CONFECTIONS!