Don't forget to visit my
Food Blogger Brunch Week
Post to see the AMAZING prizes for #BrunchWeek and enter to win these FABULOUS prizes below in the Rafflecopter (ARV $1800)! Yesterday I posted a great
Blood Orange Mimosa
recipe that you should try too. Happy Brunching!!!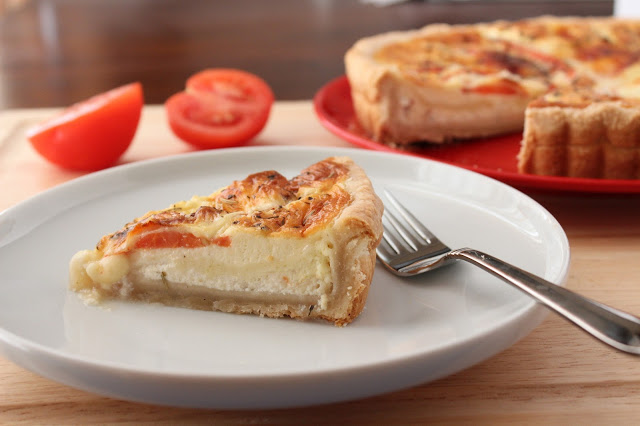 I love Quiche. There isn't a better vessel for so much Brunch goodness. With so many options for fillings, you can have a different one any day of the week. Quiche are also a great item to prepare in advance when you need to whip up a great Brunch with not a lot of time. I have made and frozen the dough in the tart pan the night before I needed it, pre-cut and pre-mixed all my filling, and put it together the morning of – so simple.
I'm Italian and I love anything to do with tomatoes, mozzarella and ricotta! This quiche is a little different than most, because of the Ricotta mixture on the bottom. It make a great layer of flavor in the quiche and can be used as a base for any other quiche recipe you're thinking of making.


Tomato Mozzarella Quiche
a Love and Confection original recipe
Tomato Mozzarella Quiche Ingredients:
– 250 grams All-Purpose Flour
– 10 grams Granulated Sugar
– 12 grams Salt
– 300 grams Butter
– 112 grams Water
– 250 grams All-Purpose Flour
– 150 grams Ricotta
– 100 grams Shredded Italian Cheese Blend
– 1/2 teaspoon Italian Seasoning Blend
– 2 Tomatoes, sliced
– 250 grams Mozzarella, sliced
– 100 grams Eggs, roughly 2 large eggs
– 1/2 teaspoon Salt
– 1/4 teaspoon Pepper
– 100 grams Whole Milk
– 60 grams Heavy Cream
– 1/2 teaspoon Italian Seasoning Blend
Tomato Mozzarella Quiche Directions:
– Place first measurement of Flour, Sugar, Salt and Butter in the bowl of a stand mixer, with the paddle attachment, and combine until butter is mixed and looks like pea-size lumps have formed. Add in Water and mix until smooth. Add second measurement of Flour and mix until combined and dough forms a ball.
– Lightly knead dough on a work surface, if any little pieces of flour and butter have not been incorporated. Shape into a disk, wrap in plastic wrap and refrigerate at least 1 hour. Can be refrigerated overnight. If not using right away, place wrapped disk inside freezer bag, label and store for up to a week. Thaw in refrigerator before use.
– Preheat oven to 350F.
– In a small bowl, mix the Ricotta, Shredded Italian Cheese blend and 1/2 teaspoon of Italian Seasoning Blend and set aside. Slice Tomatoes and Mozzarella and set aside.
– In a medium-size bowl, place Eggs, Salt and Pepper and whisk together. Add Whole Milk and whisk to combine. Add Heavy cream last and stir to incorporate, being careful not to mix too much and incorporate air. Set aside
– Lightly flour your work surface and roll out dough, using a rolling pin, to about 1/4 inch thickness.
– Using a 12 inch dinner plate turned upside-down on the dough, cut a circle using a sharp knife.
– Place the dough circle in the middle of a Removeable-Bottom Tart Pan. Press the dough to the bottom of the pan and up the sides, being careful not to stretch the dough. Fold the extra dough over (towards the outside of the pan) and pinch, but don't go over the sides, to create a crust that is slightly taller than the tart pan.
– Spread Ricotta mixture onto the bottom of the quiche shell. Layer Tomatoes and Mozzarella in the quiche shell. Sprinkle with Italian Seasoning Blend. Place Quiche on a Sheet Tray and fill with Egg Mixture, just until it reaches the top.
– Place in oven and bake for 30-40 minutes, depending on your oven, and rotating 1/2 way in between.
– Allow to cool for at least 15-20 minutes before taking it out of the tart pan.
– Enjoy!
Today's Brunch Recipes from participating #BrunchWeek Food Bloggers
Beverages



Eggs



Meat, Poultry and Fish


Breads, Grains, Cereals and Pancake-type Yums



Desserts



Fruits and Veggies

Until next time,
LOVE & CONFECTIONS!
Disclosure: I have not been given any monetary compensation for this post or any #BrunchWeek post involving the above sponsors and/or prizes. Samples and bits of promotional material have been given to me, not exceeding a value of $100 total.